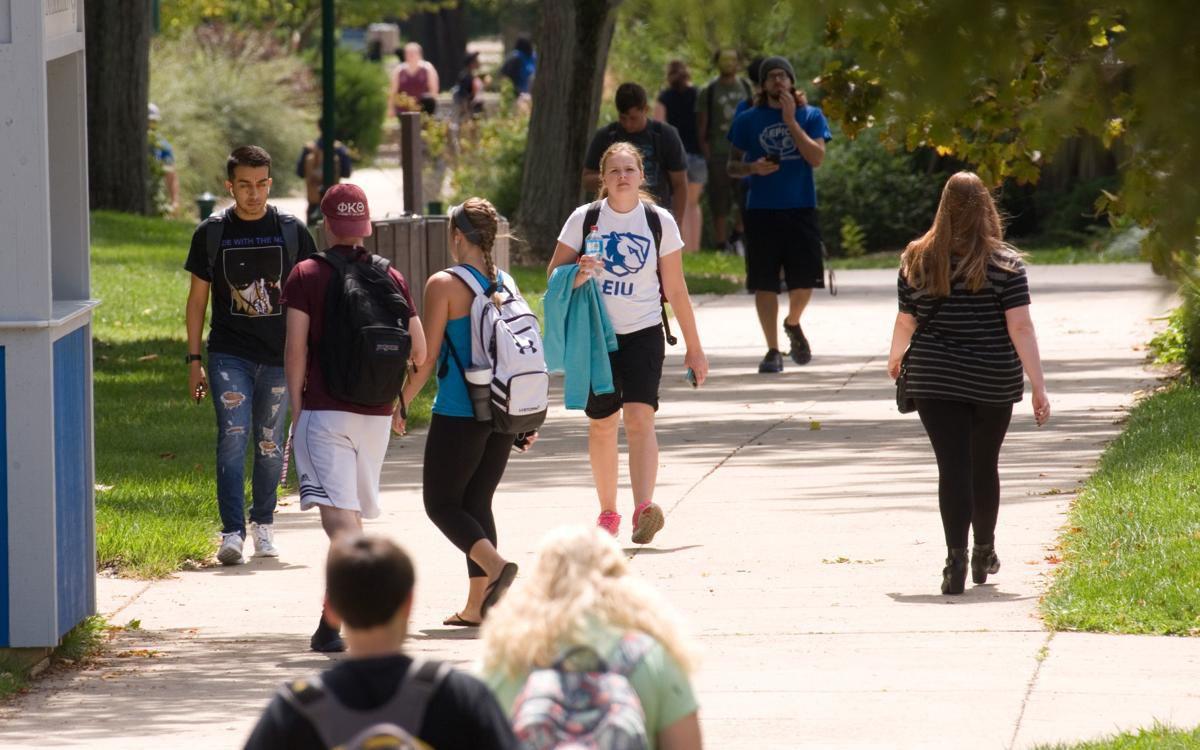 CHARLESTON — For the last two years, Eastern Illinois University has been a bright spot amid dismal university enrollment trends around the state.
It was one of only three public universities in the state to report an enrollment increase in 2018; a dramatic 10% bounce-back as regional competitors like Western Illinois University, Northeastern Illinois University and Southern Illinois University Carbondale reported double digit losses.
This year, again, the university reported growth that puts it near the head of the pack, with overall enrollment up nearly 4%, according to the Chicago Tribune.
The turnaround has looked even better in the context of recent struggles: Between 2013 and 2018, undergraduate enrollment at EIU, located in Charleston, dropped 2,779 students, a loss of over 33 percent.
However, the source of much of the recent growth is non-traditional.
Over at least the past two years, the university has begun to include high schoolers enrolled in dual credit courses and dual enrollment programs in its total enrollment count.
The young programs have been very popular, adding over a thousand students to EIU's overall headcount, and helping the university build strong relationships with high schoolers across the state.
They have also allowed EIU to claim enrollment increases despite a declining on-campus population, possibly muddying the true picture of the university's size and health
By the fall of 2017 the university educated 582 high schoolers, institutional data shows, via two pathways — dual credit and dual enrollment.
The "dual enrollment" courses are taught by EIU faculty over videochat and online learning platforms at 10 high schools within 60 miles of the university, explained Professor Rebecca Throneburg, Chair of EIU's Department of Communication Disorders and Sciences, who co-led the university's early dual credit efforts.
The classrooms are supervised by a high school teacher, who supports the professor. EIU faculty visit their high school students three times per semester, and students come to campus for one class period per semester too. Upon completion, students earn a 3-credit-hour EIU credit as well as high school credit, for courses like: Intro to Sociology, Environmental Biology, Speech Communication, English Literature and Early and Late American History.
"These are tenured, Unit-A faculty, some of our best professors, visiting these high schools, because we want them to know this is what you can expect from our university," said Josh Norman, EIU's associate vice president for enrollment management.
Eastern's "dual credit" courses — from College Composition, to College Speech Communication, to College Algebra — cast a broader net. They're offered at about 10 high schools in the Chicagoland area, including many in Township High School District 214, which covers thousands of students in Chicago's northwest suburbs.
The dual credit courses are taught by high school teachers holding masters' degrees relevant to the discipline of the course, under the supervision of an EIU faculty member as "course coordinator."
"These are high school teachers who would be qualified to be EIU adjunct instructors," Throneburg explained.
Unlike many dual-credit programs, where an institution simply sends its syllabus to a high school teacher, EIU's program is more cooperative, Throneburg said. Course coordinators travel to participating schools every semester and are in frequent contact with the imparting teachers via email and phone.
"Our faculty, who are the coordinators, can share sample projects, sample notes and sample tests," Throneburg said. "We're sharing a wide range of materials, and we're comfortable that's what going on looks a lot like what happens on campus."
This fall, dual credit enrollment is about three times what it was in 2017, with the Chicago-area courses drawing the majority of students, Throneburg said.
The growth has been strong, but it's not a financial panacea for the university, she acknowledged.
Dual credit students don't pay full EIU prices, she said, yet the university must pay faculty salaries.
"It's a much tighter margin between what students are paying and what it costs us to run this stuff," she said. "We don't want a huge proportion of our numbers to be dependent on dual credit."
Rather than continue to grow the program, EIU has "put the brakes on a little bit," Throneburg said, to focus on maximizing quality with existing partner high schools.
So far, she believes all parties are happy with the arrangement. Faculty retain intellectual control over their classes, high schoolers get college credits that can save them time and money in college, and the university builds valuable bonds with prospective students, early on.
"The visibility in the high schools has been great," Thronburg said. "Some of the Chicago high schools had never heard of us. Now our numbers are up from the dual credit schools and we hope they continue to grow."
Counting the thousands of high schoolers, who average about one 3-credit-hour dual credit course each, in the university's enrollment is not against any stat-keeping norms, said Melissa Hahn, spokesperson for the Illinois Board of Higher Education.
Other universities, including Western Illinois University, do the same with their dual enrolled students.
However at WIU the scale is smaller — 78 high school students participated in its dual enrollment courses last spring, according to Spokesperson Darcie Shinberger.
Eastern's program, meanwhile, is so large that it exerts significant statistical impact on enrollment reports, an important indicator of a university's health.
When reevaluated without dual credit students, EIU's data shows the continuation of a long term enrollment slide, with total enrollment declining from 7,415 students in 2016 (down 13% over the year prior) to 7,030 in 2017 (-5.2%), to 6,252 in 2018 (-11.1%), before nearly leveling off this year at 6,226 (-.04%).
On-campus enrollment is down more dramatically still, from 6,548 in 2016 (down 14% over the year prior), to 5,490 in 2017 (-16.2%) to 5,082 in 2018 (-7.4%), to 4,917 students in 2019 (-3.2%).
Those numbers put Eastern in the company of universities who appear to be gradually stemming enrollment losses, like Southern Illinois University Carbondale and Northeastern Illinois University, instead of among the leaders in growth, like the University of Illinois, the University of Illinois at Chicago, and Illinois State University.
But that shouldn't detract from EIU's recent turnaround, Norman said.
The growth in dual credit has boosted the university's total credit hours, a measure of how much total learning is taking place on campus.
And Norman is particularly excited about the university's growing new freshman classes.
After a 15-year slide, new freshmen are up substantially since 2017 from 634 new students then, to 789 in Fall 2018 (up 24.4%), to 888 this year (up 11%).
Moving forward, there is reason to think other four-year universities may seek to emulate EIU's dual-credit success.
Data shows the market is growing.
Before 2015, dual credit courses were the exclusive territory of community colleges in Illinois.
All 48 of the state's community colleges offer some form of dual credit, the Education Systems Center indicated in a recent analysis, though there are "massive inequities" in the number and types of classes that each offers.
Rather than lament the new competition, as universities enter the field, community colleges are ramping up their own offerings to meet increased demand, said Matt Berry, Chief of Staff for the Illinois Community College Board.
"Community college dual credit enrollments are up significantly," Berry said, buoyed by 2018 statutory updates requiring Illinois high schools to notify all 11th- and 12th-grade students of dual credit opportunities and allowing students to enroll in as many dual credit courses as they choose.
Southern Illinois University Carbondale does not currently have plans to offer dual credit courses, according to Spokesperson Rae Goldsmith.
"Community colleges are actively engaged with their area high schools in dual-credit enrollment offerings," Goldsmith said. "We are focused on building closer ties with our community college partners."
However, the university does appear to be gathering information.
In late June, Southern Illinois University contacted the Illinois Community College Board to request a list of all the dual credit courses offered at community colleges across Southern and south-central Illinois, along with enrollment counts, according to emails provided to the Southern Illinoisan.
Questions to a local ICCB representative about whether the data was provided went unanswered.
Triton College, Harper College and Lake Land College all chose not to participate in this story, declining to answer questions about how, if at all, the growth in 4-year universities offering dual credit has affected their operations.
Correction: A previous version of this story incorrectly stated that Northern Illinois University experienced double digit enrollment loss from 2017 to 2018. In fact, NIU's enrollment loss was 4% during that period, while Northeastern Illinois University (NEIU) experienced double digit losses, as did Southern Illinois University Carbondale and Western Illinois University. The Southern regrets this error.
Be the first to know
Get local news delivered to your inbox!