CARBONDALE — On Wednesday afternoon, visitors to the SIU Carbondale Design Department got a crash course in thinking like Buckminster Fuller.
"Bucky" was best known as an architect, who harnessed the structural integrity of triangles to create iconic frames and buildings, like his geodesic dome homes.
But the internationally-known SIUC professor went far beyond flouting the conventions of four-walled living rooms.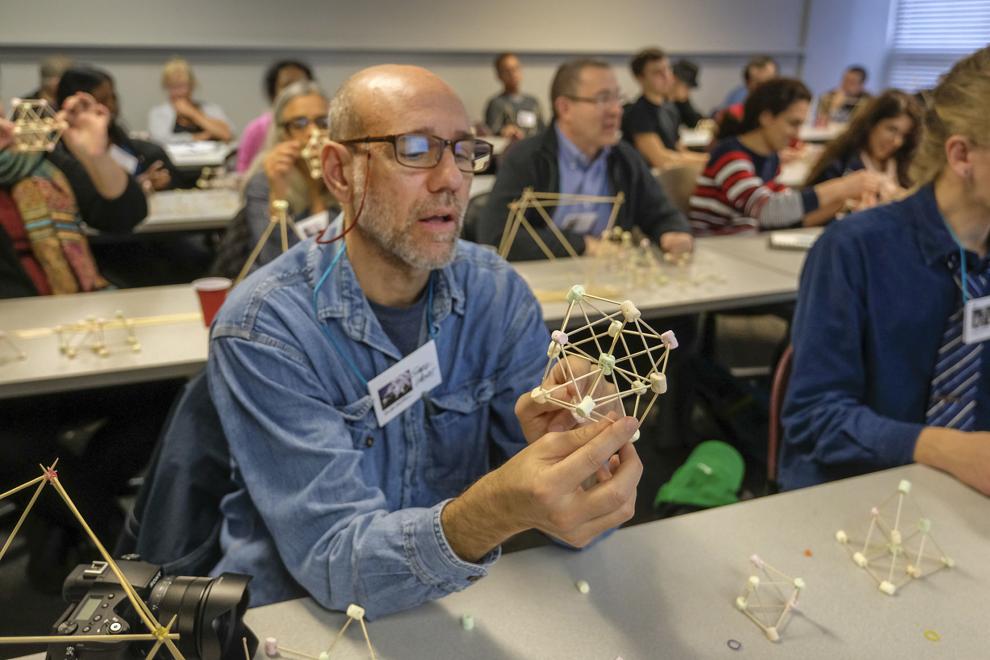 He was a philosopher and humanist, passionate about conserving the planet's resources and doing more with less. He was a futuristic thinker, who wrote books and coined words like "tensegrity." He built a three-wheeled "Dymaxion" car in the 1930s, that he imagined one day would fly, land and drive.
He was also a hard partier, at times in his life, and holds the rare distinction of having been kicked out of Harvard College...twice.
"I feel like I would've gotten along with him," said Zak Eidson, as he and Henry Creamer, both Architecture students, assembled pyramids and polyhedrons with marshmallows and toothpicks, under the guidance of Kurt Przybilla, who lectured Wednesday on Fuller's famous geometric shapes.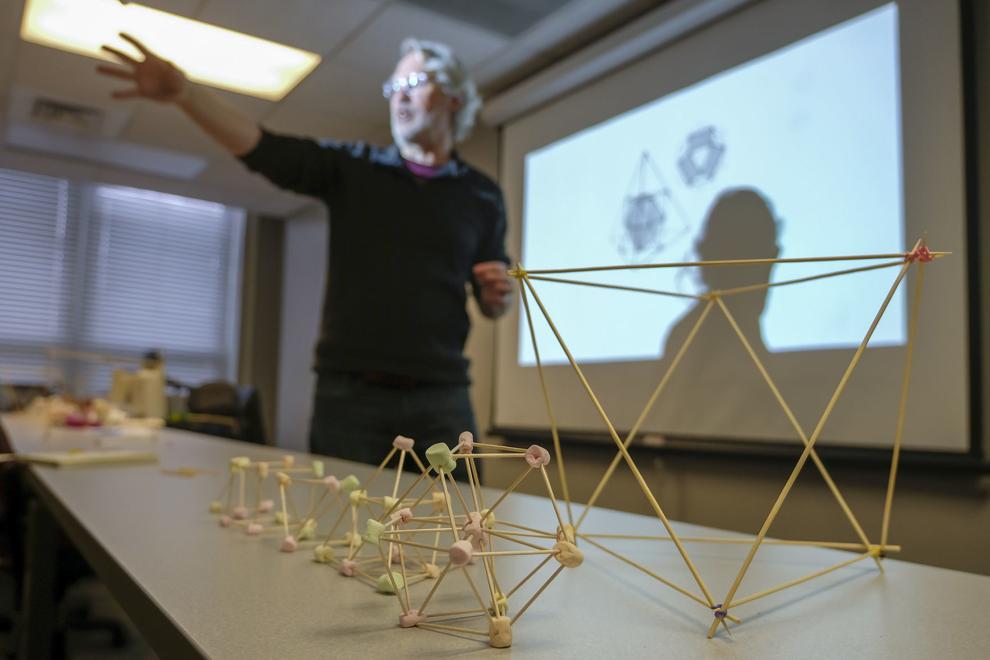 Bucky came to Carbondale from the East Coast in 1960, at the encouragement of a friend in the SIUC Design Department.
"His apartment caught on fire, and he lost all his models," said Jon Davey, an SIUC architecture professor. "So he called up Harold Cohen [founder of the SIUC Design Department] and said, 'Can I come over during the summer and get some graduate students to help rebuild my models?'"
The university hosted him that summer, and then offered him a research professor position. It was unlike most faculty appointments, Davey explained, more a celebrity role than a teaching job.
"He was a signature person," Davey said. "They said, 'you need to be on campus at least two months of every year. The rest of the time whatever you do, go do it.' So Bucky traveled around the world. He wore three different watches, from different time zones."
Though Bucky didn't teach many classes, his time at SIUC was tremendously productive, Davey said.
"While he was here he wrote over 25 books, received over 25 honorary Ph.D.'s, received the Medal of Honor from Ronald Reagan, and earned many patents," Davey said.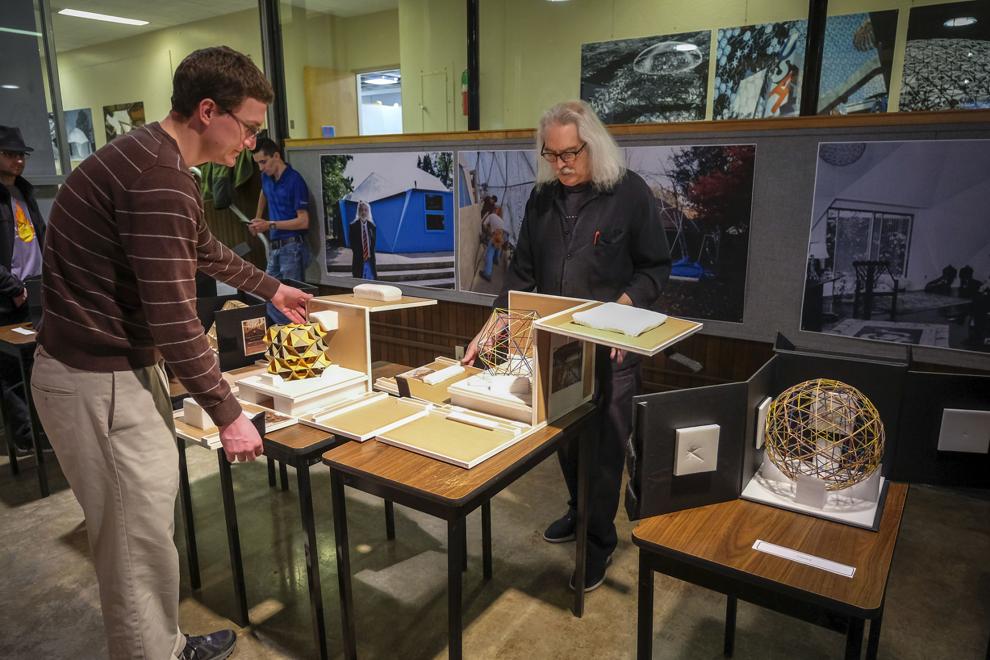 Clients for his domes included Ford Motor Company, and the U.S. military, which prized them for being lightweight and easily transportable, and used them "to cover radar stations at installations around the Arctic Circle," according to the Buckminster Fuller Institute.
Bucky also left his mark on Carbondale.
He gave special lectures to students, and attracted other talented faculty to the university.
"He wanted to practice what he preached, so Bucky had students go over and put the dome up in one day," Davey explained. It epitomized his vision: affordable, efficient housing that required little construction material. Rather than depending on support columns, it drew its strength from its unique structure.
The dome was home to Bucky and his wife for 10 years, Davey said, and is currently undergoing a costly and meticulous restoration that will leave it exactly as Bucky lived in it, to serve as a museum and meeting place for Carbondale.
Other domes are dotted around Southern Illinois, Davey said, some built by Bucky's students, others by local fans.
Across the country, his triangular truss systems support iconic buildings, Przybilla said, places like airports and malls, where designers want large, open spaces, unobstructed by columns.
For Davey, president of the Fuller dome home restoration project, this week's recognition of Bucky is long overdue.
"This is probably the first thing since I've been teaching, apart from Bucky himself lecturing here in 1976, that I've seen happen on campus to recognize him," Davey said. "People are beginning to do more, now."
The Fuller festivities continue February 7, with presentations at 11 a.m. and 4 p.m. Tours of Fuller's dome home in Carbondale are available with prior reservation.
This year marks the 50th anniversary of the publication of Fuller's book, "Operating Manual for Spaceship Earth," originally published by the SIU University Press, Davey said.