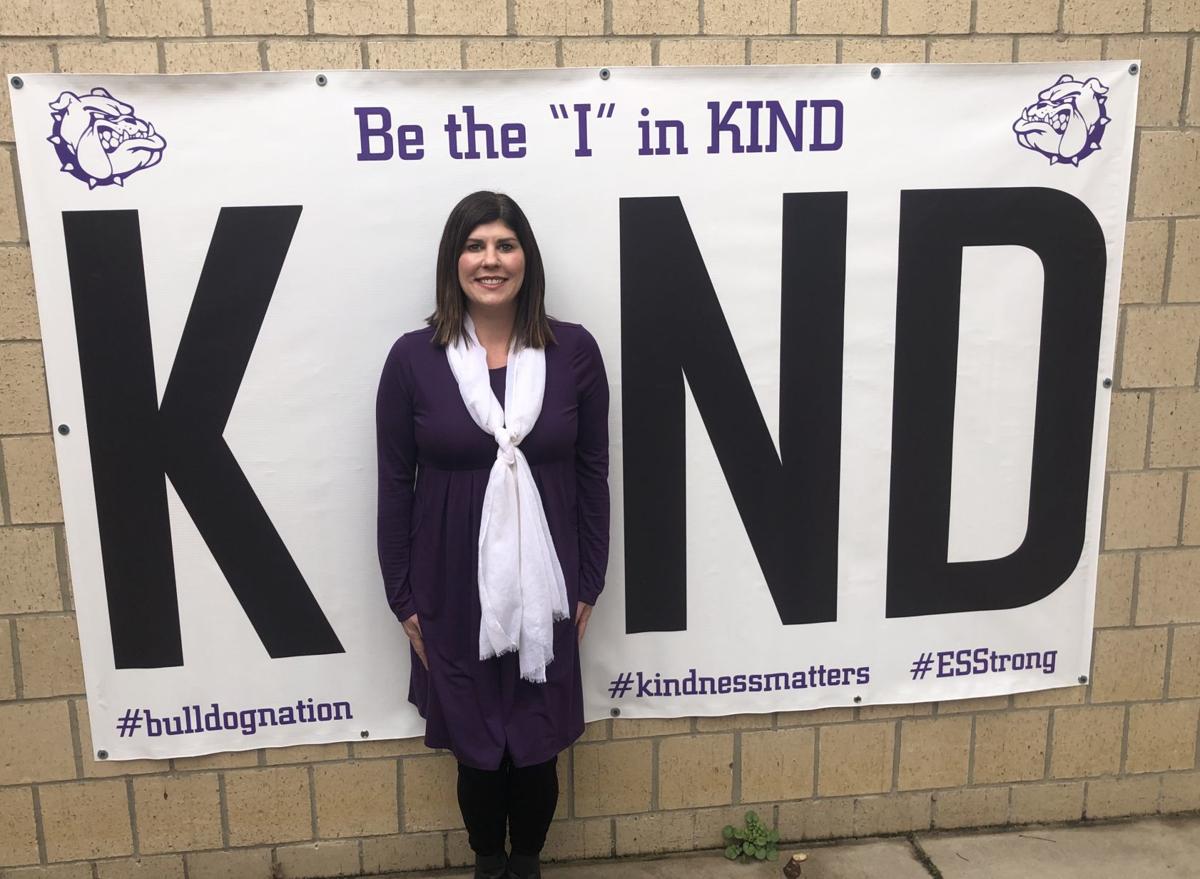 HARRISBURG — Harrisburg Principal Natalie Fry's dedication to her students, willingness to take educational risks and infectious spirit have earned her recognition as a finalist for a prestigious Illinois educators in leadership award.
Fry joined Harrisburg schools in 2015 as an assistant principal, and the following year was named principal of the East Side Intermediate School, which serves third- through fifth-graders. She previously worked as a science teacher and administrator in the Christopher and Frankfort school districts.
On Monday, The Golden Apple Foundation announced that she was among six principals — from a pool of 104 statewide nominees — chosen as finalists for the 2020 Golden Apple Awards for Excellence in Leadership.
She was nominated by Harrisburg Community Unit District 3 Superintendent Mike Gauch, who credits her steady and spirited leadership with helping improve district performance and morale. "When she came in and interviewed, I told my board president, 'That's a person who can help us turn this district around,'" he said.
Gauch said she is especially skilled at curriculum development, and listens to teachers and encourages their ideas. She greets students in the hallway and makes sure every child knows how important they are. She also helped develop district-wide leadership teams to improve communication within and between the four buildings that make up the district, he said. Gauch said her go-get-'em attitude has raised the bar for teachers and administrators in her building, across the district and throughout Southern Illinois. "She's upped the game because of the passion she brings to her job," he said.
Fry earned her bachelor's in science and elementary education from Southern Illinois University Carbondale in 2002, and a master's in educational administration from McKendree University in 2012.
Fry said she found out about the nomination on Friday and was thrilled by the news. "It is validation of our teamwork," she said. "It's not just about me. I could not do anything by myself. Our staff is amazing." Fry said that key to her philosophy as a leader is encouraging her staff to think creatively about new ways to educate, and to take educational risks. "When we want to try something new, we have each other's backs," she said.
Fry said that one recent change she's proud of is the recent addition of co-taught classrooms. These are classes where the teaching load is shared equally by a special education teacher and the teacher generally assigned to a respective grade level. This allows for better integration of special education students into traditional classroom settings, she said. The teachers are also able to build on each other's strengths, and provide more individualized help to students who need it.
But whether it's about trying new things or working through ongoing challenges, Fry said that, for her, communication is key. "I want staff to know that they can always come to me and we can have an open talk about education," she said. "I look at myself as more of a coach and a friend. We're all in it for the same thing."
The Golden Apple Foundation is a Chicago-based nonprofit that has been honoring exceptional teachers since 1985. It also works to address Illinois' teacher shortage by sponsoring scholarships and fostering the development of new teachers across the state. It was founded by Mike and Pat Koldyke, and inspired by the Academy Awards. Some 35 years ago, the couple was watching the glitzy Hollywood honors show on television when Pat turned to Mike and said, "There should be teachers up there," according to Alan Mather, president of the Golden Apple Foundation.
Each year, 10 teachers are selected as winners for the Golden Apple Awards for Excellence in Teaching. They receive $5,000 each, and a sabbatical at Northwestern University to further their educational skills. The Golden Apple Awards for Excellence in Leadership, specific to principals, was added in 2014. The winner of the leadership award — there is typically only one or two — receives a $10,000 cash prize.
Teachers and principals who did not win the top prize are eligible to be named teachers and leaders "of distinction." For years, the awards were exclusive to educators in the greater Chicago area. But last year, the foundation decided to expand its reach statewide. Fry is the second area principal to receive a nomination. In 2019, Giant City School's Belinda Hill was named a "Leader of Distinction."
Award finalists for both the Golden Apple Awards for Excellence in Teaching and the Golden Apple Awards for Excellence in Leadership will be recognized Feb. 22 at the Golden Apple Celebration of Excellence in Teaching & Leadership at the Q Center in St. Charles.
618-351-5079
On Twitter: @MollyParkerSI ​
Be the first to know
Get local news delivered to your inbox!