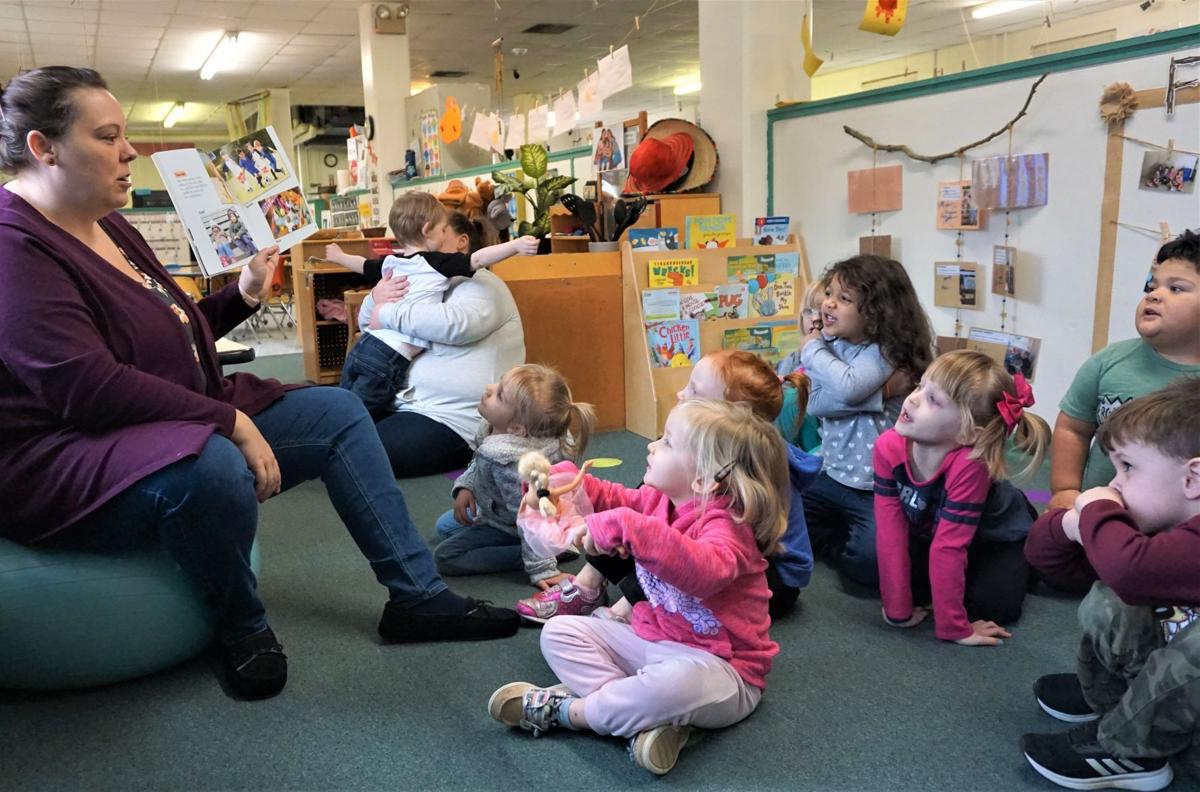 ANNA — An expansion of Early Head Start in Illinois' southernmost counties is allowing more infants and toddlers from low-income families to receive specialized educational and development services.
It's also helping parents, as the addition of several classroom-based programs for children ages 0 to 2 allows them access to free child care for much of the day while they work or attend school. But Head Start, for ages 3 to 5, and Early Head Start, offer more than traditional daycare, said Dona Middleton, the early childhood director with the Southern Seven Health Department, the agency that runs the program in Alexander, Pope, Hardin, Pulaski, Massac, Johnson and Union counties. 
Children are taught age-appropriate lessons from a research-based curriculum that aims to promote learning and development, Middelton explained while guiding a reporter from The Southern on a tour of the Head Start classrooms in Anna on the grounds of Choate Mental Health Center. Educational lingo such as "intentional teaching" may sound staid, but it's not mutually exclusive with fun.
"Children learn through play," Middleton said. 
Educators specializing in early childhood development also work with parents, so that they can help their kids at home. The aim is to ensure that children whose families face severe financial hardships, or who live in foster care or face other types of challenges, are able to start kindergarten generally as prepared for school as their peers.   
"It's not just you bring your child to school and drop them off as a daycare program. We work with the family," she said. "We help set them up with WIC (the Women, Infants, and Children nutrition program). If families are really struggling and having a hard time, we have partnerships where we can work with the families to find the resources they need." 
A 2016 economic analysis from the Brookings Institute, a Washington-based think tank, found that Head Start improves the long-term educational success of children, increasing the odds that they will graduate from high school, and go on to college or receive a post-secondary degree, license or certificate. The analysis also found that it improves parenting techniques, and helps children develop better emotional responses and self-control — skills that lasted into adulthood.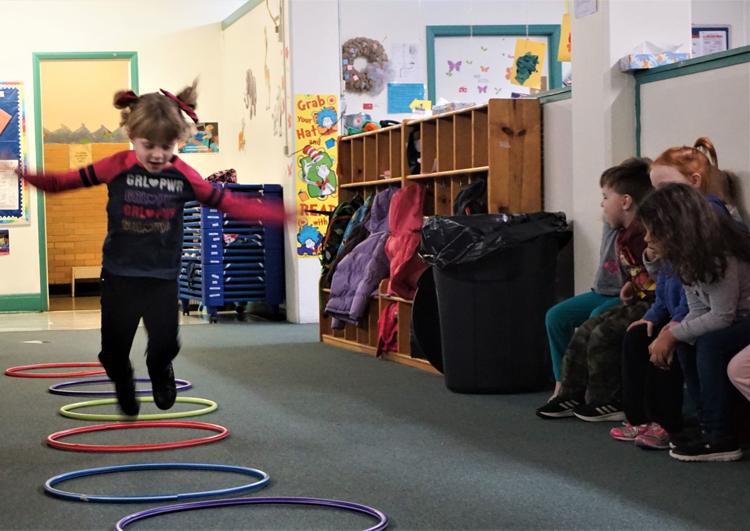 These lessons are taught seamlessly alongside activities children enjoy. For instance, on Friday morning, in a Head Start classroom in Anna, students in teacher Sarah Raganyi's class took turns jumping into the center of a series of hula hoops laid out on the carpet before ending with a somersault on a mat at the end of the obstacle course. The children were all smiles and giggles. They were also exercising and learning valuable social skills, such as the importance of waiting their turn and supporting their classmates by cheering them on.
"A lot of people misinterpret that just because children are playing, they aren't learning, when in actuality, they are learning so many social skills, math, numbers, counting and language development," Middleton said. "We try to foster all of those things."
Head Start, and Early Head Start, are federally funded programs for children from qualified low-income families. Many of the same children qualify for both Head Start and state-sponsored pre-Kindergarten. The availability of programs at many locations throughout Southern Illinois allows more children to be served. The growing Early Head Start program also fills a unique need in the communities Southern Seven serves, some of the most impoverished in the state of Illinois, and rural areas that may lack traditional childcare options that are affordable for low-income, working families, Middleton said. 
More than 60% of children under age 5 in Alexander County are impoverished, and just over 30% in Hardin and Massac counties. About one in four children younger than 5 in Johnson and Pulaski counties live in poverty, and about 18% of kids in this age range in Pope and Union counties, census figures show. 
Head Start is a 55-year-old federally funded program. Politicians from both parties in Congress have generally protected Head Start from massive budget cuts, and the program has seen budget increases in recent years, allowing for expanded services nationwide. In 2017, it cost roughly $9 billion to serve about 900,000 children across the country, at an average cost of about $10,000 per child, according to the Congressional Budget Office, which provides nonpartisan analyses to Congress.  
Southern Seven has operated traditional Head Start programs for children ages 3 to 5 in each of the seven counties it covers for years, but full-day, site-based Early Head Start programs were harder to come by. Two grants worth a combined $1.2 million that the agency received last year from the National Head Start Association have recently allowed the agency to serve more children under age 3. 
In 2019, Southern Seven added more than 50 new slots in its Early Head Start program, which offers home-based and site-based services to families, or both, depending on location, Middleton said. Last year, the agency began offering home-based Early Head Start services to families in Pope and Hardin counties for the first time. It extended some of its partial-year programs to cover the summer months. And the agency transitioned some home-based slots, which include one weekly visit, into five-day weekly classroom-based offerings. This was done, in part, to help fill childcare gaps in communities where there was a need, Middleton said.  
The agency also plans to open three new classrooms in the coming weeks — two more at the Anna site and one in Tamms that is located inside the Egyptian school.
Middleton said the agency has several teacher openings and encourages interested and qualified applicants to apply online at Southern7.org, Indeed.com or by stopping by any Head Start location in Illinois' southernmost seven counties and asking for an application.
618-351-5079
On Twitter: @MollyParkerSI ​
Be the first to know
Get local news delivered to your inbox!