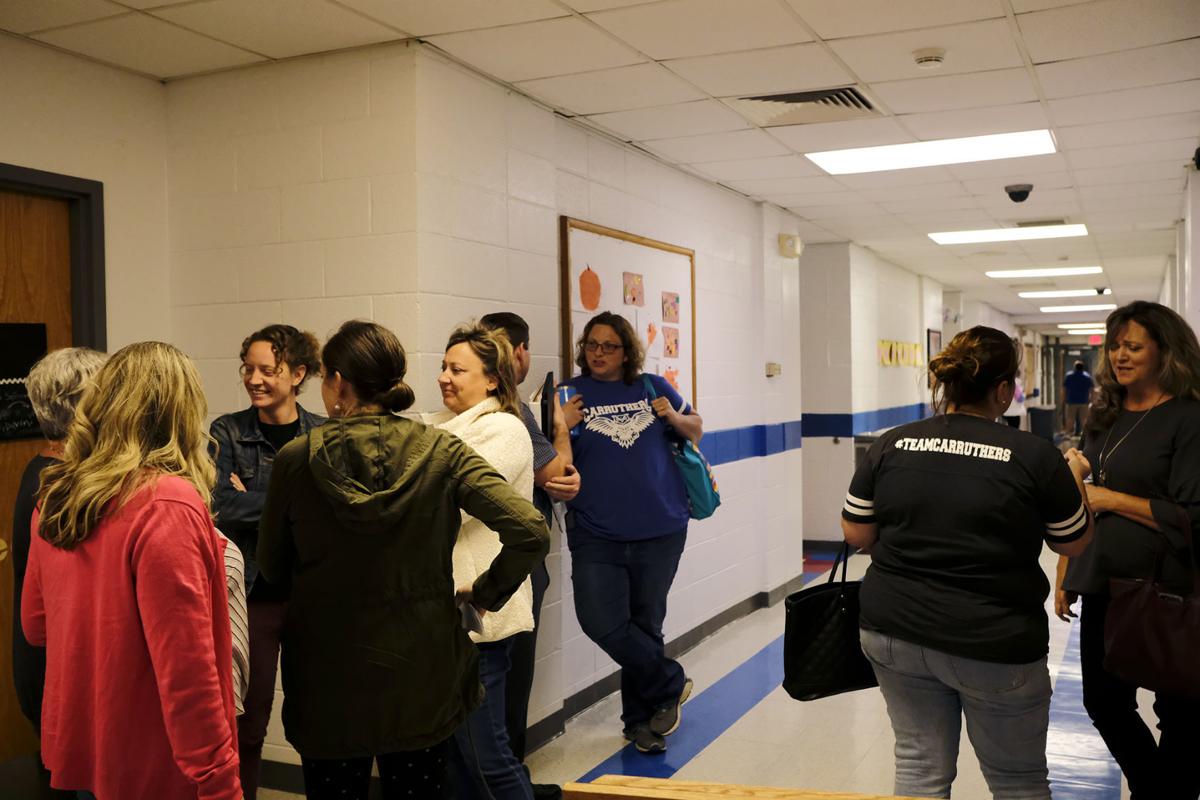 MURPHYSBORO — Teachers and school board members breathed a bit easier Tuesday after the board voted to approve an agreement reached Oct. 9 that ended the first teacher strike in decades.
During Tuesday's meeting, the Murphysboro School District 186 board met in executive session for about 20 minutes before returning to pass the deal with a unanimous vote.
MURPHYSBORO — Things started to get back to normal in Murphysboro Thursday as teachers returned to class after about a week on the picket lines.
The deal the parties came away with was a three-year contract that gave Murphysboro Education Association members a 3% raise the first and second years and a 3.5% raise the third year of the contract — these are all on top of the annual 1.7% raises built into the pay schedule.
The two groups found themselves at odds earlier in October after months of negotiations — they were stalled over salary increases. The district felt it had offered all it could — about 2% on each stage of the pay scale — while the Murphysboro Education Association had asked for just below 4% in its last public posting.
The union represents 152 teachers, counselors, nurses and social workers across the town's elementary and high schools.
The union argued that it had forgone salary increases for years as the state budget impasse shortchanged school districts and felt the district was in a position this year to offer a significant increase.
With both sides dug in, the teachers went on strike for about a week.
You have free articles remaining.
"I'm glad it's over," Murphysboro District Superintendent Chris Grode said Tuesday after the meeting.
Grode said while the process was difficult, coming back to work side by side with those he negotiated with was not hard.
"We're adults," he said, adding that a greater purpose is what needed to be realized.
Catlin Langellier, the union's chief negotiator, also expressed relief Tuesday — she said she and her fellow teachers were happy to be back with their students. She added that outside of the salary increases, the MEA was happy that the five missed days during the strike will be made up.
In a news release sent out by the Illinois Education Association, Langellier said the new contract puts students first.
"This new contract makes everything we've been through worth it," she said in the release.
The fight over salaries wasn't just about money in members' pockets — Langellier said it was about setting up a foundation for a strong future.
"We want teachers to want to come to Murphysboro and to stay here. We think this contract will help us reach that goal," she said in the news release.
The process was contentious — Grode said it was the toughest negotiation he's been through. But, Langellier said Tuesday that it did present some hope.
"Lines of communication were opened that hopefully will stay that way into the future," she said.
618-351-5823
On Twitter: @ismithreports