ELKVILLE — Inside this small Jackson County school, the robots are taking over — and Belinda Conner is thrilled about that.
"We have lots of gamers and we wanted to show them that there are other ways to use those skills other than playing video games," said Conner, Elverado Community Unit School District's instructional services director and primary school principal. "We want them to learn the processes behind the technology."
She hopes the early introduction to skills such as coding and programming opens students' eyes to a world of possibility for careers they might not have otherwise realized existed.
Last year, the district partnered with Lego Education, an offshoot of the popular kids' toy manufacturer, to train a couple of teachers in basic robotics. That allowed the school to offer an after-school robotics program for children in the fourth through eighth grades. The students loved it, she said.
It generated such a buzz that 80 students participated — about 40% of the kids in the eligible age range, she said.
So, school officials started looking for ways to grow the program.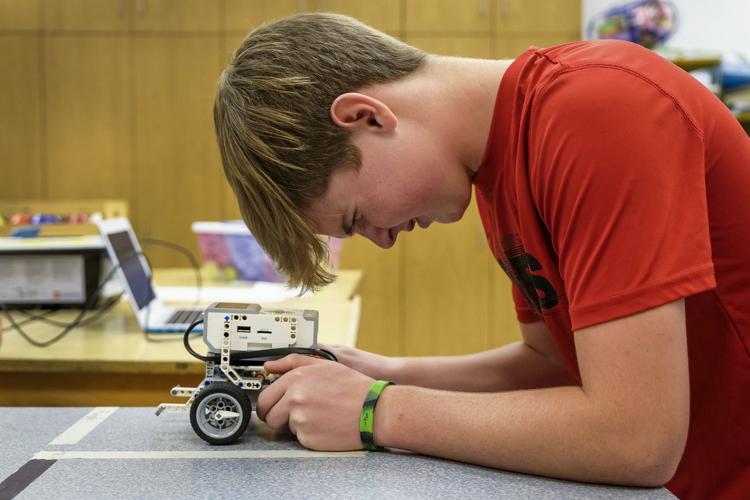 It's not easy for a small district like Elverado to afford the best and latest tools for teaching technology. It wouldn't be possible without grant funding, she said. For the past two years, the school has sought funding from America's Farmers Grow Rural Education, sponsored by the Bayer Fund, an initiative of Bayer, a multinational health care and agriculture company.
This year, the Elverado school district was among other rural schools selected to receive a share of $2.3 million in grant funding awarded by the Bayer Fund's America's Farmers Grow Rural Education program. Elverado received $25,000, the highest possible award amount. That's on top of $10,000 the district received last year. The educational grant funds are earmarked to help rural schools enhance their science, technology, engineering and math programs, otherwise known as STEM, the company said in a news release.
According to Bayer, Grow Rural Education grants have helped schools purchase an array of STEM-related materials, such as augmented-reality sandboxes, weather forecasting and robotics equipment.
Erin Glarner, community outreach manager with Bayer Corp., and the manager of America's Farmers Grow Rural Education program, said that the program has distributed more than $18 million to 1,000 rural public school districts throughout the U.S. since 2011.
"The program started because farmers saw a need. They saw that their rural schools didn't have the resources to keep young people interested and provide education in STEM."
You have free articles remaining.
Glarner said companies, including the one she works for, have had difficulties in filling high-tech, STEM-related U.S. jobs in recent years. "That's in part due to the fact that students don't have the resources at their schools to better align themselves for these jobs," she said.
So Bayer sees initiatives like this as a win-win — for students who gain access to new technology school districts couldn't otherwise afford, and also for companies like Bayer seeking to fill more and more jobs that require advanced technological skills.
Funding is provided through the Bayer Fund, the philanthropic arm of Bayer, she said.
The initial grant allowed the district to pay for a few robots and teacher training, Conner said. This year's larger grant allows the school to expand its robotics offerings. The district has added age-appropriate robotics instruction for its youngest students — kindergarten through second-graders — as well as its first-ever robotics elective class at Elverado High.
Only a few weeks into teaching the high school class, Steven Bridgman said his students seem excited about the class and what they're learning. The hands-on learning opportunity that the robots provide is helping change their perspectives on STEM-related learning that some may struggle picking up from a textbook, he said. Bridgman is the district's art teacher. When the school asked for teachers last year to volunteer to take the Lego instructional training, he jumped at the opportunity. As an art teacher, Bridgman said he tries to stress how art skills complement science, technology, engineering and math skills. Critical thinking is at the root of these skills, he said.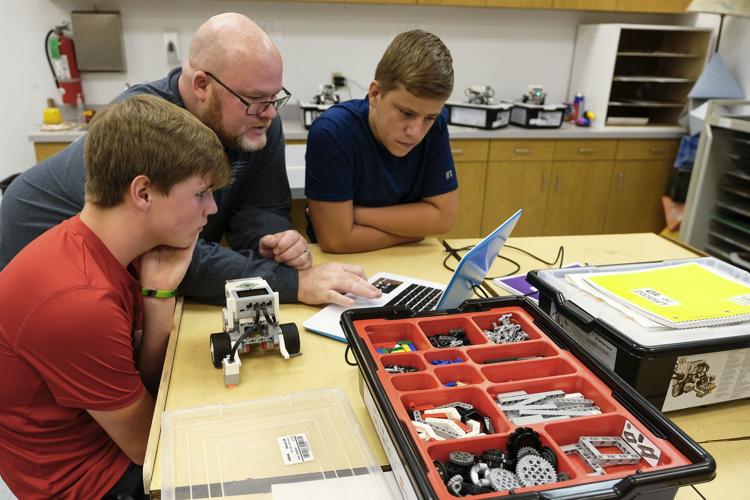 "I try, even in my art class, to let the kids know 'I'm not going to give you the answer to every problem. I'll help you with different solutions so that you can find the answer.'"
His small class of 11 students started the year by constructing their Lego robots. Now, they're learning how to tell them what to do. "It's an introduction to coding," he said. Last week, they were writing code to instruct their robots through a maze. They've also been learning how to make their robots follow a particular color line among several lines of various colors on the floor. His classroom has access to five robots, and the students work with them in teams of two or three. It's been fun to watch the students' faces light up when they solve problems, and their robots do as intended.
For all, it's a break from their normal learning routine. And for a few, they seem really taken to the challenge of coding and the technology side of it, Bridgman said.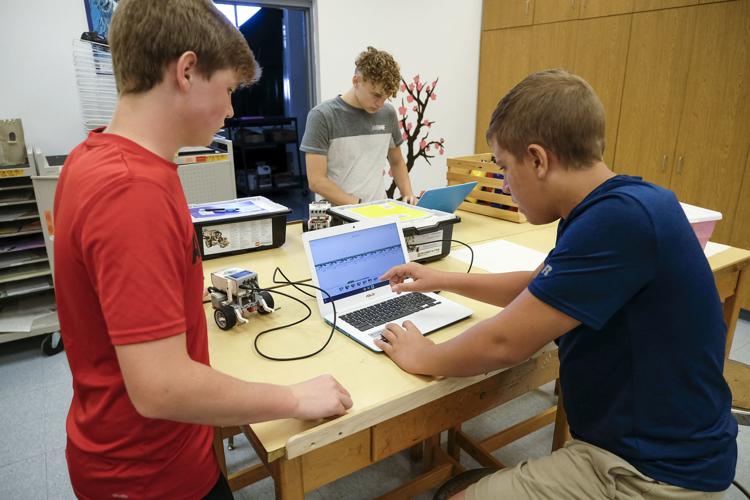 He hopes the school is able to continue to build on what it's started and create more advanced offerings for high school students in the future. He's hoping that the students may be able to compete at robotics competitions in the future. "It's really an awesome thing," he said.
Editor's note: In an earlier online version of this story, and in the print edition, two students, Dalton Poole and Jessie Shread, were misidentified by the other's name. This story has been updated to correct the photo captions.