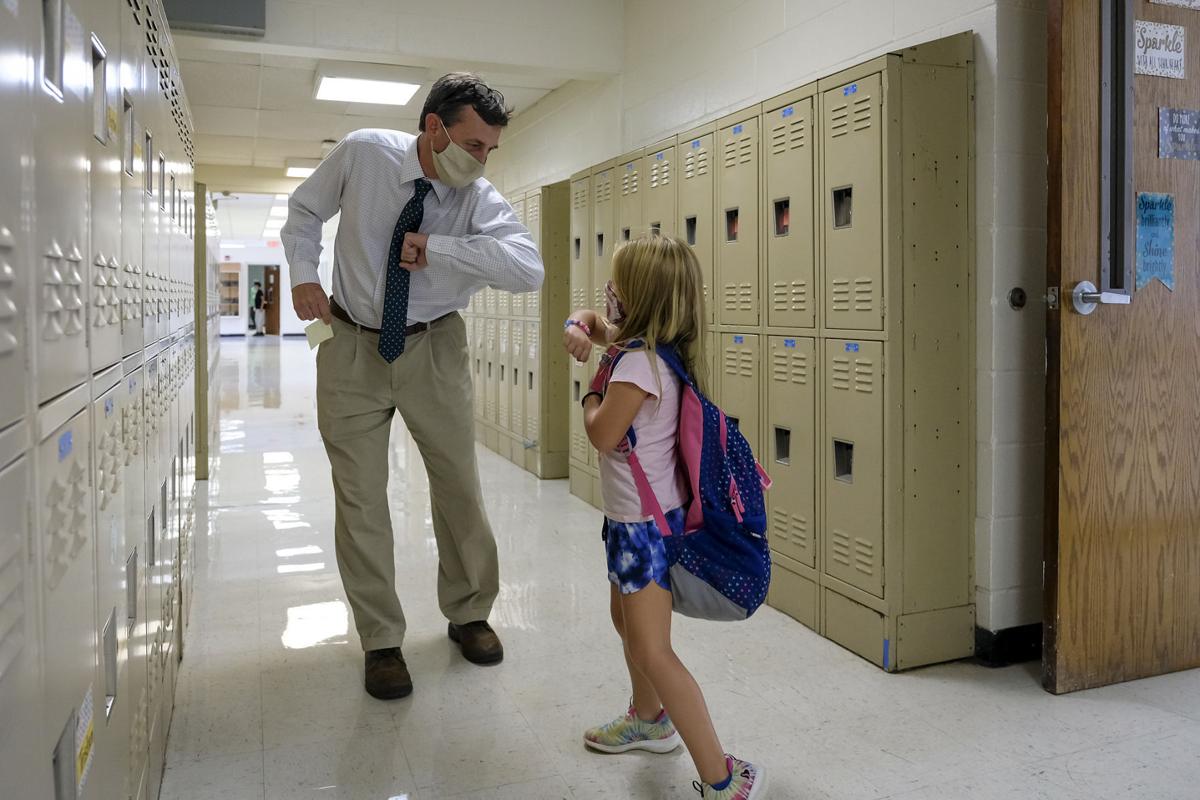 TUNNEL HILL — Misty Fritch didn't tell her fifth grade class that New Simpson Hill elementary school had been nominated for a prestigious National Blue Ribbon School award until last week, on the day the winners were announced.
It was a lengthy application and a long shot. Fritch said she didn't know if their small, rural Johnson County school would be selected from the more than 130,000 K-12 schools nationwide. But last Thursday, Fritch told her students about the possibility and what an honor it would be if they were.
On a projector screen, she displayed the live announcement from the U.S. Department of Education, starting with an introduction from Education Secretary Betsy DeVos. Her class watched with anticipation as the various school winners were listed one after another.
"Then we saw our school come across and the kids were just — you could hear them all the way down the hallway," Fritch said. "It was a big celebration for our school to receive it."
New Simpson Hill was one of 367 nationwide schools to receive the honor last week. 
Considered the holy grail of education awards, the federal program recognizes public and private elementary, middle and high schools based on their overall academic excellence or their progress in closing achievement gaps among student subgroups. Now in the 38th year, the program has awarded about 9,000 schools nationwide since its inception, celebrating the hard work of students, educators, families and greater school communities. Chosen schools receive a flag to fly on their school grounds as a symbol of their excellence, a plaque and access to other promotional materials.
In a statement, DeVos said it was a "privilege to recognize the extraordinary work" of the chosen schools "to meet students' needs and prepare them for successful careers and meaningful lives."
New Simpson Hill Superintendent Joe Nighswander said achieving the designation for his Johnson County school was a team effort. While it offers a moment to celebrate, the award also helps demonstrate that the hard work and academic changes implemented in recent years have been worth the effort. "It reinforces that we have high-quality teachers here and they're doing a good job teaching the kids," he said.
New Simpson Hill began shaking up its academic approach a few years ago. It was helped along by a $50,000 school improvement grant awarded by the state in 2018. Nighswander said the money went toward professional development and to bring in a consulting company that reviewed the school's curriculum and programs and offered suggestions for improvement.
Among the changes that have been made as a result is a new math curriculum focused on problem solving. It also offers a digital component that allows students to drill down in areas where they are struggling utilizing school-provided Chromebooks they can take home.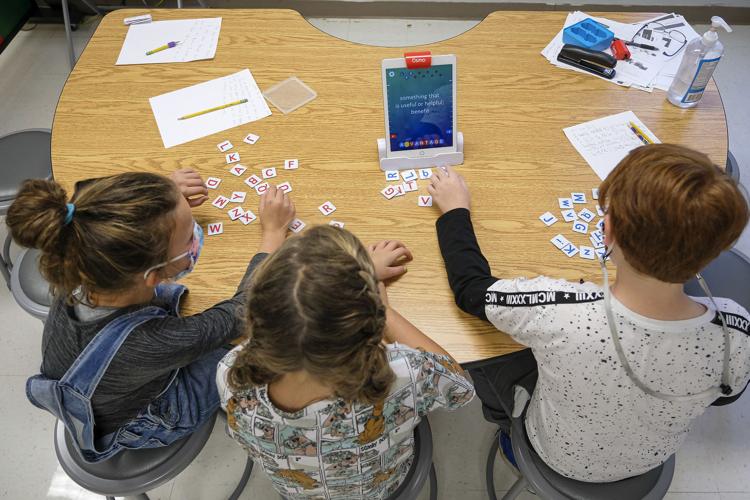 A uniform reading curriculum was also instituted across all grades, and a "Reading Room" opened up for kindergarten through fourth graders that offers individualized attention and fun games focused on vocabulary, reading comprehension and problem-solving skills. 
On Monday, fourth-grader Bentley Burgandine and three other students were working in a small group in the reading room with Title 1 teacher Kaye Walker. Bentley said he used to think reading was "boring" and didn't much care for it. "Before this it was hard," he said. But he's been really enjoying reading lately. He especially loves the competitive vocabulary "Kaboom!" game, which brings lots of laughs when that card is drawn. "The work hasn't changed," Walker said. "It's their attitude toward it that has changed."
Illinois students were not tested this spring because the COVID-19 pandemic disrupted the academic year. But New Simpson Hill students saw marked improvement in testing scores between 2018 and 2019, according to Illinois Report Card data. In 2018, 22% of students did not meet expectations in English language arts, the lowest testing category, and only 14% of students tested proficient. In 2019, only 5% of students did not meet expectations — and 39% of students tested proficient, either meeting, or in some cases exceeding, expectations.
Math scores improved as well, with 12% of students testing proficient in 2018, compared to 33% in 2019; and only 6% of students did not meet expectations, the lowest testing category, compared to 19% the year prior. Other students both years either partially met or approached expectations based on the state's five-tiered breakdown of testing scores (did not meet, partially met, approached, met and exceeded).
Aside from overall improvements, low-income students and those with individualized education plans, or IEPs, required by law for any student with an identified disability, made huge year-over-year testing gains. For instance, in 2018, 76% of students with an IEP did not meet expectations in reading — and no students in this category tested proficient. By the following year, only 19% did not meet expectations, and 19% tested proficient. For low-income students, only 9% tested proficient in 2018, compared to 30% meeting or exceeding expectations in 2019.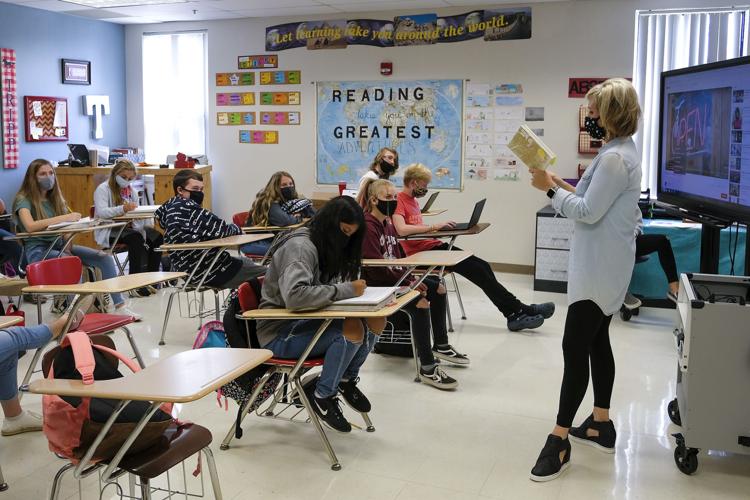 Teachers, Fritch said, were determined to make this happen.
"Whenever our scores were lower, I think the teachers were all like, 'Wow, this isn't our school. This isn't what we do here at our school. This isn't what our school is known for.' So then we realized, hey, we've got to step our game up and get back to where we are known for being," Fritch said. "That's when we all started really going that extra mile to make sure the students were getting what they should be getting and it paid off for us."
Principal Candace Armstrong said word of the award last week rendered her speechless. She credited teachers and staff with all their hard work for making it happen. 
"It's a huge deal, especially for a small school like us," she said.
In its application for the award, school officials talked about the beauty of the region that it serves, as well as the economic challenges facing the area. The school is located on a hill in Tunnel Hill, amid the Shawnee National Forest, pastures and farm fields. Once a bustling small town at a railroad intersection, population and businesses began fading away years ago when the railroad closed. In more recent years, the railroad bed has been converted into a bike trail that brings people from around the world. But economic challenges have persisted for the state's southernmost region. Of the district's roughly 250 students, about half live in poverty. That presents challenges, but also opportunities, school officials say.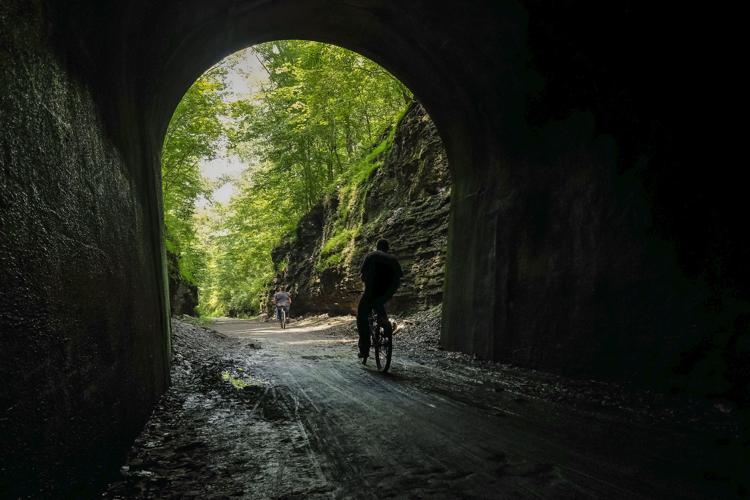 "One aspect of New Simpson Hill that sets us apart from many schools is that our school is family oriented and strives to make students feel a part of that family," they wrote in their application. "Our teachers care so much for our students that a couple have taken part in what is known as kinship placement and are fostering students in their home."
Though a rural school by definition, "we do not accept being a rural school as an excuse for any challenge or barrier," the application said.
Public school nominations for the awards are made by states' top education czars, which for Illinois is State Superintendent of Education Carmen Ayala.
Across Illinois, 21 schools received the award this year, and only this one in Southern Illinois. In fact, it's relatively rare for a Southern Illinois school to achieve the designation. Since the program's inception in 1982, six other regional schools have been named Blue Ribbon Schools, according to a Department of Education database. Most recently, Giant City Community Consolidated School District 130 in Carbondale received the designation in 2018. Prior to that, the award went to Sesser-Valier Elementary School in 2010; Carruthers Elementary School in Murphysboro in 2004; Frankfort Junior High in 1994; Brehm Preparatory School in Carbondale in 1993; and Sparta Primary Attendance Center in 1990.
Brian Plate, who teaches music and computer classes, said the best part about the designation is that it is a team award.
"It took everyone who works at New Simpson Hill, from all the students to the parents and families committing to some of these changes that we made and pushing the kids," Plate said. "It really took everyone in the community — so I feel like it's a great community award. I think that's really just the best part about it."
618-351-5079
On Twitter: @MollyParkerSI ​
Be the first to know
Get local news delivered to your inbox!