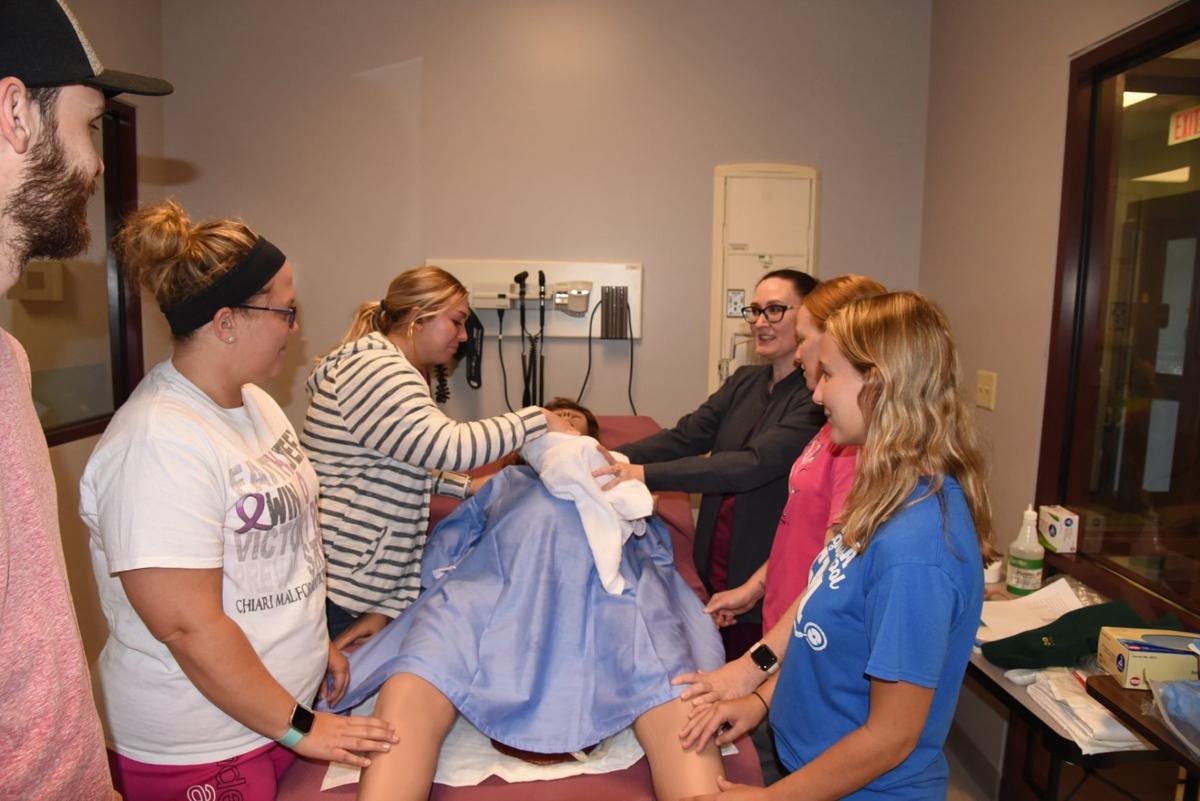 ULLIN — Victoria, the new patient recently admitted into Shawnee Community College's Nursing Program, has the ability to give birth — over and over again.
She has the capability to simulate low- and high-risk deliveries, including complications such as postpartum hemorrhaging or shoulder dystocia.
What's more, her eyes move, allowing for pupillary assessments, and she talks, and is able to — for instance — provide a patient history, announce another contraction or ask for an epidural.
"Victoria" is the nickname for Gaumard's Noelle S2200 state-of-the-art birthing simulator. Shawnee Community College recently purchased her to provide hands-on obstetrics training to nursing students. She was "admitted" into the program for the first time this fall semester.
April Dollins, a member of the nursing staff at SCC, said Victoria offers an extensive array of learning opportunities. Victoria's capabilities are so vast, in fact, she and other faculty members are learning something new about her nearly every day.
The simulator is equipped with a fetal delivery system, control software and a library of preprogrammed scenarios that allow nursing students to improve performance in specific birthing scenarios, according to an SCC news release.
The scenarios include normal deliveries, as well as breech deliveries and c-section and various other complicated deliveries.
"Those are things, thankfully, we don't see a lot of times in clinic but still want them to have the exposure and know what to do," Dollins said.
In addition to classroom time, nursing students must log specific amounts of clinic hours in real-world medical settings, including on specialty rotations.
Students working toward becoming a licensed practical nurse must log 40 obstetrics hours, and students working toward a registered nurse license must log 75 hours.
These hours are logged over the course of months, and some students complete an entire obstetrics rotation without ever experiencing a live birth, Dollins said. Victoria's human-like behavior allows providers to palpate contractions during an assessment, attach a real fetal monitor directly to the abdomen to track the fetal heart rate and contraction frequency, intensity, and duration.
Obstetrics experience is important for students because nurses interact with pregnant women in a variety of clinic settings, including family health clinics, emergency rooms, and ICU units, Dollins said.
"Instead of standing in front of my classroom, and lecturing on postpartum hemorrhage, for instance, the students will be able to learn about the signs and symptoms to watch for, learn how to identify it on Victoria and how to treat it," she said. "I think they will retain and remember it more if they're actively participating in it rather than just hearing me talk about it."
SCC nursing students previously practiced on a simulator that required another person to push the baby downward manually, whereas Victoria is capable of giving birth in a much more life-like manner.
Beyond obstetrics training, Victoria is a versatile simulator that also allows for medical-surgical scenarios as well that are unrelated to labor. Her pregnant belly can be replaced with a nonpregnant belly for practicing skills such as cardiac assessments, foley catheter insertion and intubation.
Victoria, including software and training, cost about $90,000, Dollins said.
About a year and a half ago, Dollins said faculty members were "asked to give a wish list of items we wanted for the nursing department."
"I thought if we were given a wish list, I might as well shoot for the moon and the worst they could tell me was 'No.' So that's what I did."
Victoria arrived over the summer.
SCC said in its news release that the simulator allows the college "to continue providing the highest level of training to prepare our nursing students for successfully entering the medical field and better care for their patients."
618-351-5079
On Twitter: @MollyParkerSI ​