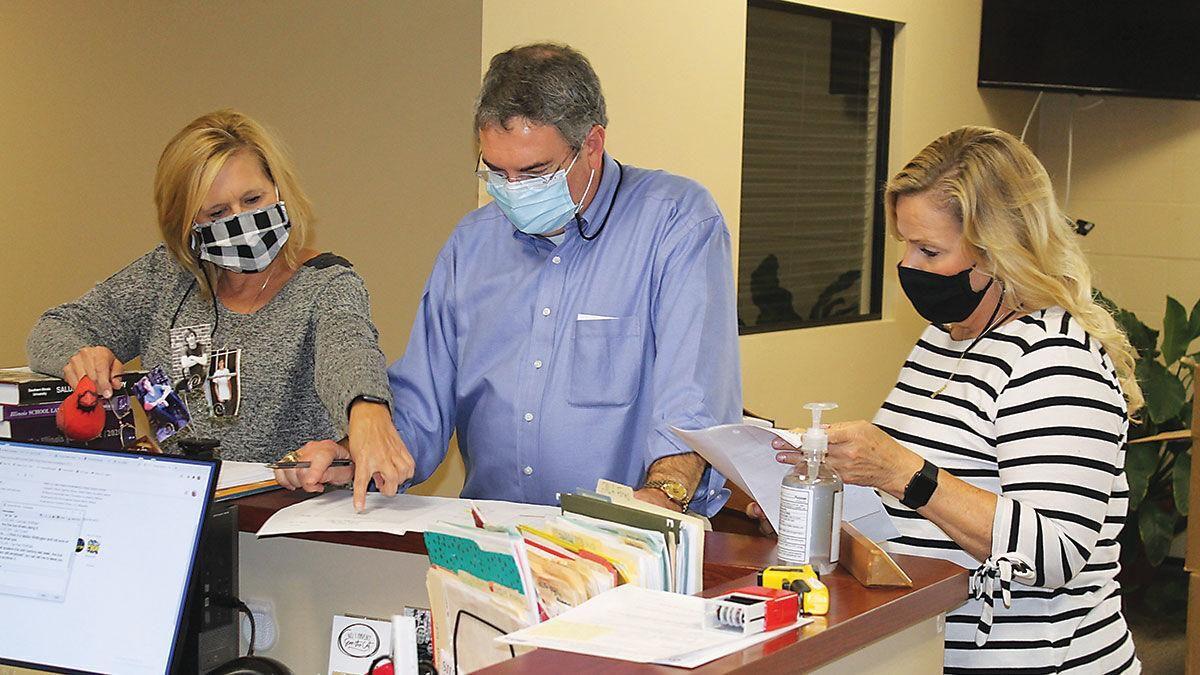 WEST FRANKFORT — The face of rural education changed dramatically this year when the coronavirus swept across the nation. Educators moved to virtual schooling this spring and continue to transform themselves this fall.
"Schools are honestly in triage mode still today," said David Ardrey of the Illinois Rural and Small Schools Association.
The pandemic made both temporary and systemic changes to education, Ardrey said. It also drew attention to existing rural education challenges, including internet and virtual resource accessibility, teacher shortages, and the disconnect with state and federal legislators.
Connectivity calamity
Resources to get the education from the classroom into students' homes was the most immediate need in rural schools this spring. In many cases, the infrastructure just wasn't ready for that.
Few teachers were already trained to deliver their lessons online. Many children did not have a device, Ardrey said.
"At first they thought a cellphone would be fine, but a telephone is not a learning device," he said. "If children have the device and the curriculum, it's not worth much if they don't have reliable broadband service."
"Some places simply have no connection," said Margaret Buckton, professional advocate for the Rural School Advocates of Iowa.
So, students must get creative to get their work done. She cites an example of one Iowa high school student who needed to take an online Advanced Placement test but couldn't get connection in his house. He actually look the test in the tractor cab.
"Iowa ranks 45th when it comes to affordable internet access," Buckton said, so many families can't afford high-speed internet.
And there may be other family members working at home. There are crashes and lag time, she said.
Schools and communities united to address the problems. Some towns, including Clarion in north central Iowa, offered hot spots, she said.
Broadband service and access to devices are also huge issues in rural Missouri, said Kevin Sandlin, executive director of Missouri Association of Rural Education.
In his state, almost 75% of the 518 public school districts are rural. However, connectivity issues aren't limited to the most isolated areas, he said. He gives the example of St. Clair, Missouri, a relatively affluent city not far from St. Louis, which has patchy connections. The signals are so weak, paper packets had to be provided for students there because they couldn't participate in virtual programs.
"This spring was a crash course for everybody to use online delivery methods," said Matt Donkin, superintendent of Frankfort Community School District 168 in Southern Illinois.
Illinois also has issues with bandwidth, affordable internet and device access.
"We were two years away from having one-on-one devices for every student," he said.
The CARES Act (Coronavirus Aid, Relief, and Economic Security Act) did help in the district, but Donkin said the district is still waiting for 500 Chromebook laptops.
In central Illinois, staff also had to make copies and get printed materials to a handful of younger Tremont students who didn't have access to internet, said Sean Berry, superintendent of Tremont School District 702, which usually has about 1,000 students covering 75 square miles.
It's not a matter of economics, it's just where they live that dictates if they have access, he said.
"Remote learning is not ideal," Berry said.
Some classes are especially difficult to teach remotely, Berry said, citing agriculture. It was a tough transition to keep FFA projects going, but their agriculture teacher Angie Bane managed to do it. Some classes, including welding, can't be done at home, so Berry is glad to have students back in their Tazewell County high school classes now. But activities are still limited.
"We can't wait to get back to having organizations, clubs and sports," said the former principal and coach.
Teacher shortages
The shortage of teachers and substitutes is another issue made very clear during the pandemic. At one point this fall, Donkin had more than a dozen Frankfort school district staff members out sick or quarantined. He had to close the school.
At Tremont, Berry only has three or four substitute teachers available.
Traditionally, retired teachers often subbed, but many are at higher risk to COVID-19, which adds to the shortage, said Buckton.
Missouri rural communities, which don't have the services or entertainment of the urban areas, attract new teachers by offering a four-day school week, Sandlin said. More than 100 districts have four-day school weeks, he said. On the non-teaching day, teachers can collaborate, get professional development and training or arrange medical appointments or other meetings they would have to take time off for.
"It increases teacher attendance," he said.
Research shows students learn just as well and take advantage of other organized resources that day or get appointments done without missing class time, he said.
As well as attracting teachers to rural districts during the pandemic, there is the concern of losing good teachers. Ardrey said if he were still teaching, the new demands on technology and health fears would likely lead him to retire this year.
"We worry that staff will be overwhelmed with all they need to do," Buckton said.
Voice for schools
Sandlin said he is fearful that many senators and legislators in Jefferson City, Missouri or Washington, D.C. have never been in public schools. He wants them to know that even with resource restrictions and other challenges, rural schools "do an outstanding job" preparing kids with personal and social skills making them college and/or work ready.
Rural school districts have taken on more duties during the pandemic, including contact tracing and other tasks county health departments may do in larger communities. Such things also add costs, he said.
Sandlin worries about older buildings and upkeep of facilities.
Sandlin is also concerned when he hears the call from Washington to consolidate small rural school districts to save money. Some Missouri districts have under 30 students, others thousands, but all are centers of community life there. Sandlin said he believes if two smaller districts see it in their best to combine, it is a good approach, but it should be led by them, not legislated from afar.
"The idea that one size fits all is nonsense," he said.
The lack of understanding that some urban legislators have about rural schools used to make Ardrey angry, now he says he sees it as a lack of information and a teaching opportunity.