CARBONDALE — Rebound alternative education employee Stephanie Brown was so determined to confirm Gov. Bruce Rauner for a tour of the alternative high school this week that the governor's office staff began to recognize her voice when she called his Springfield office to check in, over and over again.
The persistence paid off — though that's no surprise to the students and staff at Rebound. They know all about persistence, perseverance and the other ingredients it takes to overcome the obstacles that stand in the way of their goals — even in the face of challenges. Or rather, especially in the face of challenges.
That's the magic of Rebound.
"It's very inspirational to be here and see this," Rauner said following his tour on Friday morning. The governor said he would be talking with his staff about ways the state can provide more support to alternative high school programs.
Rauner noted that K-12 schools were the only state-funded service to receive a full budget this year, and that lawmakers approved and he signed a deal to increase the amount of money going to schools.
But Rebound and other schools like it were not included in that deal.
"I did not know — this is something I learned today — that this particular segment of our education system did not get a full year (funding) in the stopgap because I wanted to make sure all of K-12 got a full year."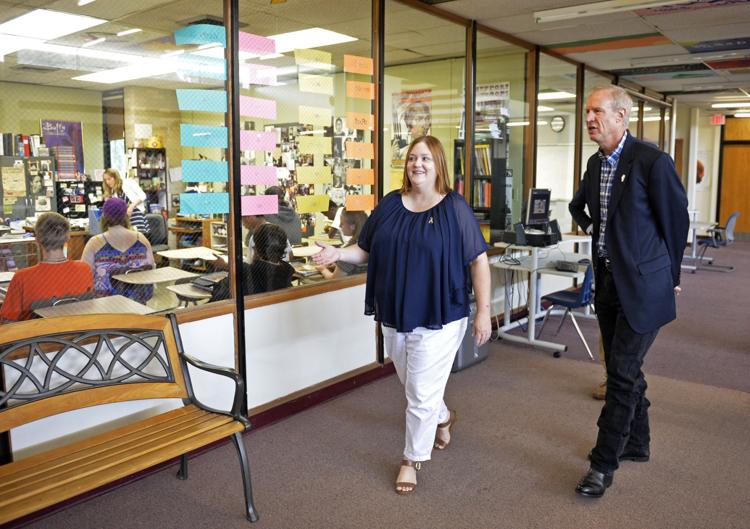 Rauner said he would be talking to his team to "make sure we get more resources" in future budget deals to alternative schools such as Rebound that are primarily funded by state and federal grants. One of Rebound's largest funding sources is a $170,000 adult education grant from the Illinois Community College Board.
Sandy Snowden, Rebound's program coordinator, said school officials have been working to schedule Rauner to take a tour of their school since spring.
After a few scheduling conflicts, Snowden said Rauner's office committed to making the tour when he was in town to attend Du Quoin State Fair opening weekend festivities. Earlier in the week, Brown, a parent educator and student services coordinator, made it her personal mission to firm up those plans.
In April, Rebound was on the brink of closure as the state budget stalemate in Springfield dragged on. Snowden, Brown and other students and faculty said their motivation to invite Rauner to see the school was to drive home the importance of second-chance schools such as this one that are often overlooked in budget talks because they fall outside the scope of K-12 funding, though most of their students are of traditional high school age.
Snowden said that people are generally supportive of Rebound once they truly learn what it is all about. Rebound is an alternative education program under the umbrella of Carbondale Community High School and open to any student throughout the region. Rebound serves about 225 students annually who have dropped out of traditional high schools for a variety of reasons, and about 85 at-risk students who are provided additional supportive services.
"People just need to be educated about our programs: What we do, who we are and what we're about," she said.
A six-month stopgap funding measure approved June 30 allowed the school to keep its doors open, but it won't be long before school officials find themselves in a similar position waiting on lawmakers and the governor to take action to release more funding. 
Snowden said passage of the stopgap measure in June means the school can remain open until at least January. But like many others who rely on state funding, she will be lobbying hard for passage of additional funds this fall to support the second half of the fiscal year. 
Rauner said that it is most likely that Democratic legislative leaders will wait until after the November election to take up further budget votes. He said lame-duck sessions that follow general elections and before the swearing-in of a new General Assembly have a history of producing a greater quantity of compromise and courage among the elected class. 
"So, it makes sense if they're going to stay with that pattern that they might be willing to take more creative votes, tougher votes, during that window," Rauner said. The governor added that work is ongoing in the meantime to ready a budget deal for a post-election vote. He said he's meeting with legislators, but wasn't specific about which ones and how those talks are shaping up. 
During his tour, Rauner also met with several young adults whose lives have been changed by Rebound. He challenged Clayton Ellet, of Carbondale, to a game of ping-pong, and spoke with two graduates.
Rauner called for a high-five when Donovan Burk, a 2013 Rebound graduate, told the governor he was majoring in elementary education. Burk said he enrolled at Rebound for a second chance after dropping out of Murphysboro High School. As a teenager, Burk said he was "just your average trouble maker" who "didn't take school as seriously as I should have."
But that changed for him at Rebound. At this school, he found something to believe in — himself.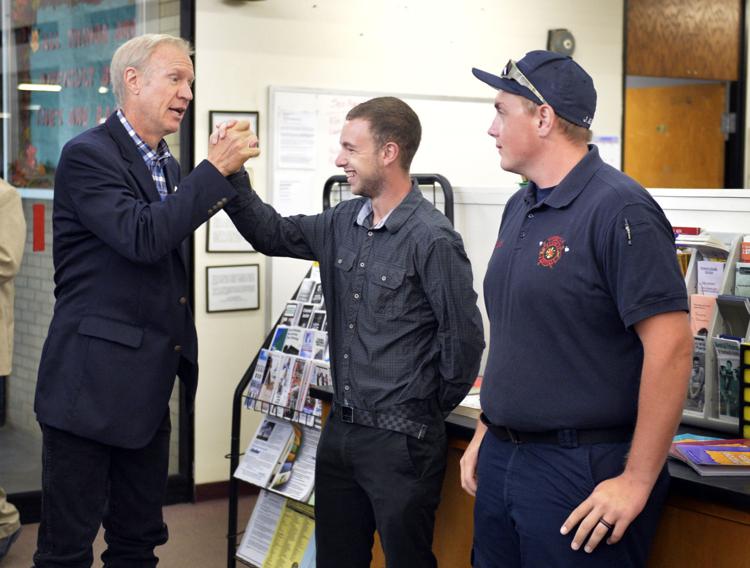 "I don't know if I would have finished and done the things I've done and met the people I've met if it wouldn't have been for here," Burk said. "I don't know where I would have been." After completing classes at John A. Logan College, Burk said he plans to earn his teaching degree at Southern Illinois University. 
A playground aide at Carbondale Middle School, Burk said he wants to give back by providing extra support to the young students who are struggling with school as he did, to encourage them to stick with it. "Coming from my background, this is what I can do" he said. "I can be the difference maker."
Rauner also met Jared Adams, a 2012 Rebound graduate who is an EMT/firefighter with the Carterville Fire Department. Adams also joined Rebound after dropping out of Murphysboro High School. He described his younger self as a "little rebellion" with minimal interest in school.
But he said that changed at Rebound because the teachers took the time to break down the material in a way he could understand and that made it more enjoyable.
"If every teacher in the state was like the teachers are here then this state would be in a lot better shape," he said. "They don't treat you as just another face, or just another student. They treat you as if you're their own kid."
Teacher Marla Martin said that's because she and the other employees of Rebound really do care that much. Martin said she hopes the governor remembers the faces of the students and graduates he met on Friday when he sits down with legislative leaders for budget negotiations.
Of Rebound, she said, "In my opinion, it's the shining star of adult education."