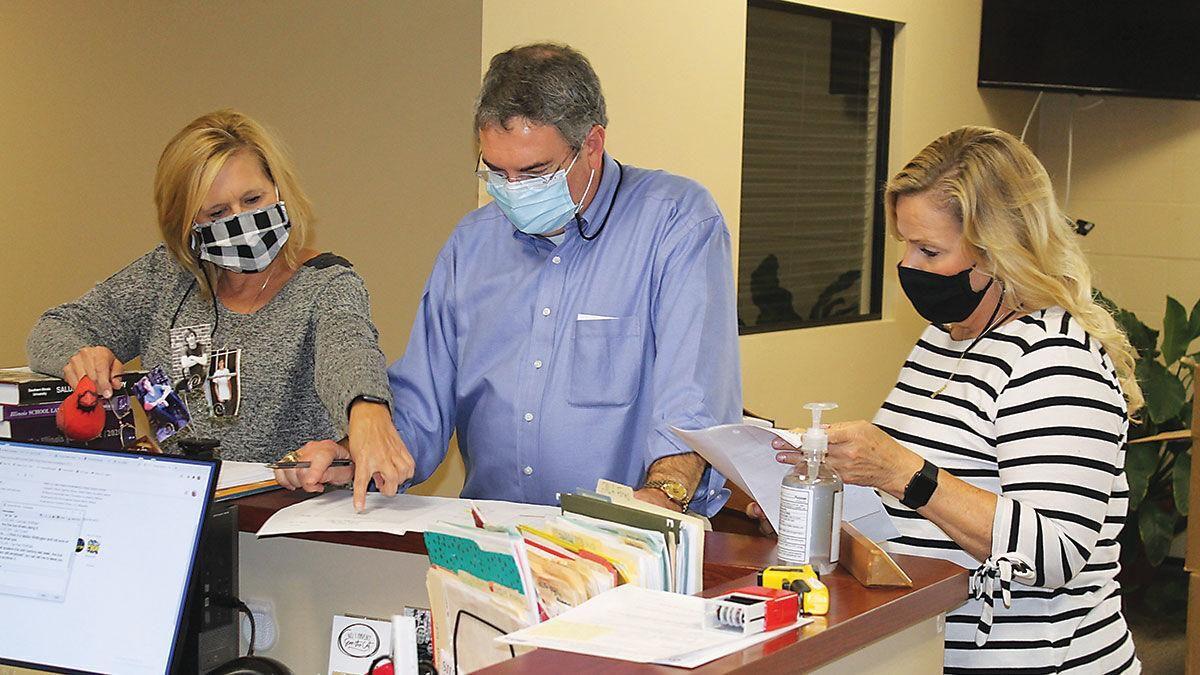 SPRINGFIELD — Illinois is facing a statewide teacher shortage and school districts in the rural parts of the state have reported the most severe issues as a result, according to a new survey.
The 2020 Illinois Educator Shortage Study, to be released Monday by the Illinois Association of Regional Superintendents of Schools, indicates a majority of school districts that responded to its survey believe the problem is getting worse.
"We need more teachers," Lorie LeQuatte, who serves as a regional superintendent overseeing 22 school districts in Franklin, Johnson, Massac and Williamson counties, said in an interview Friday. "We need to encourage people to become teachers, we need to promote the positive aspects of K-12 education"
Each of the 853 school districts in the Illinois public school system has its own superintendent. In total, 591 responded to the survey.
The 38 regional superintendents of the IARSS, who act as intermediary between the Illinois State Board of Education and local school districts, developed and conducted the survey using Goshen Education Consulting.
More than half of the state's school districts said the location of their schools negatively impacted their ability to recruit new teachers, the most common reason cited in the survey. Many superintendents attributed reluctance among prospective teachers from more metropolitan regions to move to the rural parts of the state for work as a contributing factor.
The southeast region, which the survey groups as counties from Alexander to Clinton to Crawford, reported some of the most intense shortages. About 80% of school districts in the region responded to the 2020 survey, and 84% of those districts reported a problem with the number of available teachers.
Over 40% of district superintendents in the region say the problems are getting much worse, the highest among any region. Just 2% of districts in the southeast say their situation is improving.
"Even five years ago, we would post for an elementary classroom teacher, we may get, you know, 20, 30 applications, and now we're lucky to get five," LeQuatte said.
Of the 96 school districts in the southeast region that responded, 16 had to cancel a class or a program due to not having a qualified teacher to manage it and 15 had to move a class online for the same reason. In total, 38 classes were canceled and 28 were moved online.
Matt Donkin, superintendent of Frankfort Community Unit School District 168 in Franklin County, said the pandemic and remote learning have exacerbated gaps between high-performing students and others.
"What we are seeing after a year of remote learning is the gap between students who are at higher levels and those at the bottom has increased," Donkin said.
But some students may need to repeat a grade, and as the district explores options for breaking math classes down into smaller classes of students at similar skill levels, several obstacles stand in the way.
"We don't have the space or staff," he said. "The is something that we will have to address next year, but it's not just next year. We will be dealing with this for years to come."
The southeast has also reported a significant struggle to maintain a pool of substitute teachers to manage classes during an instructor's sick or off days.
According to LeQuatte, most substitutes who worked at her school districts in the past have been retired teachers. Now because of the potential hazard of COVID-19 to older persons, the pool of qualified substitutes has shrunk significantly.
"Our schools are beginning to hire full-time substitute teachers to help make sure we can cover when a teacher needs to take a day off," she said. "We've seen our substitute teacher pay rise in some areas. … The districts are competing with one another on trying to find people, sharing résumés, we have a serious educator shortage."
Ninety-nine percent of southeast districts that responded to the survey said they had some kind of shortage problem relating to substitute teachers. It was called a serious problem by 45% of districts.
Nearly two-thirds of districts in the region say the availability of substitutes is significantly worse than five years ago, compared to a slim majority of all rural school districts in the state.
Every school district in the southeast region that responded to the survey anticipates a problem with substitute shortages in 2022 and 2023.
To deal with the current lack of qualified teachers, the study suggested hybrid and remote learning as a way to increase access even when a teacher is not available, along with a credit recovery system for students that miss out on integral classes as a result of COVID-19 and teacher shortages.
For the ongoing shortage of teachers and recruitment difficulties in the long run, state agencies should develop improved and more targeted pipeline programs, according to the study.
The idea would be to shepherd and incentivize potential educators who are currently high schoolers in districts with the most need to enroll in the state university system and return to their rural communities as teachers once they complete their degree.
"I know we have all had teachers in our lives who have made an impact," LeQuatte said. "I hope that this educator shortage survey can open some eyes and get things moving faster."
— Marilyn Halstead of The Southern contributed to this story.
This story has been updated to correct the number of regional superintendents in Illinois.