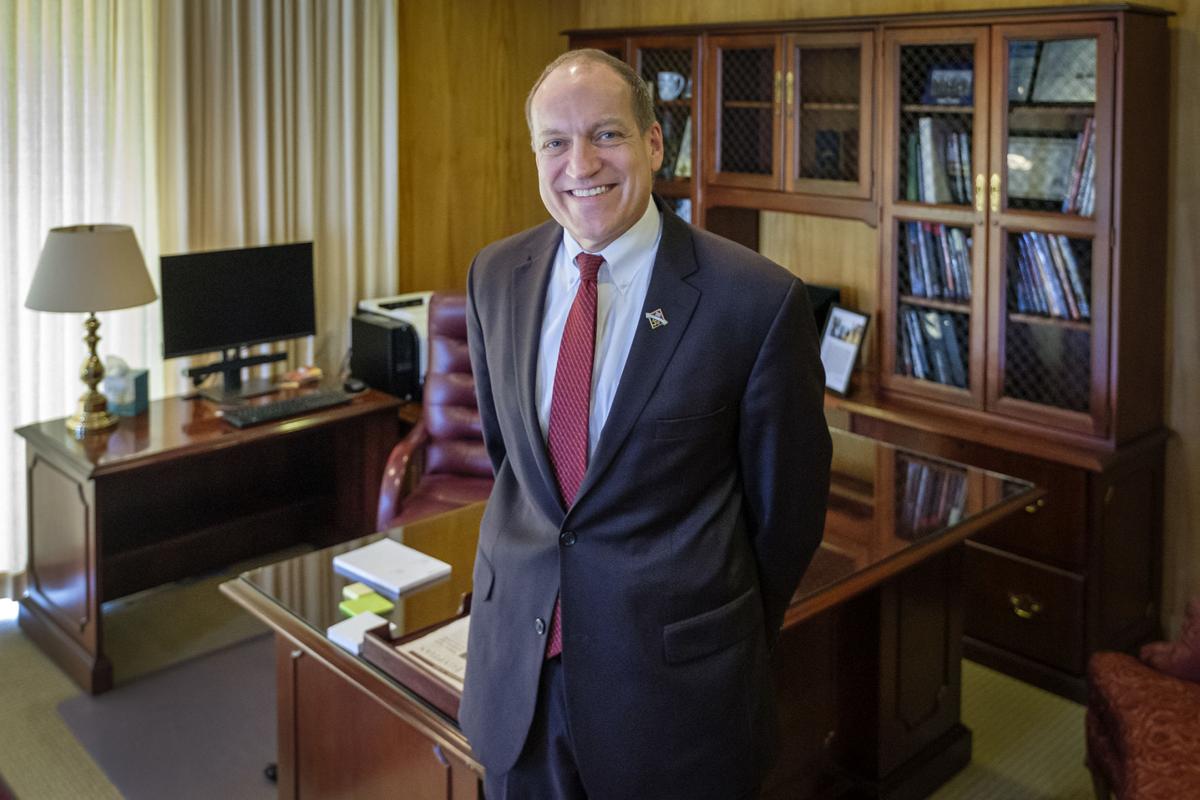 CARBONDALE — Southern Illinois University System President Dan Mahony will leave his temporary home in Carbondale for Edwardsville early next year. He plans to spend the spring semester there before finding a permanent location in Springfield.
Mahony has had the two moves planned since he assumed the role of SIU president in March. 
He said he picked Springfield to lay down roots for two reasons: it's more neutral territory, and it gives him easier access to decision-makers in the state's capital.
"With the president here in Carbondale, I think that creates some concerns both at Edwardsville and Carbondale, frankly," Mahony recently told The Southern, in explaining his decision. "In Edwardsville, you're seen as, I think, being biased towards Carbondale. And for those in Carbondale, then it creates some confusion about who is really in charge: Chancellor (Austin) Lane or myself."
"And it really needs to be clear that Chancellor Lane is the leader of this campus," he continued. "Me being physically located somewhere else, I think, actually helps with that. I think that will help him establish his leadership here — and not just him, but any chancellor here in Carbondale. It's a lot cleaner, and frankly, a lot of the work that I have to do working with legislators and others, is in Springfield. So it makes sense to be there."
Mahony said he decided to spend at least a semester on both the Carbondale and Edwardsville campuses before moving to Springfield, to become better acquainted with both.
This fall, in addition to his administrative duties, Mahony taught a combined SIUC-SIUE honors class titled "Intercollegiate Athletics: Origins through Contemporary. He plans to move to Edwardsville on Jan. 14., and will teach a similar class titled "History and Current Issues in College Athletics." 
Breaking tradition, but not the mold 
In moving, he will break a long tradition of SIU presidents working primarily out of the system's flagship Carbondale campus, and living in Southern Illinois.
However, he will not be the first SIU System president to live elsewhere.
That distinction belongs to Kenneth "Buzz" Shaw. He became SIU's first system chancellor when an umbrella organization was created for the university in 1979. (As a point of clarification, for a period of time, the chancellor was over the SIU System, and each campus had a president; the titles later switched).
Shaw had served as president (what would today be the position of chancellor) of the Edwardsville campus prior to taking over as leader of the newly created system office.
As system leader, he maintained his primary office and residence in Edwardsville, though also frequently visited the Carbondale campus, according to John Jackson, a former Carbondale campus administrator who continues to serve SIU as a visiting professor and de facto university historian.
At the time of Shaw's installation, there was skepticism about whether the creation of an umbrella system over both campuses was the best approach. Shaw predicted the system's persistent challenge would be in "the creative tension between autonomy for Carbondale and Edwardsville and the need for a coordinated system."
He pledged to seek "the happy balance between centralization and institutional autonomy," according to an SIU Edwardsville biography of Shaw.
Shaw left the SIU System in 1986, upon his appointment as president of the University of Wisconsin.
The six system leaders that followed Shaw maintained their primary offices in Carbondale.
But not without controversy.
Power struggles 
Lawrence Pettit followed in Shaw's footsteps as the second chancellor (equivalent to today's president) of the SIU System. Almost immediately, Pettit clashed with then-SIU President (equivalent of today's chancellor) Albert Somit. In 1987, the year following his arrival, Pettit dismissed Somit as president and demoted him to professor status. A 1988 article in The Southern Illinoisan titled "Tug-of-war existed between Pettit and Somit at SIU-C" detailed the nature of their tense relationship.
The article said Pettit sought a higher profile role as system leader than did Shaw in an attempt to assert himself as SIU's chief executive.
Somit, on the other hand, wanted to make it clear that he was in charge of the booming Carbondale campus, which hit peak enrollment at nearly 25,000 students only a few years later.
Their rift apparently escalated when Pettit was excluded from planning the groundbreaking ceremony for SIU's Touch of Nature Environmental Center in Makanda, which included then-Gov. James Thompson as a special guest. Pettit was relegated to sitting in the audience rather than joining the governor and other SIU officials on stage.
In the years that followed, other power struggles have played out between presidents and chancellors. Most recently, it was seen in the now widely familiar saga featuring ousted President Randy Dunn.
University records revealed that Dunn intentionally left then-Carbondale Chancellor Carlo Montemagno in the dark on his plan to transfer more than $5 million from the Carbondale to Edwardsville campus in April 2018. Meanwhile, Dunn, working closely with Edwardsville leaders, crafted a misleading narrative about a historic 60/40 state funding split between Carbondale and Edwardsville, respectively. He did so, as described it in an email to Edwardsville officials later made public, "simply to shut up the bitchers from Carbondale." 
Further, he coached Edwardsville campus officials on how to defend the funding shift, and later, encouraged them to drum up support for legislation to split the two campuses after the board voted down the money transfer. Leaders on the Edwardsville campus have been asking for a reexamination of the allocation of state dollars since their campus matched, then eclipsed Carbondale's enrollment numbers in recent years.
Several board members who opposed the transfer of funds in 2018 said they agreed the funding split needed review, but wanted to take a more methodical approach.
Dunn maintained he was neutral on the campus split proposal, though email records painted a different reality: that he actively orchestrated the political theater from behind the scenes. Eventually, the split legislation in Springfield died, with commitments from the board to continue to examine the funding allocation formula. Dunn accepted a voluntary separation from the university and six months severance of $215,000 in July 2018.
Dunn was replaced on an interim basis by Dr. J. Kevin Dorsey, a former dean of the SIU School of Medicine in Springfield. As interim president, Dorsey maintained his primary residence in Springfield. (The SIU School of Medicine, though mostly located in Springfield, is part of SIU Carbondale, where first-year medical students attend classes; in the same way, the School of Dental Medicine in Alton is tied to the Edwardsville campus.)
Funding split debate postponed, but unsettled 
As a compromise in 2019, the board passed a resolution in support of splitting any new money allocated by the state on a 50/50 basis between the two campuses for three fiscal years, through fiscal year 2022. Mahony has said creation of a new budget allocation model will be informed by the strategic planning ongoing at the system level and both campuses. 
When he was selected in December 2019, Mahony said the SIU Board of Trustees left it up to him where to maintain his primary office and residence upon starting his job the following March. But, he stressed, board members made clear they wanted leadership to "be uniting the system at every corner."
Mahony says move designed to strengthen system
In a follow-up email to The Southern on the topic, Mahony stressed that the president and key staff will always have an office at the Stone Center in Carbondale, where they will work regularly, if not weekly. For some staff, it will continue to be their primary office location. Originally built in 1971 to house the school's president, it has served as the SIU System office since 1998.
But Mahony said that having leadership work more throughout the system is important to strengthening the bonds of the different parts that make up SIU. (Other SIU System leaders also traveled throughout the system, while maintaining their primary office and residence in Carbondale.) He said an example of this already in existence is that the system's General Counsel's Office is based in Springfield, but has offices in Carbondale and Edwardsville. Before the pandemic, General Counsel staff traveled between the locations frequently, he said. 
Further, he noted, other system staff already primarily work in other locations. Auditor services are based in Edwardsville, and Government & Public Affairs, Diversity Initiatives and Technology Transfer officials are in Springfield alongside the General Counsel's Office. 
Currently, in addition to the president's office, the Stone Center in Carbondale houses vice presidents for Financial and Administrative Affairs, Academic Innovation, Planning and Partnerships, and the Office of the SIU Board of Trustees. 
However, SIU System's new vice president of Academic Innovation, Planning and Partnerships will follow Mahony to Springfield. 
Mahony said his decision should in no way be interpreted as the president's office abandoning Carbondale for another location. He said he will continue to have an office in the Stone Center and use it regularly.  
Maintaining a primary residence in Springfield and working throughout the system "does not mean the ties this office has to the Southern Illinois community will be lessened," he said.
618-351-5079
On Twitter: @MollyParkerSI ​