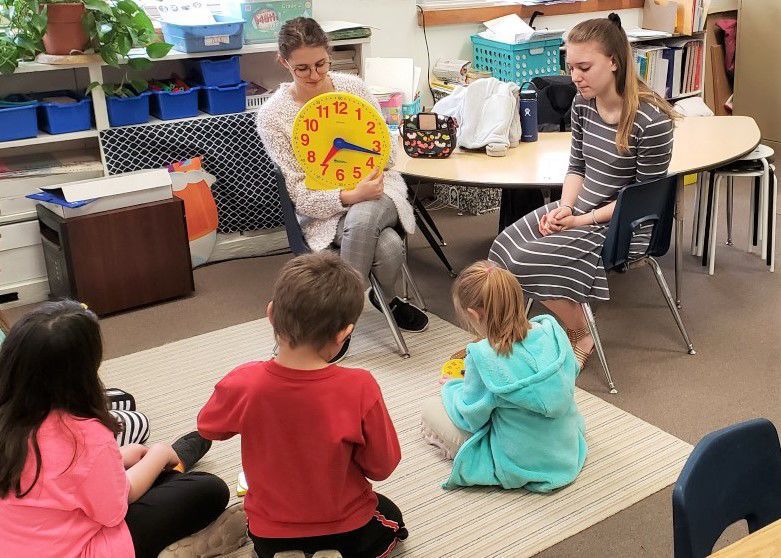 CARBONDALE — Last May, the nonprofit Joyce Foundation together with a state education council put out a challenge to communities across Illinois: Convince more high-schoolers to become teachers.
The state had seen a 53% decline in graduates from teacher preparation programs between 2010 and 2016, outpacing even the national downturn in interest in the profession among young people, according to the Illinois State Board of Education.
Meanwhile, over half of all parents nationwide, including those who work as teachers, now say they do not want their children to become teachers, the PDK Poll revealed in 2018. It's the first time in the poll's 50-year history that a majority of parents don't want their kids to teach.
The response in Southern Illinois is about changing the narrative, said Southern Illinois University professor Nancy Mundschenk, coordinator of the Southern Illinois Network for Future Teachers, one of eight winners of the Joyce Foundation grant.
"High school is a place to inspire students," Mundschenk said. "We need to highlight and celebrate how teachers change lives, and we need to stoke the passions of young people who are service-oriented and want to give back."
In the last year, the seven high schools in the network — Anna-Jonesboro High School, Carbondale Community High School, Carterville, Cobden, Du Quoin, Johnston City and Vienna — have all introduced a new extracurricular program called Educators Rising, which gives high-schoolers hands-on experience in teaching through classroom observations, assistant teaching and tutoring at area elementary schools.
Participants receive "individual plans to take them from high school through college and into their own classrooms," Munschenk said, plus career exploration, college counseling and scholarship help.
The response to the new clubs has been tremendous, Mundschenk said.
"One partner high school said they had to cap the club because they've had such a response," Mundschenk said. "Students take a lot of pride in being out in the schools, doing service to their communities."
To build on that success, the network is now working with its community college partners to help high-schoolers begin working toward a future in teaching, Mundschenk said.
Over the next few years, two local community colleges, John A. Logan and Shawnee, will help the seven partner high schools offer dual-credit courses fulfilling education degree requirements for the community colleges and for SIU Carbondale's College of Education and Human Services.
This is the first time that college-level education credits will be available at Southern Illinois high schools, Mundschenk said.
The early career exposure that dual credit provides has already shown benefits in other disciplines, said Stephanie Chaney-Hartford, John A. Logan's dean of academic affairs.
The college's high school nurse assistant training has become a "touch point for students interested in the medical field," Chaney-Hartford said.
"We have had an explosion of growth in that particular high school course and because of it we have more nursing applicants than ever before," she added. "It's a very beneficial form of career exploration, and it helps students know whether they're on the right path."
The college expects to introduce the first high school dual credit education courses in fall 2020, said Rachel Sveda-Webb, John A. Logan College's director of dual credit and partnerships.
"Carbondale is getting its paperwork ready and we have several other schools interested," Sveda-Webb said.
One challenge to expansion across the high schools in the network will be finding educators who meet the state qualifications to teach a college course, holding at least a master's degree in an education discipline, like educational administration, education leadership, or curriculum and instruction, Chaney-Hartford said.
Educators who teach the classes will receive support from John A. Logan College faculty, Sveda-Webb added, and high school students will not be charged any tuition to enroll.
"These students will be building towards their futures among a community of other young people with the same interests," Mundschenk said. "Meanwhile, they'll be getting hands-on experience in the classroom."
Moving forward, Mundschenk hopes to see Educators Rising spread to other Southern Illinois high schools, and eventually become fully integrated into the school day, like Future Farmers of America, which is often offered as an in-school elective, instead of an after-school club.
"We want to move from extracurricular to co-curricular," she said.
By 2021, she hopes to see at least 20 Educators Rising participants headed to college as future teachers.
From there, she'll continue monitoring their progress, to see whether they stick with teaching, and whether they end up working in Southern Illinois, where 92% of school districts report struggles staffing teacher positions, according to a survey by the Illinois Association of Regional Superintendents of Schools.
"How many actually complete their program? Do they teach in schools in Illinois? How long do they continue in the teaching profession? These will be critical questions to evaluate our success," Mundschenk said. "Retention is just as important as recruitment."
She and other local education leaders believe the Network for Future Teachers is poised to grow if the state continues to prioritize high school pipelines in coming years.
"Now we've got a system in place for how we drive future teachers," Mundschenk said. "We're a small network, but we're the impetus for really impressive growth in supporting schools and career pathways, not just into education, but into other fields. This is a great opportunity to shape the future."
Be the first to know
Get local news delivered to your inbox!