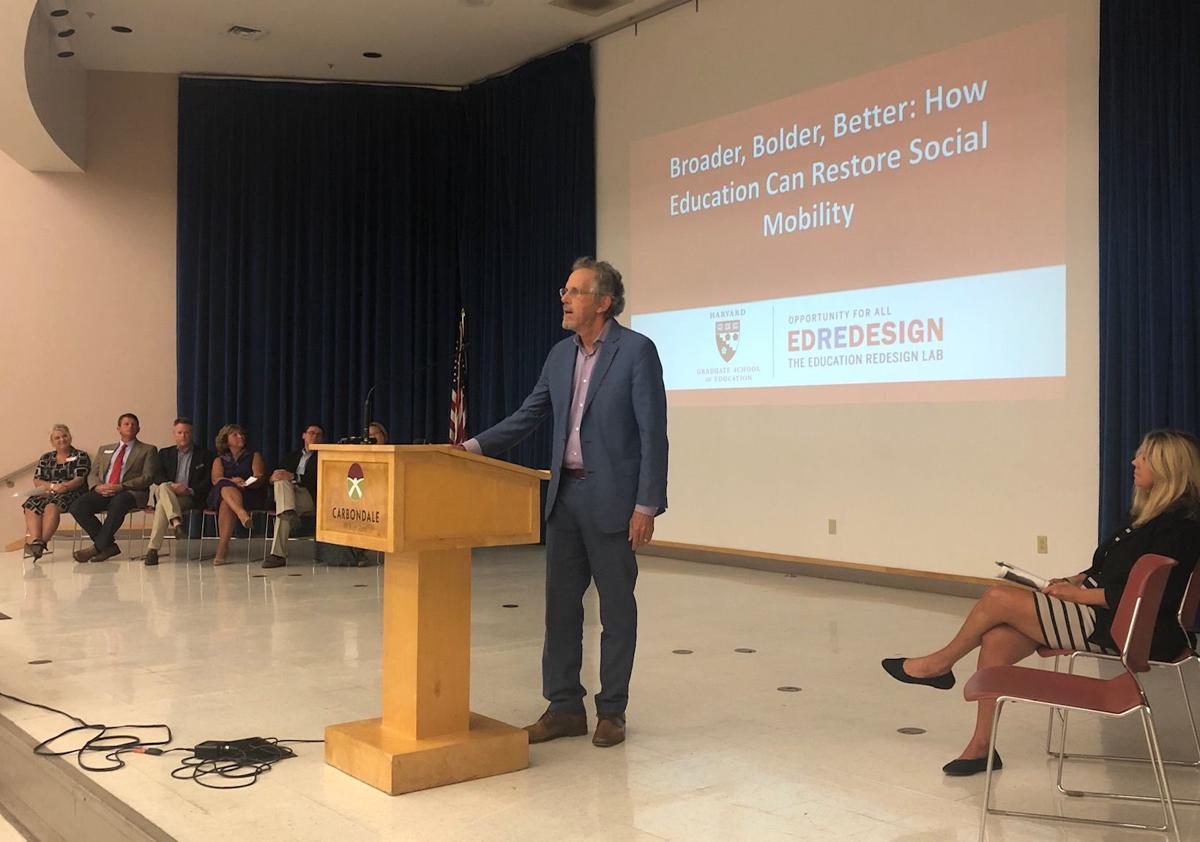 CARBONDALE — About 60 people gathered at the Carbondale Civic Center on Thursday evening to hear Paul Reville, director of Harvard's Education Redesign Lab, discuss his mission to craft policies that better serve all students.
At the top of his talk, Reville said he assumed he was "preaching to the choir" in a room full of educators, health care practioners, child development specialists and faith-based leaders. But not everyone is plugged into what's going on in America's public schools, he said. He told the crowd that it is important to create a sense of urgency around the need for more effective educational polices that reach "each and every child."
The Education Redesign Lab tries to build support for change in a variety of ways. One is its "By All Means" initiative where the Education Redesign Lab is working with a variety of schools to pilot the creation of individualized student success plans, and new approaches to connect student populations to their broader communities.
Unity Point School in Carbondale is the only rural participant in the study. The school's administrators say they plan to share what they learn from participating with Harvard with other regional schools that are part of the Resilient Southern Illinois consortium.
Reville said the face of education is changing. The new majority in America's public schools are students of color; many of their families live in poverty. Further, more than 8.9 million students, more than one in five nationally, attend a rural school like many of those throughout Southern Illinois, he said. More than half of the nation's school districts are in rural locations.
You have free articles remaining.
Schools have to figure out how to meet students where they are academically and socially when they enter their districts, he said. "Kids don't come in one size," he said. "They come in so many different sizes." The approach should too, he said. It's not uncommon, he said, for some children to start school having heard 30 million to 50 million fewer words than other students.
Before Reville spoke, several local leaders shared some of the ways that people are coming together in Southern Illinois around this goal.
Jeff Franklin, with the SIU Center for Rural Health and Social Service Development, said it's amazing what can happen when there are few turf wars and everyone is working toward mutual goals. That's the case with the Healthy Southern Illinois Delta Network that serves Illinois' lower 16 counties, he said. 
Matt Buckman, a licensed psychologist, shared efforts to wrap services around children, engage whole families in the process, and knock down the silos that hinder shared communication. "We're trying to let families drive the bus," he said.
The Rev. Tom Gray of the First Baptist Church in Vienna, which runs an after-school program, said that he believes there's a big opportunity for schools in the region to partner with churches. He gave three reasons for why: Churches are as in tune with the challenges facing many area families as the schools. Second, he said, the faith community is built on love, and love and stability from an adult may be missing in some students' lives if their home situation is unstable. Third, he said, churches offer untapped resources, as they are filled with retirees looking for ways to give back to their communities and eager to volunteer tutoring or engaging in other activities with kids.
"We spend too long staring at a problem in disagreement of the solution while those in the problem suffer," Gray said.
Mary Jane Morris, coordinator of Resilient Southern Illinois, said that it was encouraging to hear how much the region is already doing, and to know that the people in the audience Thursday night were committed to doing more. She said that the mission of the Harvard Redesign Lab — to give every child in the U.S., and particularly those in poverty, the opportunity to succeed in education and in life — is one that's easy to stand behind.
618-351-5079
On Twitter: @MollyParkerSI ​