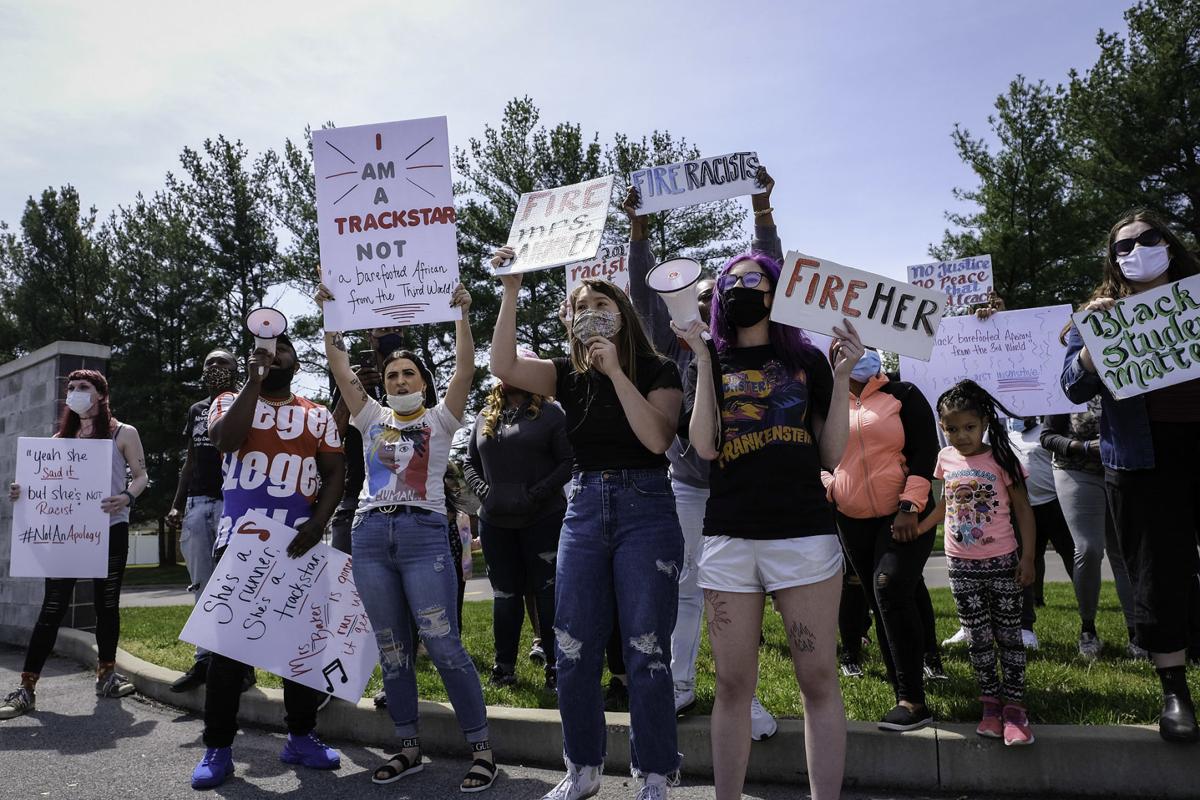 Editor's Note: This story has been updated to correct the race of the female track coach. The Southern regrets the error. 
MARION — More than three dozen people met Monday at the Harry L. Crisp Sports Complex to protest the treatment of a Black Marion High School track athlete by a white female track coach.
The crowd, led by Akeem Petty, a former Marion High School athlete, and Korshawn Johnson, who led Black Lives Matter protests last summer, chanted things like, "Black students matter!" and "Mrs. Baker must go!" 
Track Coach Sara Baker allegedly called a 15-year-old Amari a "black barefooted African from the third world" on Wednesday afternoon, according to Amari and her family.
The Southern Illinoisan is not reporting the athlete's last name at the family's request because she is a minor.
The mother, Marilyn Tucker, said her daughter was upset. Amari called the incident "beyond rough."
"I was embarrassed. She said that in front my whole team," Amari said.
"I just think justice should be served," Tucker said.
Tucker called the school Thursday morning to complain. She and Amari met with the coach and Darrell Wimberly, dean of student at the high school, to discuss the incident.
The family said the teacher gave an insincere apology and told Amari she could turn in her uniform if she did not want to follow the coach's rules. They took that to mean Amari was off the track team.
Asia Gossett, Amari's sister, took to Facebook Friday afternoon to call others to action on her younger sister's behalf and asked people to call the school. Within a couple hour, the conversation turned to a protest march.
As word of a protest spread, Marion school administrators, Marion Mayor Mike Absher and others met with the family to plan for a peaceful protest. They agreed a protest could take place at the sports complex across from Marion High School.
On Monday, protesters met in the parking lot of sports complex and decided to march, stopping at several locations along school property to chant and make their presence known.
A few students left school to join the protest, including Amari and a couple other track athletes. Community members trickled in as well.
The crowd carried signs supporting Amari and calling for Baker's dismissal while chanting "Keith Oates must go!" "Mike Absher step in!" "Keith Oates step in!" and "bare foot African!" among other chants while Absher spoke to the crowd gathered at the high school.
When asked what he thought about the incident, Absher said they were "at best, extraordinarily insensitive."
He tried to reassure the crowd that the school district was investigating the incident. Many people tried to shout over his remarks.
Keith Oates, superintendent of Marion Unit 2 School District, also spoke to the crowd and the media during the protest. He told the crowd that the school district has procedures it has to follow and asked them to let that process play out.
He said Baker is currently on a paid leave from her teaching and coaching duties. She would not attend a track meet Monday evening at Harrisburg.
"All I can say as a school district is that Mrs. Baker is currently on leave. There are processes we have to follow. That's where it's at at this moment," Oates said.
When asked by a protester how he felt about the remarks as a father, Oates called the remark "insensitive."
Oates found out about the incident on Friday afternoon. He said it would take some time to investigate. He did not elaborate on what the investigation specifically entails or where the district is in their investigation.
He said the school has counselors and social workers if students want to talk, adding that administrators are always available, too.
One of the leaders of the protest was Akeem Petty, a former Marion football and basketball athlete.
"We're here to try to make a change on the system. We want to make sure students get comfort and love coming from the high school in our hometown," Petty said.
Petty said he suffered through racism and discrimination during his high school years. Gossett is one of his closest friends, so he has watched Amari grow up. He added that it has been hard to see how the remarks traumatized her.
"What was said shouldn't have been said," Amari's brother Malek Gossett said. "Stuff like that hits different to us. It's not insensitive; it's racist."
Malek Gossett said the school administration needs to "get its hands out of its pockets and do something about it."
He graduated from Marion High School in 2016. A post he made on social media drew comments from other students who alleged the coach had body-shamed them.
Asia Gossett said she wants the coach to give her sister a formal apology. She confirmed that her sister was back on the track team, saying the administration had overruled the coach's removal of her sister.
"It doesn't feel like my sister would have been heard without people being here today," Asia Gossett said.
Donald Robinson carried his six-month-old son, Dawson, for part of the march.
"Hopefully we won't be stuck on the same stuff my parents protested when he grows up," Robinson said.
Marion Superintendent Keith Oates issued a statement on Sunday in response to public outcry after a track coach made racist remarks to a Black…
PHOTOS: Protesters condemn Marion track coach's racist remarks against Black athlete
Protesters condemn Marion track coach's racist remarks against Black athlete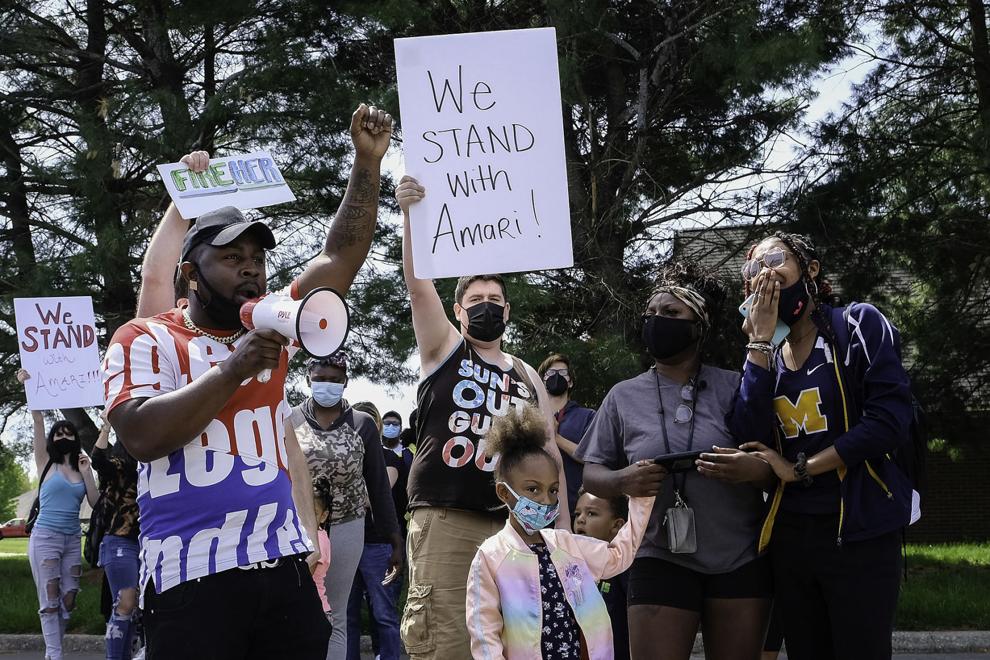 Protesters condemn Marion track coach's racist remarks against Black athlete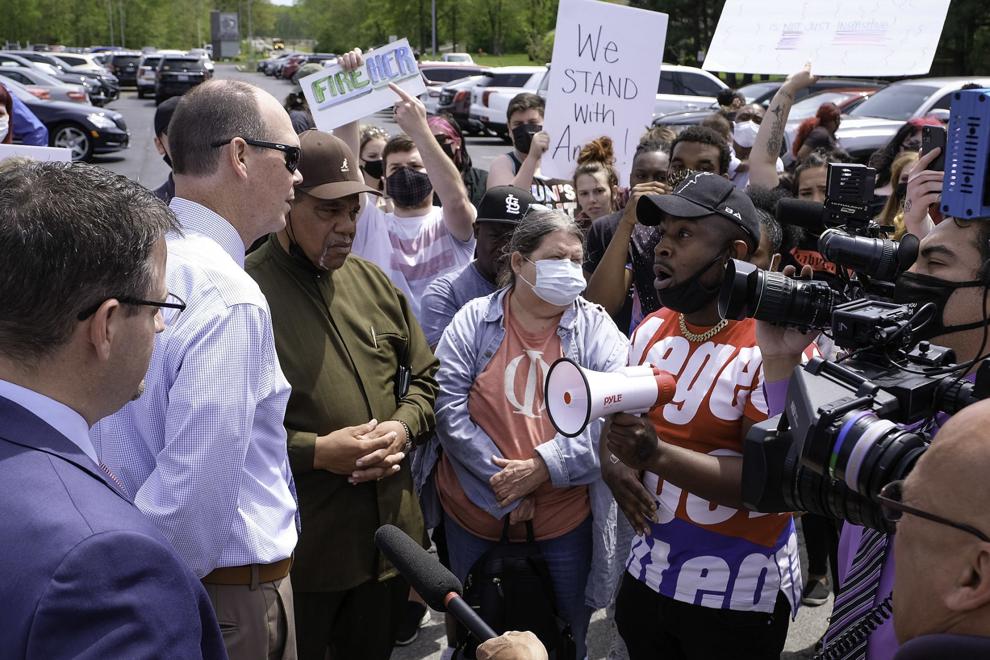 Protesters condemn Marion track coach's racist remarks against Black athlete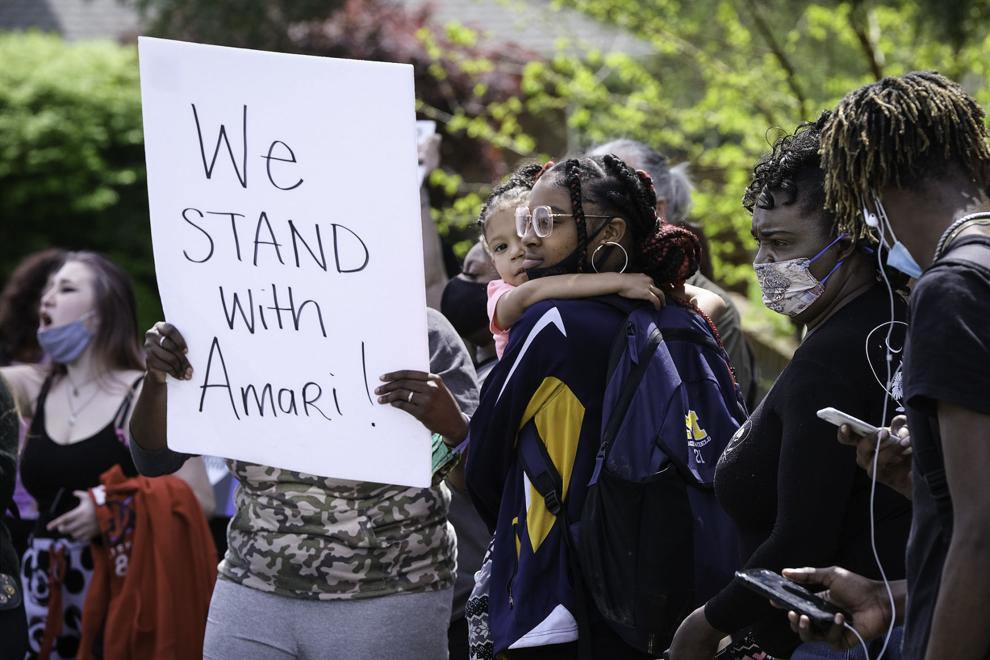 Protesters condemn Marion track coach's racist remarks against Black athlete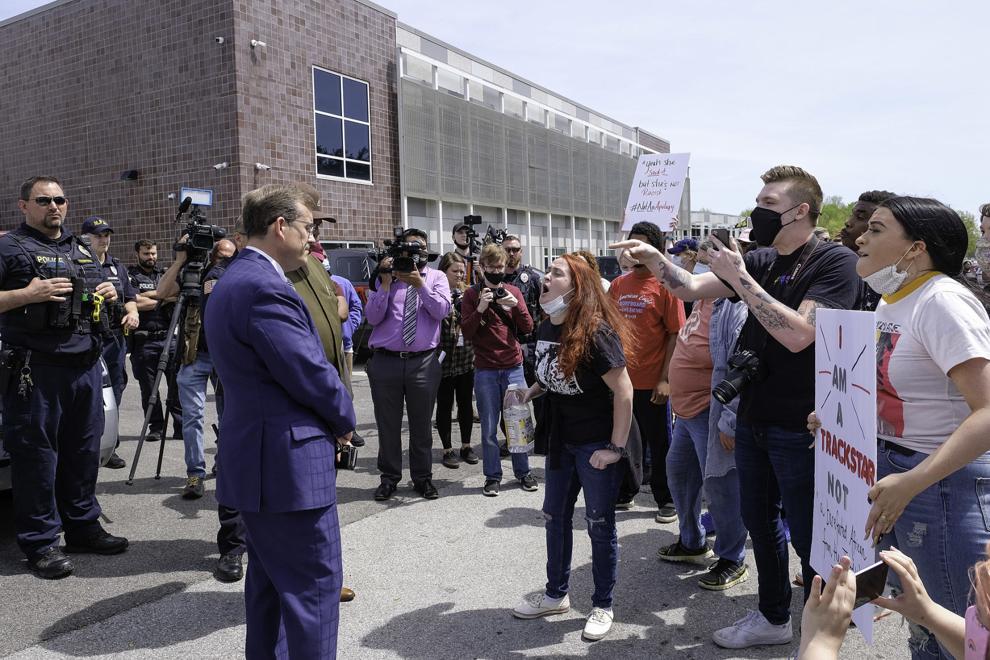 Protesters condemn Marion track coach's racist remarks against Black athlete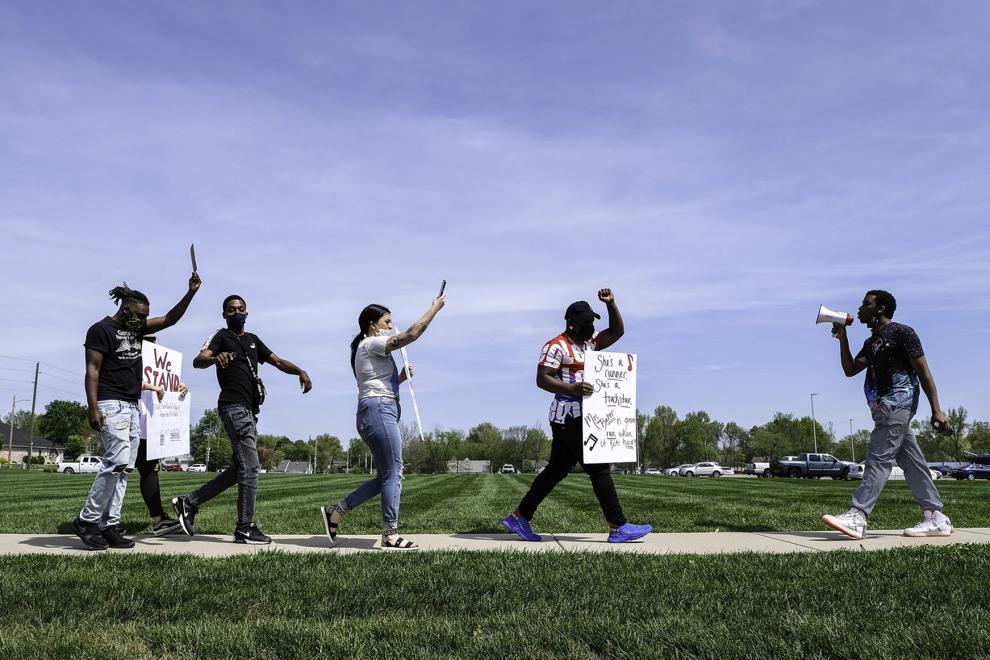 Protesters condemn Marion track coach's racist remarks against Black athlete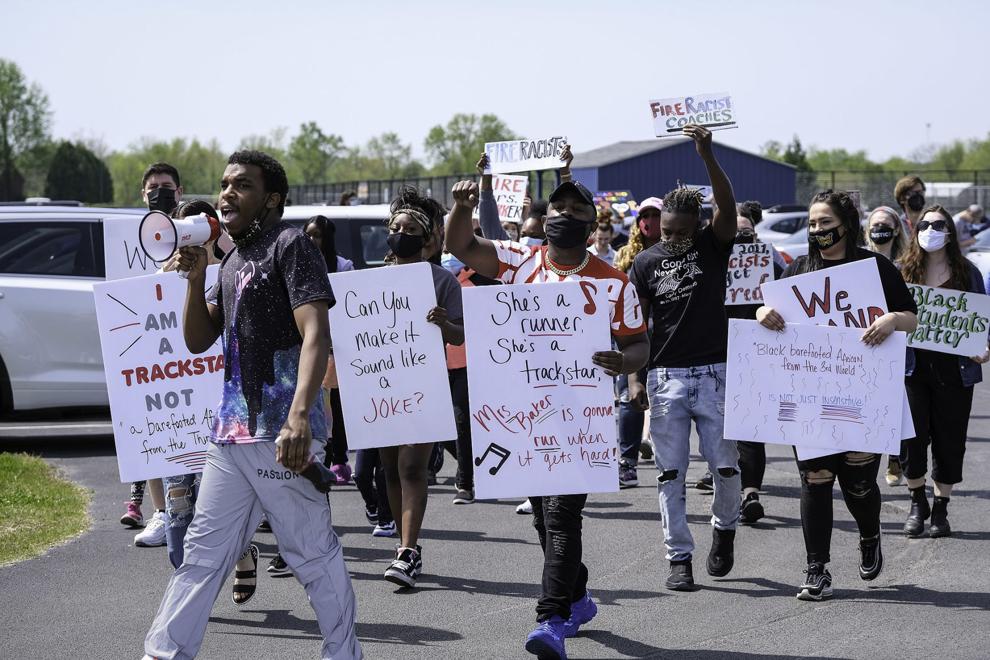 Protesters condemn Marion track coach's racist remarks against Black athlete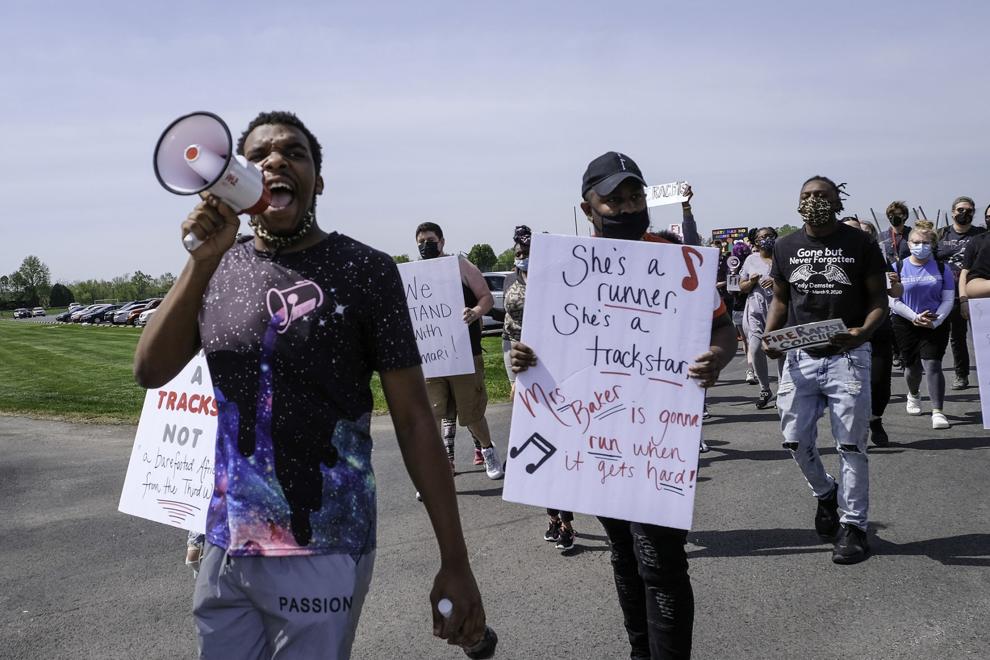 Protesters condemn Marion track coach's racist remarks against Black athlete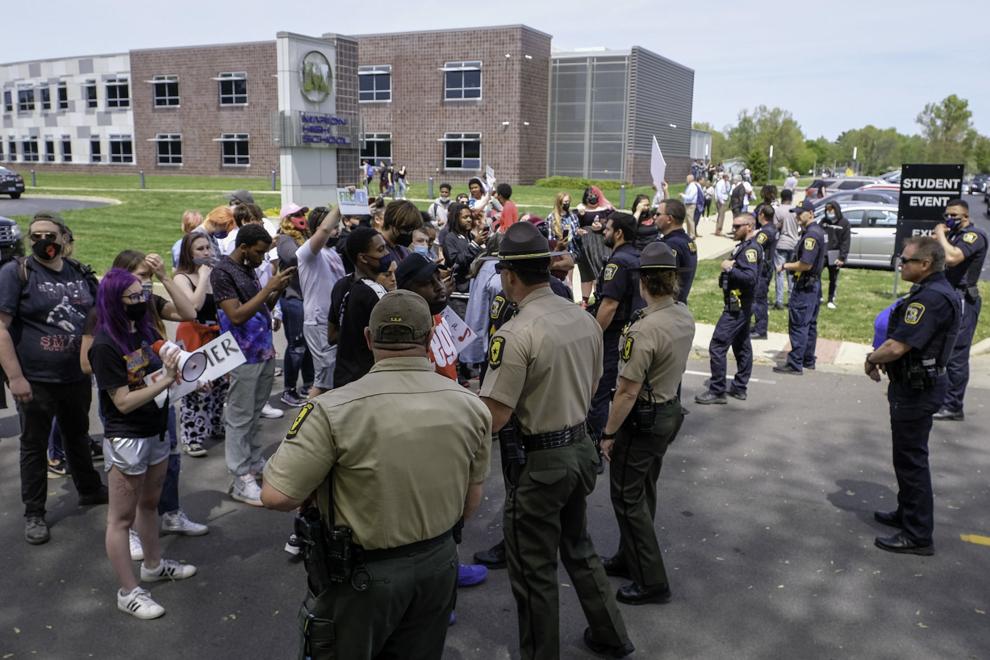 Protesters condemn Marion track coach's racist remarks against Black athlete