VIENNA — Everyone knows a teacher or another staff member of a school district who has made a great impact in the lives of their students and communities.
Consider the words of Malala Yousafzai, who won the Nobel Peace Prize at age 17 after being shot on her way to school by the Talaban because of her advocacy for women's rights and education: "Let us remember: one book, one pen, one child and one teacher can change the world."
National Life Group, a business that provides insurance and financial services, and National Life Group Foundation, has created LifeChanger of the Year to recognize the efforts of those special individuals, and a Vienna High School teacher is one of this year's nominees.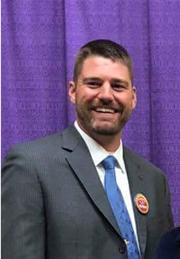 Jason West, agriculture teacher at the high school, was nominated by a student for the award. His profile is available on LifeChangeroftheyear.com.
"Mr. West is a kind, hard-working, honest man who has all the qualities of an amazing teacher," the nominator said, according to a news release. "He is an excellent FFA advisor and an even better human being. Mr. West deserves recognition for all the hard work and effort he puts forward in his job. Vienna High School wouldn't be able to function normally without him."
Superintendent Joshua Stafford called West an outstanding teacher and dedicated individual. Besides being "the ag teacher," West also is the advisor and sponsor of the school's FFA chapter, supervises a 4-H Teen Teachers' Program and works with the Tech Wizards, a junior high school program.
"He goes above and beyond in every way to provide opportunities for our students. He spends countless nights and weekends taking students on field trips for competition and learning experiences," Stafford said.
Some of those trips include state and national FFA conventions, cattle judging, soil judging and the Farm Progress Show in Louisville, Kentucky.
"He deserves a ton of credit for expanding Tech Wizards Program in the junior high," Stafford said.
The program teaches students to use high-tech equipment such as 3D printers and plasma cutters.
The person who nominated West has chosen to remain anonymous.
"I don't know who the student was and he doesn't either," Stafford said Tuesday afternoon.
Students, parents, colleagues and members of the community can help move West toward winning LifeChanger of the Year by sharing his profile on social media, commenting on his profile at lifechangeroftheyear.com, or posting a video about experiences with West's teaching.