CARBONDALE – Among the blue-chaired student desks, the brightly colored posters, the books and globes for discovering far-away lands, Megan Taylor is at home standing inside the social studies classroom at Giant City Elementary School where she wraps up her student teaching in a few days.
The experiences she gleaned inside the little brick school on Boskydell Road over the last year as an intern, observer and student teacher confirmed for Taylor what she had already suspected for years: She was born to be a teacher.
It was here that she got her first real taste of what it means to accept that calling. She experienced first-hand how paying a little extra attention to the struggling student who lacks confidence can help him turn the corner. "When a student finally has that 'aha moment,' that's what teaching is all about," said Taylor, 23, of Du Quoin. "It's indescribable."
However, becoming a teacher is a whole different story. The process is far more grueling than it once was; even the official education lingo has been updated, and carries a new weight. In 2013, the Illinois State Board of Education (ISBE) stopped granting "teaching certificates" and replaced them with "professional educator licenses."
As much as she wanted to be a teacher, on at least a few occasions while studying at Southern Illinois University, Taylor wondered if she should consider other options. Or rather, she wondered if she might have to.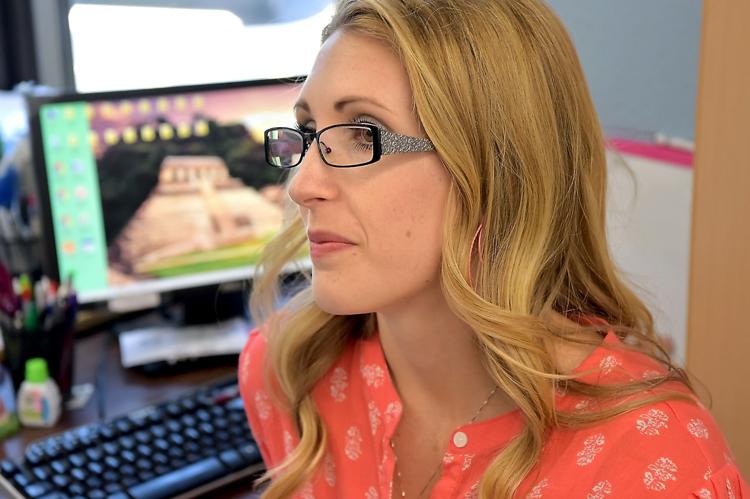 Making the grade
At $150 a pop, she took the required four-subject Test of Academic Proficiency, or TAP, three times, failing each time, as did the vast majority of college students enrolled in Illinois universities hoping to become teachers. Teachers have long had to pass a proficiency test – it was formerly called a Basic Skills Test – but the score required to pass was rather dramatically enhanced in 2010. In recent years, only about a third of all test-takers have passed, state records show.
"I almost gave up," Taylor said. In May 2014, in response to the alarming failure rate, the state also began accepting scores of a certain level on ACT and SAT tests. She retook the ACT and scored the required 22 to move on with her schooling, and advance to student teaching.
Taylor graduated on Saturday afternoon, walking across the stage at the SIU Arena with about 40 of her student teacher classmates. But this year's graduating class of teacher candidates was much smaller than in year's past. Taylor said the class started with close to 100 students on the track to graduate Saturday, but many chose to drop out of the program and pursue other career options, she said.
Combining the fall and spring classes, there were 84 student teachers who graduated in the 2015/2016 academic year.
That's down 33 percent from the 2014/2015 school year when 127 student teachers graduated. And it's down roughly a whopping 60 percent from the 2013/2014 SIU academic year when there were more than 200 student teachers graduating, according to Nancy Mundschenk, director of SIU's Office of Teacher Education in the SIU College of Education and Human Services.
Where are the teachers?
While overall, SIU enrollment was down this academic year, that 4 percent dip doesn't come close to explaining away the sharp decline of teacher candidates.
Mundschenk said the increasingly rigorous requirements for entering the teaching profession, the budget impasse in Springfield creating uncertainty for public school districts across the state, and the politicization of the classroom – with heated debates about standards such as Common Core, testing and performance – were among the factors that discouraged some would-be teachers from finishing the program or enrolling in the first place.
"All of those types of things created a perfect storm of candidates considering other options," Mundschenk said.
She added, "There's been a diminishment in the status of teachers. The profession used to be much more uniformly highly regarded."
Mundschenk is among SIU leaders in the education college trying to change that attitude, with hopes of encouraging more young people into the program – and the stakes are high. Regional public schools rely heavily on SIU to fill its classroom positions with well-qualified teachers. And successful schools are the cornerstone of thriving communities, often cited as a make-or-break factor in the ability to recruit new industry, and draw or keep young adults in Southern Illinois who have increasing options in an ever-mobile society.
Hoping to reverse the troubling trend they face, Mundschenk said the college this spring semester deployed clinical supervisors, faculty and student teachers into Southern Illinois high schools, and even some middle schools, to talk to guidance counselors and young students about the benefits of the profession.
As part of this effort to address the looming educator shortage, Mundschenk said local high school administrators also have been encouraged to revive the once-popular student organization Future Teachers of America, and through that program, bring in dynamic teachers to interact with students, and rebuild excitement around the profession. Judging by fall enrollment applications and admissions received thus far, Mundschenk said, "Our numbers are going back up. We're optimistic about that."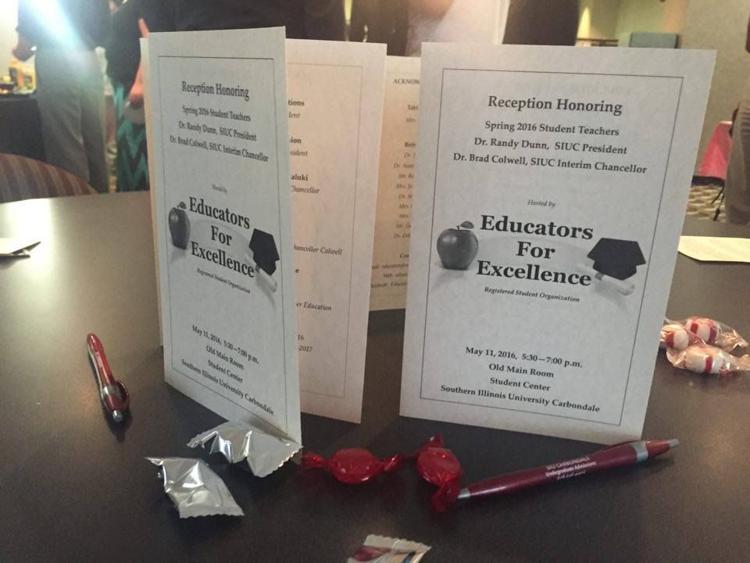 'Pinning' the professionals
On Wednesday evening at the SIU Student Center, a reception and pinning ceremony for graduating student teachers was hosted by Educators for Excellence, a registered student organization that is just three years old. Taylor has been its president for the past two. Much more common for graduating student nurses, this was the first year at SIU for a "pinning" ceremony for student teachers.
Deborah Burris, a clinical associate professor in SIU's Office of Teacher Education and co-adviser of the student group along with Gerald Speith, a clinical supervisor with the program, said she thought the ceremony was a great idea, a nod to the increasing requirements facing student teachers on the road to licensure, and a celebration of the professionals they have become. "In the state of Illinois, there are so many requirements now for teachers, and these students have worked extremely hard," she said.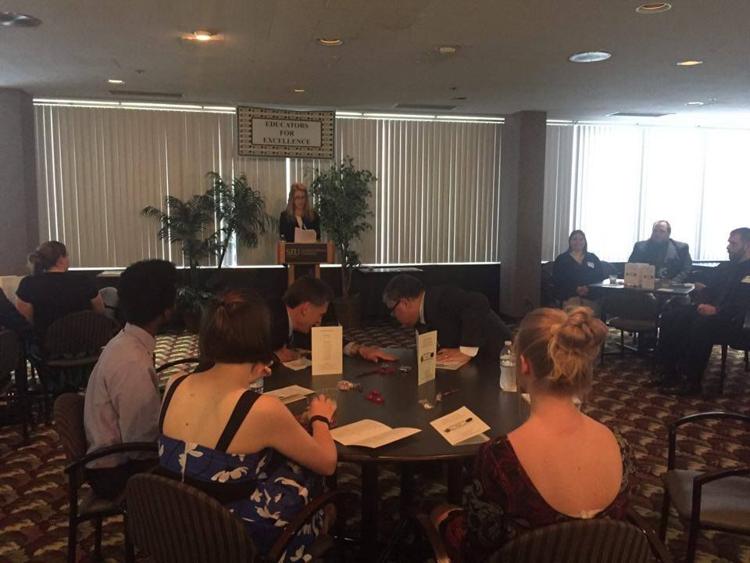 Before the pinning ceremony, SIU President Randy Dunn and Chancellor Brad Colwell, both of whom have served as faculty and administrators in the SIU College of Education and Human Services, addressed the group at its inaugural celebration. Colwell, in addition to his interim chancellor duties, also is a professor in the college's Department of Educational Administration and Higher Education.
Dunn has a long history in public K-12 and higher education, and has served as president of three universities and as Illinois' state superintendent of schools. In addition to a variety of other posts he's held in higher education, Dunn started his career as a fourth-grade teacher, and then went on serve as a principal and superintendent at various schools.
He first received his bachelor's in education in 1980. In addressing the students who sat before him on Wednesday, Dunn acknowledged the teaching world they are about to join is a lot different than the one he entered more than three decades ago.
A challenging landscape
"You are entering a profession," he told them. "Sometimes we don't think about that in teaching. That's even more challenged right now if you're following what's going on around the country – and I hope you are."
Dunn acknowledged new pressures that face teachers today with the so-called "standards movement" made up of the increasing student and teacher testing requirements. "I'm not here to say that's a bad thing necessarily," Dunn said, noting that one major change is that the curriculum is very tightly defined for teachers these days, compared to years past. That's the nature of the new Partnership for Assessment of Readiness for College and Careers, or PARCC testing, he said. PARCC was recently deployed across the state as the primary measurement of the Common Core movement, which is intended to better prepare students for work or further schooling after high school.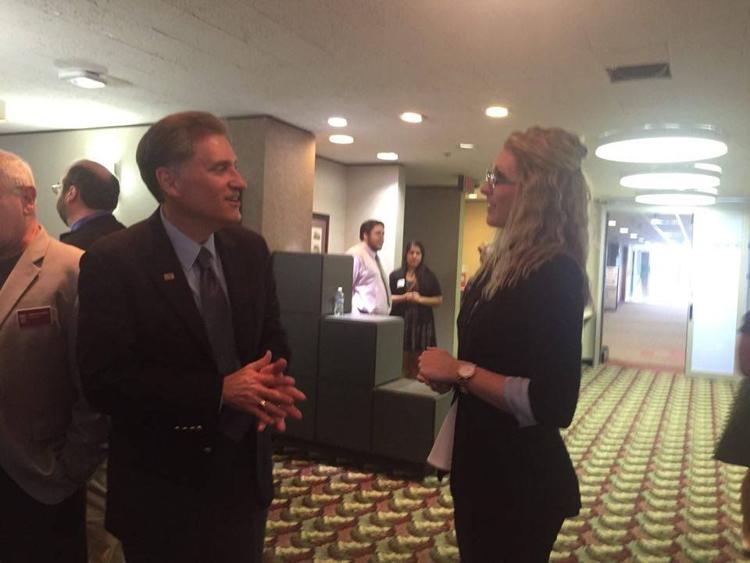 You have free articles remaining.
Test scores, released for the first time in fall 2015, were dismal across the state, and have been the source of much angst for school teachers, administrators, parents and students. But on an encouraging note, Dunn said, teaching still allows for a measure of creativity in the execution of the profession. "There is still a great deal of art," he said. "There is still a great deal of professional discretion in being a teacher … There is still a great deal that you can do to exercise your profession.
"We know what good teaching skills are," Dunn said. "But it's up to you to figure out how to bring those to life in the classroom."
Job outlook: 'Rough right now'
Despite the challenges that await her, or perhaps because of them, Taylor can't wait for a classroom to call her own. The program she ceremoniously completed Saturday could be likened to a four-year Army obstacle course, with its mountains to climb and hoops to jump through, challenging one's mettle and grit throughout. Perhaps in this way it is good thing, as only the truly determined to teach are still standing at the end.
Taylor said she's kept abreast of the challenges and controversies surrounding education. The shifting landscape was part of the discussion in her classes, she said, and also among her student peers and her mentors. Taylor said she knows it will not be easy. She also believes her passion is strong enough to overcome any obstacle. She knows this because she has already overcome so many.
The 2015/2016 fall and spring class of graduating educators also were the first to have to participate in a new enhanced performance assessment – the edTPA – as an evaluation of their student teaching under a contract the state approved with NCS Pearson, Inc. Student teachers are required to pay $300 for the national testing company to review their portfolios, which include lesson plans, and a taped performance of them teaching in the classroom.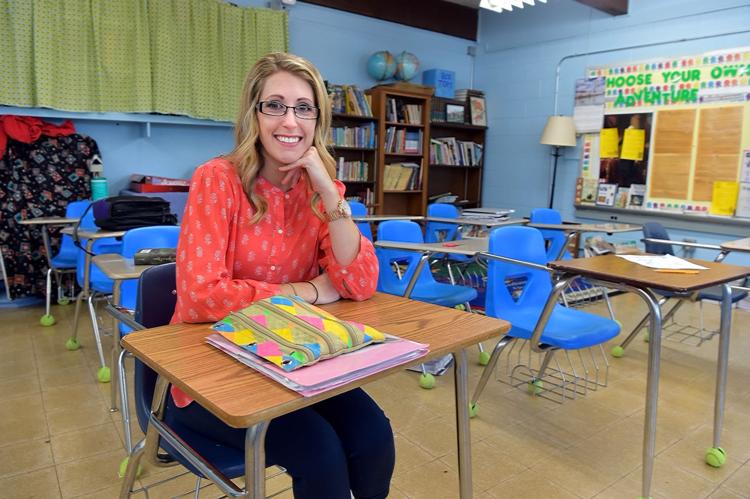 Taylor said the taping requirement – most students do it by iPhone – is nerve-racking, and young students also tend to act differently when they know they're being filmed, she said.
But she worked through that too, accepting that change is part of life, and will always be part of her teaching career. As for her first job, Taylor is still looking, and is determined not to lose hope.
So far, Taylor applied to about eight school districts in Southern Illinois. She would like to begin her teaching career in this region. But she's open to moving if necessary. SIU's Mundschenk said that many of Taylor's classmates applied for licenses out-of-state, and are moving to places such as Kentucky and Missouri to begin their careers, largely citing the uncertainty the budget impasse in Springfield is creating for the short- and long-term future of K-12 public education in Illinois.
Taylor said administrators at several of the schools she's contacted about posted positions have said they are not moving quickly to fill positions this year, awaiting a clearer picture from lawmakers and Gov. Bruce Rauner about what to expect in funding for the 2016/2017 school year. Some have expressed they are trying to fill critical positions internally, and may wait until closer to August to determine whether they can afford to bring on new teachers.
"It is getting rough right now," she said, "but I have a feeling that here in the near future it will change. We need education. Our students need education."
Looming teacher gap
Indeed, several reports indicate there is a growing need for new teachers as baby boomers retire in record numbers over the next decade.
"If you look at roster of teachers in schools throughout the state," said SIU's Mundschenk, "there's going to be a bubble of retirees in Illinois and we need to be prepared to be able to fill those slots."
Recently, the Illinois Association of Superintendents of Schools commissioned a report on what it called the "educator shortage crisis" in response to concerns expressed by school officials across the state that it has become more and more difficult to fill positions, with both the number of applications and perceived quality of applicants on the decline.
According to the survey results, 60 percent of responding districts stated they had trouble staffing positions, and 76 percent reported fewer qualified candidates applying for positions. Districts reported having the most trouble finding qualified candidates for high school positions generally, and specifically in the subjects of special education, math and science. One district leader wrote, according to the report, "There are virtually no math or special education teachers available for hire." While not addressed by this report, numerous others also have spoken to the need to recruit and retain more minority teachers as the student population has become increasingly diverse.
But as the country approaches that need, more and more students are looking elsewhere for careers.
It's a troubling trend generating a great deal of conversation in the educational arena. "The Disappearing College Major: Where Are the Future Teachers?" was the headline of the National Education Association's publication, Higher Education Advocate. The article states that according to a 2016 national survey of college freshman, the number of students who say they will major in education has reached its lowest point in 45 years.
"There's no question that something must change – and quickly," NEA President Lily Eskelsen Garcia is quoted as saying in that publication. "Baby boomers are retiring and the candidates who could fill their jobs are simply not there."
A tale of two teachers 
Little kids are often asked what they want to be when they grow up. Taylor had an answer as early as the third grade, around the age of 8. That was a defining year for Taylor, and her teacher, Joyce Beckham at Du Quoin Elementary School, was a defining person in her life.
"She was just awesome," Taylor said of Beckham. "She knew how to have fun with her students, but she also taught us hard work and diligence."
Beckham said she is honored and moved that Taylor feels that way about her. And she has no doubt that Taylor will make an excellent educator. "She's very passionate," she said. "She's kind and she's caring and all the things you'd want a teacher to be."
Having started her full-time career at Sacred Heart Parish, a private Catholic school, Beckhman is in her 27th year of teaching, and her 22nd year at the public school. Like President Dunn, Beckhman also noted how different the beginning of her teaching career will be from that of Taylor's.
There are more distractions these days that take teachers away from the core of their jobs, she said. And no matter how much teachers try to avoid "teaching to the test," that cannot be entirely avoided, she said, because poor test scores can ultimately harm the district, the teachers and the students, even though scores do not paint a complete picture of teachers' abilities, or students' progress, achievements and likelihood of success.
Beckham said she thinks that some of the new standards are good for the profession, but she feels that the pendulum has swung too far, with policymakers in Springfield and D.C. – albeit with good intentions of improving the competitiveness of U.S. students – robbing teachers of the flexibility and creativity they need to do their jobs. Of the increasing load of paperwork required of teachers, Beckhman said she often wonders if anyone even ever looks at it.
"It's always been a lot of work as far as preparing and grading and just trying to keep up with your kids and trying to do what you need to," Beckham said. "With other stuff today, the artifacts you have to create to prove you've done your job, it's a ton more work than it was when I started."
On top of that, Illinois educators face increasing angst about the state budget, in regards to the ongoing level of support their schools will receive, and whether the pensions that have been promised them will be there to carry them through retirement. Years of skipped state payments into the retirement systems by lawmakers and governors in Springfield spanning decades have led to a financial crisis in the state that is coming to a head like never before.
"It's almost overwhelming anymore," she said. 
"You think you can make a difference. You hope you can make difference."
And there are still those moments when Beckhman said she knows it's been worth it. Among those moments, she said, is watching Taylor graduate with an enduring passion for the profession, and knowing she played a part in planting that love of teaching in her heart.