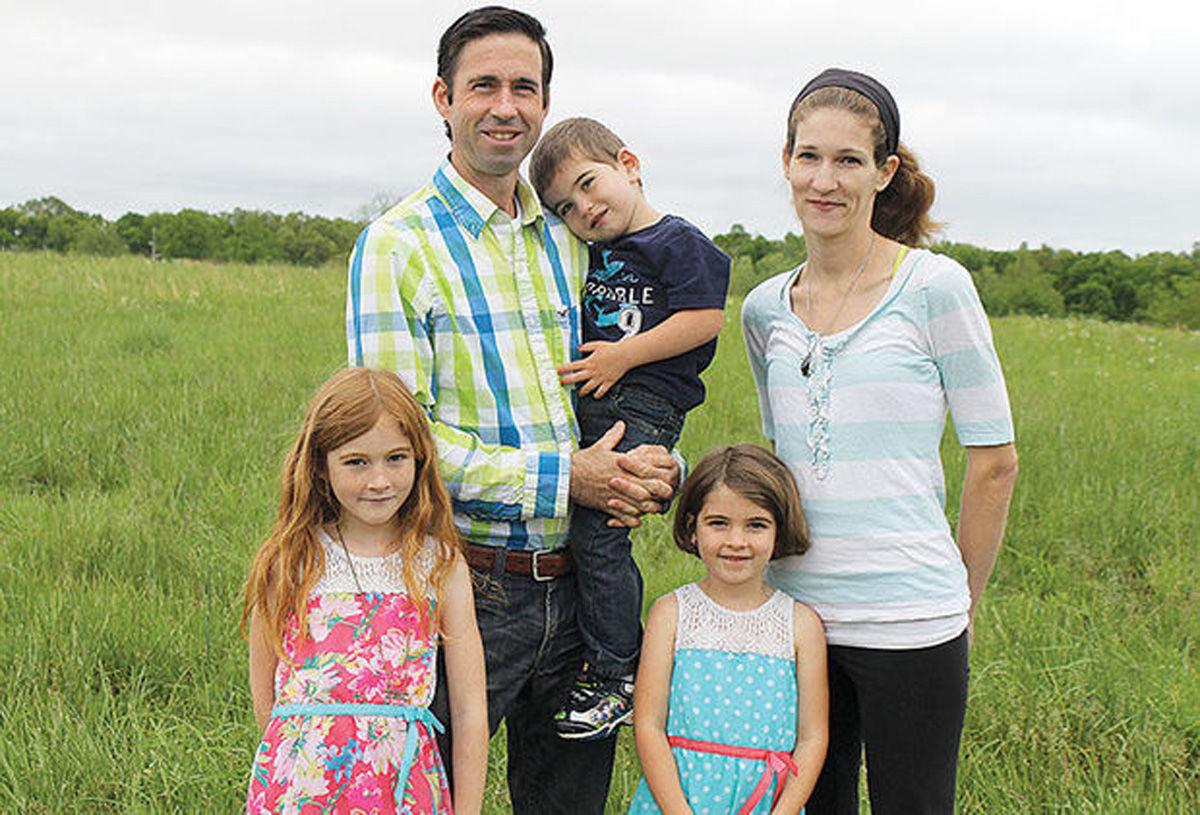 GOLCONDA — Talk about going all in.
Nathan and Talina Ryder have left the corporate life and pegged their future to 10 acres of rolling ground near this Pope County community.
The Arizona natives recently closed on a postage-stamp piece of land they plan to turn into a micro farm, where they will live the simple life.
The road ahead involves hard work, creative thinking and a bit of uncertainty. But they wouldn't have it any other way.
"It's been a long road for us to get here," Nathan said.
His career has been in broadcast journalism, including anchor spots at television stations in Phoenix and Flagstaff.
A few years ago, he took a job at a station in Evansville, Ind. By that time, broadcast news — with its demanding, unconventional hours and the accompanying emotional strain — was wearing on him. The addition of three children helped cement his decision to change direction.
"It became mentally tough at the end of the day, going home after covering murders, drug busts and things like that," Ryder said.
He began looking for a plot of land in southern Indiana, but was unable to find something small and affordable. He discovered that most farms in the area usually stay in the family.
After contacting the Champaign-based group The Land Connection, Ryder hooked up with a farmer in southern Illinois who was looking for a steward to take the farm into the future. After gaining some knowledge and experience, the Ryders decided to get their own place.
They will plant fruits and vegetables, and keep a small herd of dairy goats. They also have a flock of chickens that will provide pasture-raised eggs.
"Our goal is to put in a small orchard," Ryder said. "Eventually, we will gear everything to a fall agritourism operation. Then we'll have a market garden, which will probably occupy two or three acres."
The road to the farm was an unlikely one. Ryder had virtually no experience growing crops or raising animals. Even his health worked against him.
"My pediatrician always joked that I'll never be a farmer because I was allergic to everything," Ryder said. "But my mom and I always had a garden when I was young, and I always thought it was fascinating to be able to grow your own food just steps from your door."
He did minor in horticulture in college. All that was put on the back burner during his journalism career, but has resurfaced.
"It was one of those things where you come back to something in life you never realized was important to you," he said.
The Ryders are under no illusion that their new chapter in life will put them in a high tax bracket. Nathan and Talina both have off-farm jobs that help them pay the bills.
"We're not blind to the fact that we're not going to be rich. That is why we left the life we had in the corporate world," Nathan said. "Money isn't everything."
Down the road may include living totally off the grid, though the couple realize that is not a practical option right away.
"We wanted to be able to sustain the family and teach the kids," Talina said. "How do you grow a carrot? Where does milk come from? Those things are important for kids to know."
Regardless of the farm's future, the Ryders plan on sticking it out. The scenic region, dominated by the Shawnee National Forest, holds a special appeal.
"We love the area. That is one of the things that attracted us," Nathan said. "There's more forested and varied terrain here than in Indiana. We're used to the forested mountains of northern Arizona with the temperate climate. We hope to be a part of attracting more visitors and tourists to the area."
Be the first to know
Get local news delivered to your inbox!