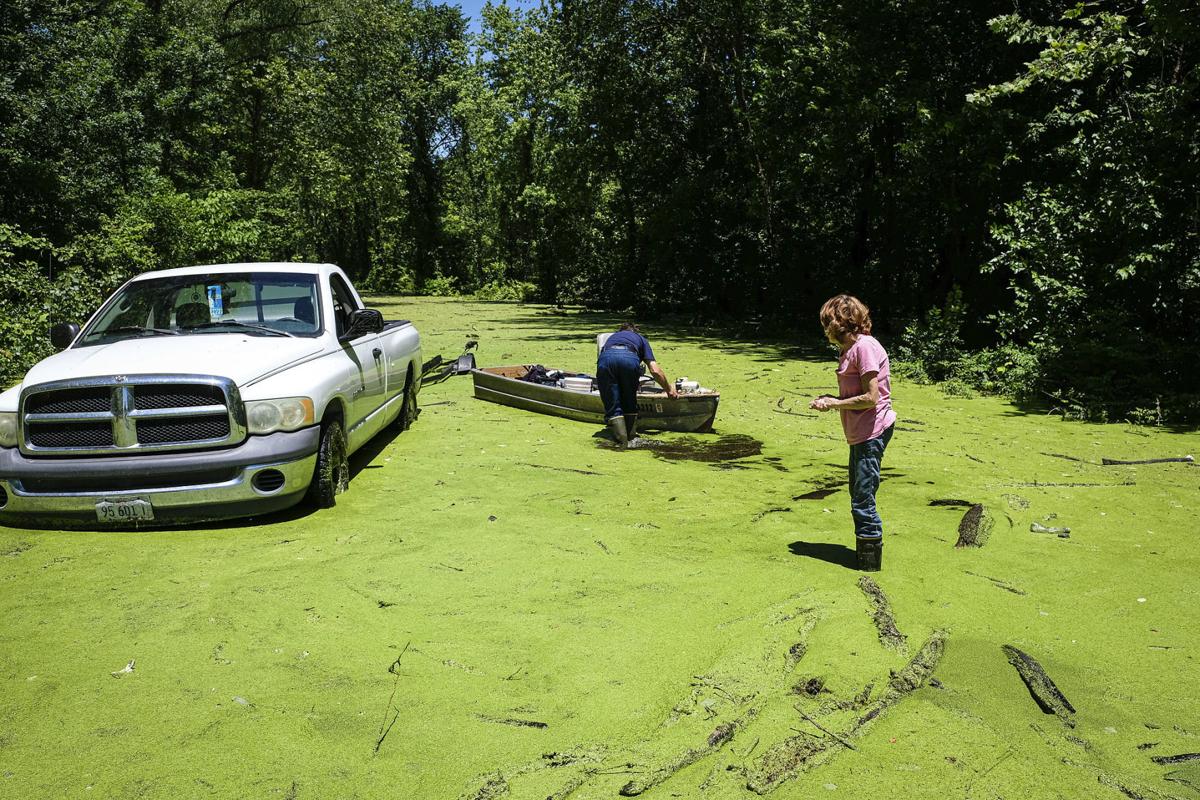 CARBONDALE — Just because the Mississippi River in Chester has crested and water levels will start to fall, residents shouldn't get complacent, one emergency administrator said Monday.
WARE — In a normal year, Mitchel McLane plants about 2,700 acres of corn and soybeans on his farm in Union County.
Orval Rowe is the deputy coordinator for the Jackson County Emergency Management Agency. He said it's not time to say anyone is out of the woods.
"I won't be able to say (that until) it gets under major flood stage," he said. As of Monday morning, the river at Chester was at about 46.34 feet — about 6.34 feet above major the flood stage.
Rowe said there is still 24/7 monitoring of the levees for sand boils and slides. The levees have been under pressure for months due to localized heavy rain and snow melt, combined with significant wet weather farther upstream.
"There's been a river against that levee since March," Rowe said of the levee along the Mississippi.
Because chaos loves a vacuum, Rowe said the Jackson County EMA has taken a more proactive stance online, regularly updating the group's Facebook page and website to ensure people have up-to-date and accurate information.
A Facebook post from the agency Monday morning updated residents on the flood fight in Grand Tower. It said that the levee district had requested 10 10-inch pumps to be delivered to Munz Road on the Big Muddy Levee near Grand Tower.
MURPHYSBORO — Jackson County Board Chairman Keith Larkin on Wednesday signed a disaster declaration that includes the western portion of the c…
It also said that "ongoing deliveries of rock are being placed on Little Levee Road to help continue stabilizing the area," and that "no issues have been found overnight from the Grand Tower Levee District, City of Grand Tower or Degonia-Fountain Bluff Levee District."
You have free articles remaining.
Farther north in Randolph County, the county board adopted a special resolution Friday that would allow for special measures to be taken to help mitigate flooding if the Monroe County levee fails.
"Should the Monroe County levees fail, the resolution passed by the Randolph County Board authorizes emergency management officials to issue an evacuation advisory and 'cut' a hole in the Mississippi River levee between Prairie du Rocher and Fort Chartres," Randolph County Public Information Officer Larry Willis wrote in an email Friday. This would "allow flood water inside the levee to drain back into the river."
Willis also noted that a similar measure was taken during the historic flood of 1993.
Should this take place, Willis wrote that "officials estimate that residents in the Prairie du Rocher-Modoc Levee District and in and around the village of Prairie du Rocher would have approximately 36 hours to evacuate."
Willis said on Monday that as the threat moves closer to Randolph County, that evacuation time window could shrink.
Willis also said Monday that a crew from Luhr Brothers in Cape Girardeau was on site building a ring levee around a sand boil on the Mississippi levee just north of Fort de Chartres.
The news release quoted Levee District Commissioner Mark Laurent as saying that an evacuation advisory would be a last resort. However, he said "we have to be ready for it."
The Illinois Emergency Management Agency has mobilized its third round-the-clock team to assist the flooding fight in Monroe County.
While the Mississippi River has raised concern for months along Illinois' west side, the Ohio River is also high. According to The National Weather Service in Paducah, a flood warning in Cairo for the Ohio remains in effect until further notice. The warning says the river there, as of Monday morning, was at 48 feet, about 8 feet above the flood stage.
A representative from the Alexander County Sheriff's Office said Monday that Illinois 3 near Gale and Illinois 146 is down to one lane from seeping water, with flaggers directing traffic.
The NWS warning also says the river will continue rising to nearly 49.5 feet by Thursday morning before it begins to fall. It also notes that when the river reaches 50 feet, the first flood gate is closed at Cairo.
618-351-5823
On Twitter: @ismithreports