CARBONDALE — On Sept. 11, Rep. Terri Bryant was traveling east on Illinois 13. She posted on Facebook that it looked like someone had hit a bald eagle near Crab Orchard Lake, and the eagle was still alive.
People had stopped and were keeping traffic away from the bird. As people began commenting on her post, Todd Doody commented that he knew Scott Ballard with IDNR and would have him call Bryant.
Ballard was soon on his way. Ballard is a nongame endangered species biologist with Illinois Department of Natural Resources, a job that includes taking care of injured hawks, eagles and owls.
"I headed to where it was. It was kind of cool because the whole south side of Illinois 13 east was lit up with red and blue lights," Ballard said.
Officers of the Conservation Police, Carterville Police Department, Williamson County Sheriff's Office, Illinois State Police and U.S. Fish and Wildlife Service Refuge Police had all come to the help the injured bird.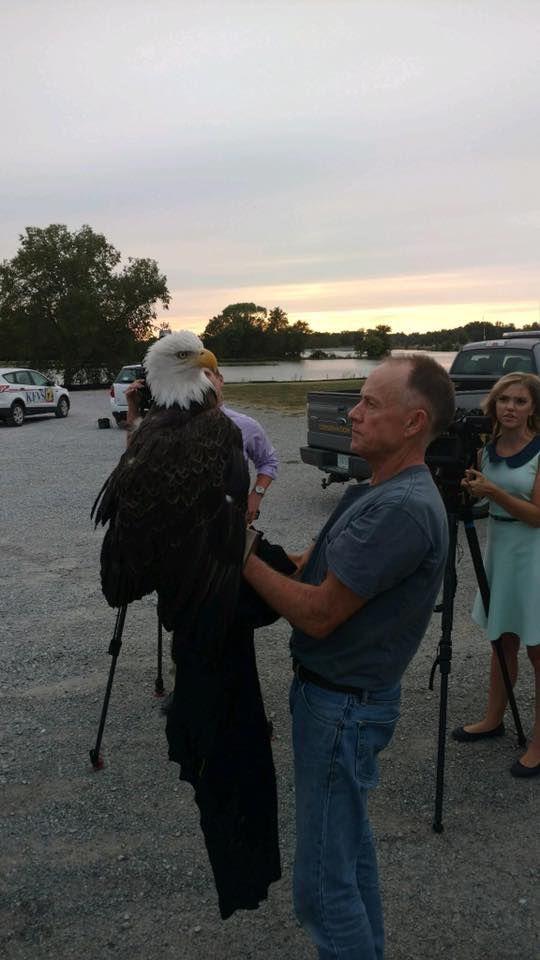 By 7 p.m., Ballard had picked up the injured bald eagle and got it to Free Again Wildlife Rehabilitation. Jim Shofstall picked up the bird.
Shofstall said they set up a couple perches in the cage and the eagle flew from one to another.
"We get a number of birds of prey that get hit by cars and are dingy for a couple of days. Then they come back around. That's probably how I would describe this one," Shofstall.
After three weeks at Free Again, the bald eagle was ready to go home.
"Today, it got released about 1 p.m.," Ballard said on Monday.
Bryant said the eagle was a little apprehensive after first, but soon got its bearings and soared to the tree tops. She posted pictures of the release on her Facebook page.
Shofstall and Ballard said this received a lot of attention because the crash happened at a very busy time of day. The eagle was hit by a police officer, and a television news crew and Bryant were right behind him.
If you encounter an injured wild animal, here are a few suggestions of what to do.
"The best thing to do is to try to get a hold of someone. We don't encourage people to try to rescue an animal themselves, unless they have had training in dealing with that animal," Ballard said.
Ballard's division is the division of natural heritage. It covers injured eagles, hawks and owls. Wildlife division would cover injured fur-bearing animals like raccoons, possums or deer.
Shofstall said people who encounter an injured animal can call Free Again at 618-988-1067 for instructions or advice.
"We are very grateful for Todd, Terri, Bev and Jim, and all the law enforcement people who came out and closed off the road so bird would be protected," Ballard said.