CAIRO — Mississippi floodwaters finally began to recede Wednesday after the river crested on Monday at the second highest level ever recorded in Southern Illinois.
But in Alexander County, the flood fight continues.
It is focused around the town of East Cape Girardeau, where county officials are coordinating relief efforts from a temporary office in the community center, said Jerry Held, Alexander County Emergency Management Agency assistant coordinator.
National Guardsmen on Tuesday helped evacuate the residents of a small neighborhood of mobile homes in East Cape, near Illinois 146, after village officials decided to cut power to the neighborhood as rising waters threatened to make contact with electrical lines underneath the trailers.
On Wednesday, with those residents safely evacuated, sandbagging continued in the area behind the community center, Held said, in efforts to keep floodwaters out of other East Cape neighborhoods.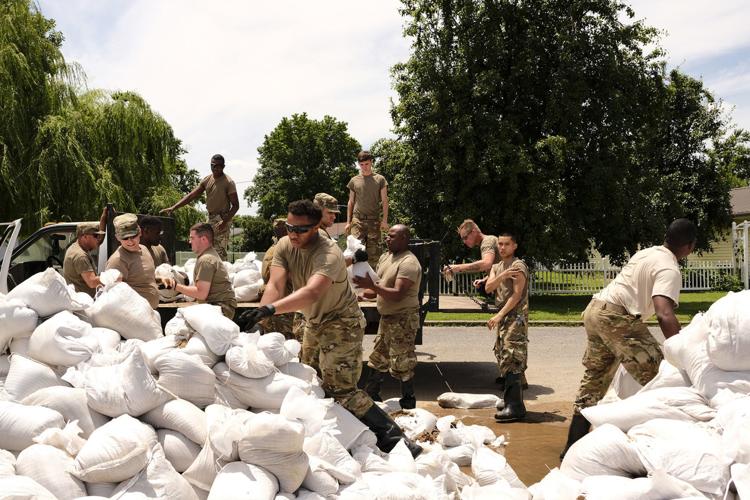 The Red Cross established a temporary shelter on Wednesday for those displaced by the flood, at Zion Methodist Church in Cape Girardeau, Missouri.
"All the people that were evacuated yesterday in East Cape had physical addresses they were planning on going to," Held said. "But that shelter will be open to anyone that needs it."
No one had yet arrived to the shelter as of 5:30 p.m. Wednesday, the church confirmed.
Road conditions in Alexander County remain about the same, Held said, as Illinois Department of Transportation workers spent Wednesday out on Illinois 3 flagging down drivers to proceed with caution in several areas where water had approached or crossed the road.
You have free articles remaining.
Meanwhile, the county continues to pump water out of flooded communities and back into the Mississippi River over a levee near Gale.
"The Gale area has eight pumps going, doing 5 million gallons an hour, and the Illinois Department of Natural Resources has two more pumps going 24/7, pumping out 15,000 a minute," Held said.
On the other side of the county, the Ohio River continues to rise. It is set to crest at 49 feet on Thursday, then finally begin to recede on Friday morning, according to the National Weather Service.
In Cairo, where the Mississippi and Ohio rivers meet, the fire department on Wednesday closed all levee roads to nonauthorized personnel to prevent unnecessary weight and movement on the levees.
Any requests for flood assistance or resources in Alexander County can be directed to the emergency operations center in East Cape, at 618-306-1375.
Union County officials released a list of precautions Tuesday afternoon, reminding families to make safety plans and have important personal items ready for quick evacuation in the event of a levee breach.
"Individuals from local, state and federal agencies have been working continuously as a precautionary measure to stabilize sand boils that pose a risk to the structure of the levee system and at this point appear to be successful," wrote Sheriff Scott Harvel. "However ... high river levels and the potential for additional rainfall could change the current conditions."
The release also asks residents never to attempt to drive or walk through a roadway covered by moving water, and reminds those living in the Wolf Lake and Ware areas that tornado sirens will sound for three minutes in the event of a levee breach.
Inmates in Illinois Department of Corrections facilities have filled 1 million sandbags since March in support of flood-fighting efforts around the state, the agency announced on Monday.