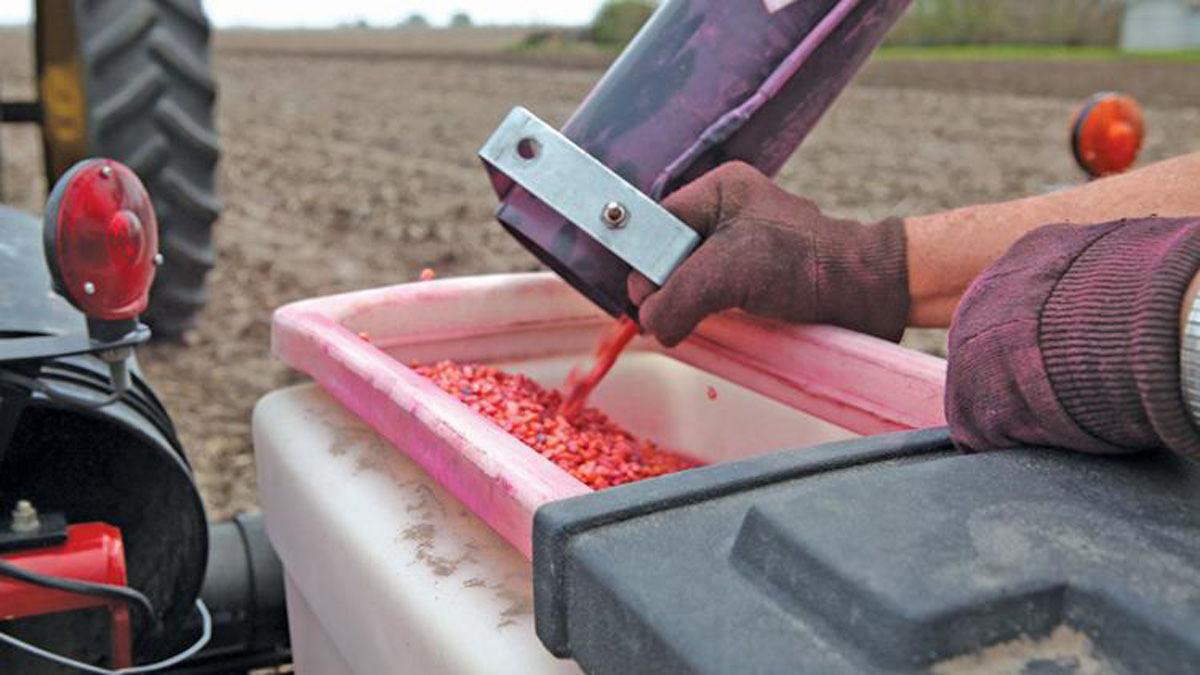 Late harvest may mean late decisions on seed purchases for some farmers. But retailers are not seeing reduced sales, just some hesitancy to make final variety decisions.
"We're not really seeing any delays," said Cliff Schuette of Schuette Seeds in Breese, Illinois. "We are seeing more guys use conventional corn. There's a price point that's quite a bit different than Roundup and Liberty stacks."
Scott Nelson, who markets seed for Beck's Hybrids in southwestern Iowa, acknowledges the tight farm economy — characterized by sluggish grain prices and export uncertainty — may give some farmers pause when considering pricey hybrids and varieties.
"Whenever commodity prices are reduced, there's a lot more scrutiny to where every penny goes," Nelson said. "It puts a lot of pressure on prices. It also affects crop rotation to some extent. Guys are less willing to spend more money for the newest hybrid. Some people are after the old genetics, less traits, to save every penny they can."
Zack Kingery of Arthur, Illinois-based Kitchen Seed Company is getting orders like usual. But many of his customers are taking a wait-and-see strategy on hybrid decisions.
"I thought it would be a fairly delayed decision this year with harvest being delayed and everything," Kingery said. "But I've had several conversations with most of my growers and I've got quite a few VNS (variety not specified) orders already put in."
Kitchen offers discounts to customers who order early. But they can put off hybrid and variety selections until later.
"I do see guys hesitating on exactly which hybrid or variety to pick," Kingery said. "But a lot of guys haven't balked a quantity order. They're wanting to see results, but they're not afraid to commit to a quantity. They want to see results they're getting from different places."
Many retailers point out the challenging growing season in the Corn Belt this year — including a wet spring and late planting — helped growers appreciate the improvement in corn hybrids and soybean cultivars over the past few decades.
You have free articles remaining.
Kingery said many of his customers used the phrase "pleasantly surprised" when describing their yields.
Schuette is seeing high interest in the new Enlist E3 soybeans, which are resistant to glyphosate, Liberty and a new formulation of 2,4-D. The product was approved for sale earlier this year.
"That's where 90% of my sales will be next year," he said. "The pricing is very competitive to LibertyLink, dicamba or Roundup Ready beans."
Nelson said some farmers may consider smaller plant populations because of the thin profit margins in today's farming environment. But he doesn't believe that will be a major driver for sales.
"It's maybe a little bit driven by price, but that's a relatively small difference," he said. "When it's about $3.50 or so for every 1,000 kernels, to cut back a couple of thousand isn't a huge difference.
"Some competitors have also been promoting reduced populations because the genetics work a little better in that type of environment. That drives a little of it. But I don't think it's a huge consideration."
While modern seed technology in general has produced superior yields in poor growing conditions, differences still exist. And farmers are keen to find what works best for their operations, according to Kingery.
"There's such a variation in the way hybrids responded to the environmental conditions we had this year," he said. "They're going to pick and choose when they get through harvest."
Schuette pointed out the late planting this year didn't engender widespread pest problems it may have in the past.
"This year we had a lot of late planting; we had earworm and corn borer," he said. "But my plots didn't have any in it. It was just Roundup Ready. When you plant late you usually have more earworm and corn borer."
Nat Williams writes for Illinois Farmer Today, a Lee Enterprises sister publication of The Southern.