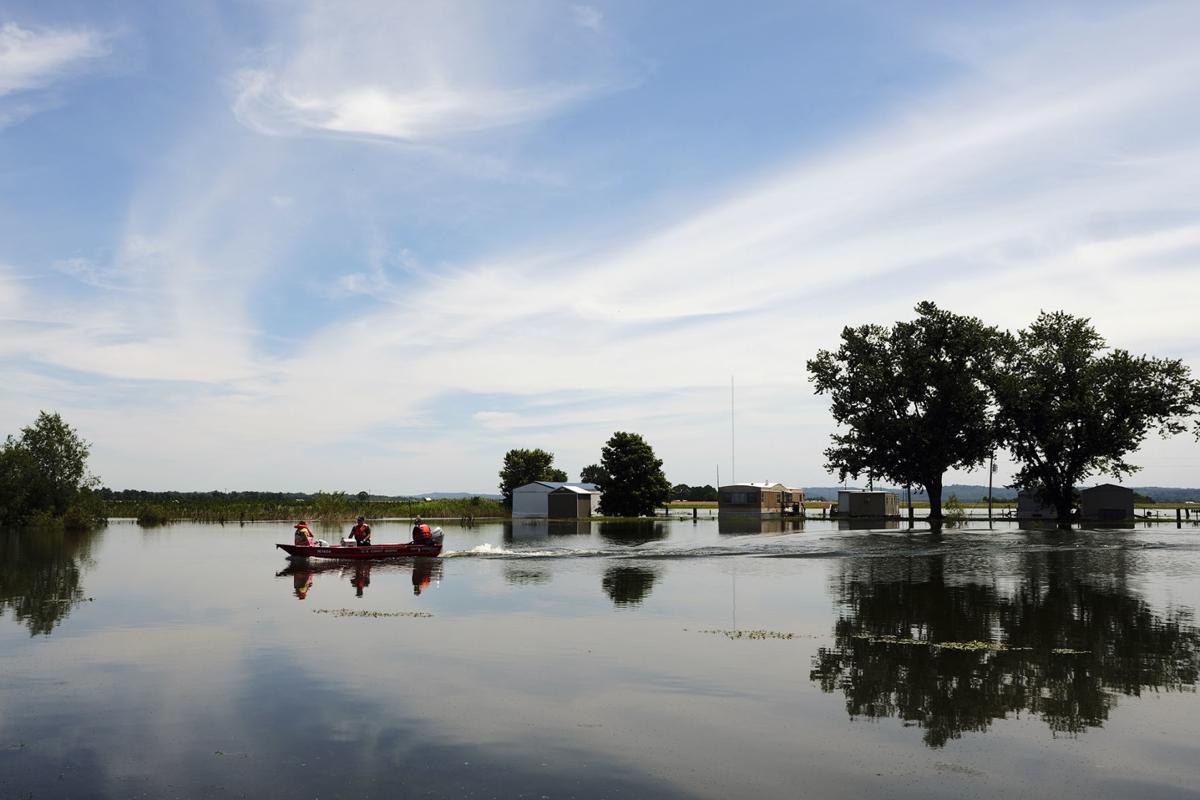 EAST CAPE GIRARDEAU — All Izayah Gilbert could see was the water and what he could do with it. It's all his mom could see, too, but all she could see was what it could do to them.
"Mommy, I want to go on a boat ride," Gilbert shouted to Heather Fritz Tuesday as the two sat with neighbors in East Cape, waiting to be taken into their homes to gather their things in order to evacuate their neighborhood because of rising flood waters.
The evacuation notice was made Monday night as village officials made the decision to cut off power to the small neighborhood of mobile homes just off of Illinois 146. As water rose from the swollen Mississippi River, it started to pass underneath the mobile homes, making electrical lines a hazard.
According to the National Weather Service, the Mississippi crested at Cape Girardeau at 46.4 feet, and will continue to fall slowly.
Fritz said she and her neighbors had been waiting since the morning for the boats to arrive — the afternoon sun was starting to rise. Fritz and her neighbor Brandi Walters were focused on where they would go Tuesday night, and until they could return home. Neither knew what they would do.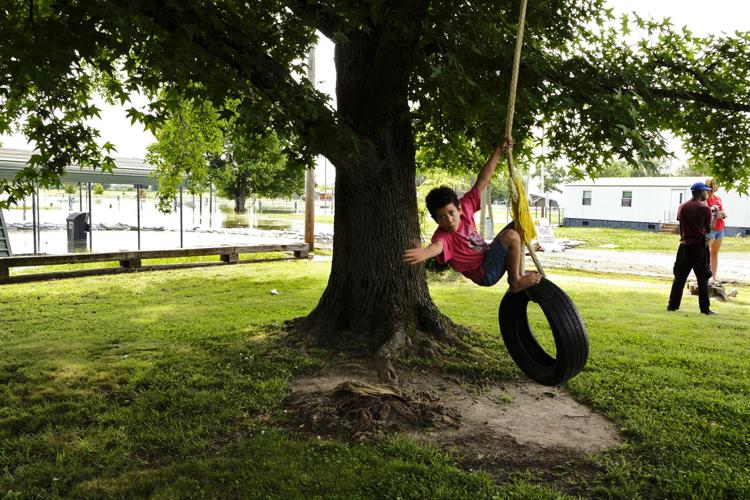 There are shelter options from the Red Cross, but Fritz said she wasn't keen on that.
"Who wants to sit in a shelter," she said, adding that finding child care for Gilbert wouldn't be hard in that situation. Fritz said normally he would go to a neighbor while she went to work in Anna as a nurse.
Both Fritz and Walters said this problem isn't new. They said they have had to boat in and out of the neighborhood for about a month, and both said they felt marginalized because of where they lived. They said because people saw them as "white trash" living in the trailer park, they weren't as quick to lend a hand.
The footprint of the flood isn't huge — a small cluster of mobile homes. Fritz said the trailers may not look like much, but they are people's homes, and for many that live in them, the idea of starting over is daunting, to say the least.
"You work hard for what you got," she said.
At the other end of the block, Tony Burton surveyed the football field of water between him and his trailer from behind a knee-high pile of sandbags. A snake sneaks by with its head above the water.
"Even snakes (are) looking for higher ground," he said.
You have free articles remaining.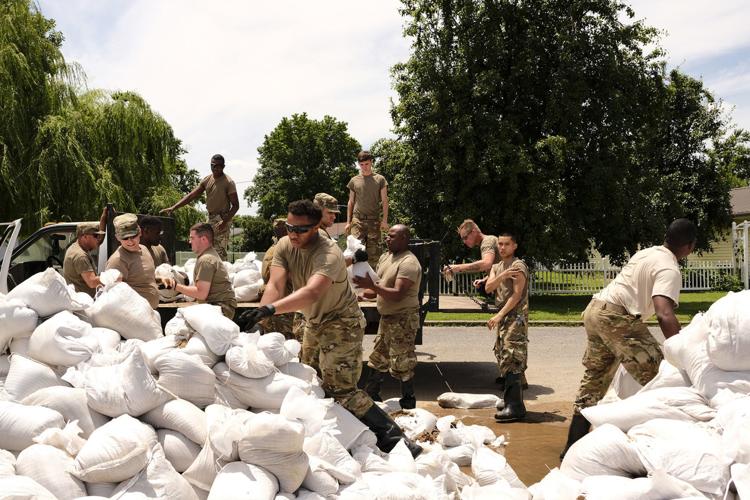 Burton has lived in the trailer court for about three months, but managed to keep as good an outlook as he could.
"Doesn't matter what comes at you," Burton said. "(There's) always somebody got it worse."
As he watched the water, a red Coast Guard boat cut the neat reflection of the blue sky, transporting Jane Saterlee and her breathing machine to dry land.
"This is my first ordeal with it," the five-year resident of the neighborhood said. "And it's a little spooky because I don't swim," she said.
At the community center located on the dry side of the sandbags, local and state officials continued to work through their plan and monitor the flood waters. Acting Director of the Illinois Emergency Management Agency Alicia Tate-Nadeau said she sees a lot of grief in her position but is always heartened by how communities respond.
"Disasters — this is whenever we see communities come together," she said.
She said while the decision to evacuate part of the community wasn't made by IEMA, she knows it wasn't easy.
"It's all about safeguarding the public," she said.
Speaking to others who have not yet had to leave their homes, but face a flood threat, she asked them to be proactive and have a plan. Put all important documents in a safe place, photograph the home before flood damage for insurance.
Izayah Gilbert finally got his boat ride after lunch, though not the fishing rod he had been asking for. The red Coast Guard boat pulled into the shallows with Gilbert, his neighbors and their belongings.
John Roberts carried his family's copper-colored dog, Carmella, out of the boat through the flood water. Roberts lives with Brandi Walters and Carmella. Walters said she considered asking for help with the dog but didn't want to be away from her, and also didn't want anyone to deal with the headache of Carmella's barking — she does that when she feels even a little afraid, Walters said.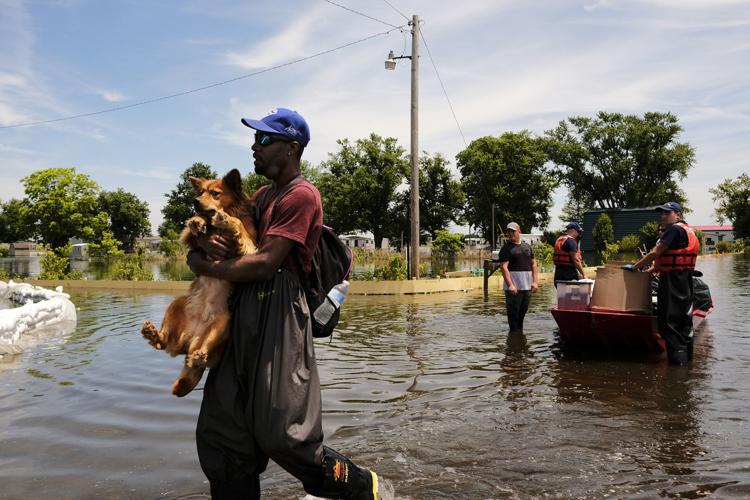 Responding to a question about what she would ask people to do to help, Walters said, "Pray for us. Fund us if anyone is willing to." She said she was thankful for the assistance people were giving Tuesday but knew it would take more to get back to normal.
After talking with the media and loading up her things, Walters looked over at Carmella in her kennel. Strangers were all around, but not much more than a whimper came out of her.
"I guess she senses the love," Walters said.
618-351-5823
On Twitter: @ismithreports