HARRISBURG — Surrounded by thousands of trees in an economically challenged area, would it make sense to harvest some trees from the Shawnee National Forest to help local coffers?
That was one of the reasons that the nation's national forests were created back in the late-1800s, according to one regional national forest spokeswoman.
But posing that question is akin to re-opening wounds and debates from 25 years ago, when environmentalists banded together to protest logging in the Shawnee National Forest.
According to one Southern Illinois activist, the answer is still the same: No.
"The citizens of Southern Illinois benefit from those low-impact recreational activities ... on an ongoing basis," said Sam Stearns, who represents Friends of Bell Smith Springs. "It would be silly to sacrifice that ongoing benefit for a once-in-a-lifetime timber sale.
"No timber sale on the Shawnee National Forest has ever made money for the American public," Stearns said. "Every timber sale that's ever been proposed for the Shawnee has always been a money-losing proposition. There's a term for that: It's called below-cost timber sales."
Historically, the nation's national forests were designed to grow trees to be logged to benefit the public, National Forest Service Eastern Region spokeswoman Jane Cliff said, referring to the Organic Administration Act of 1897.
"That actually was the primary reason we were created, and recreation didn't play into it at all," Cliff said. "It was the best use of caring for the land, as well as supporting whatever industry was coming out of them at the time." 
An act passed in 1960 allowed for the forests to be "administered for outdoor recreation, range, timber, watershed, and wildlife and fish purposes."
"We log; it's part of our mission. It's part of our mission to supply a sustainable flow of wood products to the American public," Cliff said. "Some people don't agree with that mission, but it's been our mission since 1905."
Timber out of the woods
This past year, the Shawnee National Forest harvested 200,000 cubic feet of timber, or 2,000 centum cubic feet (ccf.), according to data from National Forest representatives. Only about one-half of the Shawnee National Forest has been designated as suitable for timber harvesting, according to spokeswoman Sue Hirsch.
That amount is a small fraction of the amount of wood that grows each year, according to Hirsch.
An unrelated organization, the Montana-based Headwaters Economics, reported that in 2013, the Shawnee National Forest had 37 timber sales, averaging $29.90 per thousand board feet. A board foot is a logging industry measure, referring to wood that is one-foot wide by one-foot long by one-inch thick. The forest made less than $100,000 from the sale of that timber, according to Headwaters Economics' data.
Since 2013, three timber sale contracts have been awarded: 73 acres in the Harris Branch timber sale, of 2,747 ccf., or hundred-cubic feet, for $18.21 per ccf.; 90.5 acres in the Harris Branch North timber sale, of 3,826 ccf., sold at $21.18 per ccf.; and 40 acres in the Harris Branch East timber sale, of 1,919 ccf., priced at $22.72 ccf., according to data from a Shawnee National Forest spokeswoman. None of these sales have been totally completed, because of varying factors, such as weather or other jobs the contractor may have, she said.
Logging subsidized
There is no need to fear that this area is missing out on potential money from logging, as some Southern Illinois counties are already compensated for National Forest and other federal lands in their boundaries, Stearns said.
That subsidy comes from PILT funding — Payments in Lieu of Taxes -- made by the federal government to local entities for non-taxed government lands in their jurisdictions.
In late June, U.S. Secretary of the Interior Sally Jewell announced $404.6 million worth of PILT payments to states and counties with various federal lands in their boundaries. For fiscal year 2015, 10 Southern Illinois counties and another in the northeast — reflecting 304,479 acres — received about $644,000 in PILT payments. Those counties reflect the nearly 286,400 acres of Shawnee National Forest and 19,000 acres of Midewin National Tallgrass Prairie in northeastern Will County.
"PILT program eligibility is reserved for local governments (mostly rural counties) that contain non-taxable federal lands and provide vital services, such as public safety, housing, social services and transportation," according to the writers of the news release announcing the new awards. "These jurisdictions provide significant support for national parks, wildlife refuges and recreation areas throughout the year. PILT seeks to compensate them for their support and foregoing tax revenue from these federal lands."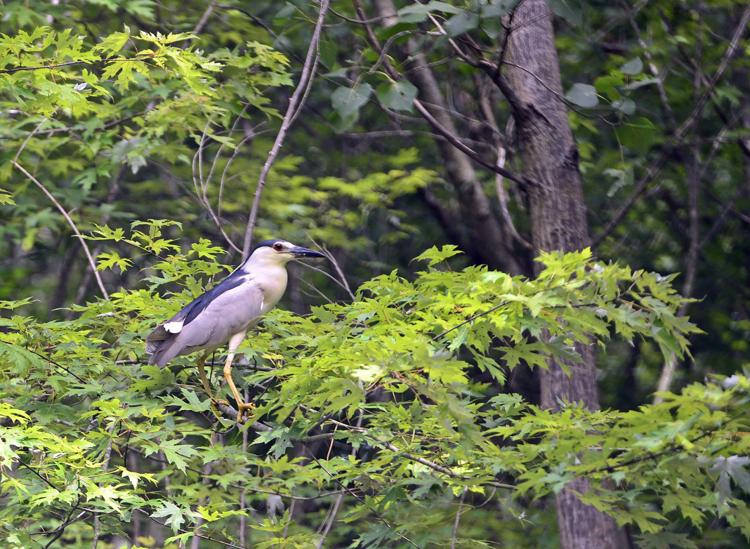 From these properties each year, the Interior Department collects about $14 billion from commercial activities "such as oil and gas leasing, livestock grazing and timber harvesting," according to the news release.
Stearns, one of the foes of logging a few decades ago, said that these days, the National Forest staff log under the guise of ecological restoration and preservation of the health of the forest. He called it a "change in semantics," saying it is the same clear-cutting that environmentalists opposed 25 years ago.
"They've spent millions of dollars on a public relations campaign to try to convince people now that they need to log the state forest and the Shawnee National Forest, not just for the sake of corporate welfare to the timber industry, but they're trying to convince us that they need to do it for the health of the forest," Stearns said. "This is complete and utter nonsense."
Cliff noted that each individual national forest had its own plan for how it managed its timber and logging.
"There are a lot of things to keep in mind when managing these lands, because we are managing on behalf of America, not just one segment of it," Cliff said.