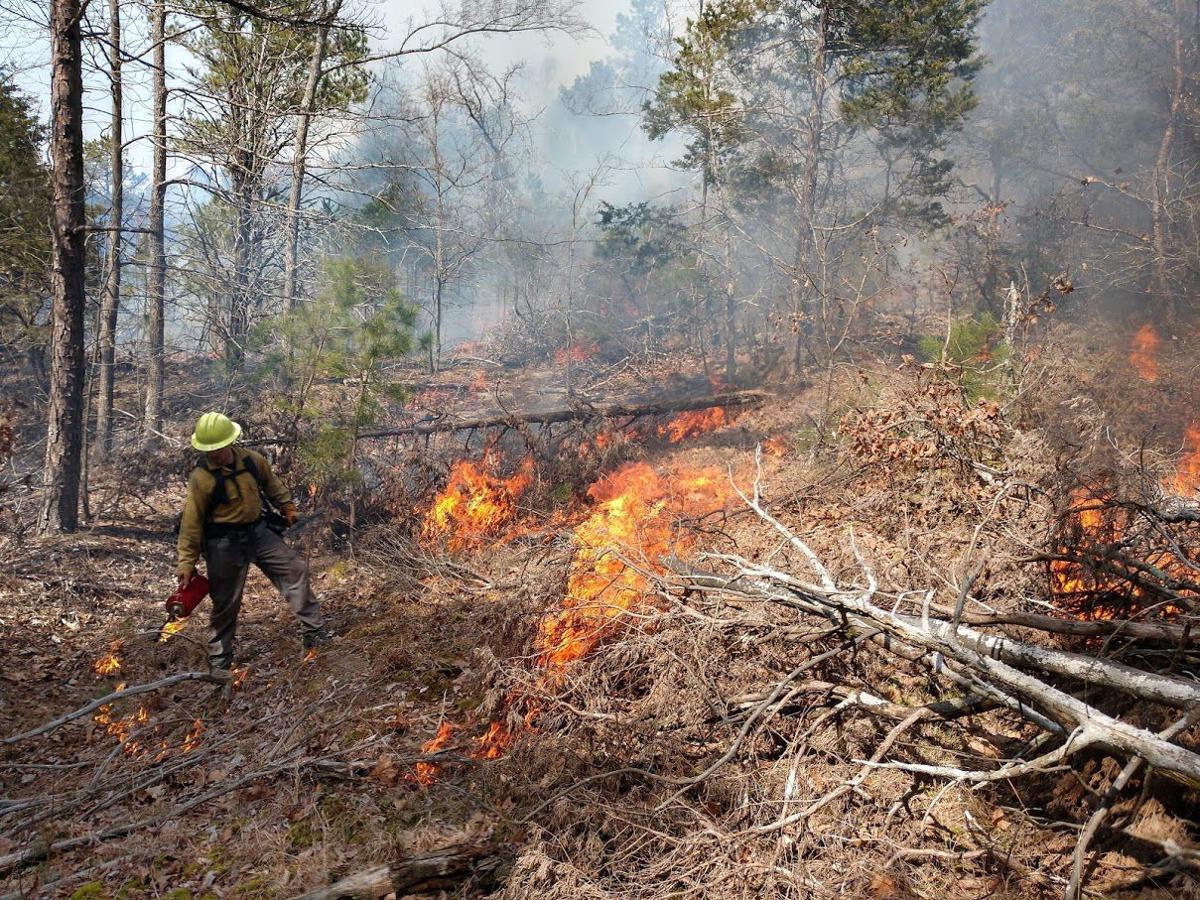 The spring season's prescribed burning in the Shawnee National Forest recently came to a close.
This fiscal year, for the first time in recent history, Forest Service employees oversaw the burning of more than 10,000 acres.
While there's nothing magical about hitting that five-digit number, "it's still a noteworthy accomplishment and something we're proud of," said Scott Crist, the fire management officer for the Shawnee National Forest, a unit of the U.S. Department of Agriculture Forest Service.
"Our folks, our team, is really committed and everybody has put in a lot of extra effort," Crist said.
In addition to claiming that overall record, this year Forest Service employees also oversaw the biggest single-day prescribed fire in the forest's history. That happened on April 2, when about 30 people with the Shawnee National Forest, as well as representatives from other state and federal agencies and nonprofit organizations, worked a 2,100-acre prescribed fire in Pope County northwest of Golconda, Crist said.
An undertaking that large required several years of planning, he said. It involved coordinating with 10 neighboring private landowners.
The Shawnee National Forest describes prescribed burning as a planned fire that is overseen by professionals and performed under specific weather conditions. It is designed to mimic fire that historically occurred in the forest, according to a recent Shawnee National Forest news release.
"A lot of why we burn is to maintain the vegetation that's been here mostly since the retreat of the last glaciers about 10,000 to 12,000 years ago," Crist said.
It's a practice that was first employed by Native Americans, and that was carried on by European settlers. "We're carrying on a practice that has been going on for a very long time," Crist said.
There was a period of time in modern history where forest management emphasized less burning. That began to change in the late 1980s and into 1990s and 2000s.
This was based on scientific research on the biological benefits of planned fires, as well as evidence of wildfires getting bigger, hotter and more dangerous, as the practice was reduced. "Fire is again considered an important part of the suite of forest management tools in most locations," Crist said.
In other words, the Native Americans knew best and best practices returned to their roots. As forests grow bigger, denser and shadier, the ecosystem loses certain species that thrive on sunlight. Prescribed burns have a number of positive benefits, according to the Shawnee National Forest. Those include encouraging the growth of a diverse array of sun-loving plants and grasses, and allowing for the regeneration of native oak and hickories, which provide food for about 100 different animals.
"Using fire to bring light into the forests helps oaks and hickories get established and grow. Without fire, shade-tolerant species will take over and eventually replace oak and hickories as the dominant species in the forest," the Forest Service explained in the release.
It also helps diminish the risks of wildfires by reducing pine needle and hardwood leaf litter and smaller sticks, which can kindle a fire during dry spells. Additionally, it helps sustain and improve the quality of diminishing prairie and savanna remnants that provide habitat for early-successional songbird species such as prairie warblers and Henslow's sparrow.
"Maintaining these open woodland conditions with prescribed fire increases biodiversity in both plant and animal species," the Shawnee Forest's news release said.
618-351-5079
On Twitter: @MollyParkerSI ​
Be the first to know
Get local news delivered to your inbox!