CARBONDALE — On the evening of Thursday, May 7, 2009, as a growing group of cumulus clouds produced light rain and small thunderstorms over eastern Colorado, Stephen Corfidi made a prediction that some of his colleagues thought went much too far.
"We issued a particularly severe thunderstorm watch, of a kind we rarely issue," for all of Kansas, said Corfidi, then the head forecaster at the National Weather Service Storm Prediction Center. "I caught a lot of static for that, but I knew it was going to be a big event. There were just too many compounding factors."
Even Corfidi could not predict the magnitude of the destruction he would see the following day, as those clouds traveled 1,000 miles to unleash an inland hurricane on Southern Illinois.
But he saw signs, some of them tens of thousands of feet above our heads, that the eastern Colorado storms could grow dangerously.
Above the dense, water-filled cumulonimbus clouds that rained on Colorado, Corfidi and his team detected changes in a jet stream — one of many rivers of air that form miles above the Midwest as the seasons change.
In the springtime, jet streams typically rush across the Midwest at high rates of speed, pulling warm air from the south towards cooler air in the north at every point along the way.
At points where there are particularly strong contrasts between warm and cool air, with great disparities in temperature or moisture content, storms are born. In other cases, existing storms are grabbed and carried along in a jet stream's flow.
"Jet streams move constantly and our day-to-day weather is a manifestation of their presence and changes in them," Corfidi explained. "In the springtime, the Midwest hosts a jet stream that wiggles from day to day and week to week, but whose mean position is right along I-70," running through the middle of Kansas and Missouri, and the lower half of Illinois.
Pinwheeling along that jet stream, the storm began to self-accelerate. Falling rain created a bank of cool air at its leading edge. As the storm moved east through Kansas, that cool air rushed violently towards the ground, creating high-speed winds that pushed lower, warmer air upwards.
That warm air released new moisture into the clouds, producing new rain to fuel the storm's cold-air motor.
"There's a lot of factors that go into how a thunderstorm complex organizes, but the thing that separates them is the wind profiles, as you go up through the atmosphere," explained Mike York, a meteorologist with the National Weather Service, based in Paducah. "This storm was very unusually long and unusually well organized, with strong downdrafts of cool air from the thunderstorms creating a mini-cold front to force more hot air upwards."
By 11 p.m., western Kansas saw golfball-sized hail. By midnight, gusts up to 67 mph were recorded, according to a case report on the May 8 derecho, compiled by Stephen Corfidi and National Oceanic and Atmospheric Administration colleagues Mike Coniglio and Jack Kain.
Meanwhile, another lower level jet stream rapidly brought more warm moist air into central Kansas from the Gulf of Mexico.
By 4 a.m., the bands of new storms produced by that unusually large inflow of warm, wet winds were swallowed into the eastward moving squall.
"A storm is nature trying to reach equilibrium. If it's too warm at the surface and too cold aloft, it makes the air want to overturn," Corfidi explained. "That low-level jet stream gave it lots more fuel to release."
The storm continued to grow, beginning to take the wide, bowed shape that characterizes a derecho, what meteorologists call a "bow echo."
Eighty mph winds hit Eureka and Buxton, Kansas, as the storm gathered force in eastern Kansas, in the early morning.
"A woman died in New Albany when high winds destroyed her mobile home. A semitrailer was overturned near Independence, and buildings in the area suffered major damage," Corfidi and his colleagues report. "At the same time, the storms dropped up to four inches of rain in less than an hour."
As the storm crossed Missouri it generated several spinning storm cells, some producing isolated tornadoes. At the northern end of the derecho's bow shape, one area grew especially strong.
"It began to develop this circulation," Corfidi said, as an area of low pressure pulled in warmer air from all sides. "You can almost see an eye on it, and it had a lot of spin to it. That's what people have since called an inland hurricane."
That ferocious, four-county-wide storm cell is what hit Southern Illinois, bringing sustained 70 to 90 mph winds that wreaked havoc including nearly 100 windows blown out of the residence halls at Southern Illinois University Carbondale, per the NOAA report.
The spinning vortex finally weakened upon reaching southwest Indiana, but its remnants produced a deadly tornado in Kirksville, Kentucky, and hail in eastern Kentucky and Tennessee.
Looking back, Corfidi sees an impressive confluence of "Goldilocks factors," that allowed the May 8 storm to last so long, and become so intense.
Had temperatures been slightly warmer or cooler in weeks before, the jet stream might not have been in position to pick up the clouds created by ascending winds over the Rocky Mountains.
Had there been more moisture in the air in Colorado and Nebraska, the initial storm might have matured there, with instability culminating in Missouri and Kansas, before reaching Southern Illinois.
"We were starting with a clean slate, with no storms of consequence in Kansas, so there was nothing to upset its development," Corfidi said.
The environment in its path was "pristine," added his colleague Mike Coniglio, a researcher at the NOAA's National Severe Storms lab, with plenty of warm, moist, unstable air, ready to fuel the storm.
"When storms become this big and intense for a long period of time it depends on many factors coming together just right," Coniglio said. "That's the difficulty of forecasting weather. Small changes somewhere can make a huge difference somewhere else."
Stories from the storm: Readers share their experiences from 2009 derecho
Mother Nature's challenge
The day of the derecho was scary at best. With down trees, no power and damage to the house, it was clear we were being challenged by Mother Nature.
When a few of us were discussing the day recently, the contribution by River Radio was mentioned. Members of the River Radio staff also had affects of the storm to their property, but the staff showed up and kept the sound waves going. The radio station gave up-to-date reports of weather and where people could get food, shelter, water and hope.
The entire region was affected by these unselfish individuals who put the community needs above themselves. I will always be thankful to the River Radio Station for their service during this emotional and stressful time.
One memorable weekend
My dad picked me up after school ended at EIU and headed down to Southern Illinois to see family. The next day, the storm hit hard just before my cousin and I were able to cross the bridge over Crab Orchard Lake into Carbondale.  We stopped just before the bridge because at this point we could not see a thing.
The amount of rain that came down is what I remember most. It felt like I had parked the car under a waterfall. Luckily, we were able to drive away when the storm ended, and then realizing we were could not get many places due to downed trees and lines.
Who knew this would be the beginning of one of the most memorable weekends I had in Carbondale. With an 8 p.m. curfew and all power out, first stop was Penny Pinch Liquors (it still makes me laugh at how long the lines were). Next, well I guess we all having nothing to do besides try to make the best of the aftermath. Fires for light, grills for food, brews, house hopping and great company was how the next couple of days were spent.
I always say my Mom's car was blessed. A tree came down and hit exactly where the car is normally parked at my Grandparents. Then, the car was suppose to be parked at the Huck's in Carterville, but they recently put up "Customer Parking Only" signs, so my cousin and I decided to drive my Mom's car instead of hers. The Huck's over head metal canopy came crashing down right in those parking spots. It was the car that kept us safe during the worst parts of the storm. It was the car that drove away mostly untouched by the storm. 
Drove right through it in a 2008 Tahoe
Left Mount Vernon in the morning heading to Disney World with my husband, daughter, and my divorced parents.
We got south of Marion on 57 when my mom realized she had left her purse on table at home. Turned around, by time we drove back south the storm was in full force. Drove right through it in a 2008 Tahoe. All other cars pulled off road.
Leaves and tree limbs were blowing sideways at our Tahoe. Later learned how bad the storm was. It also blew down my great-grandparents' barn in Royalton that was well over 75 years old.
A solid wall of water
We remember the super derecho! My husband had rotator cuff surgery the day before and we were at Southern Illinois Orthopedics for his therapy.
The first storms started rolling in and the medical and clerical staff rounded everyone up and put us in an interior room. After the storm passed, we left the ortho center and went to pick my sister up for lunch at Triple E BBQ just off of Route 37 because, according to the weather reports, the storms were over.
While we were eating, another storm (the derecho) came roaring in. The ceiling tiles in the restaurant were blowing all over the place, the customers, including us, were standing at the windows watching trees and poles flying through the air. And the rain. Omg, the rain! It was a solid wall of water! It was scary as hell!
It didn't last long but it sure seemed like it did. We left as soon as it was safe. Tried taking my sister home (she lived on Harper Street) and the street was blocked with power lines, trees, debris. We walked her home and her house didn't have any damage, just no power.
We got back to our SUV and had to find a way to get to Route 13. Route 13 from Marion to Carterville had a little debris on it, but it was drivable. What was crazy was seeing all the damage to the electric and telephone poles, and the business signs!
When we got to Crainville, Main Street was totally unpassable due to trees down everywhere. I put our Trailblazer in four wheel drive and drove what was at the time the little back road behind the frontage road to get to Division Street. It was like driving through a jungle, trees and power lines down everywhere. People were having to drive through yards and over small trees, it was a huge mess. I was never so glad to have a four-wheel-drive SUV as I was then!
My hubby was taking pain meds, so he was kind of out of it. Thankfully, our house didn't get severely damaged, we had a lot of limbs down, etc. We were without power for almost two weeks. Cooked everything possible out of the fridge and freezer, had to drive to Benton to get ice, take showers, do laundry, etc. It was bad, but I survived the 1982 Marion tornado too.
More exciting than horrific
I was at the end of my sophomore year at SIUC, and everyone was packing up and moving out of the dorms for the summer. When the storm hit, I was in Kellogg Hall and even though a few people went to the basement, most of us just stood in the halls and watched trees fall over next to the lake. Someone yelled that a car got crushed out front. I remember calling my mom in the middle of it and excitedly narrating the storm. I think she was confused as to why I was calling her and not going downstairs.
After everything calmed down, I walked around and took pictures of the damage. The power was out, so I didn't have much light for packing the rest of my belongings to go home. And, not having anything better to do, a group of my friends got together and played Simpsons Clue by candlelight. Ultimately, I remember it more as an exciting experience than a horrific one, but then again, I didn't own property in the area.
The worst storm in my lifetime
I am 87+ years old, and the 2009 derecho was the worst storm I've experienced in my lifetime.
That Friday began as normal — anticipating playing bridge at the Marion Senior Center. It was raining, and I walked through some puddles in the parking lot. After starting to play, my cellphone rang (an unusual occurrence). It was my granddaughter who was attending SIU at the time. She asked if I was alright. I told her I had wet feet, but didn't understand her concern. It soon became apparent why she called when we started to hear debris (mostly flying roof parts) hitting the building. I was grateful I wasn't home alone.
I drove home with a friend as passenger. We were horrified at seeing some huge, beautiful trees lying on the ground. I panicked when I saw some electrical wires lying across the road. I was hesitant to drive over them and waited until I saw another car do it safely.
Trees were blown down next to my home, but the dwelling was not touched. I was safe and felt the need to say a prayer of thanksgiving.
My son came to visit me the next day (Mother's Day) and helped clean up the yard.
All in all, for me everything was well that ended well. Others were not so lucky.
I'll never forget it
I'll never forget it. My day as GM at Denny's started normal ... had a good breakfast and lunch.
However, lunch was cut short due to a rainstorm brewing from the west. As the dark clouds started rolling in, I received a phone call from one of my employees. She told me to be prepared because there was a funnel cloud spotted in Murphysboro. I then walked outside to check the weather and noticed the wind was getting very strong.
We had a number of guests in the restaurant and I came back to alert the people that were sitting near the windows to please move to the center of the restaurant. Everyone responded with the exception of a few who paid and left. A tree on the south side of Denny's flew through the air, electricity went off and a light pole fell just inches away from an employee's car. I instructed the remaining guests and employees to go into our storeroom. Everyone responded and thank good goodness our emergency lights came on.
After the storm was over, I noticed that big trees and lines were down in Carbondale. I received a phone call from my 5-year-old granddaughter, Allie Adkins, yelling on the phone, "Papa Lee, Papa Lee, your Cub flag was blown down in the storm." I said, "Honey never mind the Cub flag — are you and Gma okay?"
She was still a little excited and I could not understand her. I then asked to speak to Gma Margie. She told me that she and Allie had been in the bathroom tub and our house seemed to be okay with the exception of some of our trees being down. However, when I arrived home, I found we had lost nine trees.
Thank God everyone at work and home were safe through this derecho. I'll never forget it!
A storm with what appeared to be an 'eye'
The morning of May 8, 2009, I drove to work as usual. A severe thunderstorm watch was in effect for the area. I had a handheld radio scanner on in my office. The first wave hit around 11:45 a.m. A severe thunderstorm warning was issued for the southern part of Jackson County.
Around 12:15 a wave of strong thunderstorms began moving across the area. The wind picked up. I noticed something peculiar on radar. Another storm was developing across the Mississippi, moving from Randolph into Jackson County with what appeared to be an "eye." It seemed headed directly toward Carbondale.
The power started flickering in the hallway at about 1 p.m. We moved to the basement immediately. We could hear objects hitting the building. We took a peak outside about 15 minutes later. There were downed trees all over the place. It was raining and the wind was blowing it horizontally from the north.
I left for home around 2 p.m. My usual route and several others were blocked with debris and downed trees. WDDD was on the radio. April and Wes were relaying reports of the devastation. This was the first chance I had heard how bad and widespread the storm was. There were power outages all over Southern Illinois.
I reached Murphysboro at about 2:45. The street behind me was blocked. There were huge fallen trees all over the place. Power lines were down. My driveway was totally blocked by a fallen tree which fell on top of the telephone line. I had to park by some nearby offices. I had to pass through my neighbor's yard to get to my back porch. A few large branches from next door ended up on the deck just missing the house. My power was out for five days.
'I didn't know where I was'
I worked at as a customer service supervisor at Kroger at that time. I had only been clocked in a few moments when I received a call from upstairs management.
"There's a storm heading towards Carbondale, the weather radio is going off. We need to alert the customers and get as many as wish to stay in the building into the dairy cooler stockroom."
"Attention, Kroger Customers, a severe storm warning has been issued for our area. Please proceed toward the rear of the building where we will direct you to safe shelter." My voice shook the entire time.
I began helping customers find the door to the cooler. The tiny room was crammed full of about 50 people. A woman with tears pouring down her cheeks refused to enter. "I can't handle this. I can't do this," she kept repeating. I didn't know what to do, instinctively I hugged her and begged her to go into the room to be safe. Another woman took her arm and told her to keep breathing and keep her eyes closed.
I heard the walls creaking from the wind and watched as the suspended aisle signs bounced frantically on their cables. I'm not religious, but I prayed, "Please, God, not here, not today, I'm meant for more."
The power didn't go off until after the storm. I spent the afternoon helping to preserve as much of the cold merchandise as possible. Because we were going to lose it anyway, management rolled out grill and began cooking up food for the crew and customers who wandered over in search of supplies and answers.
I walked home that night, across the town I'd lived my entire life, and for the first time ever I didn't know where I was. The city was unrecognizable.
A day I certainly won't forget
I was only 4 years old at the time, but I remember a lot about this storm.
My day started like any other. My mom went off to work as a preschool teacher, and my dad worked the evening shift at Continental Tire.
When the first round of the storm initially hit, we were in Marion taking our pets to the vet. This was the heavy rain portion of the storm. Then, the minute we returned home was the wind portion. We raced out of the car and into the storm shelter. We also had to carry four dogs in our arms on the way down.
After the storm, I remember seeing a field of tree limbs. We thought that our mobile home was destroyed, but with god's grace, it wasn't. We walked through a flight of 30 steps covered with tree limbs to get back inside. A day I certainly won't forget.
Forced to be creative with our food options
I was a student in my senior year at SIUC. I worked as a carrier for The Southern and was unable to complete most of my Carbondale route for several days due to the number of trees that were down.
We had a lot of down time without power at our apartment complex and it allowed us all to get to know our neighbors better. We were forced to be creative with our food options as I remember watching my roommate cook eggs on the grill.
I remember watching the storm with my roommate and realizing it was unlike anything we had ever experienced.
A long journey home
At dawn on Friday, May 8, 2009, my husband, Dave, and I drove together from our Pomona area home to our SIUC jobs. Dave had become Superintendent of Grounds six months earlier. At noon, I walked through a stiff wind from my office to yoga class at Pulliam Gym and then Harbaugh's. I never got a sandwich. We patrons watched the giant leaf-laden trees across the street outside Quigley bend over, uproot, and lay down across the sidewalks. Everything tore loose; sidewalk trash receptacles were flying down Illinois Avenue. We stepped away from the large bending picture windows.
When the rain and wind stopped, I walked in around fallen trunks and tree limbs past Pulliam and Shryock. The oldest part of campus' landscape looked destroyed. My destination was the physical plant offices where Dave worked. Our phones weren't working. He wasn't in his office.
The sun was now out and the sky was blue. I got our truck, but had trouble finding a route away from campus that was clear to drive through. I saw Dave driving an SIU vehicle at the Oakland/Chautauqua intersection. He was in shock, surveying his workload for the next few years. I said I would head home and contact the kids. He said he hoped to see me in a couple days.
Chautauqua and Old 13 were blocked, so I drove New 13 to 127 South. A long line of cars stalled again and again. At the bottom of Tom Cat Hill, there were stopped cars as far as one could see north and south. We all got out to talk with each other, share stories of where we were when. We heard chainsaws ahead of us. We'd travel a ways between cleared trees, then stop again. I was on 127 for three and a half hours to get to the Pomona turnoff.
From Pomona, I had another four miles west to navigate between trees and limbs, cut and pushed to the sides by neighbors. I parked at my mailbox to walk our half-mile driveway, littered with tree limbs. A limb was poking through our shed roof and our house roof was missing shingles. I climbed over a large fallen ash tree near the house.
I used the chainsaw and tractor to begin clearing the driveway. It would take days. Dozens of trees were down along our fields' extensive woodlines, which wouldn't be totally cleared up for a couple years.
I reached our high school kids at friends' houses in town. They would stay where there were showers, they said. We had no electricity or running water. Dave didn't make it home that night either. He slept a few hours in a chair at work. He directed overtime crews for many days.
The kids drove home to help haul limbs to piles. We rummaged through the refrigerator and cupboards for perishable foods and crackers. I had drinking water stored. All day and evening, we could hear chainsaws through all the valleys all around our property.
Dave came home after dark with extra gas and a $1,600 generator he bought off a semi that rolled into town. We plugged it in to power our refrigerator and freezer, using candles for light inside. We poured water from our rain barrel to keep toilets flushing and used hot tub water for sponge baths. Our electricity wasn't resumed until May 16.
On Mother's Day Sunday, we all worked all day. Dave returned to SIU Sunday night and stayed for several days, working 12-hour days with his crews. He dealt with tree removal contractors and wood buyers. He estimated SIUC property lost over 800 trees in the derecho.
Most of the Shawnee Forest trails we usually hiked and roads around our property were blocked with trees, some like "the snake road" not passable for a year, some of our old hiking trails not passable yet today.
A new home
On May 7, 2009, I was visiting Carbondale for the home inspection on our soon to be new home. I stayed the night in the Holiday Inn and there was a terrific hail storm that night. When I woke up, I saw many cars in the lot with broken windshields and it looked like someone went over the rental with a ball peen hammer.
On May 8, I had an appointment at First Southern to complete the mortgage application. We were sitting in the corner office with the two big floor to ceiling windows facing the intersection of Marion and Main. Steve was using his hand held calculator and we were chatting it up when the storm hit. The lights went out but we sat in the natural light of his office still looking at the numbers when outside the window it looked like Wizard of Oz. I saw a guy riding his bike up Main being pushed backwards, just like the Wicked Witch of the West. I saw the light pole bend past 45 degrees in the wind. We concluded our business and when we emerged from his office we found everyone else in the bank huddled in the safe! We had no idea how bad it was.
It took me 90 minutes to drive from the bank six blocks to return the car having to navigate around all the downed trees. The rental folks left the hail damage to the insurance adjuster and they gave me a ride to the Amtrak station. It was surreal. All the lights were out but people were going in and out of PKs emerging with beers in their hands.
I had no idea how many hours I would be spending in PKs the next decade but was impressed by the apparent resilience of the business. No inland hurricane or power outage was going to shut them down. The train couldn't make it through the wreckage so we took a motor coach to Effingham to catch the north bound train and wondered how our new house faired. Eight 75-foot plus oak and hickory trees had fallen down on the property, but the house escaped damage. 
Community's love on display
I was only 8 years old when this storm hit, but I will never forget the impact it had.
That day, I was not at school like most kids my age, instead, I was at my grandfather's funeral, Claude Smith Jr. I remember people kept coming in and out of the service to look at the sky. We decided to go ahead and have the graveside memorial, but as we all gathered, the storm hit. Flowers were flying and trees were falling all around us as we ran back to our cars.
I will never forget the feeling of my car lifting off the ground as I watched the men of my family hold down the tent that was about to fly away and take them with it.
Once the storm had passed, we decided that we couldn't go home. As many know, my family owns Southside Lumber and we just didn't think it would be right if we cleaned up our own houses without helping others who truly needed it. We opened the store for those in need of supplies, and we operated in the dark. Many who came in needed help, but most simply wanted to help us serve others.
I'll never forget feeling the love God has for us and that this community has for each other because of the May 8 storm.
Adopting friends as family in the aftermath
Being a foreigner can be a little hard sometimes, but is something that a traveler agrees to face for the experiences of being immersed in another culture. Thus, in 2003 began the crusade of my life from Argentina to USA; Carbondale received us at the beginning of 2009 with an ice storm and later in May of 2009, with a "in-land hurricane."
As a single mom of two young girls I started that day as always with the trip to leave them at a friend's house for childcare. Next, I went to SIUC to work, and at noon, I went back home for lunch. Suddenly, I still can feel in my skin the sensation, I heard the sirens, and I was shocked. The day became almost night and the wind was blowing everything. I could see nature in its highest expression, trees flying everywhere.
I was terrified thinking of my girls, far away, and I started driving to them. Finally, when I was four blocks away from the girls, the street was blocked. I climbed the trees on the street and finally I reached them. While I was climbing the trees, I started to think of my friends I made in those few months since arrived in Carbondale.
The first who came to my mind was Roy, I knew he was living in the forest, thus I called him ... Hi Roy, this is Laura. How are you? Are you OK? ... And he was calm and replied ... Laura, I am OK but my house is wrecked. I started to cry, and I told him, you can stay at our house if you need. He did it. We adopted Roy as part of our family and now in Argentina we miss him, and we will be always thankful to him.
The day our woods changed forever
My wife and I live in Pomona on 27 acres of wooded and hilly property. Prior to the super derecho our woods were rated by a state forester as very healthy and mature. Oak and hickory trees were abundant. That rating was soon to change.
It was about 12:30 p.m. that fateful day when the TV meteorologist signed off saying the threat of storms, we had experienced all morning, had diminished. With a sigh of relief, we sat down to lunch when we began hearing a loud wind along with some massive gusts. Limbs, leaves, mud and small as well as large trees started to crash down all around us. We immediately retreated to our "fraidy hole" (an interior space in the middle of the house).
As the storm increased in intensity, we'd scamper out into other parts of the house to see the unreal scene developing only to retreat to our safe place when another huge limb or tree came thundering down. It took about 15 minutes of winds around 80 mph with gusts over 100 mph to make an indelible change to our wooded environment. We struggled to get out our debris-covered front and back doors.
The damage was surreal. Huge trees were uprooted, and devastation was everywhere. Using a chainsaw, it took over three hours to clear 750 feet of driveway only to discover the main road impassable. Fortunately, our home incurred little damage, but a nearby outbuilding was destroyed by a fallen oak of large proportion.
Our woods will never be the same. The thick tree canopy is mostly gone as the debris and now the thick undergrowth make access to our woods difficult still. Even though it changed our woods forever, we're thankful we survived.
Rick Williams and Theresa W. Lusch
Making friends in face of chaos
I was working in Best Buy when the storm hit.
It took me almost an hour to drive across town through downed trees and power lines. My roommate and I spent the next few days grilling every bit of food we had in the freezer and sharing it with the neighbors. I met more people in my neighborhood the week the power was out than the other two years I lived in that house.
I made several good friends during recovery.
Happily ever after
It was exactly one week before my high school graduation from Carbondale Community High School. I remember sitting in class late that afternoon in fifth period. We had been informed that a bizarre unique storm with high winds was approaching, and we were to treat it as if a tornado was coming.
Going out into the hallway to sit, we were instructed to stay away from windows. I remember being able to hear the wind howling, rain pouring, thunder booming, and girls screaming with fright. No one knew exactly what was going on, but we knew that it had to have been something serious.
After the winds had finally calmed down, the school immediately called the buses to take us home. What would normally be about a 30-minute bus ride home took over an hour and a half. The buses had to take alternate routes to get us home because certain roads were flooded or blocked off by trees or powerlines. At one point, the bus driver told us he couldn't drive any further and had to just let us off the bus where we were at and walk home from there.
Looking back, I was OK with that because I was in high school, but I wonder what they did for the elementary kids? Anyway, school lets out around 3 p.m. and I didn't make it home until about 5:30. As soon as I made it home, my mom embraced me with the tightest hug because she had been so worried and had no way to contact me since signals were down.
In front of my house, there was a tree that was leaning toward our roof. It is no longer there anymore because my family had it cut down due to the storm. I remember lighting candles and using flashlights because no one had power. Also taking cold showers because the hot water heater didn't work.
Now with this tragedy happening and putting everyone in a frenzy, you would think emotions would be at an all-time high. However, everyone in the community was so nice to one another because we were all enduring this struggle together. I remember lots of people barbecuing because they had to cook all their meat before it spoiled. My grandmother's neighborhood was one of the first to receive power, so my family of course went to spend a couple nights at her house. Then as power began to come back to the rest of the city, more people starting coming out their houses.
I remember eating at Golden Corral and it was extremely packed. People were there for hours eating and using outlets to recharge their phones, cameras, or anything for that matter. Finally Carbondale High School received power the day before our graduation. We were able to have our graduation ceremony in our gym, celebrate with the community, and live happily ever after.
Storm enriches life in unexpected ways
I was looking at the tree which has just crushed my 14-by-70 mobile home when my phone rang. It was Laura Ramos, asking me how my house was. When I told her it was destroyed, she immediately told me to grab some clothes, and that I'd stay with her and her daughters until I was back on my feet.
Laura is a microbiologist, from Argentina, who happened to be at SIU doing soybean research when I met her. We hadn't known each other long, so I was surprised and relieved to have my homelessness solved so quickly. In short order Laura, Aity, Naiu, and I became awesome friends and family.
In the spring of 2010 Laura and the girls returned to Argentina. In the fall of 2010, I went to visit them, for my very first time to be leaving the country. I packed my things, gathered Smokey, and off we went. Smokey is Laura's cat and it was left to me to bring Smokey when I visited. Taking a cat on a plane to Argentina is a story of its own.
While visiting ISPN7 (a local university I visited with Laura and the girls) I ran into Ana, who is the chairperson of their English Department. I was invited to join a class, and I visited with the six seniors until we took a mate (a kind of tea they love) break, after which I discovered that news of my presence had spread, and now I was visiting with all the English students which numbered about 60. I visited Argentina twice more, and I saw the students each trip.
And of course, a shout-out to my fantastic neighbors who help without being asked.
Didn't foresee how much richer my life would become because of a storm.
Readers Remember the super derecho: Memory of storm still lingers today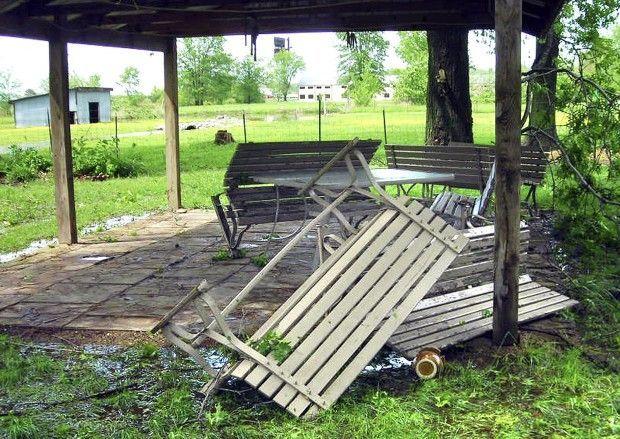 Note: This reader-submitted account of the May 8, 2009 super derecho was submitted for a May 2010 feature of The Southern, which commemorated the one-year anniversary of the storm with reader accounts.
A year later and just thinking about it makes me get all shook up again.
My husband and I had been to Menard's and the doors were flying open and merchandise flying all over. We left there and made it as far as McAllister's, and the power was already off.
We ordered their country potato soup and soon were told to get into the kitchen. From there we could see the metal roofing of 17th Street Bar & Grill flying in sheets, and we could also see the back of the roof of the Drury Inn being torn I could see the frame work.
In the meantime, I am trying to find my adult children, and I kept losing signal on my cell phone.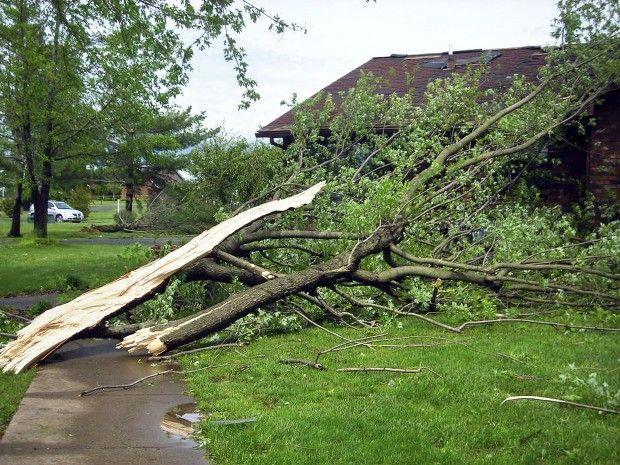 The soup was free. The cash registers were not working. The kids were fine.
When we were able to leave the restaurant and drive west on Illinois 13, the light posts were snapped like twigs, signs were down, and I could not even imagined in what shape our home was going to be in.
Thank goodness one side of the house was OK; the other side was totally covered by a tree branch but no holes through the roof. We could sleep inside; our animals were OK.
After a quick inspection of our property we left immediately to survey the damages in our rental property in Energy. We worked there till dark. Everyone was OK. So far someone was looking after all of us.
We reported all our damages to David Anderson, our insurance agent from State Farm, who was sitting with a yellow pad and pen taking names and numbers at the entrance of his office. It was getting dark.
One of my girlfriends and her family came over the next day to help with some of the cleanup. It took over eight hours and 10 people to pick up shingles off the yard. Thank you, Cristina.
We had to replace all the roofs and some air conditioners. We had extensive damage in some of the flower beds, we lost 17 large trees and several ornamental trees. The clean up of the yard alone took two months.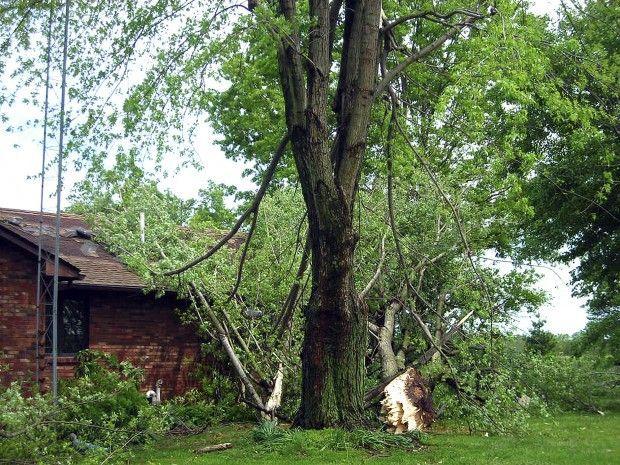 The insurance company was prompt and fair. We're glad, but now everything looks different. The yard is sort of bare, but the bleeding hearts are blooming again, letting us know we are back in business and God still looking after us.
Readers remember the super derecho: 'I'll never forget it'
Note: This reader-submitted account of the May 8, 2009 super derecho was submitted for a May 2010 feature of The Southern, which commemorated the one-year anniversary of the storm with reader accounts.
My day at Denny's as general manager started normal. Had a good breakfast and then a good lunch as we normally do on Friday. However, our lunch was cut short due to a rain storm brewing from the west. As the dark clouds started rolling toward us, I received a phone call from one of my employees. She told me to be prepared because there was a funnel cloud spotted in Murphysboro.
I then walked outside to check the weather and noticed the wind was getting stronger. We still had a number of guests in the restaurant, and I came back in to alert the people that sat near the windows to please move to the center of the restaurant. Everyone responded with the exception of a few who paid and left. The tree on the south side of Denny's lost a big branch. It didn't drop to the ground but flew through the air toward EZ-Rental. At that time the electricity went, off. Also, one of our light poles fell just inches from an employee's car. I instructed the remaining guests as well as my employees to go back to our storeroom as a safety precaution. Everyone responded, and thank goodness the emergency lights came on at that time! I then checked out front to find that branches from trees were flying through the air.
After the storm was over, the remaining guests left as there was no electricity. I then noticed all the destruction from the May 8, 2009 storm. Big trees and lines were down on Sycamore Street in Carbondale.
I received a phone call from my granddaughter, 5-year-old Allie Adkins, yelling on the phone, "Papa Lee, Papa Lee, your Cubs flag was blown down in the storm."
I said, "Honey, never mind the Cub flag - are you and grandma OK?"
She was still a little excited, and I could not understand her. I then asked to speak to G'ma Margie. She told me that she and Allie had been in the bathroom tub and the house seemed to be OK. However, she looked outside and noticed that some of our trees were down. When I arrived home after closing the store, I found we had lost nine trees.
Thank God everyone at work and home were safe through this derecho. I'll never forget it.
Readers remember the super derecho: 'We were surrounded'
Note: This reader-submitted account of the May 8, 2009 super derecho was submitted for a May 2010 feature of The Southern, which commemorated the one-year anniversary of the storm with reader accounts.
On May 8, 2009, my family and I were heading to Turkey Bayou to meet some others in our family who were camping there.
As the skies darkened my parents and I realized the extent of the weather heading our way and decided we should go get them out of the woods. We traveled the long way from Pomona to Turkey Bayou, and got to their campsite just as the high winds were hitting.
We threw all of their camping materials into trucks and got their boat loaded up all the while fighting the ever increasing wind gusts and rain. We headed out with my uncle, Albert Nance, in the lead in a truck and camper, his wife, Louise, behind him in a Jimmy, my uncle, Jack Hicks, behind her with his camper, my mother, Melissa Hicks, and I in her truck, my father, Joe Hicks, in his truck with Uncle Jack's boat, my cousins, Rebekah and Rachel, in the car and my aunt, Karen, and cousin, Hannah, in the van.
We got about halfway down the road leading into Turkey Bayou when Albert stopped his truck. He ran out, and immediately had all of us pull the vehicles side by side to be a stronger unit.
Then the winds hit their hardest.
As the vehicles rocked back and forth, we prayed that we would all make it out alive. The trees around us were bending like they were wet noodles, and limbs and leaves were hitting the vehicles at every angle. Trees were falling down all around us like a set of dominoes.
At one point, I put my coat over my head and thought for certain the windows were going to break. Then, just as quickly as it had come, the wind left. We all got out of our vehicles and looked around us.
Here we were in the middle of a disaster area. In front of us were hundreds of trees down along the road, and behind us was still more trees. We were surrounded.
It was at this point our survival modes kicked in. The men all grabbed chainsaws and began cutting and clearing debris. The women and children pulled aside limbs and branches and drove the vehicles. After a couple of hours of cutting, we were joined by another of my uncles, Cecil Hicks, as well as a nephew of my Aunt Karen's, Steven Wheaton.
Together, we forged ahead for close to five hours before seeing the end of the road. We followed it out, looking out at the damage to homes and businesses. Illinois 127 looked amazing, yet awful, as we drove home, dreading what we were returning to.
Thankfully it was just minor damage dealt to our homes, and we were able to fix it quickly. We noticed along the way that others were not so lucky.
This day definitely gave my family a jolt as to what was really important and just how quickly everything can change.
Readers remember the super derecho: Witness to nature's power
Note: This reader-submitted account of the May 8, 2009 super derecho was submitted for a May 2010 feature of The Southern, which commemorated the one-year anniversary of the storm with reader accounts.
I will never forget the sound of the steel rivets popping and big chunks of roof coming back onto the rest of the school.
Twelve teachers and staff of Lewis School, including myself, huddled under tables amid a darkened hallway outside my classroom as our world changed in seconds.
We were caught at the school, while half of our staff and administrator were at lunch. We were due back for an in-service meeting when the whole world seemed to bust open with gale force winds and debris flying all over the place. We had thankfully ducked under the tables in the hall and several teachers huddled in bathroom close by.
As an administrative intern, I was searching the building looking for the teachers hiding in the bathrooms when the janitor's voice could be heard over the din of wind to "Take cover, Mr. Patrick!"
I immediately ran back and rounded the corner to see my fellow teachers huddled and massed under the tables with their butts in the air, (just as we tell the children to do!) I quickly scrambled under the tables with them and we all fell silent as the winds screamed and the building groaned.
Suddenly the building seemed like it was taking a big poof of air to withstand the winds when the steel rivets started popping and big pops and debris came crashing down over our heads.
It was the roof being opened up like a giant can opener and peeling it back onto the rest of the school.
Debris and papers came flying down the hallway where just minutes ago children had huddled before finally being released to go home. We all prayed hard and silently as we wondered if our families were safe and if we were going to make it.
As suddenly as it started it stopped. An eerie silence met with flashing emergency lights in the hallways gave way to people asking if everyone was all right. Hugs tears and relief washed over the entire group. We were safe!
Those of us who were trapped at the school during the storm that day will never forget it, and we have an unspoken bond of survival. When we hear about the storm or anyone talks about that day, those of us who were there silently make eye contact across the room. In our minds we say, "I understand completely, and we say another silent prayer to ourselves as we feel we are truly blessed to still be here."
We moved back into our building in January after enduring teaching in portable trailers from August until January. We are so glad to be back in the building that we love, and that we have our Lewis School family all reunited again. Ours is just one of many stories across Southern Illinois. Thank you for this opportunity to share with your readers what happened on that fateful day last May.
Readers remember the super derecho: Wedding dilemma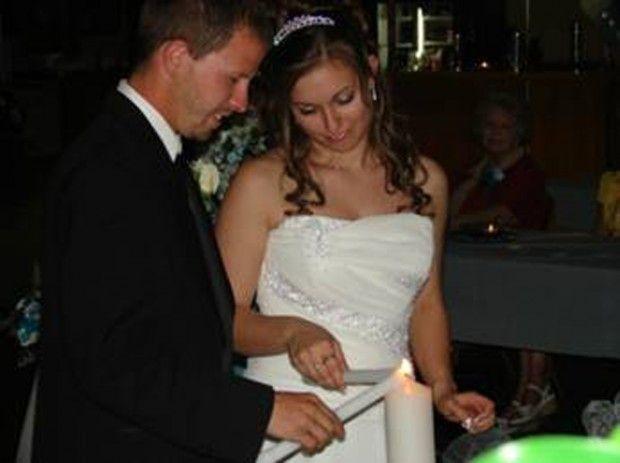 Note: This reader-submitted account of the May 8, 2009 super derecho was submitted for a May 2010 feature of The Southern, which commemorated the one-year anniversary of the storm with reader accounts.
More than just property was affected.
What happens when your wedding is scheduled for the day after the largest storm in recent history of Southern Illinois?
No one in several counties has power, the road to the church is impassable and the KC Hall has a generator only in the kitchen feeding emergency workers.
With people coming from all over as guests you improvise.
Call the minister and ask him to come to the Murphysboro KC hall. Create an altar at the KC Hall for wedding. Call as many guests as possible and light the hall with candles gathered from friends and family. Pray that the cake is done (and it was!) Someone at Larry's House of Cakes stayed after the storm and decorated by candlelight.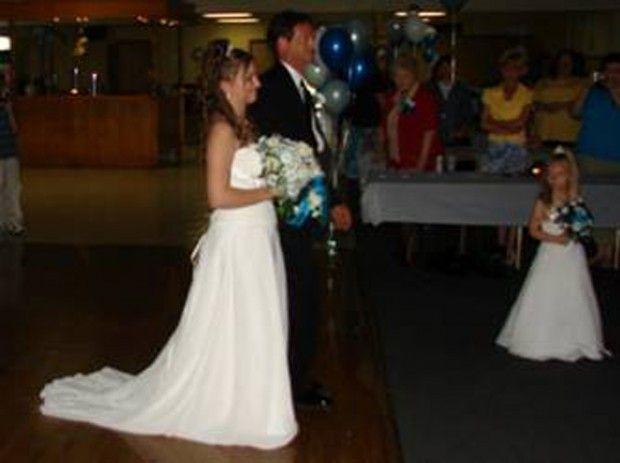 The mother of the bride drove the four-hour messy trip to Marion and back to pick up the cake! Hope that the reception DJ has a generator and can get out of his driveway. The photographer called and said he couldn't come, so a camera was handed off to a relative to suffice.
Most brides might have fallen apart given this predicament on their wedding day, but Brittney Carter didn't. She rallied her family and friends to help.
The KC's were great help sharing space with the wedding and the emergency workers.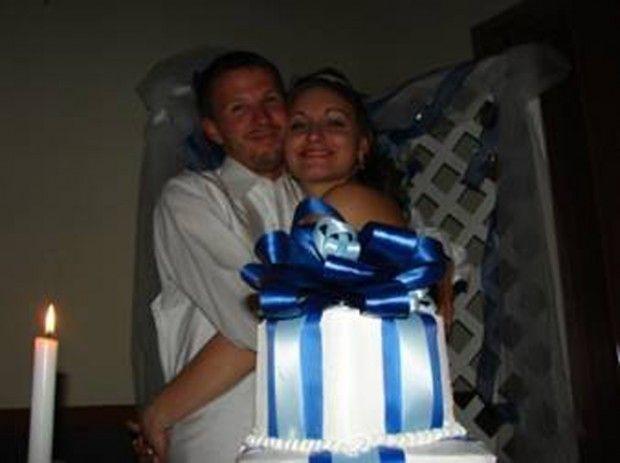 Brittney Harker got married by candlelight to Fabian Carter in a May 9, 2009 wedding in Murphysboro that no one will forget.
Readers remember the super derecho: 'So much brokenness'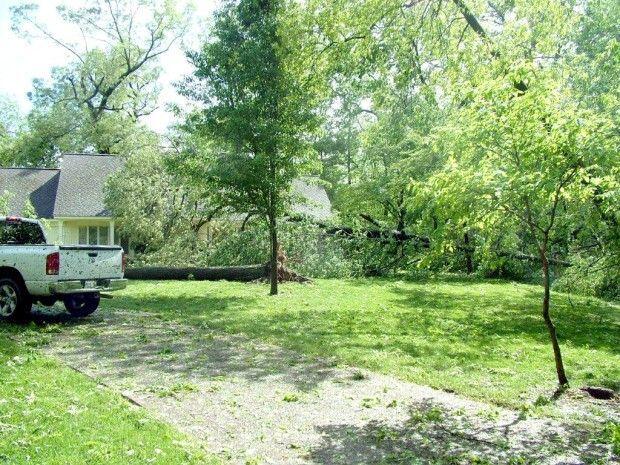 Note: This reader-submitted account of the May 8, 2009 super derecho was submitted for a May 2010 feature of The Southern, which commemorated the one-year anniversary of the storm with reader accounts.
During the Big Storm of '09 I was sitting in the passenger seat of our silver minivan. My husband was behind the wheel, and our four young children were sitting in the back. We had just arrived at the Herrin Cemetery in the funeral procession for my great-uncle, Claude Smith.
The sky was so dark and ominous, the rain was pelting down and the wind was picking up speed. Even so, it seemed like the kind of conditions that would quickly pass.
The pall bearers had already set the casket in place at the gravesite and they started to switch their at-tention to holding on to the frame of the funeral tent, trying to keep it in place against the winds.
The other family members weren't getting out of their cars yet, and we were in no hurry, either. As we watched, the wind took on new power, and we could actually begin to see spirals in the air currents. Debris started flying through the air. All at once, my 7 year old son yelled, "A huge tree just blew over! The whole thing!"
The van started rocking with the force of the winds. It felt like we could easily be tipped over. The en-tire storm was playing out on all sides of us - the men trying so fiercely to protect the casket were being blown down with the last shreds of the funeral tent. Broken branches were being through the air until they crashed into a headstone or something else that wasn't budging.
We didn't get any photos during the storm. I'd like to say that I calmly soothed my children's fears, but that wasn't so. My fingers were locked together and I was pleading and praying for the safety of my cousins and uncle who were out in the middle of this chaos.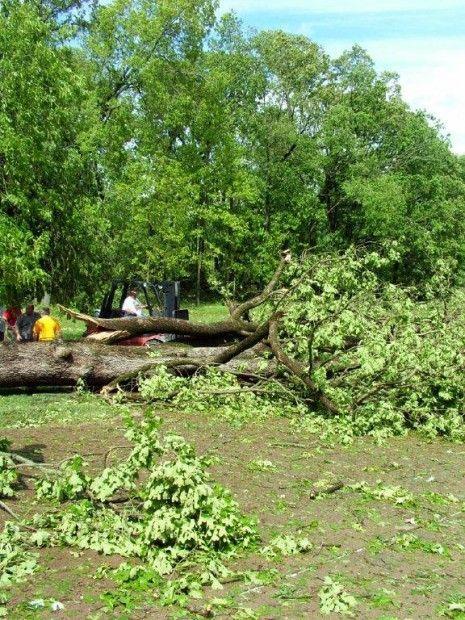 Later my oldest son asked me why I was crying during the worst of the storm, and I honestly replied, "Was I?" I do remember begging God to protect us and those men and all the family and friends who were seemingly sitting ducks in the storm. And he did answer that prayer. Amazingly, a bruised fore-head, scraped hands and several soggy, ruined suits were the only exceptions at the Herrin Cemetery that afternoon.
Once the ferocity of the storm passed, the lead car with Aunt Alice and Kent drove away. There would be no graveside service after all ... the storm had robbed us of that. Nobody else got out of their car. The shock of what we had just witnessed lingered.
Slowly we began the long process of trying to weave through town, entirely unprepared for what we would find. On the outskirts of the cemetery we came upon a car, completely enveloped by the branches of a fallen tree. One more answered prayer: We later learned that the driver walked away from that one.
Power lines were down in the streets. Residents were in their front yards surveying the damage to their homes and comforting each other. All the streets were blocked to get back to Alice's house. Be-cause the power was out for miles, we couldn't even fill our gas tank to get home to St. Charles, Mo.
Somehow we got word to stay off of Interstate 57 anyway. Without cell phone reception we felt like we were just wondering in unknown territory.
So we did like so many others and went to Southside Lumber. No lights were on, but the doors were open for business. We followed a lumber truck down a back way to Aunt Alice's and changed into our jeans.
My husband Jim picked up a chain saw and started helping to clear the massive trees that blocked the streets. The women were in the kitchen making sandwiches and delivering water bottles to the crew.
The fork lift was pushing away sawed off segments of beautiful old hardwood trees. Some were completely uprooted, while others were simply splintered at the trunk about 3 feet off the ground. They had withstood many storms in the past, but not this one.
So much brokenness blanketed Herrin, surrounding our family who had just lost a great man. But there was also hope and a spirit of cooperation and friends stopping by to help in any way needed.