MAKANDA -- For 13 years, a small insect has been burrowed in the earth, taking nutrients from root fluids, waiting for a natural alarm to signal it's time to come out.
In this part of the country, that alarm is expected to go off later this month, depending on the temperature.
That's when Southern Illinois will be deluged by swarms of the insect, the 13-year periodical cicada.
"This is one of the natural phenomena that is kind of unique," said John Cooley, a researcher at the University of Connecticut. "People are scared to death of them, but they are really not interested in people. They're looking for a mate and a place to lay eggs and that's it."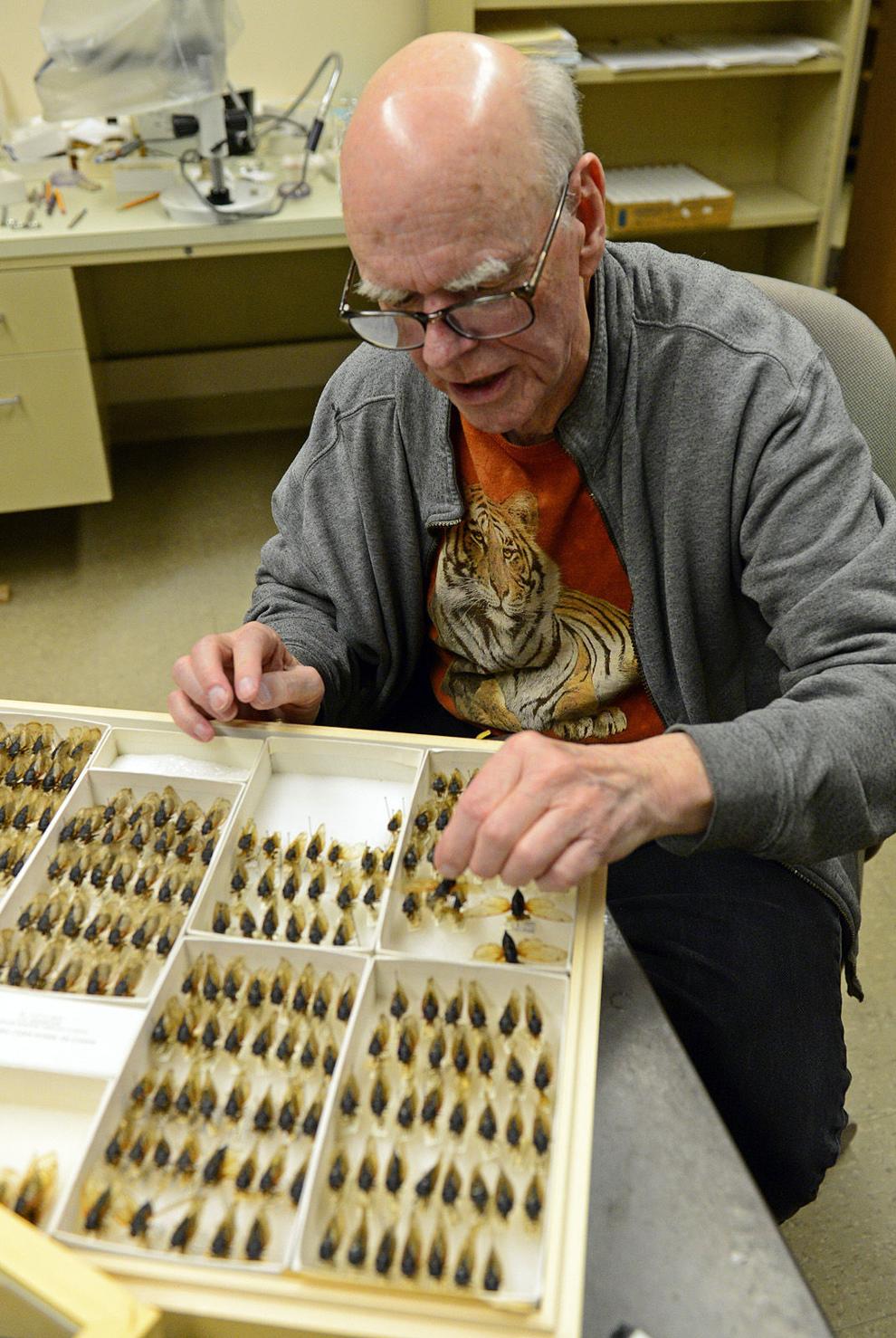 Cooley runs the Magic Cicada website, which will track the movement of cicadas in this area and those that started emerging in late April in Mississippi, referred to as "Brood XXIII." This year's 13-year cicada cycles also coincides with the emergence of the 17-year periodical cicada, known as Brood IV; this one will emerge in parts of Oklahoma, Kansas, Missouri, Iowa and Nebraska, he said.
"It's very common for them to be confused with grasshoppers and crickets," Cooley said. "They are very large aphids, but they don't look that much like them."
It's not clear why it takes the insect 13 years to emerge from the soil, said J.E. McPherson, professor emeritus with SIU's Zoology Department. 
The emergence will take about a month or so, Cooley said. Eyewitnesses might see little brown nymphs emerging from holes in the ground. Then cicadas will then molt, with adults — white in color — emerging.
After about a week or 10 days, the adults will start singing (done by mating to attract females) and flying around, Cooley said. (Cooley said the sound made by the males can be as loud as 100 decibels — as loud as a lawn mower, according to Purdue University's Chemistry Department website.)
The females lay eggs in slits that they make in trees. When the eggs hatch, the cicada either fall to the ground, or the tree limb becomes so heavy it can break and fall, depositing the young cicada onto the ground, McPherson said. Once there, the cicada burrows into the soil until it emerges in another 13 years.
The adults can live for three to four weeks, dying after the female lays its eggs, Cooley said.
In a room at SIU, McPherson showed off his collection of cicadas, one batch of the smaller, darker periodical cicada and another of the larger, dogday variety, which emerges every year.
Cicadas love shrubs and smaller trees, especially fruit trees. People can prevent these plants from being damaged by eggs lain in them by covering them in something like cheesecloth, McPherson and Cooley said.
At Rendleman Orchards, in Alto Pass, owner Ren Sirles is preparing for the coming wave, as he has every 13 of his 56 years of farming his family's 143-year-old farm.
He's planning to place some 50-pound onion and cabbage bags over the smaller trees and use the insecticide Sevin or the pesticide Malathion, on trees when the cicadas nest heaviest.
"I've never seen them kill trees on our place," Sirles said. But, "they will set them back."
Because of the fruit trees' growth cycle, any damage done by the cicadas won't be evident until next year and the subsequent year's crop, Sirles said.
Sirles noted that fishermen who decide to use cicadas as bait should have good luck. But humans considering eating the cicadas might want to know that in their 13 years underground, they are known to ingest mercury, Cooley said.