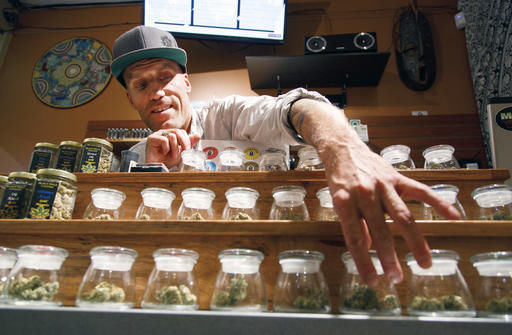 In a recent Forbes list, Illinois was listed as one of the top states likely to legalize marijuana in the coming year.
This follows marked enthusiasm on the campaign trail and post-election from Gov.-elect J.B. Pritzker, who has said he would act on the legalization of pot as quickly as he possibly could. Also no longer neutral on the issue is House Speaker Michael Madigan, D-Chicago, who has said he'd back such a measure.
The Forbes list cites a recent study from the Illinois Economic Policy Institute at the University of Illinois published last month that showed both taxpayer savings and serious gains to the state's economy if pot were legalized.
"Illinois taxpayers would save $18.4 million annually in reduced incarceration costs, law enforcement spending, and legal fees from marijuana legalization," the study says — proponents of legalizing marijuana often site the high cost of putting low-level pot offenders into the judicial system.
The study also suggests that the move could buoy the state's economy.
"If marijuana were legalized, regulated, and taxed in Illinois, an estimated $1.6 billion would be sold in the state, in part due to regional tourism."
Based on these numbers with a 26.25 percent state excise tax on retail marijuana in addition to the 6.25 percent general sales tax, the study suggests Illinois would generate "$525 million in new tax revenues, including $505 million for the state and $20 million for local governments." It also points out that it could boost the economy by $1 billion annually.
The added tax revenue could allow the state to put more money into "vital public investments in infrastructure, K-12 public schools, college tuition assistance programs, and drug treatment and prevention programs" the study says.
In addition, according to the study, it is estimated that it could add nearly 24,000 new jobs to the state.
Not everyone is in favor of legalizing recreation marijuana, with many of the state elected officials from Southern Illinois standing against the idea during the last election cycle.
Many downstate Republicans threw their support behind medical marijuana this year, especially as an alternative to opiods. Some, though, still can't get behind the idea of pot without a prescription.
In a text message sent Friday State Rep. Dave Severin, R-Benton, gave a simple "no" to the idea.
"I am against legalization of recreational marijuana," Severin wrote.
State Sen. Dale Fowler, R-Harrisburg, was more measured in his response. He said he has yet to see any language on the matter, but has reservations about recreational marijuana coming to Illinois.
"I will give careful consideration to any and all legislation that pertains to the issue as we enter into a new General Assembly," Fowler wrote in an email Friday.
618-351-5823
On Twitter: @ismithreports