Southern Illinois | Ohio River Valley
Forsaken Egypt: Poverty darkens Southern Illinois' beautiful Ohio River Valley region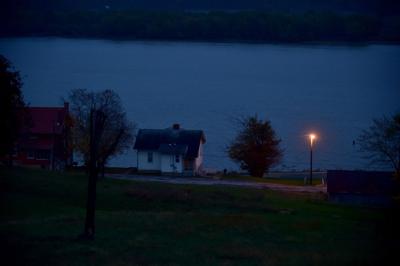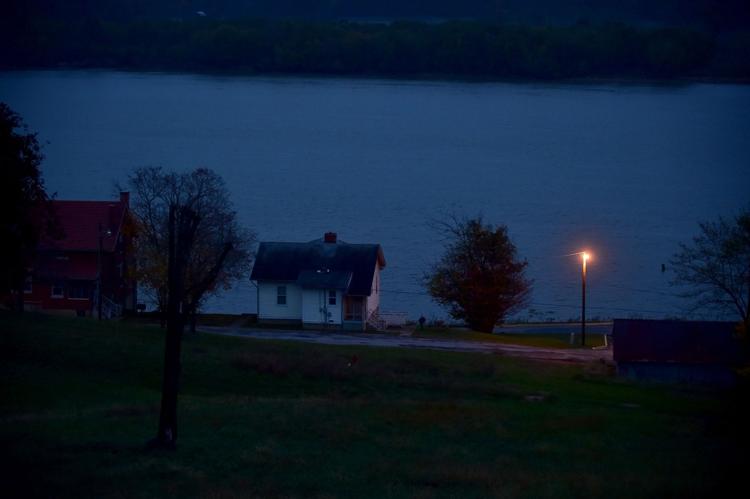 The 981-mile Ohio River begins in Pittsburgh, Pennsylvania, and borders or runs through six states, including a 133-mile leg along the southern border of Illinois. The Ohio enters the state near Uniontown, Kentucky, which is about 15 minutes from Old Shawneetown in Gallatin County, and then runs alongside Hardin, Pope, Massac, Pulaski and Alexander counties.
It ends in historic Cairo at Fort Defiance, where it feeds into its storied sister, the Mississippi, and heads south toward New Orleans. Though less celebrated through time in comparison to the Mississippi, the economic artery that pumps through the Heartland has quite the American story to tell, too. It is a tale of triumph and betrayal.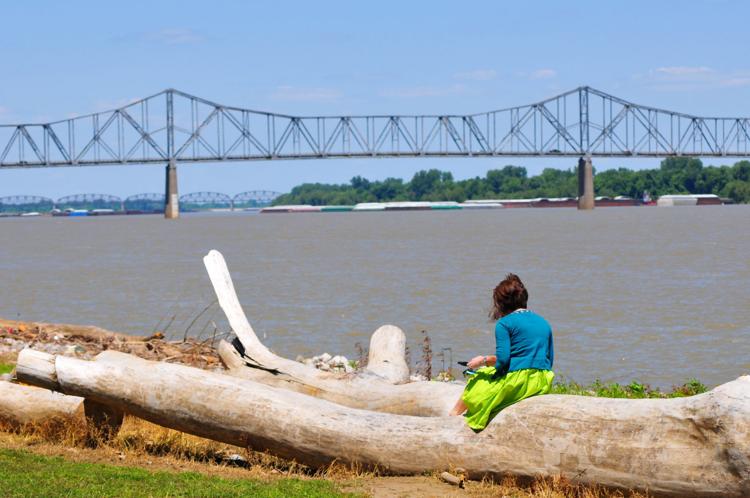 This region helped build Illinois at statehood in 1818. Almost 200 years later, as Illinois prepares to celebrate its bicentennial, lower "Egypt" — as its affectionately known — has largely been forsaken, or so it seems to many of the people who call Illinois' Ohio River Valley region home.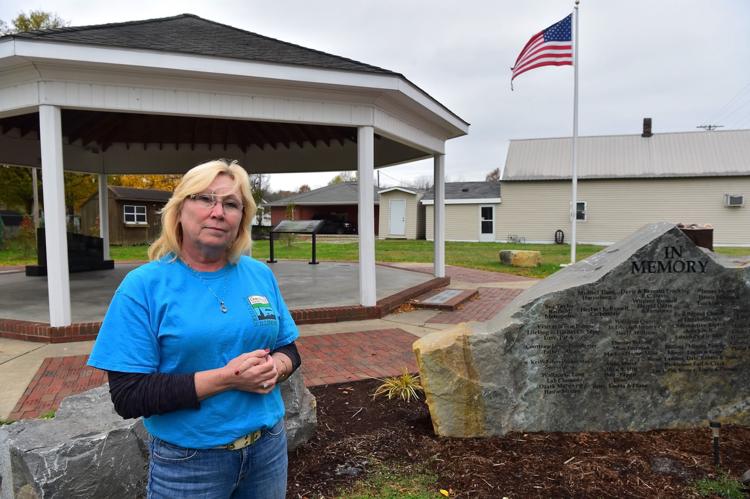 "When Chicago was just getting started people laughed and said, 'You'll never amount to nothing without the Ohio River,'" said Rhonda Belford, president of the Ohio River Scenic Byway in Illinois. "Now, the tables have turned. It's like we've been forgotten down here."
However, Belford, a resident of Hardin County, is convinced there will be a new day for the region.
Any one community here may not be too big to fail — many already have — but considered collectively as a nine-county region, close to 95,000 people still live here — making it slightly bigger by population than the suburban Lake County city of Waukegan. This part of Illinois has too much potential to wither into oblivion, Belford said.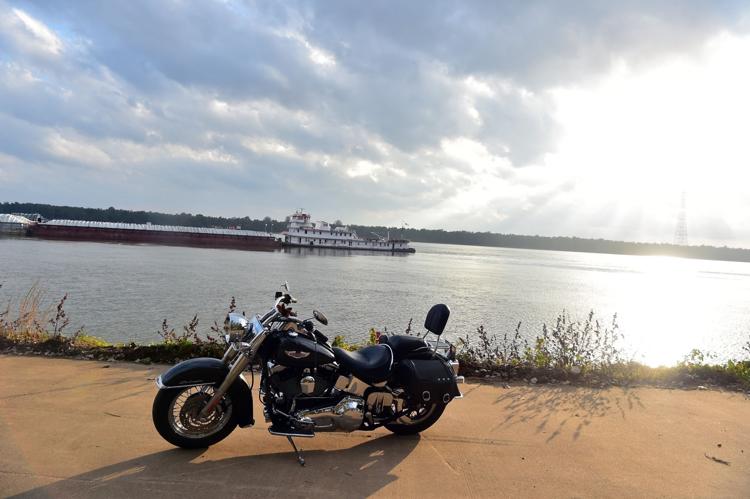 Ohio is an Iroquoian Indian word derived from the Seneca name for the Ohio River, Ohi:yo', meaning great river. The French took to calling it "La Belle Riviere" — translated as beautiful river. During the Civil War, slaves seeking freedom across the river that represented the dividing line between north and south referred to it as the "River Jordan."
"It really doesn't get prettier than this," Belford said as she navigated a winding road from Elizabethtown to Rosiclare. The mesmerizing view out the window was of acres of freshly harvested farmland giving way to the rolling hills of the Shawnee National Forest.
Only recently, the cool weather snap had turned the leaves shades of bright yellow, red and orange. But as one hand giveth, the other takes away.
The scenic natural beauty that has blessed the bottom stretch of Illinois is interrupted by harsh living conditions for too many. As job opportunities fall to the wayside, temperatures are rising, and it's understandable why. The river keeps secrets.
Too many children go hungry. Too many people live in barely-standing shanty shacks held together by shoddy repairs, and seemingly, a hope and a prayer.
"In that area, you have the worst rural poverty in the state, without question," said Christopher Merrett, director of the Illinois Institute for Rural Affairs at Western Illinois University.
'The worst' 
For the purpose of this article, the valley region is defined as Illinois' six counties that border the Ohio River — Gallatin, Hardin, Pope, Massac, Pulaski and Alexander — plus their three closest neighbors — Johnson, Union and Saline (This boundary is not an exact science; The Southern's intention was to examine Illinois' southernmost counties facing common economic concerns. Alexander and Union also border the Mississippi River).
Below are some statistics that further explain what a drive around the Ohio River Valley region makes apparent: an economic crisis has taken root here. 
• In all nine counties, the percent of people living below the poverty line is greater than the overall statewide rate of 14.3 percent, as of 2015 estimates published by the U.S. Census.
• According to Fahe, an organization dedicated to the elimination of poverty in the Appalachia, the average poverty rate of the counties that make up the Appalachian region is 19.7 percent. The average poverty rate for the nine Illinois counties that constitute the Illinois Ohio River Valley region is 19.9 percent, as of the 2015 U.S. Census estimates.
• In four of the nine counties, the poverty rates are above 20 percent. They are Alexander, at 34 percent; Saline County, at 23 percent; Hardin, 21 percent; and Pulaski 20 percent.
• In five of these counties, more than 10 percent of veterans are living in poverty (the statewide rate is 7 percent): Alexander, at 20 percent; Johnson, at 11 percent; and Massac, Pulaski and Union at just above 10 percent each.
Though rural poverty can appear shocking to those unaccustomed to its manifestations, it's not like a natural disaster that easily gets the attention of political leaders, in Springfield or Washington. Yet, persistent rural poverty leaves thousands of families, children and the elderly without adequate shelter, food, educational opportunities, and access to healthcare. 
That's not to say the U.S. has perfected its response to natural disasters — look no further than Puerto Rico to see the massive challenges facing the nation's crisis response system — but the country does respond. People living in devastating rural poverty are rarely the priority, Merrett said.
"There will always be excuses for why government can't address struggling communities," he said. "Because it's easier to put out the wildfire, and it's easier to rebuild after a tornado, or a hurricane. But to address the chronic and secular decline, and I mean uninterrupted decline, facing many rural communities, that's not exciting.
"That would be like, literally, watching paint crack and peel. It's a slow deterioration. It's very unexciting."
Forsaken Egypt: Images from Illinois' Ohio River Valley region
This region helped build Illinois at statehood in 1818. Almost 200 years later, as Illinois prepares to celebrate its bicentennial, lower "Egypt" — as its affectionately known — has largely been forsaken, or so it seems to many of the people who call Illinois' Ohio River Valley region home.
Here's a look at the Ohio River Valley, in photos. For more, read Molly Parker's story Forsaken Egypt: Poverty darkens Southern Illinois' beautiful Ohio River Valley.
Unseen poverty 
And what goes avoided and unseen goes unaddressed — until it's far too late to do much about it, such as is the case in Alexander County where a public housing crisis in Cairo is forcing about 400 people from their home city.
Cairo, with a population of 2,831 as of the 2010 U.S. Census count (and is likely below 2,500 now), is the fifth largest city in this nine-county region behind, in order of size: Harrisburg, in Saline County (9,017); Metropolis, in Massac County (6,537); Anna, in Union County (4,442); and Eldorado, in Saline County (4,122).
• Collectively, these nine counties lost an estimated 11,000 people from 2000 to 2016, and almost half of that in the past six years.
• The 25 school districts that serve the children of these counties have lost, combined, roughly 850 students in the last five years, according to the Illinois School Report Card. 
• Seven school districts had a student population loss of greater than 10 percent between 2013 and 2017: Buncombe (Johnson County), at 22 percent; Meridian (Pulaski County), at 20 percent; Cairo (Alexander County), at 17 percent; Egyptian (Pulaski County) and Shawnee (Union County), at 16 percent each; Cobden (Union County) and Century (Pulaski County), at 13 percent each.
As populations shrink and age, the young families who remain become, overall, more vulnerable. The average median age in the nine counties combined grew from about age 39 to age 44 between 2000 and 2010. The median age in Illinois is 37.
The schools are becoming the only place many children can regularly get a hot meal. At the same time, they lack the resources to offer the menu of extracurricular options all schools once did, such as band, art and drama.
"The high school I graduated from is no longer able to provide teachers for any of the fine arts," wrote a Hardin County High School alum on a GoFundMe online campaign. The presently-circulating fundraiser is to assist the teachers who give freely of their time to provide for students what the school can no longer pay them to do. Twenty people helped the campaign meet its $1,000 goal in a month. 
It's a short-term victory that illustrates a problem in need of long-term solutions. 
Fifty years ago, the report declared, "Our programs for rural America are woefully out of date." The most recent presidential election did not start the conversation about the rural-urban divide. But the country's attention span is short when it comes to the problems facing rural America.
Across this region, coal and mineral mines and rock quarries have shuttered or significantly reduced their footprints. Factories have closed. Farming remains a viable industry but, in some cases, young people are moving away to pursue other careers rather than choosing to follow generations of footsteps into the fields. Mechanization means fewer workers are needed to tend to what's left. 
Down a country road in rural Hardin County, Bob Winchester, of Rosiclare, a former state representative who served from 1974 to 1985, stepped out to survey a once-active coal loading dock on the Ohio River. He wondered aloud how long American Coal Co. had idled the dock it leases from Vulcan Mineral Co. It's concerning, he said. He hopes it's only temporary.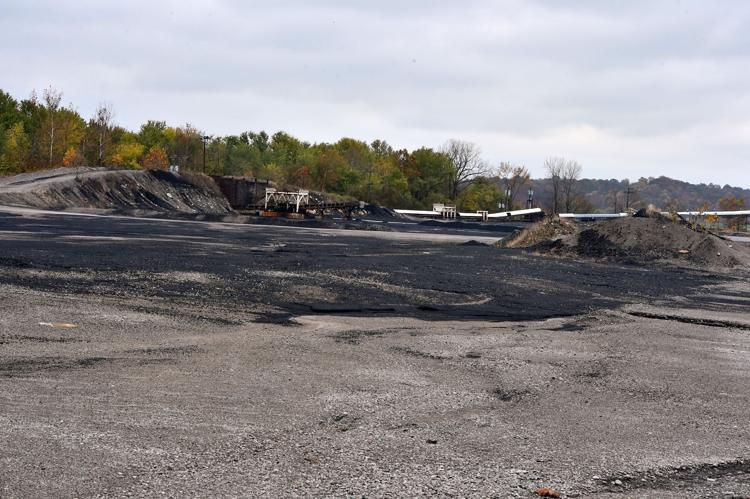 "Recently, President Trump reversed Obama's executive orders making it tougher for coal-fired electric plants to be able to use coal," he said. "Hopefully, now, we'll see more Southern Illinois coal mines open back up to ship coal to these particular plants." 
Winchester said he's also hopeful that fluorspar mining makes a comeback, as he has read articles stating that China is exporting less of the mineral that serves a variety of industrial purposes.
The purple mineral mined from ore near and underneath the Ohio River at one time put Rosiclare on the map as "the fluorspar capital of the world." That came to an end when Ozark-Mahoning halted its fluorspar mining operation in early 1996. At one time, there were 35 fluorspar mines in Hardin County. Because of cheap labor, China was able to mine, mill and ship fluorspar to the U.S. cheaper than the mining operations in Roscilare could get it out of the ground. 
Winchester, like many in this region, tries to keep a positive attitude about what's around the corner, but he's also cautious. Hope floats, but the undercurrent of despair is strong. 
Aggravating raw feelings, the state and federal government — seen by many as the last lifeline for jobs — is pulling up stakes too. The state has vacated two prisons in the region. Former Gov. Pat Quinn's administration shuttered Tamms Correctional Center in Alexander County in early 2013. Gov. Bruce Rauner's administration moved prisoners out of the Hardin County Work Camp three years later. The state pays two guards for around-the-clock fire watch duty in Tamms. At the work camp near Cave-in-Rock, the state hasn't even bothered to keep the grass mowed of late.  
This fall, the U.S. Department of Labor announced its decision to permanently close its Job Corps program for at-risk youth in Golconda, citing a "negative campus culture" that has persisted for years. The closure affected about 60 workers. 
Unhealthy trends 
Meanwhile, the populations of the counties that make up the state's Ohio River Valley region are shrinking in size, growing older, and becoming unhealthier — including increasing alcoholism and drug dependency — and families and children have greater social needs but fewer resources to meet them. Data from various sources show the following:
• The opioid epidemic is hitting Southern Illinois harder than any other region in the state. Seven of the nine counties — Hardin, Pope, Saline, Gallatin, Massac, Union and Alexander — ranked in the top 10 in terms of Schedule II opioid prescriptions per patient in 2016, according to a recent report by the Belleville News-Democrat, which cited data from the Illinois Prescription Monitoring Program. Four of those counties were in the top five: Hardin, at 3.51 prescriptions per patient; Pope, at 3.16; Saline, at 2.99; and Gallatin, at 2.97.
Law enforcement officials and residents say the drug problem, a symptom of poverty, is hard to manage. 
"I've seen this before in Kentucky," said Kaycee Varvel, who lives in Brookport. "When there's nothing for people to do, they turn to drugs." Varvel worries what that means for her neighborhood, and her safety. 
• Child abuse and neglect rates are well above the statewide rate in all nine counties, and double or more the statewide rate in the counties of Alexander, Hardin, Massac, Saline and Gallatin, according to the Illinois Department of Children and Family Services.
• Child sexual abuse rates are triple the statewide rate in Alexander, Hardin, Gallatin and Saline. 
• Four of the nine counties are among the top 10 for lung cancer death rates, according to data provided by The Hope Light Foundation. The Illinois death rate from lung cancer per 100,000 people is 47.6. In Pulaski County, the death rate is 88.6; Pope County, 77.3; Hardin County, 76.1 and Union County, 72. 
Hungry children 
The poverty rates for children younger than 18 have grown much faster than that of the overall population, which means that families who remain are facing more serious economic challenges than ever before.
Mike and Ruthie Dick said they purchased a home in Dongola next to the post office about 11 years ago. Both Christian missionaries, they had been living in Florida at the time and were ready for a change. Ruthie spotted an old Victorian house online for sale in need of some tender loving care.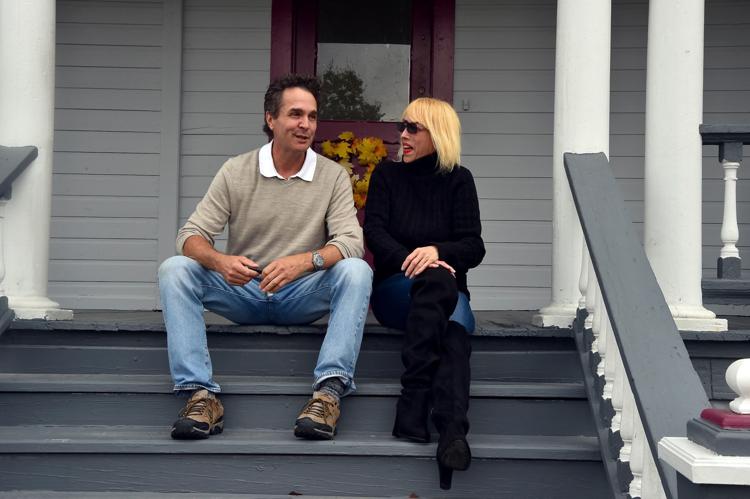 They bought it without ever seeing it in person. They quickly set about fixing it up. After settling in, they were struck by the hidden poverty at their doorstep. 
"Children were actually stealing from people's fridges. If they are hungry, they can't hear God's love," she said. The adults tend to keep to themselves, not wanting to bother anyone asking for help, she said. "But kids are more honest about their needs." 
• More than 25 percent of children under 18 (greater than one in four) live in poverty in five of the Ohio River Valley counties: Alexander, at 58 percent; Saline, at 35 percent; Pulaski and Massac at 27 percent each; and Hardin, at 26 percent.
• Johnson County's childhood poverty rates have historically been among the lowest of the nine and remain so. But the rate of childhood poverty increased nearly 7 percentage points between 2000 and 2015, from 11 percent to 18 percent.
• In four school districts, 99 percent to 100 percent of children are considered low-income: Shawnee, Cairo, Egyptian and Meridian. In another six school districts, the number of low-income students ranges from 60 percent to 65 percent, the next highest rate range: Century, Massac, Cobden, Harrisburg, Eldorado and Gallatin.
• In five schools districts, 10 percent or greater of the student population is considered homeless, meaning they do not have permanent or adequate housing. They are: Buncombe, at 14 percent; Shawnee, at 13 percent; Century, at 12 percent; Cypress, at 11 percent; and Lick Creek, at 10 percent. 
Helping hands
The Dicks said they started hosting dinners for neighborhood children not long after moving to Dongola. Mike is a contractor, and said he began offering to help people with needed repairs to their homes they had put off for years because of the expense. He also helped paint the post office. 
"The thing I've seen over the years is that people start fixing their place up, then the neighbors want to do that," he said. "And so it takes just a little bit of effort and the whole community can change and people start feeling like, 'Hey, there's life here, and it's not just a difficult place to live.'" Mike stressed that they are among a number of people in the region who offer helping hands to those who need it.  
After seven years of living in Dongola, the coupled spent four years in Switzerland, where Ruthie is from. They recently returned to Southern Illinois. "The people here you just can't find anywhere," he said. "They're just so down-home and everybody has been so good to us and so friendly."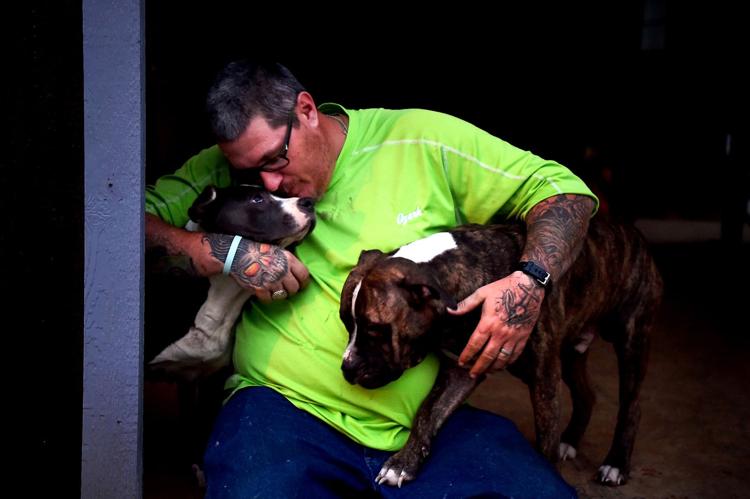 Kaycee and Gary Varvel live on a little corner in Brookport on land that has been in Gary's family for generations. A portable garage divides two trailers on the property, one that is Gary's mom's, and the other where the couple lives with their five dogs: Timber, Vee-Vee, Chief Brindle, Jazz and Roscoe — two are American bullies, three are pitbulls.
Four years ago, a tornado ripped through here, bending mobile homes into abstract art and throwing Gary's mom into a neighbor's yard. She survived. They all rebuilt. As a condition of accessing emergency funds to rebuild, the Federal Emergency Management Agency required that their new homes have raised foundations that would put them above the base flood elevation. 
From their front lawn, they can see what appears to be a vacant trailer floating over a low-lying plot, where the owner started to build the required foundation but left before it was finished. In other parts of the neighborhood, there are homes that still show signs of damage from the November 2013 tornado and properties in need of attention. "It makes your property value go down," she said. "Not that ours is worth much to start with, but I shouldn't have to look at this."
Gary is a truck driver. Because his job is mobile, they talk about uprooting and returning to her family's farm in Cadiz, Kentucky. "I don't believe in sugarcoating it and acting like I'm happy here because I'm not," he said. "It's not worth it."
Kaycee added, "I hate this town with a passion. I can't stand it." She said the town's only redeeming quality is that it's only five miles across the Brookport Bridge to Paducah.  
But asked if he intended to sell the land with the move, Gary said no way. It's a humble plot, but it's theirs, and has been in the family for years. "Everybody has tried to run my family off this corner," he said. "It's not going to happen."
Hanging on 
Thirty miles to the west, in Karnak, a Pulaski County village of about 500, Mayor Dean Hamilton knows the struggles all too well. The town once revolved around Main Brothers Box Factory that employed close to 300 for decades. It closed in the mid-1980s. "At one time, we had four gas stations, two grocery stores, two hotels, a skating rink, a movie theater, a car dealership — and the box factory," he said. Today, Hamilton is frustrated that he can't lure a gas station to town because every company he calls says they only go places where at least 1,000 people live.
Yet, the village still has responsibilities such as maintaining its aging gas, water and sewer systems. "No money. No grants. No help. We have tried our best to hang on ourselves," he said.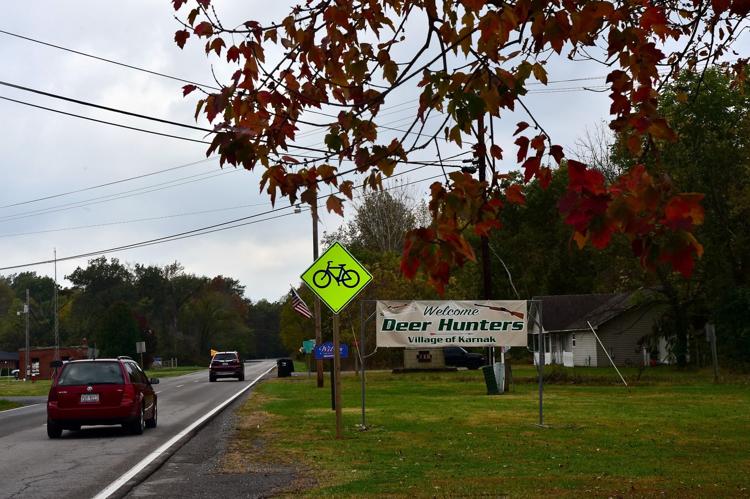 Asked why people don't just up and move, the mayor said, "You can't move a whole town. People live here. People growed up here. What's still here, they want to stay here."
Hamilton's comment strikes at the core of the conundrum that federal housing officials face in Cairo. Two dilapidated public housing complexes have been slated for demolition and they are trying to relocate people to other communities, most in excess of an hour away.   
For years, residents have complained of rampant infestation, inadequate heat, mold and many other health and safety issues. As they pleaded for help, a good number of residents said they hoped for an opportunity to get out of Cairo.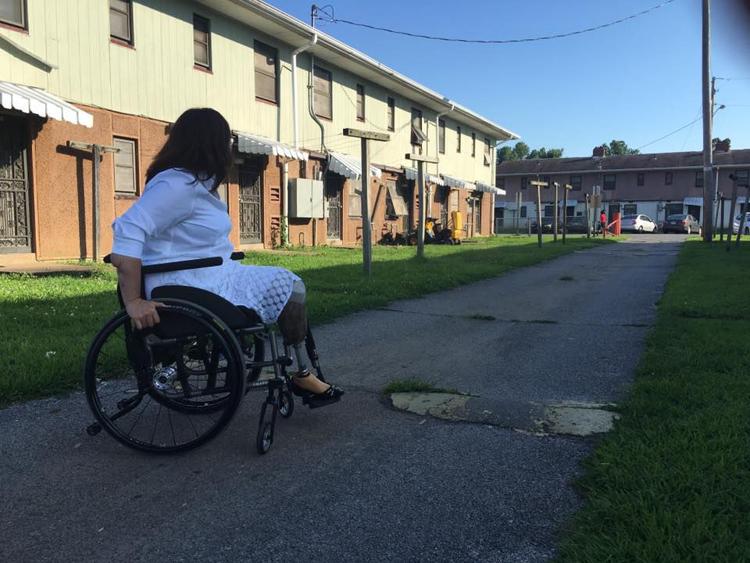 But then when HUD announced in April it was going to help move everyone, there was an uprising. When this summer HUD Secretary Ben Carson called Cairo a "dying community" during a Senate hearing in Washington, the people of this region were aghast — even though locals have used very similar language to describe their own hometowns. The pain the situation has caused is not lost on HUD officials, but the economic depression makes for limited options. "We hope, and think, we're doing the right thing," said HUD spokesman Jereon Brown. 
Black and white, young and old, rich and poor, people throughout this region are connected through shared bitter feelings of the perception they have been long neglected by state and federal governments.
But it's sort of like the old expression about how one can describe their own family members using any number of colorful choice words, while anyone else who does it is asking for a fight. Despite that people face mounting problems, strong town identity and pride is common in rural areas. Because of that, Charlie Eichorn, owner of Liquor Party Hut in Metropolis, said he knows he will take a lot of heat for this bit of advice to young people: "Fill your tank up and drive like hell out of town."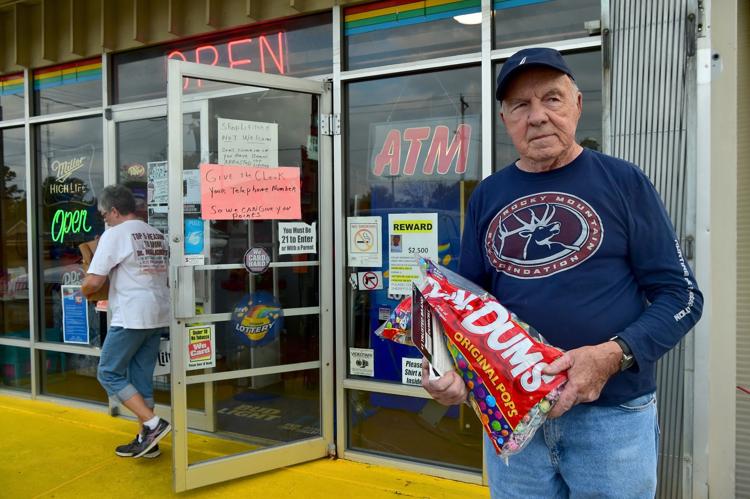 "There ain't nothing here right now," he said. Eichorn said he hopes to see a rebound for his city, but in the meantime, young people who can move should do whatever it takes to provide a good life for themselves and their families.
Fighting kryptonite 
Sam Stratemeyer, of Metropolis — home of Superman — says it's time to get real about what's happening here, before it's too late. In his view, high property taxes are the region's kryptonite.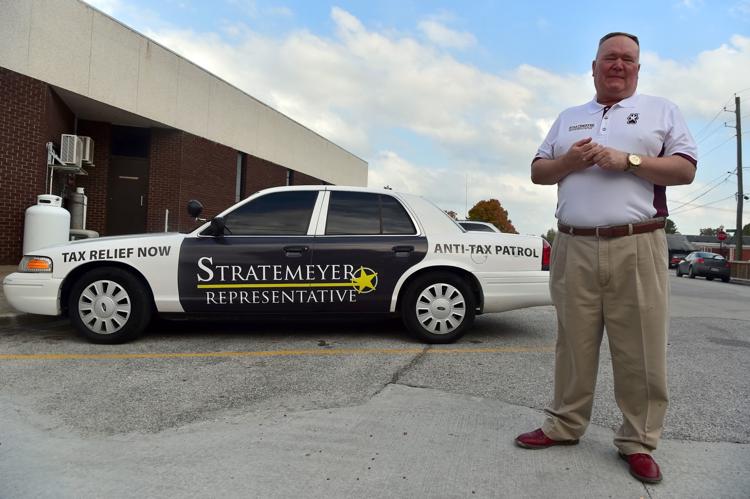 Stratemeyer is one of at least three Republicans who have announced they intend to seek the 118th House District seat that longtime Rep. Brandon Phelps recently vacated. He's been driving around an old police cruiser that he's dressed up with large black lettering that reads: "Anti-Tax Patrol" and "Tax Relief Now."
On a recent afternoon, he pointed out vacant properties in Metropolis, Brookport and Joppa that have been abandoned to the county trustee because the owners could no longer afford the property taxes, couldn't find a buyer for the property, or simply walked away. As more people leave, the property owners that remain take on a greater share of the burden of funding schools and local government, he said. It's an economic house of cards.
In several recently stable neighborhoods, houses sit abandoned, with weeds growing up over the front doors. One falls, then another, then, as if a slow-moving virus has taken hold, entire neighborhoods can go south.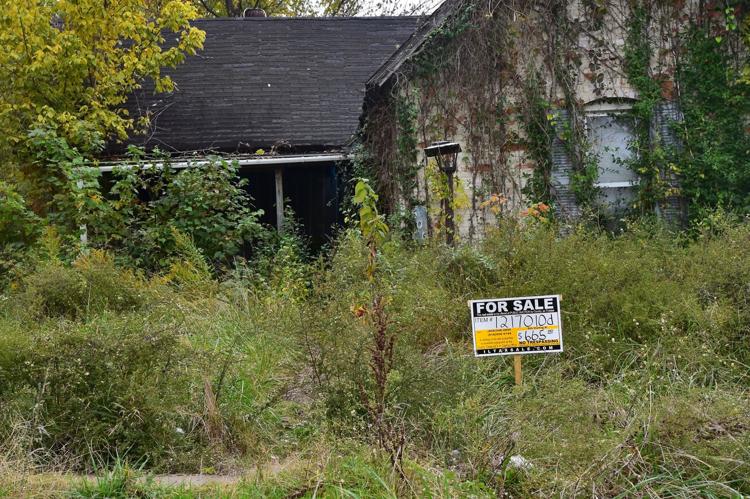 Across the counties, home vacancies are on the rise:
• As of 2015 U.S. Census estimates, about 10 percent of Illinois homes are sitting vacant. It's well above that in all of the nine Ohio Valley counties.
• 40 percent of homes are vacant in Pope County; 33 percent in Alexander; 27 percent in Hardin; 26 percent in Pulaski; 20 percent in Johnson; 16 percent in Massac; 15 percent each in Union and Saline; and 12 percent in Gallatin.
"It's going to keep getting worse and worse and worse," Stratemeyer said. "What you're seeing in Cairo, that's what's coming everywhere in these bottom counties."
In Lanesia and Johnny Edwards' neighborhood in Pulaski, the trouble has already arrived. "The economy is really poor here," she said, of the tiny village of about 200 that sits in the county by the same name. "We don't get a lot of help from the state." Lanesia said she worries about the state of the Meridian school district, where their son is in the sixth grade, and from which she graduated high school in 1995. The district seems to have fewer resources and more difficulties than it did 20 years or so ago, she said.
The Edwardses live on a lot where her grandmother lived. The land has been in the family at least 100 years, she estimated. Across the way, a home that was declared a loss several years ago from a fire still stands. A nearby street sign is riddled with bullet holes. The roads are marked by potholes. Just up the street is an appliance graveyard of discarded washing machines and stoves.
"Most of the people who are around here are either alcoholics or they are on drugs," she said. Lanesia said she hopes that when her son graduates high school, he leaves for a place with more opportunities.
Traven, 12, said he plans to go off to school and become a doctor so that he can return to take care of his mom, who has faced several health scares. As the sun set on a Sunday evening, Traven shot hoops in the muddy road as the rain let up and talked about the dreams he has for his future.  
A few miles away, Bible Way Church of God in Christ was hopping. The occasion for the revival was the 15th anniversary celebration for Pastor Roy A. Johnson. To the soulful worship hymns, hands swayed in the air. People jumped to their feet. "Hallelujah," they proclaimed. "Sweet Jesus."
Indeed, this region could use a miracle.
Forsaken Egypt: A look around the tiny village of Pulaski
'We're forgotten' 
Susan Hodges, of Villa Ridge, said most of the people up north don't even realize the state runs all the way to its bottom border. Her husband, Robert, works at Bunge, a soybean processing plant in Cairo.
She works as a part-time office clerk for a local police department, but is thinking about enrolling in classes at Shawnee Community College to learn a skill, such as medical transcription, that would allow her to work from home. Hodges said she heard that older adults can attend for free. They are both from the area, but up until four years ago, Hodges was living in Chicago. She moved back when reconnecting turned into marriage.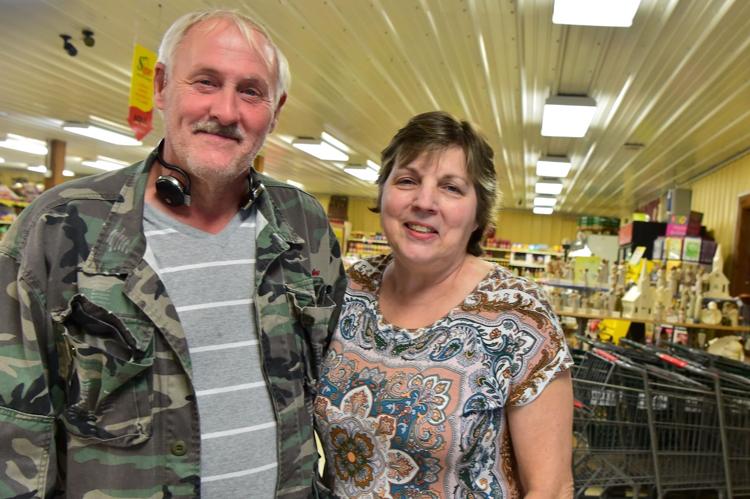 "In Chicago, when I'd tell people I'm from Southern Illinois, they'd say, 'Oh, Kankakee?' and I'd say 'no.' So they'd say, 'Oh, Springfield.' And I'd say, 'Have you heard of Carbondale?' They'd say, 'Well yeah.' And I'd say, 'Well, 50 miles south of there is where I'm from' and they couldn't believe it."
"We're forgotten," she said, adding that she misses the big city up north and its opportunities. Robert whispers, conspiratorially, that though she may, "she's just a river rat at heart."
These hills and hollers beat the rat race any day if you ask Randy Johnson, who is originally of upstate Elgin. For 15 years, he's owned the hardware store in Dongola with his wife. They met in Elgin, but she is from the area. Johnson had a stressful job and wanted to be his own boss.
When the longtime owner of the hardware store was ready to sell, they made the move they'd talked about for some time. Business has been good, but this year they hit a rough patch. "It was the slowest summer I can remember in 15 years," he said. "People just don't want to spend money right now. It's tough, tough around here."
Still, they aren't going anywhere. People can earn a keep if they're willing to work hard for it, he said. He also works as a heating and air technician on the side while his wife manages the store. 
Recently, the couple welcomed a baby boy into the world. His wife is 51 and he's 60, and they figured that a child was not in the cards for them. So it came as a bit of surprise, but Johnson said little Corbin is their pride and joy. He's glad his son will be raised in the country with small-town values. "I grew up in Elgin. I wouldn't want him to grow up there," he said. "I really wouldn't mind him being a farmer, actually. But he can be whatever he wants to be."
Editor's note: This story has been updated. An earlier version incorrectly stated the year Illinois became a state as 1808. The correct date is 1818. 
618-351-5079
On Twitter: @MollyParkerSI ​