CARTERVILLE — Former Williamson County State's Attorney Charles R. "Chuck" Garnati died at 2:10 a.m. Tuesday, Nov. 14, 2017, in Saint Louis University Hospital. Garnati was 65.
Garnati was elected state's attorney in 1984 and held the seat through eight consecutive terms. He also served as state's attorney in the late 1970s.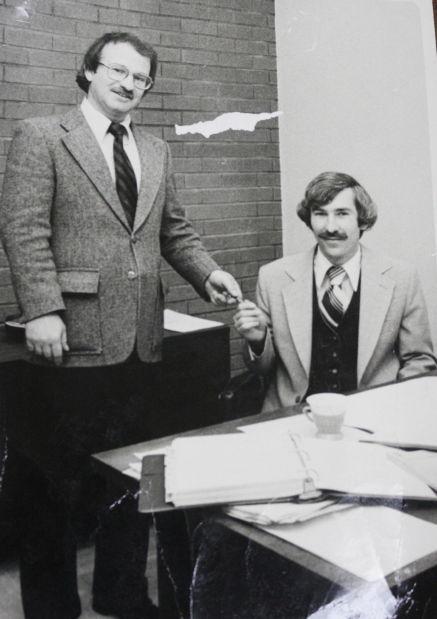 Longtime friend Jim Kirkpatrick of Creal Springs said Garnati was appointed state's attorney in Williamson County after Bob Howerton resigned. He called Kirkpatrick and asked him to take pictures of of his swearing in ceremony.
"Chuck had a passion for what he was doing. He always wanted to be state's attorney. That was his goal in college to be state's attorney," Kirkpatrick said.
When Garnati took office in 1984, Jimmy Dean was working as a policeman in Johnston City. Garnati asked Dean to work for him as administrative assistant, and Dean stayed for 30 years.
"I think he's probably in the top five prosecutors in entire state. He never lost a murder trial," Dean said.
Garnati holds an impressive record as a prosecutor. He prosecuted 30 murder trials and secured convictions for first-degree murder in 29 of them. The other ended in a conviction for manslaughter.
"He worked extremely hard at his job. He would work hard to prepare for trials, I think that's why he never lost," Dean said.
"I was chairman of Democratic Party when Chuck announced he wanted to retire. He's the one who recommended Brandon Zanotti," Kirkpatrick said. "It was kind of ironic that we both would end up in politics."
You have free articles remaining.
"Chuck really defined how a prosecutor should conduct oneself," State's Attorney Brandon Zanotti wrote in an emailed statement. "Chuck was a tireless advocate for victims. He wore every case on his sleeve and would often lose sleep making sure he was prepared for every case he prosecuted. Chuck was a great man, a great prosecutor, and a great advocate for children in our area ... We could all learn something from his passion and dedication to all the families he touched in Williamson County. He will truly be missed."
Williamson County Commissioner Brent Gentry said Garnati and Glenn Poshard are the reasons he ran for office. Gentry said there's a difference between holding office and being a public servant. Garnati was a public servant, he said.
Dean said Garnati used his position as state's attorney as an avenue to help people. Friends called him a passionate advocate for the community, especially abused and neglected children. He was founder of Garnati Golf Day, an annual tournament that raises money for Williamson County Child Advocacy Center and Court Appointed Special Advocates (CASA) of Williamson County. The tournament provides $10,000 to $15,000 annually for each organization.
Leah Brown, executive director of Franklin-Williamson Child Advocacy Center, sent a statement on behalf of the center's board of trustees.
"Chuck Garnati was a true Champion for Children," Brown wrote in an email. "As a prosecutor who saw firsthand how the disjointed systems and investigations were re-traumatizing children and families, Chuck knew that our children deserved more, and he took the lead to create a better system of care. Chuck saw that by putting the child first as the focus of the investigation and wrapping services around the child that there could be better outcomes for victims of child abuse. His work in developing the Child Advocacy Center 25 years ago will remain a cornerstone for victims of abuse for years to come."
"Chuck has been a personal friend and like a brother to me for 35 years," Gentry said. "You will never find a better public servant than Chuck Garnati. His theory has always been like mine, right is right and wrong is wrong. He always stood for justice and set politics aside to do what's right. Basically, politics never entered his mind."
Kirkpatrick remembered meeting Garnati through a mutual friend, the late Morris Edward Eaton of Elkville.
"Morris and Chuck worked together in parking at SIU," Kirkpatrick said. "I had lunch with Morris and Chuck was there. We became instant friends, took trips together, and at one time we were roommates."
Kirkpatrick said Garnati was a brilliant man and was impeccably honest.
"I texted him last week just to let him know thinking about him," Kirkpatrick said. "I got a text back. Chuck said he had good doctors at St. Louis University and also had good friends. He said I consider you one."
"Garnati is a legend and his legacy will live on," Gentry said. "He was always the No. 1 vote-getter in Williamson County, so he must have done something right."
Funeral arrangements are incomplete at Meredith-Waddell Funeral Home in Herrin.