WEST FRANKFORT — For more than a week, a popular West Frankfort businessman and community leader has been in the custody of U.S. Immigration and Customs Enforcement (ICE) in a detention facility in Montgomery City, Missouri, as his neighbors, family and friends work to bring him home.
Carlos Hernandez Pacheco, 38, from Mexico, was arrested at his home in West Frankfort on Feb. 9 and has since been held in the Montgomery County Jail, which is also an ICE detention facility about an hour west of St. Louis. He is being held over questions about his legal status in the U.S., as confirmed on Friday by an ICE official in an emailed response to The Southern Illinoisan.
His wife and three young boys, two of whom attend Frankfort Community Unit School District 168 schools — the other is not of school age yet — remain in their West Frankfort home while a lawyer works to secure Pacheco's release on bond, said Tim Grigsby, owner of Simple Solutions Printing in West Frankfort and a close friend of Pacheco's. Pacheco is the manager of La Fiesta Mexican Restaurant in West Frankfort.
Letters of support from neighbors and business associates have since flooded into an email account — istandwithcarlos@gmail.com — that was created by Grigsby. The letters will be presented as part of his plea to the court for him to remain in the U.S. with his family, Grigsby said. The long list of letter writers in his support include West Frankfort Mayor Tom Jordan, Fire Chief Jody Allen and Assistant Chief of Police Shawn Talluto.
Pacheco's wife and children are U.S. citizens, and it was not well known in the community that Pacheco was not. He pays taxes, is an active member of the West Frankfort community and has been working for years to obtain legal status, Grigsby said. "Even though his status was illegal, he was still contributing to our society," Grigsby said. "There's a lot of misconceptions about what it means to have an illegal status."
Pacheco and his family belong in West Frankfort, their home, he said. Wes Bennett, another close friend of Pacheco's, says they are as much a part of the community as any other family.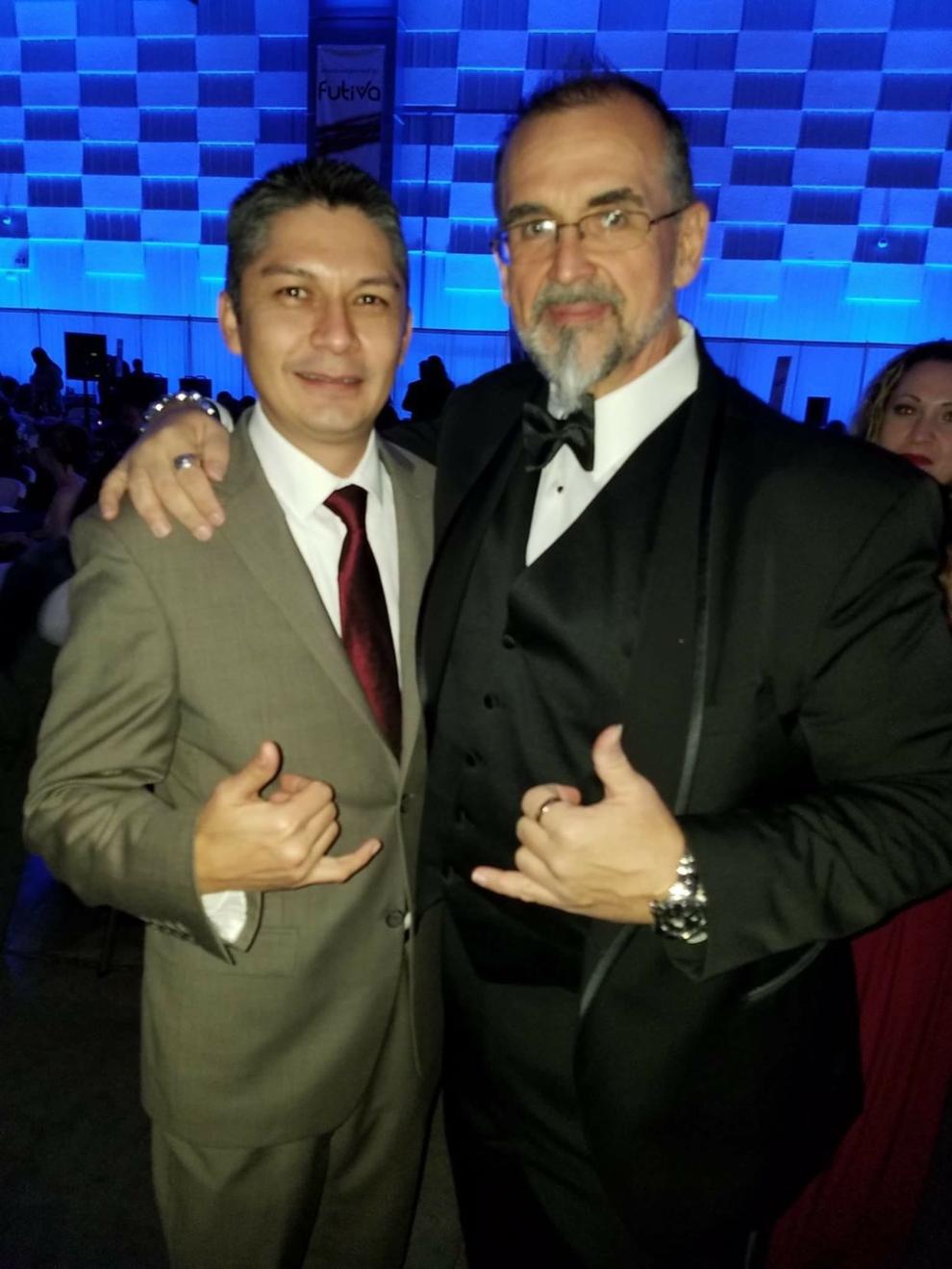 "Carlos and his family have become part of many of the families here in Southern Illinois and especially West Frankfort. Those families include mine," Bennett, a longtime and well-known radio personality in Southern Illinois and the morning anchor of 107.3 W3D County, wrote in a Facebook message to The Southern. "He is like a brother — OK, I'm old, so perhaps a son — to me and my wife, Mrs. Dana Bennett. She cried when she first heard of all of this. Carlos does all he can do to be one with the community he lives in and does it humbly."
West Frankfort, a town of about 8,000 people, is known for its coal mining roots, furniture stores and – in the company of many others across the Heartland — its grit in the face of changing times that have not been easy on rural America.
Spaghetti dinner benefits (or some variation of fried chicken, fish or barbecue) to raise money for families fallen on hard times, or school clubs and teams tied to districts without plush extracurricular funds, are commonplace occurrences in close-knit communities across Southern Illinois.
In West Frankfort, at least for the better part of the past decade that Pacheco has managed the restaurant, many of those benefits have included Mexican food at La Fiesta, Grigsby said.
Community rallies behind one of its own
In his role as manager, Pacheco has hosted countless benefits at the restaurant for people facing financial hardship and illness, as well as fundraisers for Redbirds' sports teams tied to the Frankfort school district and other community causes. In October, he hosted a Blue Lives Matter appreciation night for West Frankfort and Franklin County law enforcement and other first responders.
Through the restaurant, Pacheco also started an annual scholarship for an athlete that excels academically, said Richard Glodich, the Frankfort School District's athletic director. "He's been nothing but community minded," Glodich said. "He goes above and beyond. I can't say enough good things about what he has done for the community of West Frankfort and for the Redbird Athletic Department."
Pacheco is a member in good standing with the West Frankfort Chamber of Commerce, and monthly lunch meetings were held at his restaurant for years, said Kathy Sikora, executive director of the West Frankfort Chamber of Commerce. La Fiesta was named West Frankfort's "Business of the Year" in 2010.
"He's one of my best friends and I know a lot of the things that he does in the community," Grigsby said. "But some of the letters we have received, from the people whose lives that he's touched and the things he's done that nobody knows about, is incredible.
"You could probably go up to anyone on the street and ask if they know Carlos and they probably have a story about him."
Through Grigsby, who spoke to Pacheco on the phone Saturday evening, Pacheco provided the following statement to the newspaper:
"I am very appreciative of all of the support and efforts from my community to continue my journey to become a legal permanent resident of the United States. My hope is that this incident will help further my dream to become a legal citizen of this great country and community that I have grown to love."
Said his wife Liz, also in an emailed statement provided by Grigsby: "The boys and I are looking forward to Carlos' return. My hope is that he will be coming home soon to us and West Frankfort to continue his efforts on becoming an American citizen, something that he has wished for a very long time."
Grigsby said he and the others in West Frankfort rallying behind Pacheco and his family are not trying to get in the middle of an immigration debate or point fingers.
They have a simple message: Bring Carlos home.
Immigration debate at the forefront
But there's nothing simple about U.S. immigration law — and that's been the case for years. Though, Donald Trump, as president and the Republican nominee on the campaign trail, has both elevated and agitated the immigration debate.
On Thursday, many immigrants across the country refused to work or spend money as part of "A Day Without Immigrants" protest to send a message about the economic impact of immigrants — both legal and undocumented — living in the United States.
The grassroots movement was a direct shot at Trump's tough immigration stance. But Pacheco, perhaps ironically, would have been happy to have been at work that day serving his customers in West Frankfort, his friends say. He did not sit out a day of work by choice.
Trump has been the focus of much outrage from immigration advocates, for his policy decisions — such as his call to build a wall between the U.S.-Mexico border and have Mexico pay for it, and his executive order instituting a 90-day travel ban from seven majority-Muslim countries he said pose a terrorism threat — but as much because of the inciting language he's known for using in describing his positions.
In Franklin County, where dozens of people have participated in a letter-writing campaign to support Pacheco's return home, 70 percent of voters picked Trump on Election Day. Southern Illinois is solidly behind Trump, and many local voters have expressed enthusiasm for what the president has said about bringing back manufacturing and coal, as well as protecting America's borders.
But Pacheco's case highlights an interesting wrinkle in political psychology. The immigration debate that is often spoken of in abstract about the faceless millions takes on another meaning when it becomes about the immigrant one knows and loves.
"I would think that everybody has got to give a different thought to this," Grigsby said. "There's good people and bad people all over the place. This guy here — he's one in a million. He's the whole deal."
It's also difficult, if not impossible at this juncture, to say whether Pacheco's detainment is part of a more aggressive push by the Trump administration to find and arrest people who are in the country illegally. ICE officials paid a visit to his house as they were seeking information about someone else, Grigsby said. They were not looking for him, but when he was asked for papers showing his legal status, Pacheco told him he was not here legally despite his best efforts over the years to obtain a change in status, and they took him into custody, Grigsby said.
Still, Grigsby said no one, including Pacheco in the talks he's had with him, is looking to place blame on a person or party. He said Pacheco relayed his optimism that his detainment and community show of support will shake his paperwork loose from the pile and lead to him gaining legal status.
While headlines are popping up across the country about people facing deportation who had otherwise been living peacefully for years in their communities, it was just three years ago that Janet Murguía, the president of the National Council on La Raza, one of the nation's most prominent Latino advocacy group, called then-President Barack Obama the "deporter-in-chief." She coined the phrase at a gala attended by immigrant advocates held in the second year of Obama's second term, according to a January 2017 NBC News report titled, "Obama Leaves Behind a Mixed Legacy on Immigration."
Immigrant rights groups have praised Obama's Deferred Action for Childhood Arrivals executive policy that granted deferred action for deportation for children meeting certain criteria, chiefly that they were brought to the U.S. before turning 16. As well, Obama attempted, through executive order as well, to allow as many as 5 million parents of U.S. citizens or lawful permanent residents to apply for a program that would spare them deportation, but that policy was blocked by a tie vote of the U.S. Supreme Court on June 23. Such a policy could have potentially benefited Pacheco.
But immigrants right groups also bemoan the fact that more than 2.8 million undocumented immigrants were forcibly removed from the U.S. during Obama's eight years in office, more than under any other president, according to that NBC News report and others citing federal data. It was that statistic that drew Murguía's strong rebuke of Obama.
Enforcement can seem arbitrary
The fact is that the U.S.'s immigration policies are complex, and the outcomes often seemingly arbitrary for people who find themselves caught in the tangled web of layers of laws, orders, rules, regulations and emotion.
And it's been that way for years, said Cindy Buys, a professor of law and director of International Law Programs at the SIU School of Law.
According to Grigsby, Pacheco has been trying to become a lawful resident for nine years. He's been working with an immigration lawyer in pursuit of the legal avenues that are available for a limited number of undocumented immigrants who meet specific qualifications to gain legal status even if they entered the country illegally.
In a response to an emailed inquiry to ICE asking for the reasons that Pacheco was detained, Gail Montenegro, public affairs officer for the Department of Homeland Security, U.S. Immigration and Customs Enforcement, for the states of Illinois, Indiana, Wisconsin and Kentucky, emailed the following response about Pacheco's case:
"Juan Carlos Hernandez-Pacheco, 38, from Mexico, was arrested by U.S. Immigration and Customs Enforcement (ICE) Feb. 9 in West Frankfort, Illinois. Hernandez-Pacheco has two prior convictions for DUI. Hernandez-Pacheco remains in ICE custody pending a hearing before a federal immigration judge who will hear the facts of his case. Every day, as part of routine operations, ICE officers target and arrest criminal aliens and other individuals who are in violation of our nation's immigration laws."
The DUI infractions cited by Montenegro are from July and December 2007 — nearly a decade ago, according to Judici.com records. Nearly 40,000 Illinoisans are arrested annually on DUI charges, according to the Secretary of State's Office. Grigsby said that Pacheco has sought treatment and no longer drinks.
There is no way to predict the outcome for someone who finds themselves in a situation such as Pacheco's, said Buys. Buys is not personally familiar with the details of Pacheco's case, is not his attorney and was speaking in generalities about how immigration law might apply to people in similar situations as Pacheco's, based on the limited details the newspaper was able to relay to her about his situation.
While it has been the policy of every presidential administration of recent times, including this one, to state that their policy is to focus on deportation of illegal immigrants who have committed crimes, many without such records also have been forced to leave over the past decade, Buys said. In recent years, less than half of the immigrants deported have had criminal records, she said, citing figures from Homeland Security's Yearbook of Immigration Statistics.
Some undocumented immigrants who are detained end up deported; others do not. Also, what is viewed as a criminal record that warrants deportation is relatively strict, she said.
Generally, being in the country illegally is a violation of the country's civil rather than criminal laws, through there are some exceptions. Also, there are ways that people who are in the country illegally can have their status changed without leaving the country.
A U.S. citizen or lawful permanent resident can sponsor an undocumented immigrant that is an immediate relative for a visa. The problem is that the backlogs for these visas are long, particularly for people who are from Mexico because of demand, Buys said. Certain immigrants also can apply for cancellation of removal and adjustment of status if they have lived in the U.S. for ten years, are of good moral character, have not been convicted of certain offenses outlined in immigration law, and have a qualifying U.S. family member who would suffer serious hardship if the immigrant were removed.
An immigration judge would make that determination. "It takes time and money and a good lawyer and getting immigration services to exercise their discretion favorably for you," she said. "It is discretionary and it's not a right. They have factors they take into account such as hardship of removal to U.S. family members but it is up to them."
Buys said there are many cases where this discretion is exercised to the immigrants favor, but again, there are no guarantees. "There are lots of people with U.S. families who get deported," she said.
'I stand with Carlos'
In an interview with The Southern on Friday afternoon, U.S. Rep. Mike Bost, R-Murphysboro, speaking from his office in Washington, said that he had not yet been briefed on the situation. "This is the first I've heard about it. I don't know why it's the first I've heard about it, but we can try to put our staff on it to try to figure it out."
Bost has called for immigration reform and improved border security and endorsed some of Trump's policies and statements on immigration. But for situations like Pacheco's, Bost said that when someone is married to a U.S. citizen or lawful resident "there are some areas that are already existing in the law that allow for non-detention and to try to work through what the issues are."
Bost said he would look into the details of the case.
"That's something that our office can definitely work with and it sounds like something we can help on," he said.
Grigsby said the only thing his friends and family want is to "bring him home and escalate his status to become a citizen."
"He's upbeat and positive," Grigsby said. "He does believe, and I truthfully believe, that with the tremendous amount of support he's got from our community and the people reaching out for him, I do believe that this is a step in the right direction."
Toward the end of the week, there was a growing number of people on Facebook from West Frankfort updating their profile picture to a picture of Pacheco with the words, "I stand with Carlos" underneath.
Bennett said that his friend has been trying to do this the right way for "many, many years."
"I've worked with and observed him in professional and personal capacities with charitable organizations, personal needs, and have been greatly blessed to see his growth as a man, business person, and professional," Bennett said. "He supports the law enforcement community, our military, and families of both. Please, while respecting his family's privacy, pray that God blesses Carlos and his family and friends.
"He is, for all intents and purposes, a very proud American."
618-351-5079
On Twitter: @MollyParkerSI ​