Editor's note: This is the first story in a short series about the Crenshaw House and its history.
GALLATIN COUNTY – In January 2001, the state paid $500,000 for a house and 10 acres near Equality and Junction built circa 1840 that has been identified as a historic "station" on the Reverse Underground Railroad.
It was given that distinction by the National Parks Service because its original owner, John Crenshaw, is believed to have kidnapped free black people in Illinois and then sold them into slavery in southern states.
Crenshaw also owned slaves under a narrow exemption in Illinois law adopted as part of the 1818 state constitution that allowed operators of salt mines near Shawneetown to continue using slave labor until 1825. U.S. Census records indicate Crenshaw likely also owned slaves after that date as well.
Dubbed Hickory Hill by Crenshaw and known more commonly by locals as The Crenshaw House or The Old Slave House, the site is a somber, but important piece of the region's past.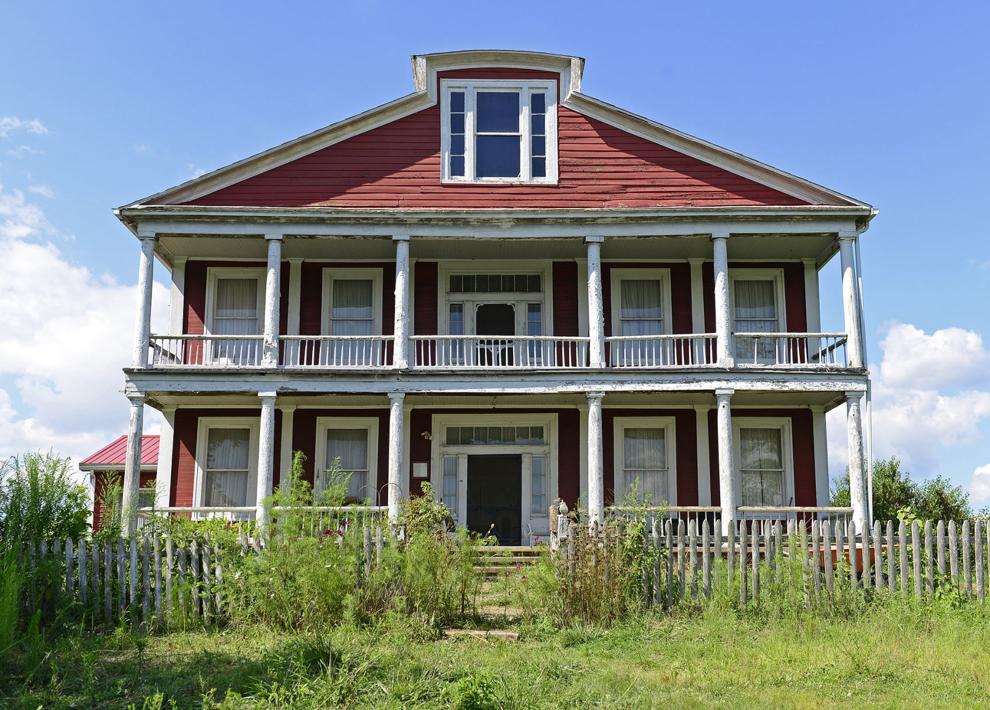 But the cash-strapped state has no future plans to open it as a museum, so questions loom: What will, and should, become of it? And how committed are people in Southern Illinois to seeing it preserved and reopened if the state does not take any tangible steps towards ever making it accessible again to the public?
In the coming days, The Southern Illinoisan will explore some of these questions, as well as the history of the site and of the people who lived there. That includes Crenshaw, but also people such as Maria Adams, a black indentured servant who he likely illegally sold into slavery. As well, the short series will chronicle a bit of the extensive work that historians and SIU researchers have undertaken in an attempt to understand what truly happened at Hickory Hill under Crenshaw's ownership. Thus far, that has meant likely confirmation of some stories about the house, and busting others. Unfortunately, when it comes to some of the tales related to Crenshaw and Hickory Hill, they are difficult or impossible to prove either way.
Recent work at site
Though the house has several pressing maintenance needs, it's not as though it has been forgotten.
The last private owner did some work to secure the roof, and a few years, local organizations partnered with the state to connect water service to the house. Also, a caretaker continues to live in the home, primarily to secure it from vandals and curious trespassers, and to provide basic upkeep.
Further, Mark Wagner, director of SIU's Center for Archaeological Investigations, is leading a team that has been methodically studying the history of the site under a state contract that dates back several years.
"What I told the state is I think it's an important place. I think it's important to the history of Southern Illinois," Wagner said this past week.
The study, Wagner said, was funded by a federal highway grant and commissioned by the state in the interest of securing a more accurate picture of the property as it would have looked in the 1840s. The idea being that if the property is ever opened as a museum, the state would be responsible for ensuring, as much as possible, its historical accuracy, Wagner said.
Wagner said that at the conclusion of his team's project, he also told the state that after researching the site, he believes that it should be used as an interpretive tool to "teach people about slavery in Southern Illinois -- and in Illinois, that it did exist -- and this is one of the places that it existed."
More broadly, he said, the site has a lot to teach about the history of Crenshaw and other salt barons of the era like him, and the experiences of black people at the home, and in the area – both free and enslaved – in the 19th century. Also, he said, it could be expanded to include displays and information about area families on the other side of the tragedy, who served as allies and provided safe houses along the Underground Railroad as slaves in border slave states sought escape to free states and Canada.
Millions needed to open site
The biggest roadblock to re-opening the Hickory Hill site to the public is that it likely would take millions – perhaps $7 million or more – for the state to do so, which is an unlikely investment at a time when other state-owned museums are closing in the face of money woes.
Chris Wills, spokesman for the Illinois Historic Preservation Agency, said opening the site would require renovations and repairs to the house itself, a new road and parking lot, a separate structure with a bathroom and perhaps an interpretive center, and other improvements.
Wills said the state's only immediate plans for the site are to continue preserving it, and working with SIU researchers to gather information so that it is interpreted correctly if money ever becomes available to open it. Wills didn't weigh in on the likelihood of that happening, but slim to none in the foreseeable future, at least where the state is concerned, is a safe bet.
"I think right now, obviously, the state budget is the biggest issue," said Jon Musgrave, a Southern Illinois historian and author whose works include "Slaves, Salt, Sex & Mr. Crenshaw." Musgrave continued, "Even beyond that, Springfield has to come up with a determination of what we are going to do with historic sites and state parks and state museums."
A tourist attraction for 70 years
Prior to 1996, the home was opened to tourists for roughly 70 years marketed as "The Old Slave House." During this time, it was owned by various members of the Sisk family, who purchased it in 1913. Though at that time their primary ventures were in nearby coal mining, the stories related to Crenshaw and Hickory Hill were so widespread, and garnered such interest, that the family began charging for public tours. A sign hangs on the house dating back to when the Sisk family owned it promising visiting tourists a "thrilling experience."
Since World War II, large crowds came to tour the site every year until its closure, according to a 2002 report by historian James Cornelius that was commissioned by the state. Cornelius presently serves as curator at the Abraham Lincoln Presidential Library and Museum in Springfield.
Cornelius' report states that a previous attempt by the Sisk family in 1940 to sell the home to the state fell flat, mainly over concerns about the validity of the stories being told about the home and its notorious third-floor attic that appeared as a the chilling site of a small prison cell with tiny bar-covered rooms and items that appear to be for torturing and ensuring captivity.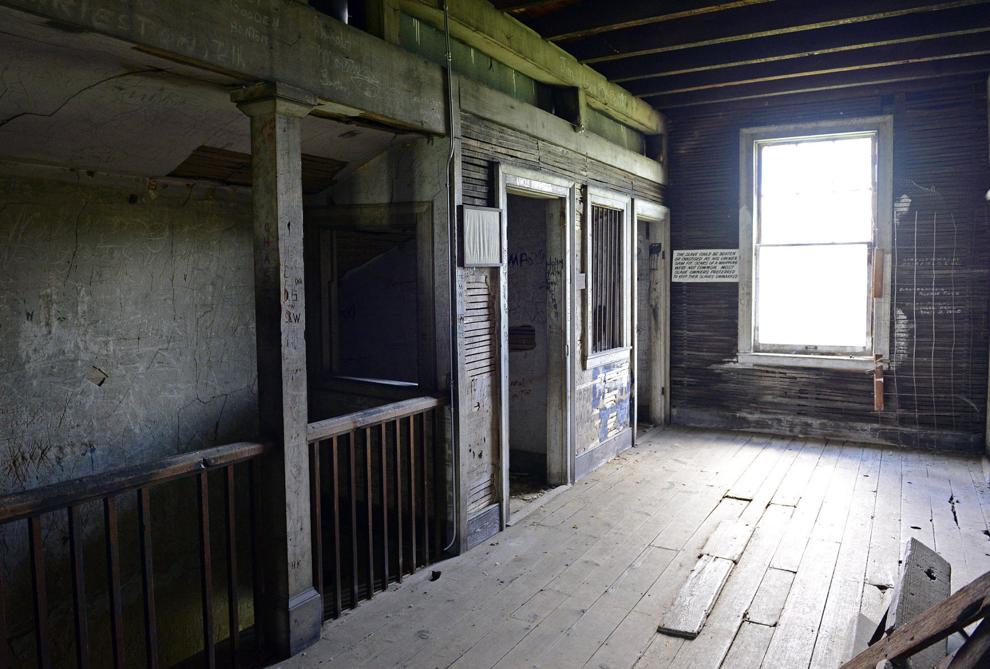 The narrative tied to the third-floor has long been that Crenshaw kept slaves in the attic, likely both those who worked grueling hours in his nearby salt operation, and free blacks he kidnapped and hid upstairs to be sold into slavery in southern states as a money-making venture. The tour also included items on the third-floor included as a prison-style ball and leg chain and a whipping post. Handmade signs appeared throughout the room for tourists explaining what was believed to have taken place in the room. For example, a sign near the whipping post read: "Parts of the old whipping post used to torture slaves quartered here."
The home, specifically the attic, also is believed to have remained haunted by the spirits of these captured and tortured people. That has brought ghost hunters to the site, and also led to problems with trespassing over the years, especially around Halloween time.
Sisk decides to retire
When the final Sisk to own the home, George Sisk, Jr., decided he was ready to retire, he made an attempt to verify some of these stories with hopes that historical documentation would lead the state to finally purchase it.
That's when Sisk tapped his friend, historian Ron Nelson, of McLeansboro, to research the home, who worked alongside Musgrave, at the time a reporter for the Harrisburg Daily Register, to comb historical archives to see which, if any, of the tales about Crenshaw and Hickory Hill could be verified.
Musgrave said Sisk closed the site to the public on a Thursday in 1996. The following Monday, Nelson found letters in the historical archives that provided significant evidence that Crenshaw had indeed sold a free black woman named Maria Adams into slavery, as well as many of her children. Crenshaw was charged with the kidnapping of Adams, and acquitted by a Gallatin County jury. But the letters backed up the stories about Crenshaw's role in the Reverse Underground Railroad, Musgrave said, and it was a breakthrough. In the years that followed, he and Nelson were able to unearth volumes of records providing clues about life at Crenshaw's Hickory Hill.
With historical proof in hand, the push began to convince the state to buy the property, and ensure it is preserved into the future. The General Assembly earmarked money for the purchase in mid-2000.
Digging up the truth
Under private ownership, the Sisk family could take some latitude in how the home was presented. But the taxpayer-funded purchase of the property meant state officials were taking on a new responsibility to understand who Crenshaw really was, and what Hickory Hill really was like in the 19th century. That has played out with Cornelius' report, and more lately, with the work Wagner and his SIU team have done at the site.
"There was no agenda when we went out there," Wagner said, of the project. "The agenda was not to prove or disprove any of these stories. The agenda was to give them accurate information about it."
Wagner said the stories of Crenshaw owning slaves, and of selling free blacks into slavery, are sound, and appear to be supported by historical documents. But what's less certain is the role the now state-owned home, and its third-floor attic, served in Crenshaw's illegal and semi-legal activities related to slavery and kidnapping. The belief that Crenshaw used a carriageway that went right to the back of the house to smuggle kidnapped blacks up to a third-floor, secret jail has flaws, he said.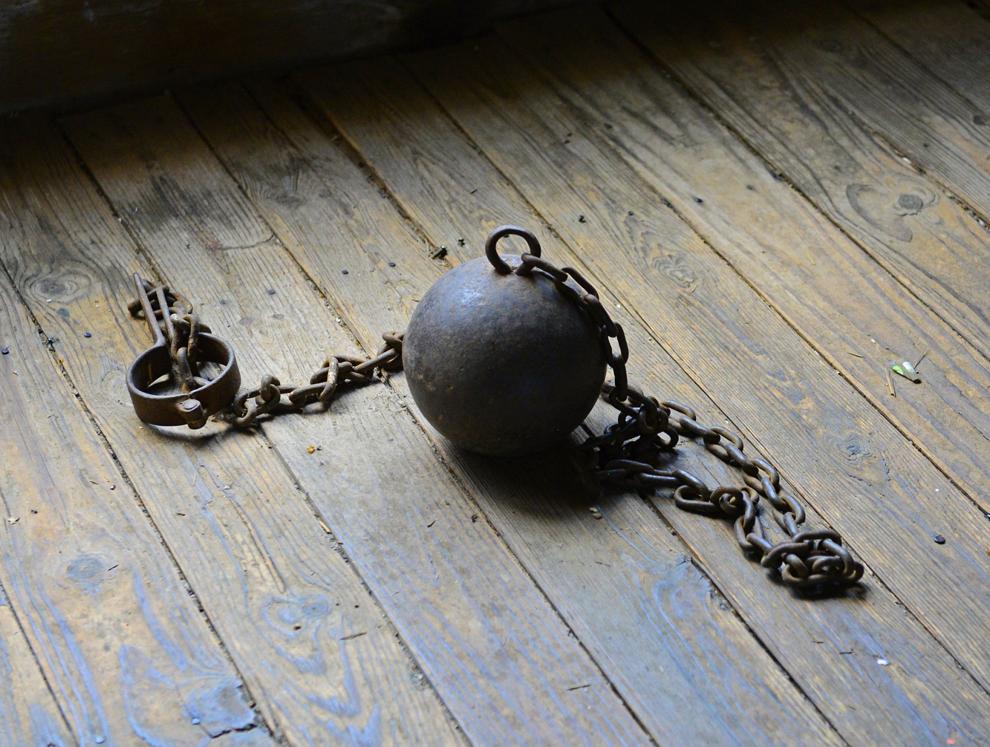 What's more, many of the items that were on display for years at The Crenshaw House were not period specific, or historically accurate, Wagner said. For example, he said the whipping post on display on the third-floor was actually a tool for making wooden shingles, propped up on its side.
Mystery surrounds third-floor
In fact, he said the research undertaken by his team indicates the third-floor may have had nothing to do with Crenshaw's activities associated with slavery, but was instead a place where laborers – both black and white slept – as well as travelers passing through. Though they were fashioned to represent slave quarters by the Sisk family, there's little evidence to suggest that was the case, Wagner said.
What's more likely, he said, is that Crenshaw illegally sold contracts for indentured servants to people living in southern slaves states. Indentured servitude was legal in Illinois at this time, and was a process by which a person -- white or black -- provided work under the terms of a contract, and were expected to receive payment in money or land at its conclusion. It was legal to sell contracts for indentured servants, but only in-state.
What Crenshaw did had the same ultimate outcome as physically kidnapping a free black person -- creating fake papers on them, and selling them into slavery, as also was taking place at this time, Wagner said. But this more covert process would have allowed Crenshaw plausible deniability, as his sales of contracts the indentured servants were likely to people technically in-state, but those people appear to have been slave runners -- and Crenshaw almost certainly would have known this -- who then took these people south across the Ohio River, where they likely were sold into slavery.
That would have allowed him to avoid prosecution for his crimes, as records show he did on multiple occasions, and casts doubt on the belief that people were smuggled into the home and hidden and tortured on the third floor.
Still, he doesn't fault the Sisk family for operating the home that way, and said the family did so based on stories passed down, some that were perhaps misinterpreted or grew over the years to fit a narrative.
"If the Sisks had not been able to make money off this house with tours, it would not exist today," Wagner said. "It would have been burned down like everything else. I don't condemn the Sisk family at all."
But if the state opens the museum as an official taxpayer-funded museum, he said, historical accuracy would be imperative. "That's where their problem lies," he said.
618-351-5079
On Twitter: @MollyParkerSI ​