CARBONDALE — The vacant city manager position in Carbondale has been temporarily filled by the person who served in an acting role for the past couple weeks.
Acting City Manager Gary Williams is now the interim city manager, Mayor Mike Henry announced Wednesday at a news conference inside Carbondale Civic Center.
Williams has been employed by the city since 2011. He has served as the economic development director and the assistant city manager for economic development.
He has served as the acting city manager since former City Manager Kevin Baity stepped down from the post Oct. 1.
The formalization of Williams' contract will happen Tuesday at the next City Council meeting, where the council will vote on an ordinance to approve the employment agreement.
"I am really humbled and appreciate Mayor Henry and the city council's confidence in selecting me and I think it is a great opportunity," Williams said Wednesday. "We have a great staff and we are excited to move forward."
Henry said the council wanted somebody who could step in quickly and be familiar with what was happening in the city.
"He fit that bill," he said.
There was one other candidate for the position who was not a city employee, Henry said.
Williams said he wanted to continue focus on the redevelopment of downtown and several other projects happening throughout the city. He has been a driving force in many of those projects and says he has intimate knowledge about the behind-the-scenes action.
"My main focus is going to make sure all the developments are continuing and moving into budget season. We have some tough choices to make shortly," he said.
Williams said his career in the private sector in real estate and construction dealt with a lot of planning and finance, and believes those skills will transfer well into any management role.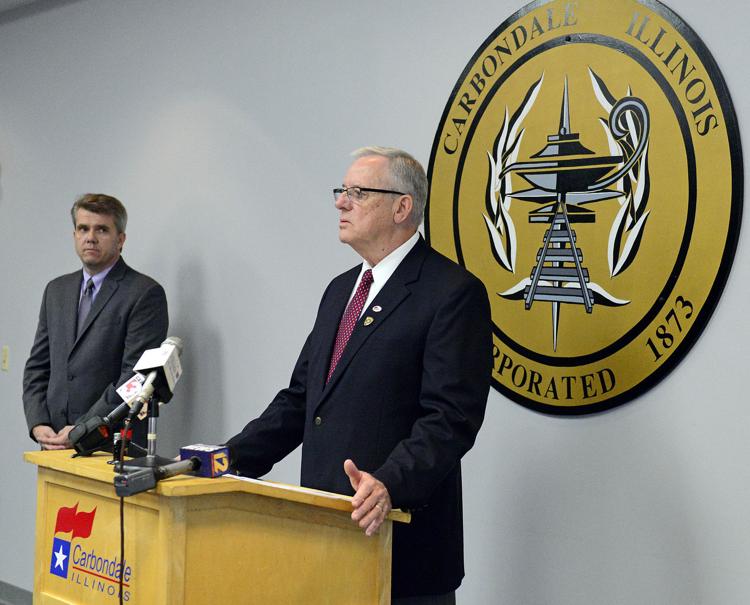 Henry said the next step is to decide if the city wants to hire a consulting firm to search for a permanent city manager, or conduct the search on its own. He said the contract with Williams is open-ended so the council has flexibility with how long it can leave the position with an interim tag.
Williams said, as of Wednesday, he hasn't made the decision about if he wants to apply for the permanent job.
"The fact that I wanted to be an interim should provide some evidence that my goal is to be the city manager," he said. "This all evolved a bit more quickly that I anticipated."
Executive Director of the Carbondale Chamber of Commerce Les O'Dell said Williams is a selection that he believes will be favorable to the chamber membership.
"He comes from a background in development and business growth," O'Dell said. "He has an economic development mindset which translates very easily into a pro-business mindset."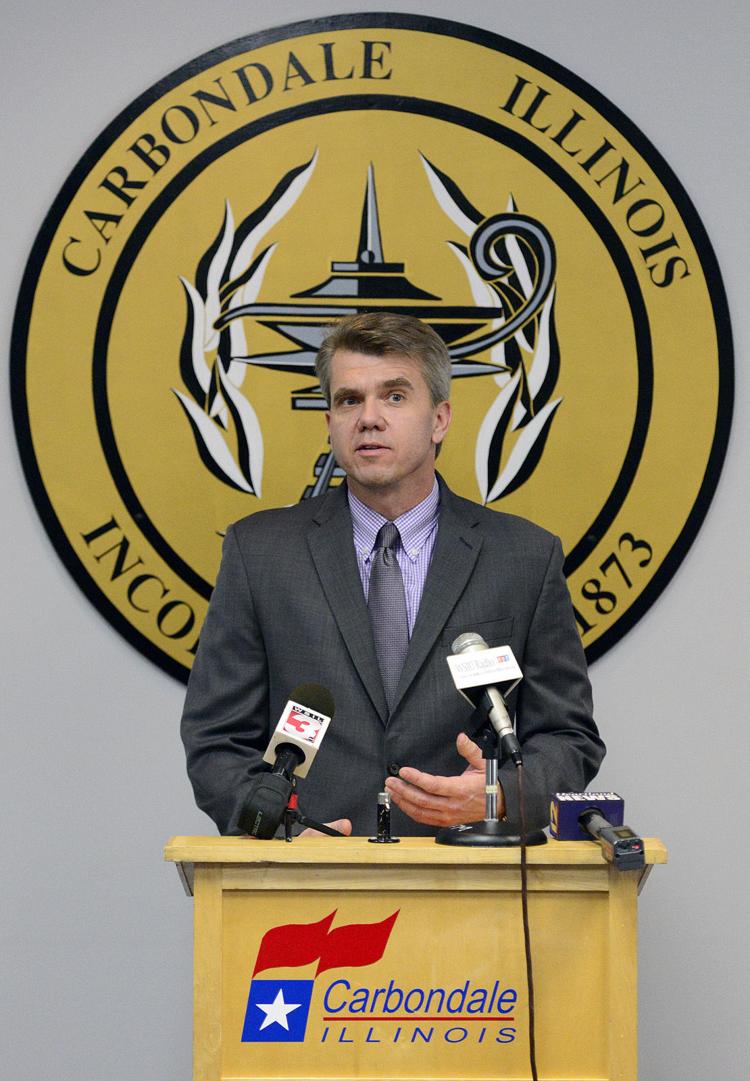 Also mentioned at Wednesday's news conference was that the council will vote on a renegotiation of the contract for Carbondale Police Chief Jeff Grubbs.
Henry said the negotiation was handled by the City Council as part of several of closed session meetings throughout the past few weeks.
"There were just some things that I was convinced that we had to get into and get through it quickly," he said. "Both of those positions are critical to the city of Carbondale. I think everybody is on board and I would be surprised if anybody has any problems."
He wouldn't elaborate on any changes to the contract because it hasn't been approved by the council, but said there were concerns that the police chief's contract should have been approved by the council, which didn't happen when Grubbs was first announced as chief in September.
"The best solution was to set about renegotiating the contract and some of the terms, and it worked out well," Henry said.
618-351-5823
on twitter: @zd2000
Get local news delivered to your inbox!
Subscribe to our Daily Headlines newsletter.