MARION — Williamson County Board approved Andrew Wilson as the new circuit clerk. He will succeed Angie Elliott Kochan, who resigned Oct. 8.
Wilson was chosen for the position by Williamson County Democratic Central Committee after Kochan's resignation. Then he had to be approved by the county board.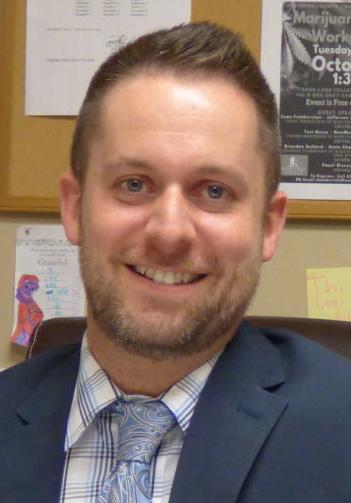 Wilson serves as an assistant Williamson County State's Attorney. In that capacity, he serves as the attorney for Williamson County Board and the county Freedom of Information Act officer. He has been an attorney since 2007 and has worked in the courthouse since 2010. He served as a public defender for six and a half years before moving to the office of Williamson County State's Attorney Brandon Zanotti.
"I feel like this is another opportunity to serve the people of Williamson County," Wilson said.
Wilson believes his experience in the courtrooms of Southern Illinois and with the judicial system is good training for the office.
You have free articles remaining.
"I intend to prove to the public I've got what it takes to be a good circuit clerk," Wilson said. "A lot of people don't understand what a circuit clerk does and how the office is intertwined in the legal system and judicial system. I know how it works, how it functions."
According to the Illinois Association of County Board Members and Commissioners circuit clerk fact sheet, the primary duty of a circuit clerk is to assist circuit judges in execution of their judicial duties by preparing and maintaining court records, collecting fines and fees, and processing paperwork. The clerk also manages the court's docket and juries.
"Someone from outside probably would not have I have to know what goes on a circuit clerk's office," Wilson said.
Wilson does plan to make the office his own, but he has no plans for changes at this time. He said Kochan took office at a difficult time and has done a good job of putting policies in place and changing some procedures to make the office run efficiently.
"The circuit clerk's office runs really well. Angie's hired very quality people, and as far as I know, everyone is staying," Wilson said.
Wilson is a graduate of Marion High School. He graduated with his bachelor's degree in 2004 from University of Illinois and from Southern Illinois University School of Law in 2007. His wife is a teacher at Adams School in Marion, and they have four children.
Kochan's last day is Friday. She resigned to take a position at SIU.
Wilson will be sworn in as circuit clerk at 8 a.m. Monday in the county board room.