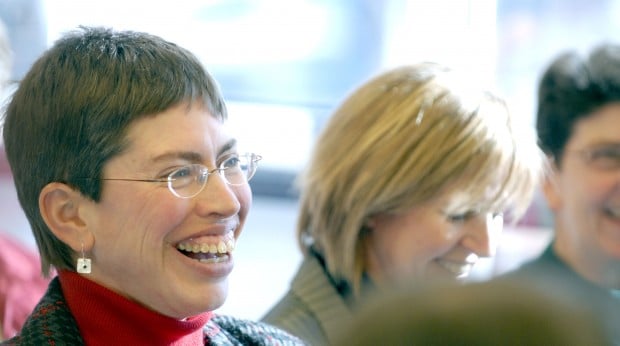 Gov. Pat Quinn is expected to announce today his preference for a running mate in the general election, and sources told The Southern Illinoisan Sheila Simon is Quinn's choice.
Reached by The Southern late Thursday, Simon declined to confirm she was Quinn's preference, but said she had been on the phone with him several times during the past two days, including Thursday night.
"I have talked with the governor several times in the last two days, and I believe I am on a short list," Simon said.
Simon is a Southern Illinois University law professor, former Carbondale City Council member and daughter of the late U.S. Sen. Paul Simon.
Asked directly if she knew if she was the governor's preference, Simon said she might have more to say on that topic today.
"Of course," she added, "the final decision will be up to the Democratic Party State Central Commit-tee."
The governor has a news conference scheduled for today and hinted to reporters Thursday his choice for the Democratic lieutenant governor's ballot spot would be the topic.
"You'll hear about that tomorrow," Quinn told reporters. "One story at a time."
On its site late Thursday, the Chicago Tribune's Ray Long and Rick Pearson cited anonymous sources saying Simon would get the nod from Quinn. The Tribune writers quoted Quinn as saying Simon "has a servant's heart, and that's exactly what Illinois needs in a lieutenant governor."
The governor has before, including on trips to Southern Illinois, declared Illinois itself has "a servants heart," and he consistently has spoken well of Simon and his working relationship with her. She served on the governor's commission on ethics reform.
The Democratic State Central Committee will have the final vote on Quinn's running mate and is scheduled to do so Saturday, but Quinn has said he hopes his preference will be followed.
Democrats have to pick a new nominee for lieutenant governor after Chicago pawnbroker Scott Lee Cohen dropped out of the race. He was dogged by allegations of domestic abuse and steroid use.
On Wednesday, state Rep. Mike Boland, D-East Moline, took his name out of the running.
He and several other House Democrats have said they support longtime state Rep. Arthur Turner of Chicago for the spot. Turner finished second to Cohen in the February primary.
Oddly enough, Turner was at one time a finalist for the directorship of the Paul Simon Public Policy Institute, which was begun by Sheila Simon's father and is housed at SIU Carbondale. However, he withdrew his name from contention.
Simon's father served as lieutenant governor of Illinois before going on to represent the state in the U.S. Senate.
In another unusual twist, Sheila Simon lost a 2007 election to incumbent Carbondale Mayor Brad Cole, who ran unsuccessfully last month for the GOP's nomination for lieutenant governor.
Get local news delivered to your inbox!
Subscribe to our Daily Headlines newsletter.