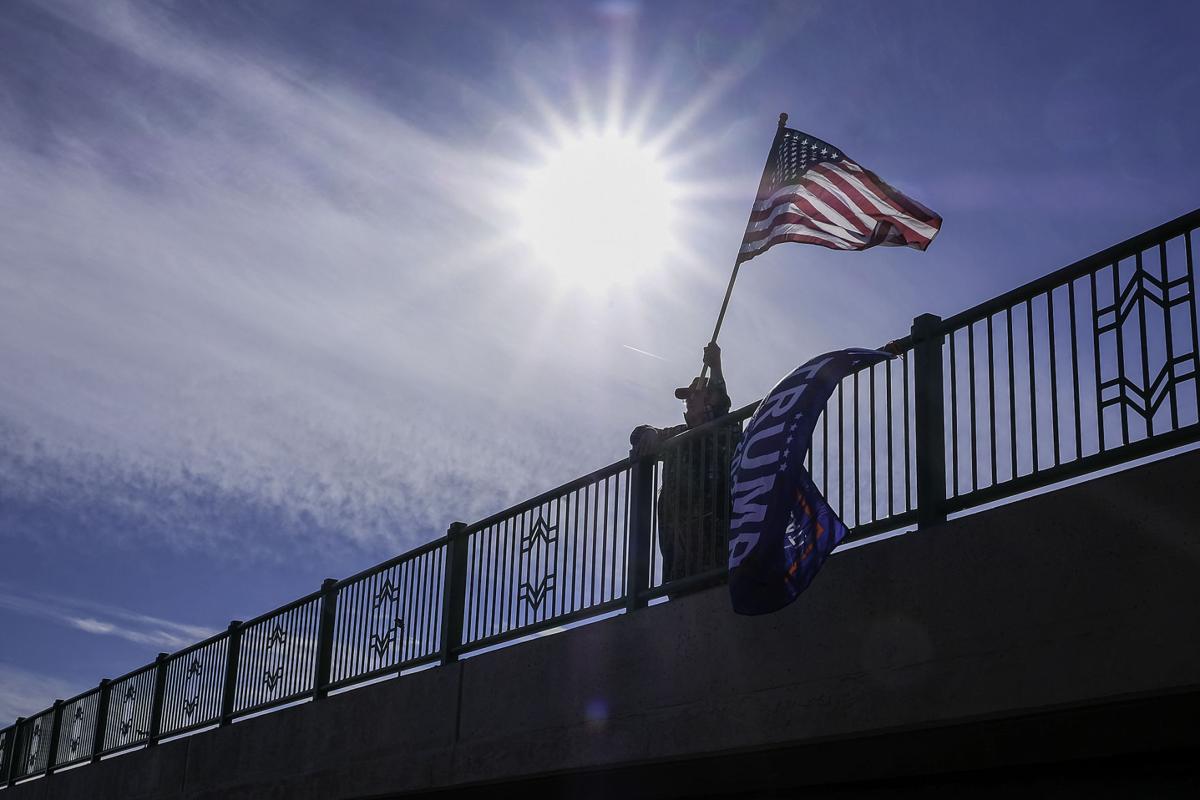 President Joe Biden and Vice President Kamala Harris were sworn into office Wednesday. Biden and Harris stood almost in the same place that just two weeks prior, an insurrectionist mob forced its way into the Capitol Building — the riot killed five people. During his address to the nation, President Biden spoke of the country's woes but reminded citizens that everyone is in this together.
"He leaves behind a mess," Shaw said. "President Biden is inheriting a raging pandemic that he has got to get under control (and) deep racial and cultural divisions intensified by the mob assault on the Capitol," Shaw said.
Shaw said the task of uniting a deeply divided American public will be no small task but will start with getting a handle on the COVID-19 pandemic that has killed more than 400,000 Americans under the Trump administration. This will also dovetail with improving the economy, Shaw said. He pointed to Biden's COVID-19 stimulus plan that will see money sent to both state and local governments.
"I think he has a very shrewd sense that it's going to be hard to rebuild the economy unless state and local governments have resources," Shaw said.
Today, our nation witnessed one of our most time-honored traditions: the peaceful transfer of power between two administrations. While I stand ready to work together on shared priorities that help Southern IL, I will never fail to fight for our conservative principles. (1/2)

— Rep. Mike Bost (@RepBost) January 20, 2021
But moving the needle this much this will be a feat, Shaw said, with only a small majority in both houses of Congress. U.S. Rep. Mike Bost, R-Murphysboro, issued a brief written statement about Wednesday's inauguration, but in it he did not spend much time talking about reaching across the aisle.
"While I stand ready to work together on shared priorities that help Southern Illinoisans, I will never fail to fight for our conservative principles. I wish God's blessing for President Biden and Vice President Harris on this historic day," Bost wrote. 
---
---
Keith Larkin is the Jackson County Board chair and ran as a Democrat. Reflecting after the inauguration, Larkin asked Southern Illinoisans to see lawmakers and government officials as one of their own and not just one of them.
"On a local level I think our bodies of government will continue to work for our constituents as we always have. I think the most important factor in the effectiveness of our democracy is for everyone to understand that the government isn't a nebulous boogeyman," Larkin said in a statement to The Southern.
A question on the minds of many Americans is how to move forward as a country and not just as one political party or another. Larkin encouraged civic involvement as one way to start this process.
"Maybe increased participation in government helps folks realize that politics is just people," Larkin said. He added that everyone has the same goal: to make the place they call home better.
"We can disagree on what that means and how we get there. But the conversations that drive those movements have to be based on truth, understanding, and most importantly kindness," Larkin said.
When asked how a Biden presidency might buoy the struggling party in Southern Illinois, Shaw and Paul Simon Public Policy Institute Visiting Professor John Jackson said it will likely be contingent on how Biden handles the pandemic and the economy.
"If he produces on that, that will be, I think, notable to even the most die hard Trump supporters that things got better (with a Democrat in office)," Jackson said Wednesday.
Jackson and Shaw agreed that the party has to do a better job of going directly to voters with a message of backing the middle class that is also bolstered by tangible results. But it will be a long hard road, Shaw said, if Democrats hope to regain ground ceded to Republicans in recent election cycles. Gone are the blue strongholds of coal-country like Franklin County that have swung hard to the right in recent years. Shaw said it would be "unrealistic" to expect local Democrat parties to see a sudden boom in membership. But that doesn't mean a boost won't come — it'll just take time.
"The coming months are going to be very hard for the United States and the new administration," Shaw said. "This is likely to translate politically for Democrats across the country and in Illinois. There is no glorious honeymoon coming for Democrats." Shaw said.
Local community organizer and activist Clare Killman, of Carbondale, watched the ceremony Wednesday and was struck by something outside of policy. She also considered the impact of seeing, for the first time, a woman on the dais, raising her right hand to be sworn in.
"Knowing that for the first time a woman's voice will be taken into account in matters of primary importance at the level of the Vice Presidency is staggering," Killman said. She said it sent a clear message.
"Every woman and girl in America now knows they can go anywhere and be anything," she said.
---
Joe Biden is sworn in as president of the United States
618-351-5823
On Twitter: @ismithreports