MARION — There will soon be a new face on the Williamson County Board of Commissioners. Ron Ellis, who has served since 2008, announced last year that he did not plan to seek reelection after 12 years of service.
Squaring off on the Nov. 3 ballot for his open seat are Republican Tim Atkisson, of Marion, and Independent Angelo Hightower, of Carterville.
Both candidates say their various career experiences would be a benefit to the job. They both also expressed a desire to give back to the region. Williamson County commissioners — there are three of them — run for six-year terms on a staggered schedule. Commissioners receive a base salary of about $70,000.
"I want to try to do something that will help our area," Atkisson said. "Southern Illinois has been very good to my family, and this is a way in which I can actually try to help make things better for other people."
If elected, Hightower said he would create a countywide youth mentorship program especially geared toward at-risk youth.
He said he would donate 5% of his salary to bolster the program, and hopes his pledge would encourage other county officials to do the same.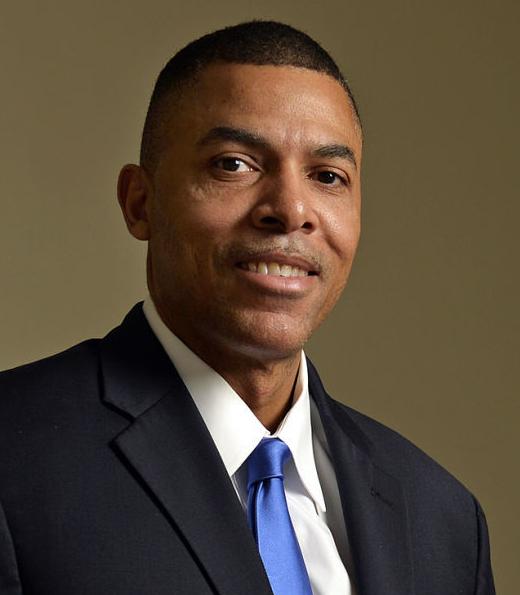 Hightower said he envisions something similar to the youth-oriented program he oversaw at the Marion Police Department, where he worked from 2000 to 2015. Hightower resigned from the police department that year upon his election to the Marion City Council, as holding both roles would have been a conflict of interest. He served as a councilman from 2015 to 2019. During that time, he was employed as an officer with the Carterville Police Department. Last year, he ran unsuccessfully for mayor of Marion. After the election, he was rehired by the Marion Police Department, where he presently serves as a school safety officer assigned to the Marion Junior High and High School.
"I've been involved in public service for so many years. This is just an extension of that service," Hightower said of his desire to run. 
Atkisson built his career as a private business owner. He owns A1 Plumbing Co. in Marion, which primarily focuses on contract commercial plumbing work. He sits on the board of directors of the Egyptian Association of Plumbing and Heating Contractors and on the Illinois State Plumbing Board, which administers tests to apprentice plumbers.
This is Atkisson's first run for public office. "I never anticipated ever having a political career. It just was never in the realm of possibilities," he said. Atkisson said he was encouraged to consider the possibility by his friend, Jim Marlo, a current county commissioner. Atkisson's wife is a teacher with the Marion school district, where Marlo's wife also works. A few years ago, after a classroom reassignment that put them closer together, Atkisson and Marlo's wife struck up a friendship, and then the husbands did as well, Atkisson said.
They spend a lot of time talking politics and expressing their dissatisfaction with the state of affairs in Illinois government.
"I've complained for years and years about the way Illinois has been run," he said. "When this opportunity came up, I decided instead of complaining, maybe I should try to do something about it myself."
Atkisson said his decades-long experience running a private business makes him a good fit for the role. He said he routinely deals with issues similar to those assigned to a county commissioner, such as contract negotiations, working with insurers, and navigating pensions and the health and welfare of employees.
"The more I studied and learned about the job, I decided, I can do this, I'll be a good commissioner. I'll be able to move in right after the election and be able to fit in really well with the other two commissioners," he said. While he has frustrations with the state government, Atkisson said he believes the county is well run.
Hightower said he believes the expertise he developed serving on the Marion City Council will translate well to the position. The duties are similar, he said. Hightower said he believes current commissioners do a good job running the county, though there are a few changes he would like to implement. For one, Hightower said he would like to create a citizens advisory council to keep a closer pulse on what the public wants to see from the county board.
"I want to hear from the people," he said. "That was the same way I was on the Marion City Council. After I got elected, I took a pen and pad and went around door to door to find out how I can make people's lives better, find out their priorities and things they would like to see the council do."
Hightower said people were surprised to see him given the election was over. Hightower said it was part of keeping his promise to make sure he listened to the citizens of the city.
He also would like to see the board move its meetings to a time more accessible for the public to participate. The Williamson County Board of Commissioners has a standing 10 a.m. monthly meeting on the second Tuesday of every month, but Hightower said most people don't have the flexibility to leave work to attend. "It's almost like they don't want people to go to their meetings, to be quite frank," he said. He also said he would advocate for more extensive examinations of the county's budget throughout the year. Hightower said he hopes people look beyond party labels and take his record of service into account at the voting booth.
"I will say, if there was ever a time where someone is looking for an easy choice, as far as an actual public servant, somebody who is sincere in their motives, who actually genuinely wants to change lives and has done so for years, this is their time," he said.
Atkisson said he, too, hopes people pick him.
"Williamson County is my home," he said. "It's where I raised my family. It's where I go to church. It's where I've built my business. And I want Williamson County to succeed. In these difficult times, we need somebody with some proven leadership, with a business background, someone who knows how to budget, who knows how to negotiate with unions, and that's why someone should vote for me."
Everything you need to know about the 2020 General Election in Southern Illinois
Take a look at a sample ballot for your county, check out our election previews, and more. 
Visit elections.il.gov for information about voter registration, polling places, early voting and more.
618-351-5079
On Twitter: @MollyParkerSI ​
Get Government & Politics updates in your inbox!
Stay up-to-date on the latest in local and national government and political topics with our newsletter.