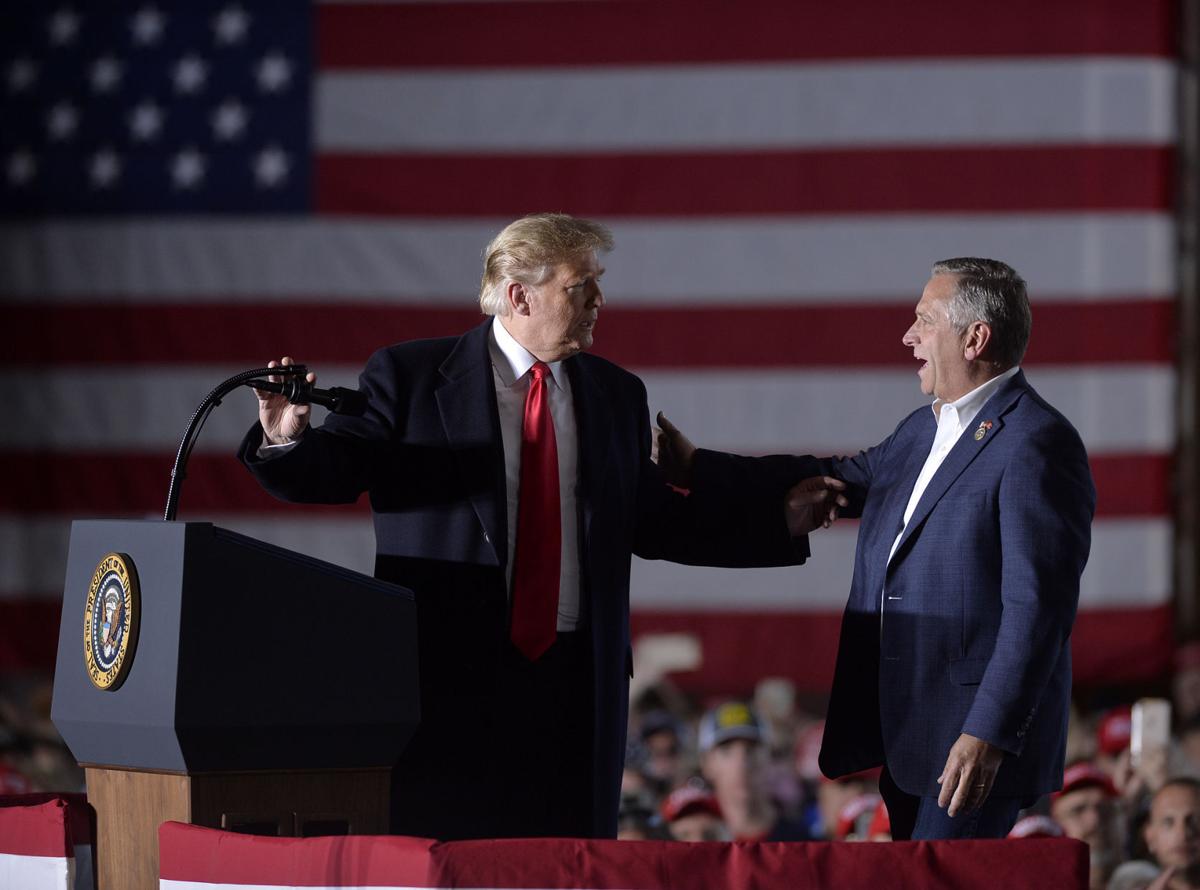 CARBONDALE — A day after pro-Trump rioters stormed the U.S. Capitol as Congress met to certify Electoral College votes in the November presidential election, Rep. Mike Bost defended his decision to vote against certifying election results in two states.
Bost, a Republican from Murphysboro who represents Illinois' 12th Congressional District, was at the Capitol when the siege began Wednesday afternoon. Thousands had gathered to protest the count, and a violent mob pushed past Capitol Police into the building, forcing lawmakers to seek shelter.
Hours later, the joint session of Congress reconvened to complete the certification of the Electoral College vote, cementing President-elect Joe Biden's win. Bost stayed in D.C. until the vote was completed early Thursday morning. He wrote in a Thursday statement about his decision to object to the election results in Arizona and Pennsylvania.
As violent protesters stormed the U.S. Capitol on Wednesday to rebel against the count of Electoral College votes in Washington, D.C., U.S. Rep. Mike Bost, a Republican from Murphysboro, denounced the actions as "un-American."
"When it comes to certifying a state's electoral votes, the Constitution is clear: state legislatures set the rules for states in conducting their elections. However, that simply was not the case in certain states in 2020," Bost wrote. He and other Republican lawmakers argued that those two states did not rely on their legislatures to modify election regulations.
The counting of Electoral College votes after the November election is typically ceremonial and attracts little attention. But, in the months since the Nov. 3 election, President Donald Trump has without evidence questioned the election's integrity, and he urged protests at the Capitol Wednesday. 
Bost in his Thursday statement also addressed the prior day's violence in D.C., saying it demonstrated mistrust among Americans in the election system. 
"The deeply troubling scenes at the U.S. Capitol yesterday indicate the intense distrust that many Americans have towards the election process," Bost wrote. "If we have any hope of restoring that faith and healing the deep divisions in our country, our efforts must be rooted in constitutional principles and fair elections."
Hours before the violent invasion at the Capitol Wednesday, Bost and 36 other Republican congressional representatives had signed a statement pledging to object to electors from four states — Georgia, Michigan, Pennsylvania and Wisconsin — that supported Democrat Biden for president.
"Taking this action today will not undermine our beleaguered institutions, as some critics charge, but rather reinforce and defend them," the Wednesday statement read.
Bost has been a vocal supporter of Trump, who in 2018 held a Make America Great Again rally in Murphysboro to endorse the congressman in his hard-fought race against Democrat Brendan Kelly.
Bost could not be reached for further comment Thursday.
U.S. Rep. Mary Miller, a Republican from Oakland who represents Illinois' 15th District, also voted against upholding Electoral College votes in the joint session, according to the Belleville News-Democrat.
Miller has called the elections "tainted" and said she was "joining patriotic leaders across the nation in objecting to the Electoral College results of certain states that did not uphold the constitution."
Miller drew condemnation from Illinois Republican and Democratic elected officials Wednesday after she quoted Hitler at a rally in front of the U.S. Capitol Tuesday. She said he "was right about one thing," referring to his emphasis on engaging young people.
— Kelsey Landis of the Belleville News-Democrat contributed.
618-351-5823
On Twitter: @ismithreports