CARBONDALE — Ahead of a presidential visit on Saturday and a tight election looming in November, U.S. Rep. Mike Bost is hosting one of his first public town halls since a public movement last year called for him to be more available to constituents.
Bost's event will be at 10 a.m. Wednesday at Eckert's Orchard in Belleville, where he will be accompanied by U.S. Department of Agriculture Secretary Sonny Perdue.
CARBONDALE — Congressional seats in Southern Illinois do not often get much attention outside the state, but when a national partisan battle e…
According to a representative for Bost, his last public town hall was in August in Swansea, with House Veterans Affairs Committee Chairman Phil Roe. His primary method of meeting with constituents has been to have private meetings and hold "tele-town halls."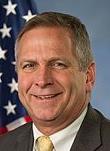 Bost's record of avoiding public town halls has made him a target for his opponent in his re-election race for Illinois' 12th Congressional District representative. Brendan Kelly, St. Clair County State's Attorney and Democratic candidate in the race, has routinely taken Bost to task for not making himself publicly available.
During a public debate last week in Belleville, Kelly regularly made mention of just how frequently he himself hosted town halls. Kelly and Green Party candidate Randy Auxier were the only two attending — Bost said he had a previous commitment. 
The campaign for U.S. Rep. Mike Bost, R-Murphysboro, who is seeking a third term in Congress, says he does not plan to participate in a 12th C…
Bost came under fire last year when he explained to The Southern Illinoisan editorial board why he didn't like attending town halls.
"The amount of time that I have at home is minimal, I need to make sure that it's productive," Bost said in March 2017. "You know the cleansing that the Orientals used to do where you'd put one person out in front and 900 people yell at them? That's not what we need. We need to have meetings with people that are productive."
Bost later said he regretted his choice of words that "distracted from an important point," which he said was the fact that with so much disruption — booing and jeering — at town halls, it becomes that much harder to govern.
Bost will hold a second public event Saturday, where he will be accompanied by President Donald Trump who is coming to Jackson County's Southern Illinois Airport to stump for the candidate.
618-351-5823
On Twitter: @ismithreports
Get Election 2020 & Politics updates in your inbox!
Keep up on the latest in national and local politics as Election 2020 comes into focus.