Bringing back the bacon: Southern Illinois' congressmen push for return of earmarks
Decades ago, before pork-barrel spending became a pejorative term in American politics, earmarks helped build Southern Illinois. Today, this region's congressional representatives are advocating for their controversial return to the budgeting process in Washington. 
Southern Illinois Reps. Mike Bost and John Shimkus are among the GOP members of Congress asking to lift the moratorium on earmarks, which are funding authorizations for localized projects attached to spending bills that benefit a specific member's district.
Republican House Speaker Paul Ryan said he would consider a public vote on the return of earmarks early this year, according to Bost and other media reports. 
The elimination of earmarks "violates the Constitution as far as I'm concerned," said Bost, R-Murphysboro. "Members were sent there to represent their district."
Congressional earmarks were scrapped about five years ago in the face of corruption, boondoggles, bloat and accusations of pay-to-play politics.
Alaska's "bridge to nowhere" became the poster child for runaway federal spending via earmarks, and the plug was pulled on them after the tea party wave helped Republicans claim control of the House in the 2010 election. 
Controversial as they may be, the fact is that Southern Illinois would not be what it is today without earmarks, said John Jackson, a visiting professor at the SIU Paul Simon Public Policy Institute.
"While the bridge to nowhere in Alaska was a boondoggle, most people around here wouldn't think Rend Lake or the Marion prison were boondoggles," Jackson said.
Earmarks built Southern Illinois
For decades until the late 1980s, Southern Illinois earned a generous share of federal earmarks thanks in large part to the power and prestige of the late U.S. Rep. Ken Gray, the magnetic World War II veteran who represented this region for years and was a masterful wheeler-dealer.
The "Prince of Pork," as the West Frankfort Democrat became known, brought home projects in the form of the U.S. Penitentiary-Marion, the interstate highway system that runs through Southern Illinois, Rend Lake, post offices and hospitals.
When he died in July 2014 at the age of 89, he was credited with bringing $7 billion in projects to his depressed district during the time he served in Congress, from 1955 to 1974, when he retired for health reasons, and again a decade later for two more terms, from 1985 to 1989.
While Gray takes the cake — or the pork, rather — when it comes to measuring Southern Illinois lawmakers' past abilities to bring home the bacon, others who also served Southern Illinois have played a part in landing federal projects in the region through the earmarks process.
A constitutional question
Shimkus, R-Collinsville, said he believes, as does Bost, that earmarks are constitutional right of elected representatives to earmark funds for local projects through the legislative process.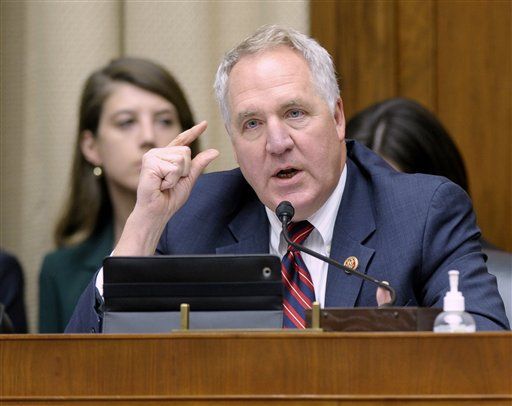 "All appropriations begin in the House per the constitution," Shimkus said. "So, we've turned over our power of the purse to the executive branch, who can then make their own decisions based upon their political whims."
Though administrative funding decisions are intended to remove politics from the equation through need-based formulas, Shimkus argued that does not always happen and that House and Senate members should have a say in the prioritization of some projects in their districts.  
Still, he acknowledged, congressional earmarks "did get abused."
"We have a couple of members in jail because of it," he said. "So not only was it abused, we had members who broke the law and did time … Now, we are trying to find a way to reclaim our constitutional authority and ensure the public trust through transparency."
Bost said that if earmarks are returned, certain "sensible" guidelines would be implemented to protect the process from corruption. Shimkus said that he would support a limitation on earmarks where the process only could be used to direct federal dollars to other government agencies and public infrastructure projects, not to businesses or individuals.
That earmarks encourage pay-to-play politics — whereby money was earmarked for a campaign donor's business, for instance — was one of the accusations that dogged federal lawmakers as the controversy over earmarks peaked and eventually led to their demise. 
Critics claim fiscal irresponsibility
Steve Ellis, vice president of Taxpayers for Common Sense, a nonpartisan budget watchdog organization based in Washington, D.C., said the argument that congressional earmarks are constitutionally protected is without merit. He said lawmakers direct all funding and have the ability to create and rewrite competitive merit-based formula systems to fairly allocate federal dollars through administrative agencies, and to exercise oversight authority if government workers break those rules. 
To allocate projects based on who has political muscle versus which project is most important is fiscally irresponsible, he said.
As earmarks reached their heyday years, in 2005 and 2006, there were 15,000 or more earmarks tucked into spending bills annually, accounting for billions of dollars in federal allocations. Tracking them was a nightmare, Ellis said. To show how they had ballooned over the years, Ellis noted that in the defense spending bill, which traditionally accounted for the largest dollar amount earmarks, there were about a dozen earmarks in 1970, compared to more than 2,500 by 2005.
Greasing the legislative process
Yet Jackson said it's his opinion that if proper reforms are put in place to curtail corruption, it could be good for the region and country. That's not to say that Southern Illinois would see the windfall it did under Gray's reign — times have changed — but it could compete for its share.
Another important benefit of earmarks, Jackson noted, is they "greased the legislative process." In other words, they allowed for horse trading among lawmakers and could lift longstanding logjams through the art of compromise. Jackson said that as President Barack Obama prepares to leave office, there has been talk about why he wasn't more like President Lyndon B. Johnson, who, despite a divided America, helped usher through Congress and then signed into law the sweeping anti-discrimination 1964 Civil Rights Act and 1965 Voting Rights Act.
"Why wasn't Obama like Johnson? One good reason was he didn't have earmarks," Jackson said. "There's no more wheeling and dealing. Johnson would say to a Southern senator or House member, 'I'd like your vote on the Civil Rights Act.' They'd say, 'No way. Not going to happen.' And he'd say, 'You know that lake or highway or dam or federal building you've wanted, I can make that happen, but I need your vote.'
"It's called horse trading and people think it's unseemly, but it was part of the legislative process."
Ellis disagreed with this analysis, saying it wasn't an apples-to-apples comparison of the debate that exists today about congressional earmarks. And he said that with earmarks accounting for only half of a percent of the overall federal budget, that's not enough to make a huge difference in negotiations — nor should voters want their lawmakers' votes to hinge on promises of landing a federal project back home. 
'A bridge to somewhere'
But Bost said earmarks can make a difference, and he argued that navigating the bureaucratic process can present challenges, and doesn't always allow for an elected member to exert the influence they should be able to have, as a person knowledgeable about his or her district, in prioritizing needs.
"I want to be able to argue for a bridge to somewhere in my district if it needs to be," he said.
According to The Associated Press, some GOP lawmakers asked the House Republican leadership in a mid-November closed-door meeting to restore earmarks, but Speaker Ryan halted the plan, saying that if the rules were going to be changed, the issue should be debated in public.
Bost said he was in that meeting and that one of the most vocal proponents of the return of earmarks was Don Young, the longtime Republican congressman from Alaska who authored the infamous earmark for a $223 million bridge connecting Ketchikan, Alaska, to Gravina Island. Critics dubbed it the "bridge to nowhere," arguing that not enough people would use it to justify the price tag when there were other more pressing infrastructure needs across the country.
Bost said Young stood up and said earmarks should be returned — and now. "The speaker said, 'Don, first off, I don't think you should be the mouthpiece on this,'" Bost said, of his recollection of Ryan's words during the meeting.
Bost, paraphrasing Ryan, said the speaker continued by saying, "Ladies and gentleman, I see this has support and I know that when you argued with (former House Speaker John) Boehner for this he always said, 'I'll get back to you' … and he never did."
But Ryan promised his members he would readdress the issue in the months ahead, but that a vote would have to be taken "in the light of day," according to Bost.
And Bost said he thinks that's wise to first educate the public on how any new process will include taxpayer protections, and then have a public vote on the matter "so the general public says, 'You're doggone right I want my congressman to stand up'" for projects in the district, Bost said.
618-351-5079
On Twitter: @MollyParkerSI ​