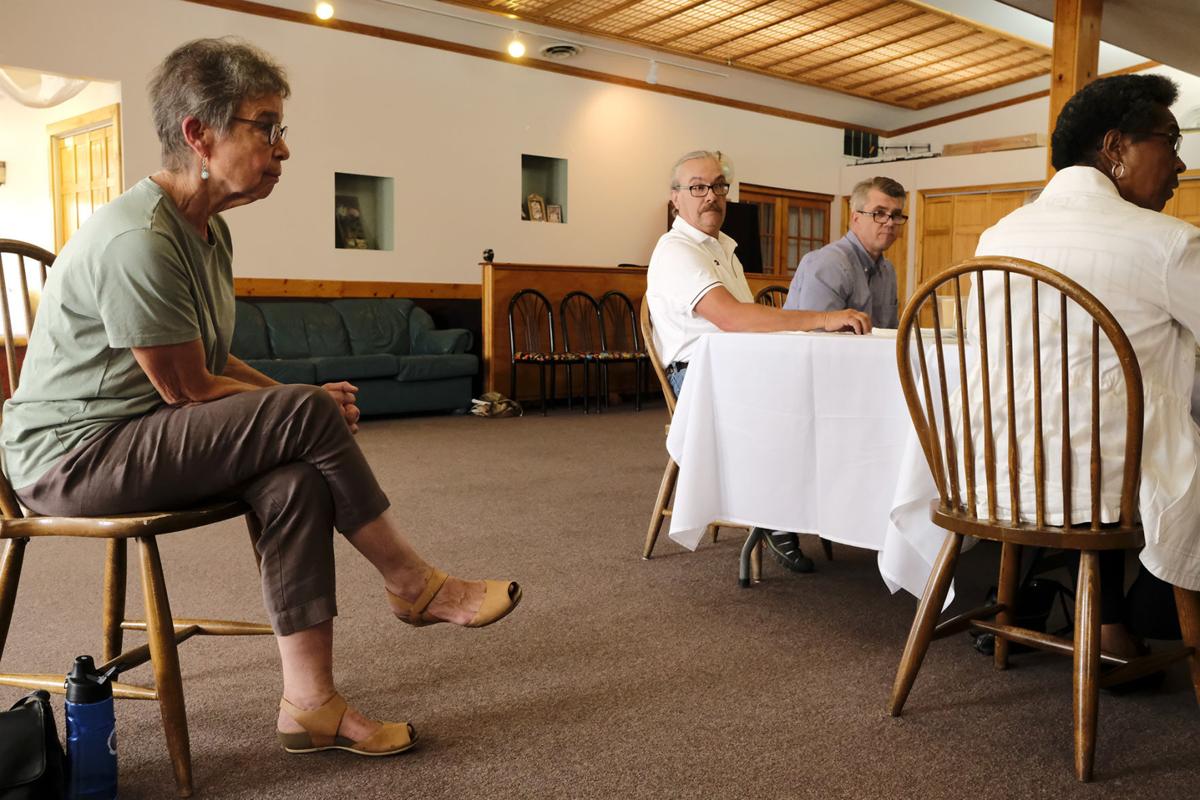 CARBONDALE — Months after voters told them to discuss absorbing Park District functions, the City Council took up the matter during its bi-yearly retreat.
In its first retreat in about two years, the council also discussed how to handle the future legalization of recreational pot and also heard a presentation of  crime statistics from Police Chief Jeff Grubbs.
In April's election, 71% of voters agreed that the City Council should explore the city absorbing some of the Park District's functions. This came up after the district has experienced continued financial struggles. There were a lot of questions about how this would work raised during the council's all-day retreat Wednesday.
Councilman Adam Loos told the group that in the past, meetings on the matter with the Park District board have been somewhat behind closed doors and resulted in unrealistic expectations that would not hold up under the scrutiny of public attendance.
CARBONDALE — Alongside choosing their local leadership, Carbondale voters in April will have the chance to weigh in on whether the city should…
"I think the way forward is to hold a public meeting with the Park District Board," he said.
Loos said one path forward is to establish an intergovernmental agreement between the city and the park district, which currently is its own taxing body, and make plans to retain employees employed by the district as well as to use the district's tax levy to pay down debt owed by the Hickory Ridge Golf Course, which currently loses money.
He also suggested building new Life Center, which Loos said he had been told would be cheaper than repairing the existing facility — he added that there may be money available from a grant at the state level. He also stressed the need to keep open the district's day care operation.
Carbondale Mayor Mike Henry agreed that the discussion would need to be done out in the open, but he was unsure about a guarantee to leave the Life Center and day care untouched. He also questioned whether or not the city would actually want to keep all the employees from the partial merger.
Loos cautioned talk of layoffs. He said this is still an issue that will need votes, either by the park district or from the community. He said there could be room to keep the district's employees on the books and transition them into other city positions as people leave or retire, eliminating their former park jobs through attrition.
Henry asked the question about who would handle programming for the Superblock facility — Henry said he did not feel the Park District currently wanted to do the work required to do this well. He pointed out what implied to be a double-booked baseball tournament and soccer tournament this past week, which he said would not have had adequate parking.
Recently elected Park District commissioner Jane Adams was in attendance to answer questions and give her thoughts and opinions. Adams ran on a platform of supporting the city absorbing some Park District operations.
Adams said some on the board, and district employees, feel like the effort to absorb some of the district's function has been spearheaded by the city.
"This is sort of kind of seen as a hostile takeover," she said.
However, City Manager Gary Williams offered a counter to this opinion.
"Park District is the entity that brought up the idea of merging, not us," he said.
The conversation did not end with a decision, beyond holding a public meeting with members of the park district board. Again, Loos reminded the council that this is something that would have to be sold — it needed to look like a collaboration that would help the city preserve and maintain a vibrant parks department.
There was also lively discussion around how the city would handle the forthcoming legalization of marijuana. The Illinois General Assembly passed a bill in May legalizing pot beginning Jan. 1, 2020.
Legal retail sales could begin Jan. 1, 2020
Loos was among the first to speak on the issue, and he presented a lot of questions to the council — items that might need to be taken up before the law goes into effect next year. He said under the law, they cannot prohibit possession but can prohibit the sale of pot, though he said he liked to believe the council had more sense than that.
You have free articles remaining.
He also said the council should begin thinking about how they plan to tax the sale of pot — they can go as high as 3%. But Loos asked if they would want to wait and see what other communities do and decide if they want to match or undercut those numbers.
He also addressed the city's paraphernalia ordinance and said they should abolish it.
Councilwoman Carolin Harvey asked what ramifications this legalization would have on city employees. Williams said the short-term plan is to maintain the same drug-free workplace guidelines they have had in place. He said a number of employees have CDL licenses and that those who govern the licenses won't recognize legal pot. It was also noted that the law prohibits police and firefighters from using the substance.
City Attorney Jamie Snyder reminded the council that the city cannot deny anyone employment because of recreational use.
"There's nothing we can do about it," he said.
In further explaining the new legislation, Snyder also noted that there will be provisions for places in town where smoking will be legal, though he speculated that this might be limited to places that have a license to sell.
MURPHYSBORO — After two years of waiting and three days of trial, Judge Ralph Bloodworth on Friday found Jarrell Pullen guilty of two counts o…
Carbondale Police Chief Jeff Grubbs appeared at the retreat to discuss gun violence in the city. He made a presentation to the council, showing numbers that he said put Carbondale at a 25-year low for crime.
"Those are the crimes that really define us," Grubbs said of violent crimes. He said those crimes make headlines, despite affecting a small portion of the city's population.
He pointed out that in 2014, officers shifted away from patrolling bars and went into neighborhoods. He said in the Arbor District alone between 2014 and 2015 crime dropped by almost 40%.
Grubbs also spent some time dismissing "tabloid journalism" headlines putting Carbondale among the most dangerous cities in the state. He pointed out that depending on what reports the journalists use and what years, those stories can be very misleading. He said the simple fact that the Illinois Uniform Criminal Report lumps robbery in with property crime, while the federal report puts it in with violent crime alongside things like murder, can throw the comparisons.
He also said some cities simply do not report their crime numbers, which takes them out of the running entirely.
"We report our crimes honestly," he said.
The idea that Carbondale is dangerous is something perpetuated by the news reports, Councilman Jeff Doherty said. He said Carbondale is sort of like an island in the ocean of rural communities.
"So when things happen in Carbondale they are reported," he said.
CARBONDALE — When Jay'Quan Campbell saw the gun, his first thoughts were for his brother, Xe'Quan.
Williams interjected to commend the police department. He said he sees reports of instances where officers would have been justified to use force, but didn't — he cited training as a leading reason. He said it was good to see in light of so many national stories of police seeming to act inappropriately.
Grubbs told the council that an increase in gun violence seems to be cultural and more pervasive than just in Carbondale. He said in years past, people seemed to want to settle disputes with fists, but have now moved to guns.
That said, he wanted to clarify that this was not the majority of Carbondale residents.
"Carbondale is full of great people and there's a handful of people who try to define us with those 100 crimes a year," Grubbs said of recent violent crime numbers.
This story has been updated to clarify a statement made by Councilman Adam Loos about the city's paraphernalia ordinance. It also was edited to properly identify the types of crimes discussed by Police Chief Jeff Grubbs.
618-351-5823
On Twitter: @ismithreports