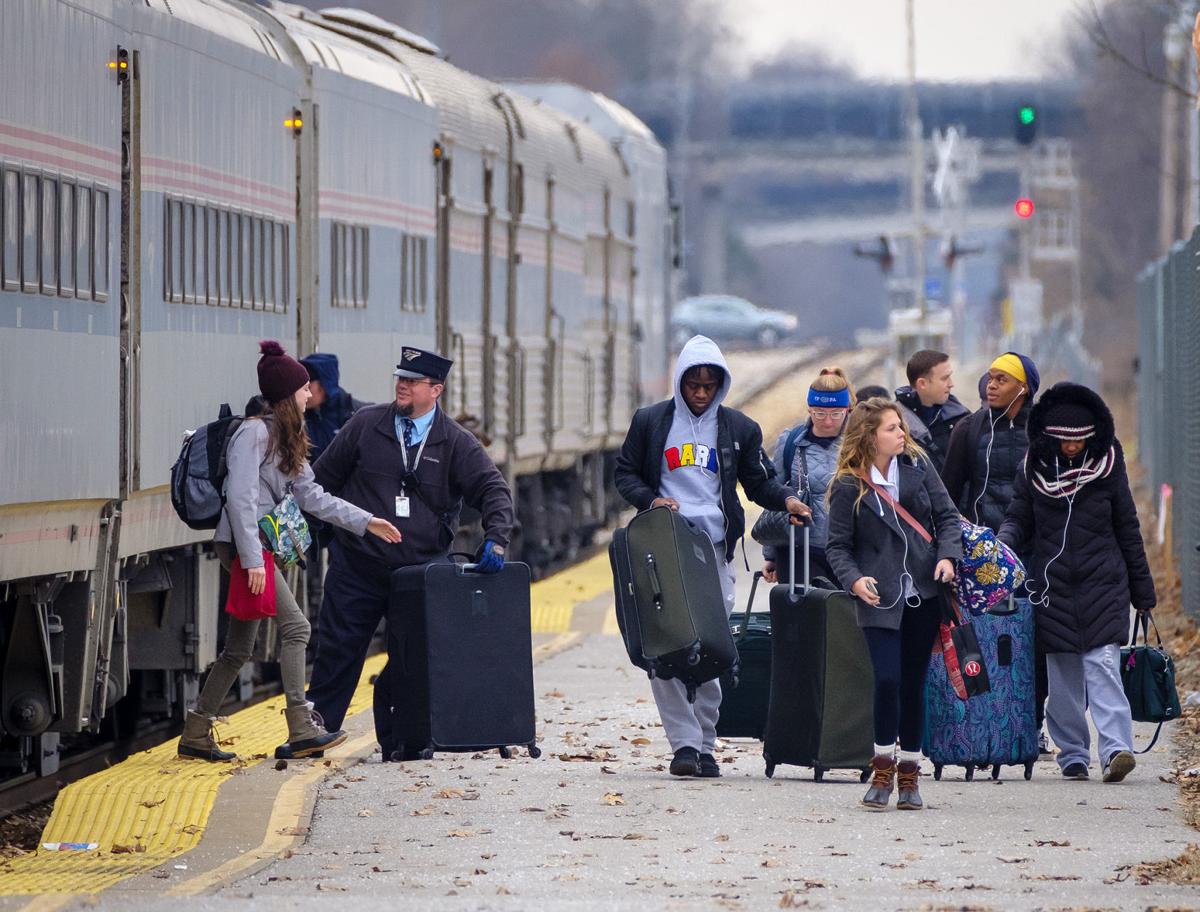 CARBONDALE — U.S. Sen. Dick Durbin introduced legislation on Thursday that would extend to Amtrak the ability to sue freight railroads if it believes that they are failing to give preference to passenger rail operating on their rail lines, as federal law requires.
It's the latest effort aimed at helping Amtrak arrive at its destinations on time with more consistency. Durbin, D-Illinois, filed the legislation on the heels of a report issued last month by Amtrak's Office of Inspector General, which found that Amtrak trains were late 27% of time in the 2018 fiscal year. Nearly 60% of those delays were because of freight interference, according to the report.
The Illini/Saluki route that runs between Carbondale and Chicago, in particular, struggles with tardiness. The northbound Illini leaving from Carbondale arrived on-time in Chicago only 6% of the time. The southbound Saluki leaving Chicago arrived on time in Carbondale only 17% of the time, the report found.
Canadian National owns much of the track along the Illinois routes, and Durbin said that "repeated freight interference and speed restrictions have plagued the Illini/Saluki route with some of the worst" on-time performance in the country.
A phone call to Canadian National's U.S.-based spokesman on Thursday seeking comment was not immediately returned. 
Under federal law enacted in 1973, freight trains carrying coal, oil and other commercial goods and commodities are supposed to move out of the way and wait if a passenger train is trying to get by. But they often don't.
The Department of Justice has the authority to take freight railroads to court if they don't obey the law. But it rarely does.
Durbin, in a statement, said his bill — named the Rail Passenger Fairness Act — would empower Amtrak "to hold the freight railroads accountable when they don't follow the law."
You have free articles remaining.
"For too long, we've seen on-time performance decline as a result of freight interference. The people of Illinois — and Amtrak riders nationwide — deserve assurance that they can arrive at their destination in a safe and timely manner," Durbin said in a news release his office released Thursday. 
In the same news release, Amtrak President & CEO Richard Anderson called Durbin's bill a "critical piece of legislation" that puts people first.
"Some railroads over which Amtrak operates have ignored the passenger preference law for far too long, delaying our customers by more than 1 million minutes last year," he said.
Many regular regional riders are familiar with, and frustrated by, delays that have come to be the norm, rather than the exception. But the Amtrak inspector general's report last month brought the extent of the problem into sharp relief, particularly for the Carbondale-to-Chicago route.
Various efforts have been underway for years to force freight railroads to honor the law that gives Amtrak the right-of-way. Many of those efforts fall short, observers say, because the major freight railroad companies wield so much more political clout than Amtrak, which runs at a deficit year after year that is exacerbated by poor on-time performance. 
Carbondale City Manager Gary Williams said he's encouraged to see renewed attention on the issue, and is hopeful that improvements materialize from this legislation and other companion efforts.
Amtrak provides a critical service for Southern Illinois University Carbondale students, residents throughout the region traveling into central Illinois or Chicagoland for business or pleasure and for visitors to Southern Illinois. For years, the city has been planning to develop a multimodal transit facility downtown that would streamline public transit services like Amtrak and bus travel, making it more attractive and easier to access. 
Earlier this month, federal officials announced that project could finally get underway with a $14 million grant funded through the U.S. Department of Transportation.
"It's extremely important to us that this issue gets resolved so people can become more confident about taking Amtrak," Williams said. "We're building a new station here and we want people to utilize it."
618-351-5079
On Twitter: @MollyParkerSI ​