MAKANDA — Several weeks ago, an unremarkable, black-and-white, one-inch-by-one-inch legal notice in the newspaper sent the residents of the village of Makanda into panic.
It announced the construction of a 185-foot communications tower by the Illinois Central Railroad Company, a subsidiary of Canadian National Railway, on a plot of land just north of the village's centerpiece: the Makanda Boardwalk.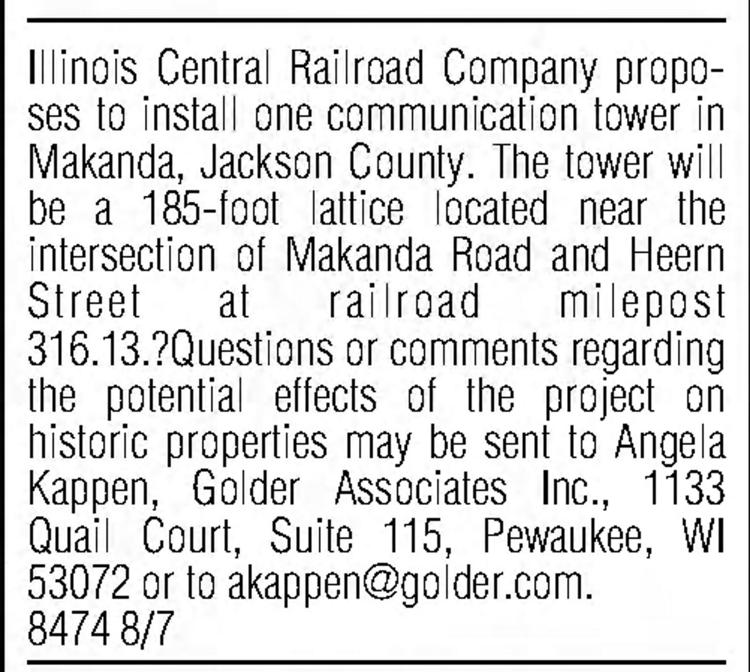 It's a row of three old brick buildings facing the tracks; the remnants of what was once a bustling little railroad town.
Today, they're a hub for art and tourism: hosting art galleries, an ice cream store and the "rock shop," full of souvenirs and gemstones imported from around the world.
"People love how peaceful and scenic it is here, sitting on the boardwalk, watching the vultures soar," said Village Clerk Leslie Yambert. "It's unique and special and having something so modern would really hurt that."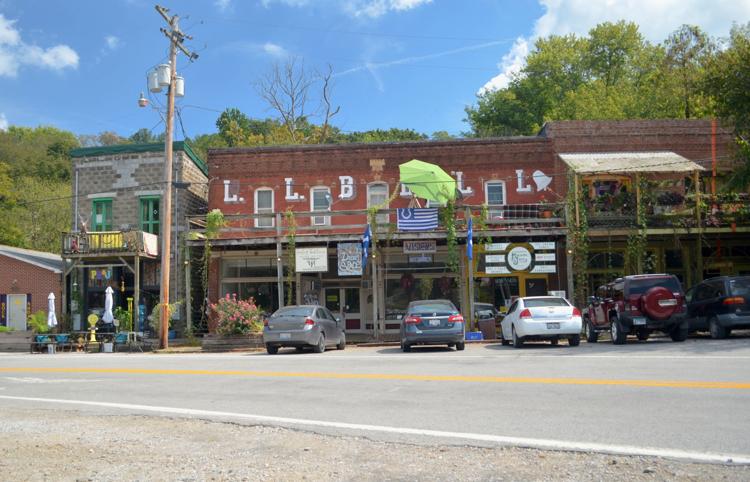 The railroad, which owns track from New Orleans to Chicago, and all across Canada from Vancouver to Halifax, says the tower is needed to implement nationwide Positive Train Control, a safety system that Congress mandated in 2008 after a passenger train and a freight train collided head-on in Los Angeles, killing 25 and injuring 135 more.
When the system is fully deployed, a nationwide communications network will track trains in real time, then send warnings and even remotely trigger a locomotive's brakes, if danger is detected ahead.
It's a massive project that will cost the industry between $9.6 billion and $13.2 billion in the first 20 years, the U.S. Government Accountability Office estimates.
And new radio towers are a key investment. In rural areas across the country, they're more reliable than any other medium to transmit exact information about speed limits, train movement authorization, train positions and switch positions.
The country's biggest railroads have installed thousands of towers and antenna poles across the nation's 53,732 miles of PTC-required track, and spent tens of millions of dollars to purchase radio bandwidth exclusively for PTC communications.
For Canadian National, Makanda is the site of a PTC coverage gap, said Jonathan Abecassis, the railway's media relations senior manager.
The railroad owns about 100 feet on either side of its tracks through the Makanda bottoms, according to documents submitted to Jackson County engineer and floodplain manager Mitch Burdick, copies of which were obtained by The Southern.
Burdick granted CN a permit to build the tower in accordance with state standards for "minor non-obstructive floodway construction," In late July.
"This was reviewed just like we review any other proposed improvement in the floodplain," Burdick said. "It meets all the requirements, so there's really no choice but to issue the permit."
CN's permit application shows the exact planned location for the structure will be about 300 feet from the Boardwalk, on land beside the tracks directly across the street from Jinnie Pearl's, a long-running antique store and junk shop.
The plans call for a 25-foot-by-62-foot fenced-in area, containing the 180-foot communications tower and an equipment shed on a raised platform.
But with Makanda residents voicing their displeasure to the company and the media, CN is re-evaluating.
"We are in the process of reviewing our plans and, in particular, are looking at re-engineering the support structure type from a lattice tower to a monopole with a potential 20-30 foot reduction in height," Abecassis told The Southern.
Several other sites were considered for the tower, Abecassis added, but were rejected due to "floodplain issues."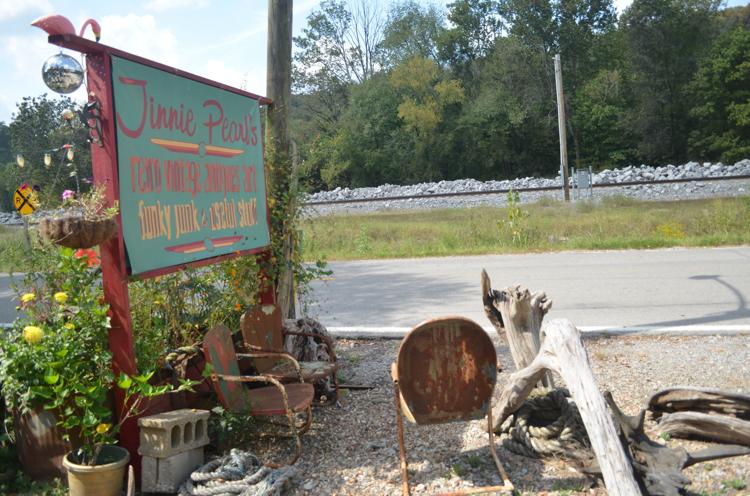 To village leaders, the shorter, smaller tower is better, but not ideal.
"It's still within sight of the boardwalk," Yambert said. "This will hurt property values for Jinnie's and nearby residents. We just want to maintain the view of the valley."
And the project continues to raise concerns about flooding.
CN's proposed tower location is in a federal floodway mapped on either side of Drury Creek, which runs the length of the Makanda valley, parallel to the train tracks.
When the creek swells in rainy times, it can cover the bridge, the small downtown park and large swaths on either side of the raised tracks.
"I have been in this area all my life, and there have been times that flooding has gotten up into the boardwalk, and Jinnie Pearl's," said Village President Tina Shingleton.
Makanda is one of about 770 communities in Illinois that have adopted floodplain ordinances to restrict unwise development in the floodplain, according to the Illinois Office of Water Resources.
In exchange for doing so, the Federal Emergency Management Agency offers flood insurance and other aid, to help participating communities rebuild after natural disasters.
Residents didn't know for sure if Makanda had a floodplain ordinance until this week, when Shingleton unearthed a copy, last updated in 2008.
"It's something I've not had to deal with since I've been president of the village," she said. "We don't do a lot of permitting down here."
The ordinance gives the village the responsibility and authority to vet all floodway and floodplain construction. Anyone who builds in village limits without a permit can be punished by fines up to $100,000, it stipulates.
You have free articles remaining.
The Makanda ordinance raises questions about why CN sought a permit from the county and not the village, said Paul Osman, chief floodplain programs manager for the Illinois Department of Natural Resources.
"The ordinance makes it clear it's the local village's jurisdiction," Osman said. "I don't know why the county is issuing permits within the village of Makanda. That's not common at all."
For his part, Burdick said the county's permit was never intended to supersede or replace any required village permits.
"We don't get involved in other permits required to by law," Burdick said. "It's the applicant's responsibility to get the permits required by law and to know what they are or are not required to get."
When informed earlier this week that the village had a floodplain ordinance, CN spokespeople appeared to indicate the company would comply with village permitting requirements, saying, "CN intends to respect all of its legal obligations as a federally regulated railroad fulfilling a federal mandate regarding PTC."
Now, Shingleton and her board must learn how to demand and evaluate a development permit.
Their ordinance allows the village to reject a proposal if it violates state construction regulations — Jackson County's review indicates it does not — or if leaders have other cause to believe a project will create flood hazards.
That will depend on the final design submitted by the company, Shingleton said. The company's interest in fencing in the tower is a main concern.
"We're not just talking about water. If it floods there are tree trunks that rush down through there," she said. "That's my issue, because then you could have a dam pushing water off on other people."
But denying the monopole for aesthetic reasons would be a "misuse" of the ordinance, Osman cautioned.
"There's nothing in the ordinance that says, 'You can't put there because we don't like the looks of it,'" he said.
The new wrinkles in the permitting process appear to have slowed the company's progress.
While village leaders initially believed construction would begin this fall, the company has now informed The Southern that the only action it expects to complete in 2019 is soil sampling.
Shingleton stressed she does not want conflict with the railroad.
"We want to work with the railroad and come up for something that works for both of us, if that's even possible," she said. "They've been really good about reaching out. We've been having phone calls, and when we ask questions they try to get us answers. I really appreciate their communicating."
The railroad has not provided any detailed explanation of why the pole or tower must be located near downtown, as opposed to farther up or down the tracks.
And the village is continuing to explore legal avenues to push the construction a bit farther away.
A small town with a free spirit, Makanda has no zoning ordinance.
"We're teeny-tiny. Part of the charm is there isn't any zoning," Yambert said. "People can build a house out of recycled materials, if they want to. Everyone generally is pretty is good and understanding with each other."
However, the history of its downtown may have some pull with the Federal Communications Commission, from which the railway must get approval for each PTC antenna and radio tower.
In its vetting, the FCC requires proof that the projects will not disturb any Native American historical sites or sites of other historical significance.
That's caused significant obstacles for some railways, as they work to implement PTC. Union Pacific, the nation's largest railroad, has large areas of track over Native American reservations.
In Illinois, the FCC's historical protection vetting is done by the Illinois Historic Preservation Division, Yambert said.
The agency originally gave a thumbs-up on the CN project, Yambert said an employee told her, but later discovered the railroad's application had made no mention of the nearby boardwalk or its history.
Currently no part of the boardwalk has any state historical designation or protection, Yambert said, and seeking one hadn't really occurred to residents.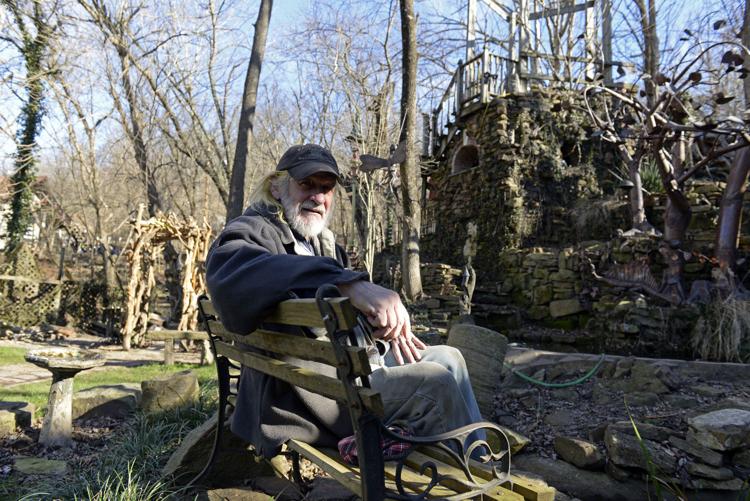 "The Bell building was abandoned basically," until the 1970s, Yambert said, when artists like Dave Dardis, of Rainmaker Art Studio, began to move in. "I think for a long time people thought the boardwalk would just disappear."
But even without official historical status, the 1890s-era Bell Building and its neighbors may still qualify for protection.
The Illinois State Historic Preservation Office may block or modify a construction project if it endangers a landmark eligible for the National Register of Historic Places, even if the landmark is not listed, its website indicates.
The register is open to any structure the state deems fit, including historic downtown areas like those of Alton, Nauvoo and Quincy.
Repeated attempts to reach the Illinois Historic Preservation Division with specific questions about the protection the boardwalk could receive were unsuccessful.
However, CN representatives confirmed the agency recently requested "additional information," about the Makanda project.
Come what may with the tower, Shingleton said she intends to continue the momentum to find some kind of protected status for the boardwalk.
"People love it," she said. "It brings people from all over."