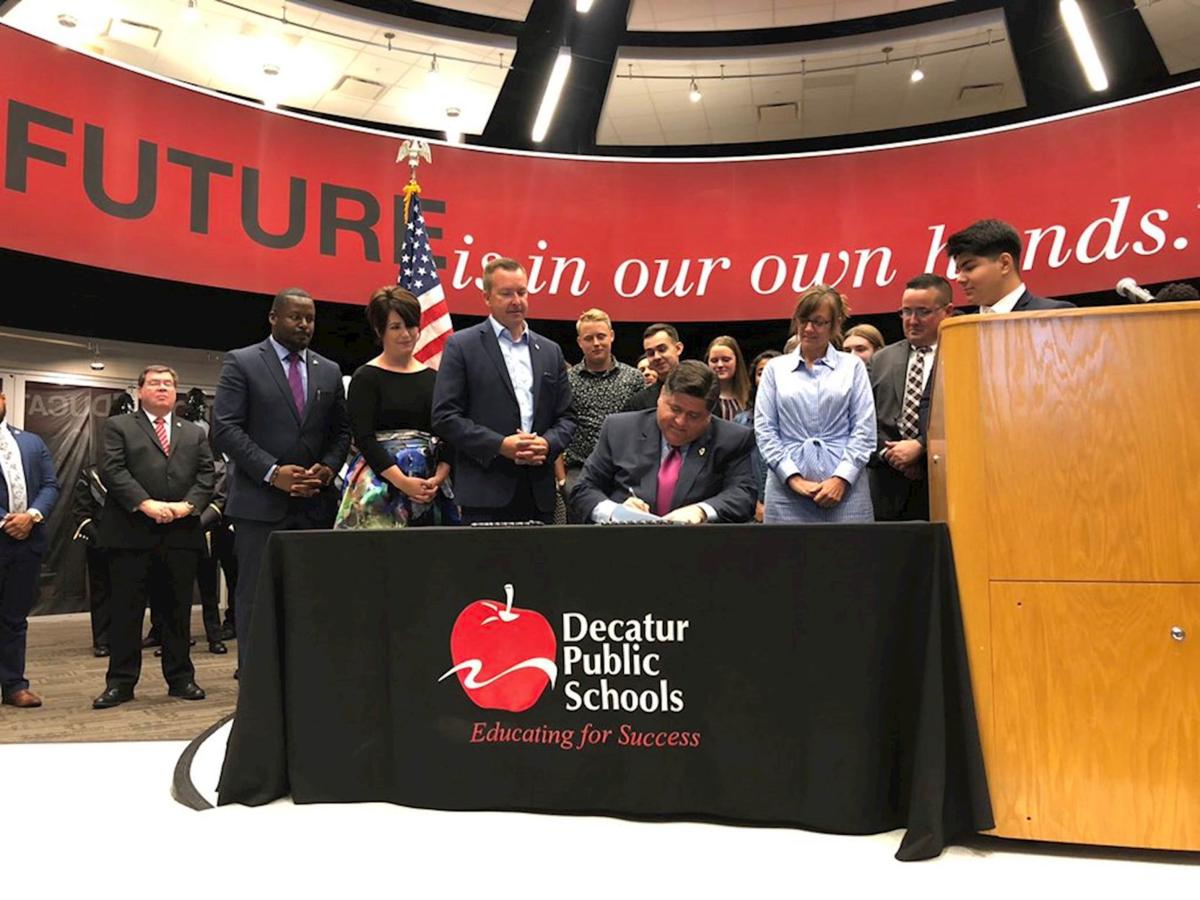 SPRINGFIELD — Illinois high school students will soon have to complete some form of college financial aid application as a condition of graduation.
Gov. J.B. Pritzker on Friday signed House Bill 2719, which requires that, starting in the 2020-2021 school year, high school students must fill out a Free Application for Federal Student Aid, or FAFSA form, or an alternative form to be created by the Illinois State Board of Education, as a condition for receiving a high school diploma.
The new law allows students and their families to opt out of the requirement by signing a document indicating they understand what the forms are and that they have chosen not to participate.
Pritzker said the goal of the new law is to increase college participation rates among high school graduates by making sure they understand what options are available to them.
"Beginning in the fall of 2020, this law will help give students the freedom to choose the pathway that's best for them — not the path they're forced down because nobody gave them the information to explore other options," Pritzker said in a statement.
Sen. Andy Manar, D-Bunker Hill is a lead sponsor of the bill. He said the new law should not be seen as a new barrier to high school graduation.
"This measure would allow us to maximize the number of students who apply for and receive federal student aid without creating an undue burden that stops some students from graduating," Manar said in a statement.
The final version of the bill passed the Senate on May 28 by a vote of 39-13. The House concurred with the Senate version on June 1 by a vote of 71-39.
You have free articles remaining.
Business tax credits OK'd
Gov. J.B. Pritzker signed a bill Friday establishing a new tax credit for businesses that employ apprentices and extending for an additional five years another tax credit for investments in research and development.
The apprenticeship tax credit will cover up to $3,500 of qualified educational expenses that employers incur on behalf of a qualifying apprentice, plus an additional $1,500 if the company's principal place of business is in an "underserved area," which are geographic areas marked by either high poverty rates or high unemployment rates.
The research and development tax credit, which had been scheduled to sunset in 2021, provides a nonrefundable credit for 6.5 percent of qualifying expenditures for increasing research activities in Illinois. The new law extends that sunset through the end of 2026.
"An important part of my job is to transform our state into one of the most forward-thinking, economically prosperous, and innovative in the nation," Pritzker said in a statement.
The bill was strongly supported by the Illinois Manufacturers Association, which issued a statement Friday praising passage of the bill.
"Research and development is the lifeblood for innovative manufacturers and its passage sends a message to those companies to invest in our state," IMA President and CEO Mark Denzler said in a statement. "This legislation provides the needed certainty for companies to maximize their R&D dollars which correlate with good, high-paying jobs."
"In addition, manufacturers have spoken a lot about the need to close the skills gap and help resurrect those lost middle-class manufacturing jobs," Denzler continued. "The apprenticeship tax credit allows manufacturers to jumpstart the workforce and provide generational manufacturing jobs, which is the backbone of our state's economy."
Lead sponsors of the bill, Senate Bill 1591, were Sen. Ann Gillespie and Rep. Mark Walker, both Arlington Heights Democrats. The bill passed both chambers of the General Assembly by unanimous votes.