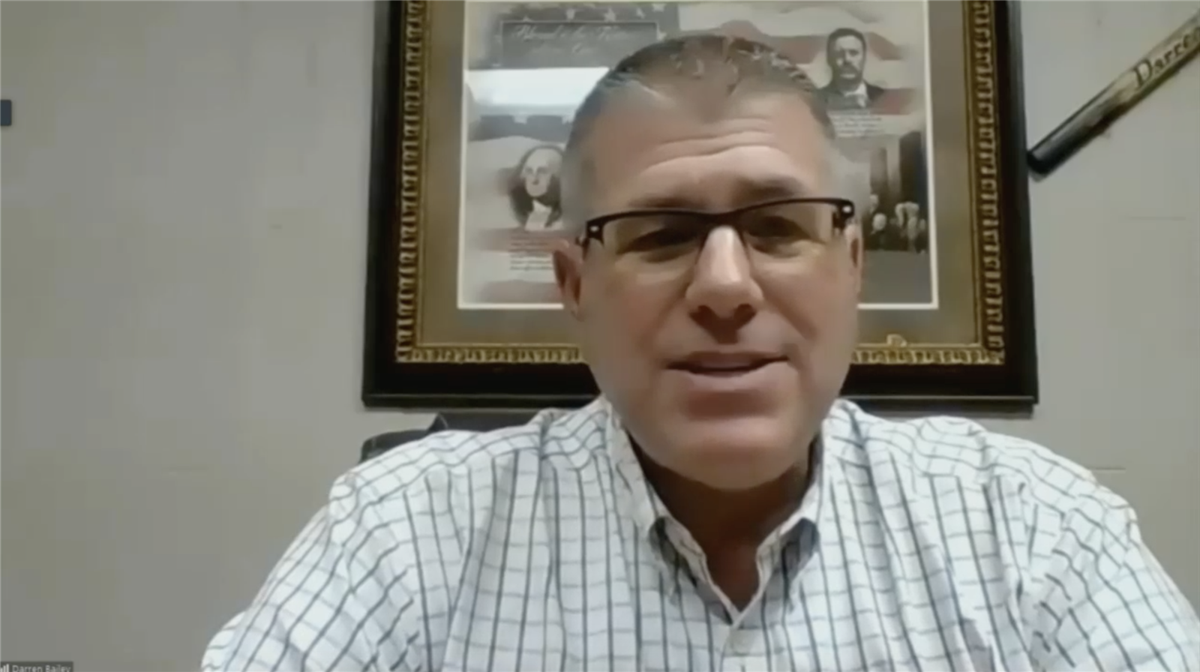 SPRINGFIELD — The Illinois attorney general's office on Tuesday night asked a downstate judge to address the one outstanding issue in Rep. Darren Bailey's lawsuit challenging Gov. J.B. Pritzker's executive orders related to the COVID-19 pandemic.
Until Clay County Circuit Court Judge Michael McHaney decides whether Pritzker's April 30 emergency declaration correctly defines COVID-19 as a disaster, the state is procedurally barred from asking a higher court to reconsider the Xenia Republican representative's lawsuit.
On July 2, the judge sided with Bailey on two of the four arguments he presented in his case, nullifying all of the governor's executive orders related to the novel coronavirus pandemic since April 8. His ruling also declared that the Illinois Department of Public Health has the "supreme authority" to close businesses and restrict residents' activities in a public health crisis.
Bailey, Pritzker's office and legal experts disagree on the scope of the order — some assert it applies statewide while others maintain it affects only Clay County.
In a court document filed around 10:30 p.m. Tuesday, the attorney general's office also raised a question about whether McHaney had authority to rule in the case. The federal court that denied the state's request to take over the lawsuit did not formally hand the case back to the Clay County circuit court until July 6, four days after McHaney handed down his order.
The one active issue in Bailey's lawsuit is "moot" and should be dismissed, the attorney general's office argued, because any ruling "would not have any practical effect."
The points raised in the representative's arguments were "incorporated" into the two issues he won, and the judge's order effectively rendered the April 30 disaster proclamation void, the attorney general's office wrote.
McHaney denied Bailey's request to issue a ruling without a trial that COVID-19 did not meet the definition of a disaster, but the judge never formally ruled on that matter. This last issue could result in a full legal proceeding, depending on what the judge decides.
With McHaney having "expressed (his) views on the merits of this case," the attorney general's office wrote, the governor requests a quick ruling so the state has a chance to make a prompt appeal.
A hearing is set for July 17 to address the state's request.
Capitol News Illinois is a nonprofit, nonpartisan news service covering state government and distributed to more than 400 newspapers statewide. It is funded primarily by the Illinois Press Foundation and the Robert R. McCormick Foundation.
Meet the 'Mask Committee,' making masks for Southern Illinois police, health care workers
Photos: Meet the 'Mask Committee,' making masks for Southern Illinois police, health care workers
On March 20, I made a mask for my husband, who is a health care worker, because there was a shortage of personal protective equipment, or PPE, at his workplace. Then, I made more masks for my elderly neighbors, elderly local people and local friends, as well as friends from New York and Florida. I was using leftover fabric I had in my workshop — holidays patterns like Christmas, Valentine's Day and Fourth of July.
I was running out of material and then Calico Country Sew store in Carbondale started donating fabric. I picked up some yards, and I was able to make masks for the police officers from Carterville. But, that was it: I ran out of material, and Amazon wasn't shipping until May. As soon as I announced on my Facebook page that I had run out of material, people started donating fabric, metal wire, machine needles and threads. With that donation, I was able to keep making more masks to donate, and I completed a group of masks for Herrin police officers.
Then, Dr. Amanda Brazis Cook from Southern Illinois Healthcare approached me asking if I can reuse operating room drapes to make masks. She brought the material to my house, and at that point, I realized I needed extra hands to mass produce masks for area health care workers. 
I asked the president of Carterville Rotary Club to help me find ladies who know how to sew, and Mary Slider and Louise Humble joined the effort. I also asked the president of my Woman's Club in Herrin, and she was able to help me find three more ladies: Patty Cox, Carla Shasteen and Tienne Kollar, all of Herrin.
Another doctor joined the team: Dr. Danielle Tomevi brought material and also found a lady to help us, Dorene from Murphysboro.
And that is how the mask committee was formed. We named it "Mask Committee: Keep Calm and Sew."
After that, Joni, a nurse at Herrin Hospital, joined the committee, too, then Mary Russell, one of the managers from Dillards, Nancy, one of my neighbors, and Mirna from Murphysboro.
We have been sewing our hearts out since March. April was the busiest month for us. We have made hundreds of masks to donate.
Then, we had a request of a new pattern and we had to divide the committee in two to work the requested pattern. Dr. Sara Altamimi provided us with more OR drapes to use, and we have been working making two different masks for area health care workers.
Ninety-five percent of the masks have been donated to SIH, and 5% to community members and police officers. We have received several selfies of health care workers wearing the masks in different departments. It really made us happy that we can give back and help the community in time of need.
Concerned about COVID-19?
Sign up now to get the most recent coronavirus headlines and other important local and national news sent to your email inbox daily.