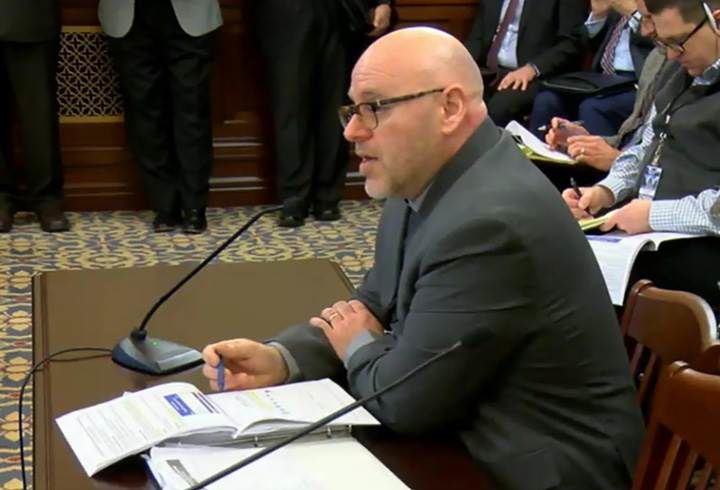 SPRINGFIELD — Illinois' economy grew at a faster rate than expected in fiscal year 2019, but government forecasters warn of a potential economic slowdown as the state government prepares to pass an operating budget for FY2020.
At the Illinois House Revenue and Finance Committee meeting Thursday, Clayton Klenke, executive director of the Commission on Government Forecasting and Accountability, said Illinois' growth in the 2018 calendar year should be considered "as good as it gets."
"There's not a whole lot of consensus that it will get any better than we are currently experiencing," he said.
Even so, Klenke said, by the end of the fiscal year, the state will have collected $184 million less than was accounted for during the enactment of the FY19 budget. The total collected was estimated at $35.3 billion, while the FY19 budget anticipated $35.5 billion in revenue.
That's because $300 million in revenue budgeted for the sale of the James R. Thompson Center in Chicago never materialized, and only $250 million of a budgeted $800 million in revenue resulting from inter-fund transfers was executed in the fiscal year.
The deficit was partially offset by greater-than-expected tax revenues, Klenke said. When the fiscal year ends on June 30, Illinois will have collected an estimated $450 million more than anticipated in income tax revenue and $84 million more than expected in sales tax revenue when the FY19 budget was approved.
Looking ahead to 2020, Klenke said an aggregation of economic forecasts predicts nation-wide economic growth of 2.5 percent in 2019 and 1.9 percent in 2020, down from 2.9 percent growth in 2018.
Klenke said potential tariffs and trade issues with China could have a negative effect on Illinois' economy. Illinois is the fifth largest U.S. exporter, and China is one of the top three countries that import from Illinois.
"According to Moody's Analytics, remaining trade tensions between the U.S. and China, along with new tariffs possibly impeding growth in exports to China, have complicated the outlook for exports, especially on agriculture and commodities," the report said.
With those estimates, Klenke said projected revenue for FY20 is about $38.2 billion, which is about $140 million less than FY19 revenues. Despite the lower total, Klenke said actual growth of base funding, minus one-time revenues and transfers, is about $800 million.
"It's a slowdown from where we're seeing things headed this year, but it's still pretty decent," he said.
There's a difference of approximately $717 million from the Governor's Office of Management and Budget revenue estimates and those of the Commission. Klenke said the difference is only $81 million once Pritzker's added revenue proposals for fees related to sports betting and marijuana licenses, a bags tax and other streams are accounted for.
All of those revenue streams would require action from the Legislature in order to take effect.
Klenke also said an added $1.21 billion in revenue proposed by Gov. J.B. Pritzker would not all go to the general revenue fund.
"That figure is comprised of essentially three buckets," he said.
Approximately $577 million would go directly to the general revenue fund, while a managed care organizational assessment worth $390 million would be separate, as would $65 million raised from cigarette and e-cigarette taxes. Another $89 million from a graduated tax on video gaming would go to a capital projects fund.
Klenke said those would be used to "offset pressures" on the general revenue fund, but cannot be counted as general fund revenues.
Pritzker's budget is subject to change upon negotiations with the General Assembly.