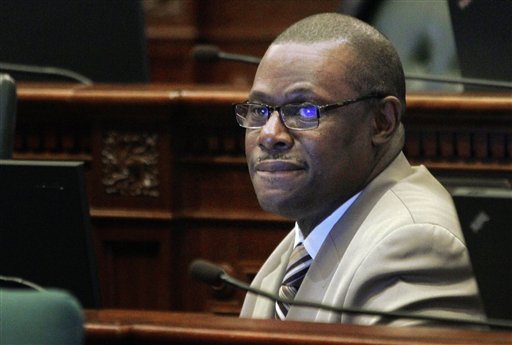 SPRINGFIELD (AP) — The Illinois House expelled one of its members Friday, but state Rep. Derrick Smith remains on the November ballot and still could be re-elected.
House members approved a resolution 100-6 relieving the Chicago Democrat of his post because of a federal criminal allegation that he took a bribe. A special committee had recommended expulsion for Smith.
Immediately after the vote, House Speaker Michael Madigan said, "Mister Clerk, please remove Representative Derrick Smith from the roll of the House."
"The case against Rep. Smith is about something no member of this House can consider harmless," said House Majority Leader Barbara Flynn Currie, D-Chicago, sponsor of the resolution to expel. "Taking public action not because it's best for the people of Illinois but because someone has offered me a bribe to do so is something that is very contrary to our mission as state legislators."
Smith easily won a primary election for the position last spring, just a week after he was arrested by FBI agents. And he has refused to back out of the fall election race.
A trial date has not been set for Smith, who pleaded not guilty in federal court.
The Illinois Constitution prohibits either house of the General Assembly from expelling a member more than once for the same offense. So, Smith could reclaim his seat by winning the election.
That's what happened the last time the House kicked out a member, in 1905. Rep. Frank Comerford, D-Chicago, was ejected after accusing his colleagues of corruption and besmirching their "good name and reputation." But Comerford won the special election called to fill his seat.
A Select Committee on Discipline voted unanimously in July to find fault with Smith and 11-1 to expel him. Rep. Al Riley, D-Olympia Fields, said he believes Smith deserves a lesser punishment.
But state representatives who presented the Smith case to the select committee argued that Smith refused opportunities to defend himself.
"If he had come to us and said 'That's not my voice, I never said those words, I never took that money,' I don't think we would have had enough evidence," Currie said.
Rep. Lou Lang, D-Skokie said members have a lower standard of fault-finding than in a criminal case.
"You don't even have to decide if he took a bribe," Lang said. "What you have to decide is whether he violated his oath of office, and if he violated his oath of office he is not a fit member to be in this body."
Smith's lawyer, Victor Henderson, declined comment but announced that Smith would address the House action Friday afternoon at Henderson's Chicago office. That makes it less likely that Smith will attend the legislative action in Springfield, which will include a special session called by Gov. Pat Quinn to deal with state workers' pensions.
Smith was appointed to the House seat in 2011 to fill a vacancy. He was arrested in March, a week before the Democratic primary election.
But he won handily, despite federal prosecutors' charge that he accepted a $7,000 bribe from a confidential government source in exchange for what Smith thought was a letter in support of a state grant for a day care operation.
Authorities say the operation was an FBI sting and the informant was wearing a recording device.
Democratic leaders in Smith's district — including the legislator's former mentor, Secretary of State Jesse White — have formed a third party to challenge Smith in November.