MURPHYSBORO — Taking the podium at his hometown Elks Lodge, Mike Bost announced Brendan Kelly, his opponent in the race for Illinois' 12th Congressional seat, had conceded the race.
"Wow," he said to a room full of supporters and a sea of television cameras. Bost thanked a long list of family, friends, supporters and staff.
He then pivoted to the tone of the race, which was a vicious one to be sure. He said there were a lot of negative, nasty things said "but that's politics." However, he said that many across the country, himself included, were calling for this to be scaled back.
When asked after his speech if it was easy to call for civility as the winning party, Bost said, "We have stirred people up to the point that a constituent of mine shot a colleague of mine," referencing the 2017 shooting of U.S. Rep. Steve Scalise of Louisiana. Scalise was shot during a baseball practice in Washington, at which a man from Belleville targeted lawmakers in his attack.
Bost also said he felt he had not started the campaign with as much aggression with which it ended.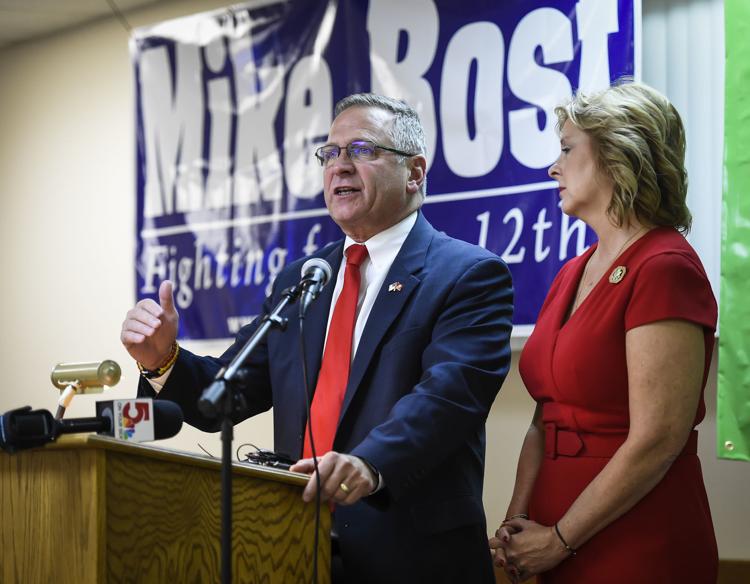 Bost also took a shot at local media that criticized him for not taking town hall meetings with constituents during his past term. He contended that his refusal to call his meetings town halls was to neutralize a national trend of Republican meetings being stalled by angry constituents and protesters.
He said the amount of meetings he took, though not called town halls, were more than Kelly had on the campaign trail.
Bost said though the House appeared to have shifted blue, he understands "what it's like to work across the aisle," pointing to his nearly two decades as a minority member of the Illinois General Assembly. Of the difficulty of governing, Bost said "conflict is inevitable, combat is optional."
When asked about his concession, Kelly said "the math is the math" but said he plans to continue to press Bost on a number of issues in St. Clair County, namely affordable housing in East St. Louis. 
Kelly did say he was encouraged by the shift in power in the House of Representatives to the Democratic Party. 
"I think that will be an opportunity for a healthy and check and balance," Kelly said, adding that it does raise the question of whether positive change will come of it or if it will result in further division. 
Kelly said the loss wasn't easy but that he still "believes in public service" and will continue to serve the people in his community as long as they will have him.​
Bost said he hopes to first tackle an infrastructure bill and work on fixing health care in the U.S.
Kelly and Bost ran a long campaign after they each hit the ground running after the March primary.
Kelly focused most of his attention on health care and dark money that floods into political campaigns. He railed against Bost for his votes against the Affordable Care Act, also known as Obamacare, and protections for pre-existing conditions.
However, Kelly also made a concerted effort to humanize his campaign, often recalling anecdotes from his time on the campaign trail meeting with residents in the district. This conversational style was contrasted against Bost during the only debate between all three candidates, in which the Republican incumbent was seen clearly reading remarks from his notes.
Kelly also echoed a long-standing complaint from Bost's constituents: Kelly said Bost was just unavailable. During the fight to repeal Obamacare, Republicans around the country were met with loud throngs of dissidents during town halls. Bost avoided these, saying they weren't constructive.
During most of his campaign ads and stops, Bost criticized Kelly's record as St. Clair County's State's Attorney — he said Kelly often let sex offenders and pedophiles off on plea deals. While not untrue, the reality was more nuanced. Kelly later said that he acted on the wishes of victims and not the optics to outsiders.
CARBONDALE — Southern Illinois has seen its fair share of Washington's A-listers in the last two weeks as election day has loomed large on the…
Bost also invoked the name of Republican boogeyman Nancy Pelosi, accusing his opponent of taking campaign money from Pelosi's organizations and claiming he would vote for her as Speaker of the House if he were to be elected. 
The race garnered a lot of national attention as Democrats vied to take back control of the House and Senate. Money and eyes poured in from all over to see who would win. This also bought in big names to stump for the candidates.
For Kelly, Vice President Joe Biden, as well as civil rights icon and Georgia Rep. John Lewis, stirred up voters.
Bost was backed by a visit from President Donald Trump in Murphysboro where attendees were told of Bost's fights on their behalf.
Randy Auxier, who was the Green Party candidate in the race, said he was disappointed and surprised at the results of the race. However, he said, "We ran really hard."
Auxier also said that his campaign was likely the most extensive and highly organized that the Green Party had done in the district.
Auxier wouldn't comment on whether he was done with politics, but said, "We are not giving up on building our party."