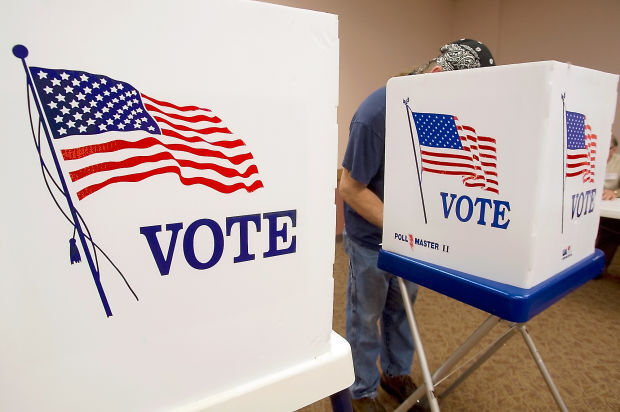 Southern Illinois University School of Law student Dan Asonye and Andrew Jarmer and a couple of their friends were looking for a way to get involved in the upcoming election. Instead of campaigning for one side or another or either political party, they wanted to use their actions to get others involved. They decided to focus on registering voters.
"We thought it was a good way to get as many people as possible involved in the democratic process," Asonye said.
Asonye and Jarmer are calling their efforts All Salukis Vote.
All Salukis Vote will sponsor a voter registration drive Saturday through Sept. 22, which is nonpartisan national holiday National Voter Registration Day.
Because of COVID-19, the primary efforts of All Salukis Vote will be online. Asonye said they will run a campaign to register voters on the Snapchat social media platform. Snapchat users will see an ad pop up that includes a link to register to vote. Jackson County voters may register through the group's website, allsalukisvote.org.
They are sponsoring a few in-person voter registration events in Carbondale as follows:
Carbondale Civic Center, 200 S. Illinois Ave., 10 a.m. to 6 p.m. Saturday, Monday and Tuesday; noon to 6 p.m. Sunday. Registration will be on the east side of the building.
Schnucks, 915 W. Main St., 10 a.m. to 6 p.m. Saturday, Monday and Tuesday; noon to 6 p.m. Sunday.
SIU Lesar Law School (for SIU students only), 8:30 a.m. to 1:30 p.m. Monday and Tuesday.
Williamson County Clerk Amanda Barnes reminded citizens of the guidelines and deadlines for registering to vote in the General Election on Nov. 3.
Those wanting to register to vote must: be 18 years of age on or before Nov. 3, 2020; reside in the state of Illinois and have lived in the precinct for 30 days prior to the date of the election. Residents may register in person by bringing two forms of identification with at least one showing a current address to the county clerk's office in their county of residence.
The last day to register in person is Oct. 6.
The deadline to register online is Oct. 18. Those registering online will need a valid driver's license or state ID. Online registration is available to Illinois residents at ova.elections.il.gov or through most county clerk websites.
Anyone who misses the Oct. 6 deadline may register to vote or change an address at the county clerk's office during Grace Period Registration, which runs Oct. 7 through Nov. 3. Those registering during this grace period must vote at the time of registration. They will not be allowed to vote at their polling place on Election Day.
Started in 2012, National Voter Registration Day is designed to draw the entire nation together to register Americans to exercise their right to vote, a basic, fundamental, democratic right. To find a voter registration, visit NationalVoterRegistrationDay.org.
For more information about voter registration, contact the county clerk in your home county or visit the clerk's website.
Get Election 2020 & Politics updates in your inbox!
Keep up on the latest in national and local politics as Election 2020 comes into focus.