CARBONDALE — Gov. Bruce Rauner's current trip to Germany and Poland could result in economic development for Southern Illinois, the governor said Monday morning.
In a phone interview with The Southern Illinoisan, Rauner said many of the companies his team has been speaking with are perfect investors to build factories, distribution centers, and offices in Southern Illinois. He didn't mention anything specific, adding that the state has commitments, but he's not ready to make an announcement.
The governor did say there is a company in Poland that expressed a desire to build a factory manufacturing agriculture equipment, which would be great for central or Southern Illinois.
"There is a lot of potential (for Southern Illinois)," Rauner said.
Rauner said he met with representatives from Continental Tire, which is a headquartered in Hanover, Germany. Continental Tire also has a large facility in Mount Vernon, and Rauner said the company is pleased with its performance. In fact, he said the company was interested in adding to its workforce.
Lt. Gov. Evelyn Sanguinetti took a tour of the Mount Vernon facility Monday morning to discuss the importance of manufacturing jobs and foreign investment in the state's economy.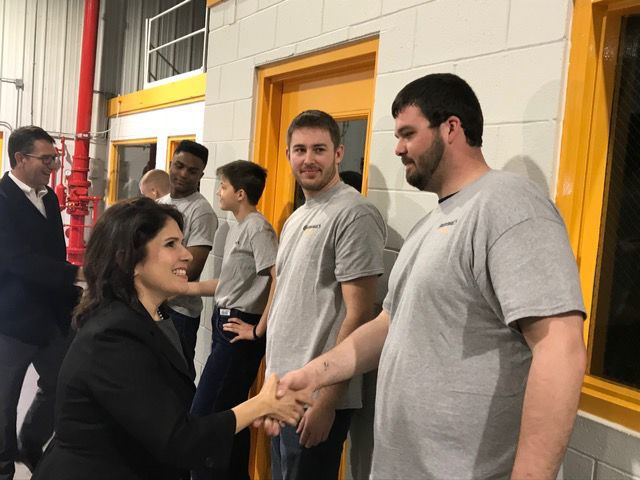 "Our location, workforce, and transportation infrastructure make us an ideal candidate for foreign investment," Sanguinetti said in a statement. "It is important that we continue to grow our manufacturing sector. The governor and I are working hard so that companies like Continental locate and thrive here, bringing with them more jobs and opportunity."
As for the rest of the state, Rauner said there are more than 200 German companies in Illinois that employ more than 36,000 people. He said a majority of those businesses are growing dramatically and his trip was to assure them that Illinois is still a good home.
Rauner said his team has also met with several companies that don't know much about the state, but are interested in its prospects.
"We are meeting with a lot of companies that don't know Illinois that well yet but they are looking to expand in America and they are very excited with all the advantages of investing in Illinois," Rauner said.
In order for businesses to expand or build in the state, a healthy workforce is required, he said.
"We want to make sure the folks in Illinois, our young people, are exceptionally well-trained and well-educated," Rauner said. "That is why I dramatically increased school funding."
He said he has added more than $1.2 billion in school funding since he has been elected. Additionally, he touted expanding apprenticeship programs in Illinois high schools. He said that training allows the people who don't go to college to be well-equipped to take advantage of trade opportunities throughout the state.
"Growing our economy and creating more good-paying jobs is the No. 1 priority," Rauner said. "Every challenge we have in the state can be overcome if we grow more jobs and expand our tax base."
The governor said most of the trip was self-financed and the part that wasn't was mostly paid for by Intersect Illinois, a job creation organization that gets most of its budget from donations from the business community.
"This trip costs almost nothing for taxpayers," Rauner said.
The governor and his team will leave Germany Tuesday to return to Illinois.
A campaign spokeswoman for Democratic Illinois gubernatorial candidate JB Pritzker said in a statement that public showings can't undo what Rauner has done to the state.
"Publicity stunts and empty rhetoric can't change the fact that Bruce Rauner has badmouthed Illinois, created statewide instability and fiscal devastation, and driven jobs and businesses out of this state," Jordan Abudayyeh said.
Pritzker will face Rauner in the gubernatorial election in November.